Almanac
Romania, Republic of
Capital: BucharestArea: 237 . 500 km2Population: 21 . 327 . 000Official Language: RomanianArmed Forces Personnel: 71 . 400Military hospitals / institutes / schools: 6 / 2 /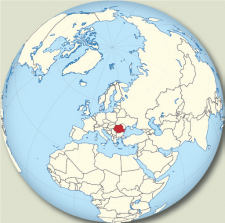 Surgeon General
Constatin Stefani MD PhD
Colonel

Ministry of National Defence
Medical Directorate
3–5 Institutul Medico-Militar st.
010919 Bucharest-1
ROMANIA
Basic Task of the Military Medical Service
Operational medical assistance – is part of logistics of forces and represents all the medical assistance activities, soldiers' medical evacuation and medical logistic support, according to the operational needs, during generating, deploying and going on missions in theatres of operations, and regenerating time.
Prophylactic and curative medical assistance that is to be achieved through:
Ambulatory medical assistance.
Primary medical assistance.
Medical assistance in hospitals.
Dental medical assistance.
Provision of pharmaceutical supply and medical logistic support for medical operational structures with drugs, sanitarypharmaceutical materials and medical devices is made by theMedical Assistance Directorate specialized structures according to the laws in force, being integrally budgeted by the state budget.
Medical recovery assistance aims to reinforce the state of health of the military and civilian personnel provided by the MoND specialized medical units.
Medical military expertise – is an integrated and multidisciplinary medical activity comprising the followings:
Medical military expertise to select the persons choosing to achieve a military career.
Medical military expertise for the MoND personnel, part of evaluation of state of health.
State sanitary inspection and state veterinary inspection are activities of prophylaxis, specialized specific and budgeted from the state budget.
Scientific medical military research aims to ensure the followings:
Specific and non specific medical protection of soldiers and civilian population towards chemical, biological, radiological and nuclear weapons (CBRN).
Protection of soldiers towards the long lasting physical and psychical stress.
Supply of pharmaceutical materials for treatment and prophylaxis of diseases the CBRN agents produced in specialized production units, subordinating to the Medical Directorate and/or in cooperation with other specialized units.
The medico-military education and the human resources management – essential in forming the medical and sanitary military personnel.
Structure
The Medical Assistance Directorate is the central specialized body elaborating the unitary conception for organizing, endowing and functioning of the medical and veterinary assistance in the Armed Forces, in peace time, in crisis and war time and continuous improving and modernizing the medical assistance to prevent the sickness, to preserve and improve the health condition necessary for maintaining the Armed Forces high readiness.
In the specific activity the Medical Assistance Directorate cooperates with military leading structures, the House of Insurance of Health of Defence, Public Order, National Security and Legal Authorities, Ministry of Public Health, Ministry of Administration and Interior and civilian authorities with responsibility in medical assistance, sanitary-pharmaceutical and sanitary-veterinary activities.
Institutes
National Institute of Aeronautic and Space Medicine "General Doctor Aviator Victor Atanasiu"
Centre of Diagnosis and Treatment