Almanac
Ukraine
Capital: KyivArea: 603.700 km2Population: 45.593.000Official Language: UkrainianArmed Forces Personnel: 129.950Medical Officers: 2.140Military Hospitals / Institutes: 26/1Missions: multiple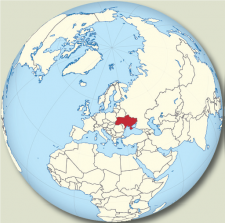 Surgeon General
Igor Kchomenko MD
Colonel MC

Director of Military Medical Department of Ministry of Defence
Povitroflotskii Prospect 6
03168 Kyiv
UKRAINE

Vision
The basic ways of medical support system restructuring of Ukrainian AF will be:
• implementation the organizational-structural transformations in a health protection measures which will directly improve medical support in companies, battalions and brigades;
• optimization of military-medical establishments' quantity according to the AF needs and improvement of medical support by territorial principle;
• material and technical basis development for medical service and supplying it by modern technics and equipment samples;
• preventive medicine support orientation in troops by sanitary-and-epidemiologic supervision strengthening of their day-to-day service;
• implementation of centralized medical logistic system and medical service's deliverance from excessive and unusable medical equipment and technics.
Basic Task of the Medical Service
• Medical support of troops combat training;
• Maintenance of high combat and mobilization readiness of medical personnel and resources;
• Selection of healthy and fit personnel for Ukraine Armed Forces;
• Applying medical measures for keeping and strengthening personnel health;
• Medical support of Ukraine peace - keeping contingent;
• Maintenance of sanitary and epidemiologic well being of troops;
• Providing medical care and treatment to different patients with the right to health care services within military treatment facilities;
• Providing troops with medical equipment, accumulation and storage of medical property for special period;
• Training of military medical personnel;
• Providing combat and special training of medical personnel;
• Military-medical training, popularization of hygienic knowledge and healthy life;
• Scientific solution of medical support issues in peace and wartime.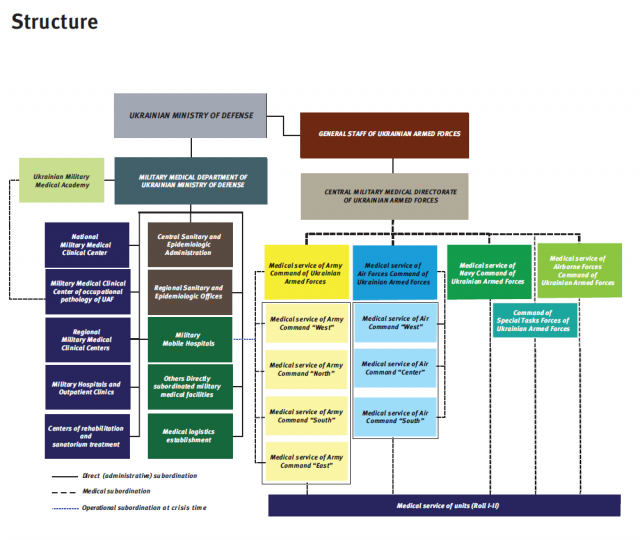 Military Medical Command Structure
Military medicine support management in Ukraine Armed Forces has: three-level system of administration (Military Medical Directorate of MoD of Ukraine → Military Medical Clinical Centres → Military medical facilities, units and subdivisions); with 3 managerial infrastructures (1 – Treatment and Prophylactic; 2 – Sanitary and Hygienic; 3 – Medical Logistic).
Military Medical Service / Military Hospitals
Ukraine has historically had a large and essentially static armed forces' medical service. This care is provided through:
• The Main Military Medical Clinical Centre (Kyiv);
• 4 Regional Military Medical Clinical Centres (Vinnitsa, Odessa, Lviv, Kharkiv);
• Military Medical Clinical Centre for Occupational Pathology;
• 14 Military Hospitals;
• 3 Policlinics with day-inpatient treatment and one Stomatological Policlinic;
• 6 Military Physician Commissions (1 Central and 5 Regional);
• Blood Support Centre (Kyiv);
• Central Laboratory of Morbid Anatomy (Kyiv).
• 9 Rehabilitation Centres and Sanatoria (2 of them are State Enterprises);
• 1 Sanatoria Sector within Regional Military Medical Clinical Centre (Vinnitsa).
The total capacity of these establishments is over 11,000 beds. Over one million active duty service personnel, reservists, retirees, veterans, civilian employees and dependents are getting service in these structures. There are five deployable medical hospitals (forming from MTF of Regional Military Medical Centres) capable for both ground deployment with organic vehicles and air movement primarily designed for using within its own borders.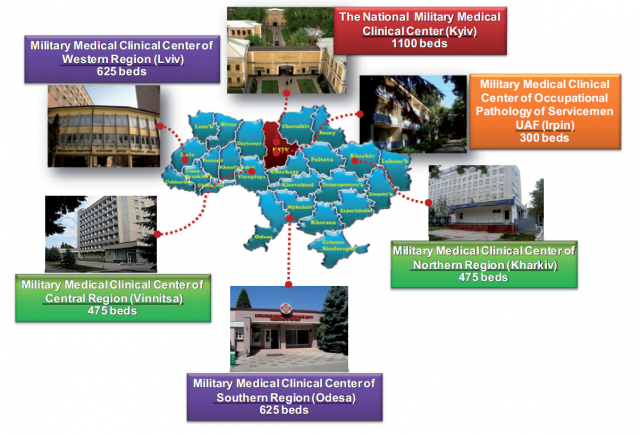 Treatment and Prophylactic
At the beginning of 2016 the Curative-prophylactic support system includes:
• The National Military Medical Clinical Center (Kyiv);
• 4 Regional Military Medical Clinical Centers (Vinnitsa, Kharkov, Lviv, Odessa);
• Military Medical Clinical Center of Occupational Pathology of Ukrainian Armed Forces (Irpin);
• 15 Military Hospitals;
• 4 Mobile Hospitals;
• 2 Outpatient Clinics (including one Stomatologic Clinic in Kyiv);
• 5 Military Medical Examination Commissions (1 Central and 4 Regional);
• Blood Center (Kyiv);
• Central Laboratory of Morbid Anatomy (Kyiv);
• 3 Rehabilitation Centers and Sanatoria («Puscha-Vodytzya», «Khmil'nyk», «Truskavets»);
• Sanatoria Sector of Military Medical Clinical Center of Central Region (Vinnitsa).
• 9 departments of psychological rehabilitation have been created on the bases of the Military Medical Clinical Centres and Spa treatment and rehabilitation Centres.
The total bed capacity of Military Hospitals and Spa treatment facilities are 6230 beds and 1400 beds. The curative-prophylactic system is based on territorial principles (zones of responsibility), with a range of medical treatment facilities:
1) The National Military Clinical Hospital provides wide scope of specialized medical care,
2) 4 Regional Military Medical Clinical Centers and Military Medical Clinical Center of Occupational Pathology of Ukrainian Armed Forces provide specialized medical care,
3) 15 Military Hospitals provide inpatient medical care.
There are medical services of 4 Commands ("Land-forces", "Air forces", "Airborne forces" and "Navy") in direct medical subordination of Central Military Medical Directorate of Ukrainian Armed Forces. Motorized, heavy, airborne brigades have medical companies providing first physician aid and emergency qualified medical care by surgeons and therapeutics. The first medical aid, first physician aid which are equal to Role 1 and Role 2 are covered by medical services of companies, battalions and brigades.
Sanitary and Epidemiologic Service of Ukraine MoD is a structural part of State Sanitary and Epidemiologic Service and includes:
• Sanitary and Epidemiologic Governance of Ukraine MOD;
• Sanitary and epidemiologic detachments (regional and territorial);
• Sanitary and epidemiologic laboratories. Basic activities of Sanitary, Hygienic and Antiepidemic Support of Ukraine Armed Forces are:
• State sanitary and epidemiological control;
• Determining priority measures in disease prevention as well as in healthcare from harmful impact of environmental factors;
• Analysis, assessment and prediction of servicemen health indexes in dependence on life activity, environment factors having harmful impact on their health;
• Preparing proposals on providing sanitary and epidemiologic well-being of servicemen, on preventing dissemination of extremely dangerous (as well as quarantine) infectious diseases;
• Taking control over elimination of reasons and conditions of onset and spreading of infectious, mass non-infectious diseases, poisoning and radiolesions;
• State registration of infectious and occupational illnesses and poisonings.
Medical logistic is provided on the territorial basis. It consists of the Logistics Department, within the structure of Military Medical Directorate, the central, regional and territorial medical stores, the pharmacies of the base and garrison military hospitals and other military treatment facilities. Medical equipment for medical subunits and military medical facilities is purchased on the centralized basis through the mechanism of tendering of Ukraine Ministry of Defence. Medications and consumable medical materials (dressing, syringes, blood transfusion systems etc.) are bought in on the centralized basis. Military medical facilities receive funds allocated by authority to buy medicines independently.
The Advantages of National Military Medical Clinical Centre (MMCC):
• Military medical service administration in the area of responsibility;
• Arranging and providing medical selection, control, hygienic and antiepidemic protection, psychophysiological training of servicemen;
• Providing highly- specialized medical care;
• Maintaining permanent readiness of mobile formations;
• Organization and performance of treatment and evacuation measures.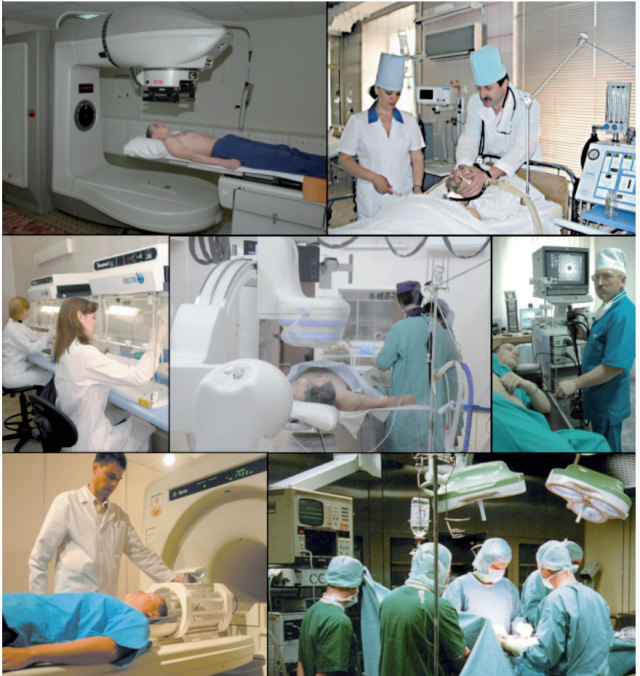 Red Star Order National Military Medical Clinical Centre "Main Military Clinical Hospital" is the oldest and largest state hospital in Ukraine. It is a historical and legal successor of the Kiev Military Hospital, which was established by the Senate Health Office Decree on the 10th of June 1755. It takes an important position in the wide web of military health care facilities because it is the most versatile multiclinical, medical diagnostic and research centre, which works for the treatment of military personnel, military service veterans, dependents and employees of the Armed Forces Ukraine. The centre also provides the medical care for the service personnel of other force structure, the civilian population according to the relevant conditions. The Centre table of organization and equipment consists of: 22 clinics (over 40 departments) Laboratory Diagnostics Clinic, Functional Diagnostics Department, modern Radiation Therapy Diagnosis Clinic and 4 Resuscitation Departments. The hospital is designed for 1000 beds. Every year more than 30 thousand patients treated in hospital and almost half a million patients receiving outpatient medical care, over 10 thousand complicated surgical operations is performed. The hospital is equipped with modern diagnostic and therapeutic medical equipment such companies as: "Siemens", "Shimadzu", "General-Electric", "Kobas Myra", "Olympus". Among them: angiograph (performed stenting), mammography, digital tomography, 2 MRI, "Kardiomahskan" magneto-cardiographic laboratory, "Millennium" Ophthalmological multifunctional system produced by Bousch-Lomb American company, modern lithotripter – apparatus for the kidneys stones crushing, ureters without surgery. Almost each department is equipped with "Logic", "Aloka" modern ultrasound diagnostic apparatus, as well as echocardiography is widely used. The "Teratron-780S" apparatus for radiation treatment of cancer has been effectively used in many years. 45 research conferences were conducted on the hospital base annually. Many doctors and nurses have great experience in medical assistance during peace operations in different countries of the world: Yugoslavia, Lebanon, Liberia, Iraq, Serra Leone, Afghanistan. It constantly involved in medical support of senior state officials of foreign countries' visits, military parades, international exercises, verification etc.
Regional Medical Facilities
The level of the primary and first medical care, Role 1 and Role 2 within the armed forces is covered by Regional Military Medical facilities of companies, battalions and brigades. The Role 1 medical units – battalion aid stations as an integral part of the military units, mainly perform tasks within the area of medical training and medical support to military exercises.
Specializations of other Regional MMCC:
• MMCC of Western Region – neurosurgery, gastroenterology and emergency medicine;
• MMCC of Central Region – cardio surgery, gastroenterology, pilot medical examination, special trainings for aircraft personnel;
• MMCC of Northern Region – traumatology and orthopaedics;
• MMCC of Southern Region – ophthalmology;
• MMCC of Occupational Pathology of Servicemen UAF – alternative medicine, occupationally caused diseases treatment.
Number of the Medical Service Personnel
The total strength of Ukraine medical service is 14658 personnel (≈ 60 % are civilians).
Training
The system of military-medical education has been legally established in Ukraine. The system functions in full accordance with the current the State legislation standardized credentials and privileges. It is closely integrated into the State system of medical education as its specific and organic component.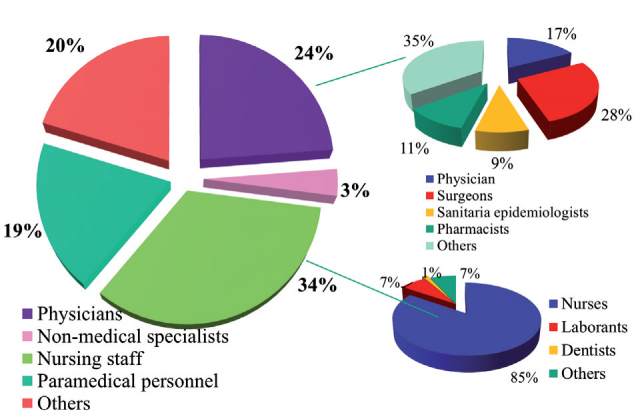 The structure of military medical personnel.

The Ukraine Military Medical Academy (UMMA) is an independent training, research, methodical and information centre of military-medical service.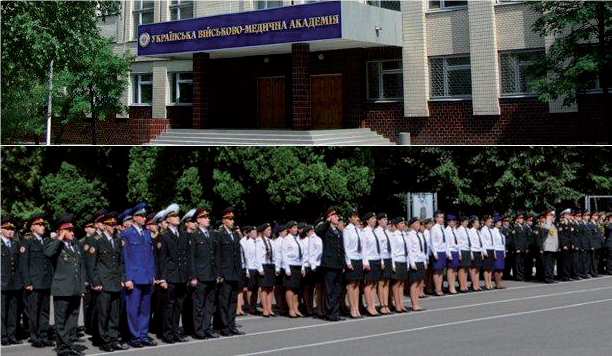 The main tasks of UMMA fall into six categories:
1. Postgraduate medical education. It is realized through 2- 3-year internship combining with primary specialization. The latter includes many basic specialties: general practice, general surgery, internal medicine, anaesthesiology, stomatology, pharmacy, epidemiology, hygiene, etc. This stage of physician training is normally completed with a State certification, which is equivalent to the license in the Western system of medical education.
2. Selected training on 2-3-year magisterial course for talented graduates. This course is a combination of clinical training and research, and if the candidate passes the complex examinations successfully, he will receive a magister diploma and a medical specialist certificate.
3. Postgraduate (each 5 years) advanced training courses lasting 1-3 months, with a 1-month pre-course exercise, followed by an examination. These course was set up to confirm existing or to get higher a physician qualification degree. Therefore, it is mandatory for each medical doctor.
4. Secondary or narrow specialization in one of the 106 military- medical specialties (ophthalmology, urology, neurosurgery, cardiology, etc.). To obtain a certificate in any of these specialties, the candidate should pass through special advanced course (10 months for a surgeon and up to 6 months for an internist and a preventive medicine specia list) and a certifying examination, which is held at the UMMA, the Main Military Clinical Hospital or one of the medical departments of the operative commands.
5. Adjunct research (3-year study, a pre-admission and a post-admission profile examination, preparation of a thesis). This program is completed by defending a thesis at a specialized scientific council of authorized institutes, universities or academies, and a candidate of the medical sciences degree (PhD) is obtained.
6. Courses for Doctor of Medicine are open to candidates of the medical sciences who have at least five years served as a physician or researcher. After completion of a 3-year research program, the scholar has to defend his doctoral thesis at an authorized specialized council.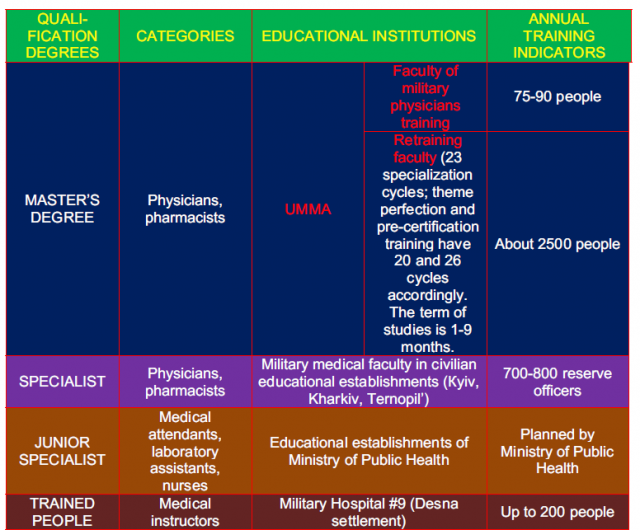 The main research establishments are: the UMMA which includes Research Institute of Military Medicine (RIMM); and the MMMCH. Scientists at the UMMA are working on the organization of medical support to the Armed Forces, medical radiology and toxicology, improvement of the treatment of patients and wounded, and pedagogic and educational issues. The RIMM is the main executor of research on occupational medicine, the organizational structure and management of the medical service betterment, armament and military engineering medical evaluation, fundamental research of human psychophysiology at extreme condition and other issues. The RIMM consists of 4 departments and 2 laboratories. The MMMCH units and clinics serve as a base for UMMA for the training of military physicians and research on the organization of outpatient and hospital medical care, the improvement of the quality of medical care and medical examination, etc.
International Cooperation / Missions / Field Deployments
International cooperation plays an important role in the realization of the reform of the Ukraine Military Medical Service. The primary topics for cooperation are:
a) studies of the experience of the military-medical support system in NATO nations and in other leading western countries in the following areas:
• optimization of the management structure of the medical services;
• re-structuring of the military-medical service and optimization of the organization structure of medical facilities;
• rational use of medical resources;
• quality control of medical care;
• introduction of new technologies in curative-diagnostic process;
• improvement of the training of military medical personnel;
• practical use of military medical standards;
b) international research cooperation in:
• scientific support for the reform of the military health system;
• joint research on military pathology and its influence on troops combat readiness;
• joint development of the military medical doctrine;
• study of the incidence rates, prevention and control of militarily relevant infectious diseases;
• development of countermeasures against biological terrorism;
c) international humanitarian medical aid to Ukraine (medical equipment, pharmaceuticals diagnostic means).
Ukraine cooperates with other nations on the following issues:
• participation in joint exercises of multinational forces;
• participation in medical support of peacekeeping and humanitarian missions of UN and NATO;
• arranging training of Ukrainian military physicians in NATO training courses and in military medical facilities worldwide (Germany, Poland, Republic of Lithuania, Russian Federation, USA);
• participation of UAF medical representatives in international scientific seminars, symposiums, conferences for scientific and practical information exchange in working groups specific studying topics of military health care;
• organizing bilateral and multilateral meetings of official representatives from other countries to exchange experience in medical support of troops (forces) and international peacekeeping contingents, to discuss issues on mutual compatibility of medical care standards. In 1991–2011 more than 300 medical officers of Ukraine Armed Forces participated in peacekeeping missions in Liberia, Lebanon, Iraq, Sierra Leone, Kosovo. 12 servicemen served as peacekeeping personnel in military contingents of other countries. Role 1 and Role 2 Medical Treatment Facilities have been developed and successfully function in the medical support system according to NATO standards: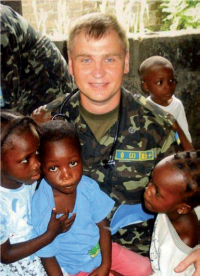 • Military unit aid station of national contingent in Kosovo (Republic Serbia);
• Military unit aid station of Ukrainian peacekeeping contingent (as a part of 56 separate helicopter group of UN Mission) is functioning in Liberia;
• Military unit aid station of Ukrainian peacekeeping contingent (as a part of separate helicopter group 18 of UN Mission) is functioning for stabilization in Congo Republic. However, the capabilities of role 3 level are based only on human resources – 6 doctors-peacekeepers as a part of ISAF in Islamic Republic Afghanistan. They are deployed within the Lithuanian PRT for reconstruction of the Afghani province Ghor (2 surgeons and 1 anaesthesiologist) and within the Polish PTR in the Afghani province of Ghazni (1 surgeon, 1 anaesthesiologist, 1 therapist). Medical care for Ukrainian peace-keepers in NATO or UN op - erations is performed by medical personnel of medical subdivisions (first-aid stations) that are the structural elements of the Ukrainian national contingents, (which is equal to Role 1 NATO standards) in other cases medical care (Role 1) can be given in the nearest medical subdivisions in another participating countries. Role 1 medical care in medical subdivisions is performed according with the medical personnel qualification and medical equipment and contains the measures of the first, premedical and first medical aid and stomatological aid.
The servicemen, after receiving medical aid in medical sub - divisions of level Role 1 depending on severity of wound/of illness, are head for the Role 2 and 3 military field curative establishments in the theatre of military operation by a senior chief command using territorial principle. In case of the protracted treatment necessity and high-specialized medical aid necessity the servicemen are evacuated to Military Medical Clinical Centres of MOD (Level 3 and 4). During 2013 year 44 medical positions is staffed as follows:
annually (- 6 military physicians in peacekeeping contingents of other countries (Lithuania, Poland) in Islamic Republic of Afghanistan; - 4 positions of national contingent in Kosovo, Republic of Serbia;) twice a year (- 10 positions in 56 separate helicopter detachment (in UN mission in Liberia);
- 9 positions in 18 separate helicopter detachment (in UN stabilization mission in Democratic Republic of Congo since February 2012)).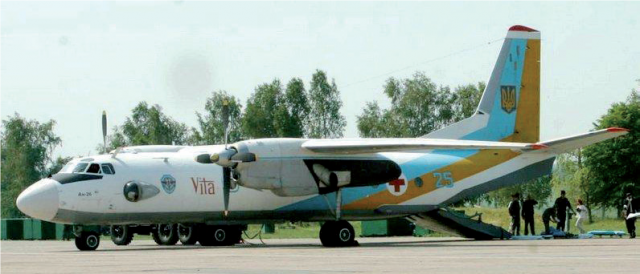 One MEDEVAC aircraft An-26 "Vita" (2 medical teams included, unit is manned at 100% in peace time and selfsustain ing for 5 days without host nation support) is ready in 30 days to deploy from home station. It is implicated in EU multinational combat tactical group "Baltiys'ka".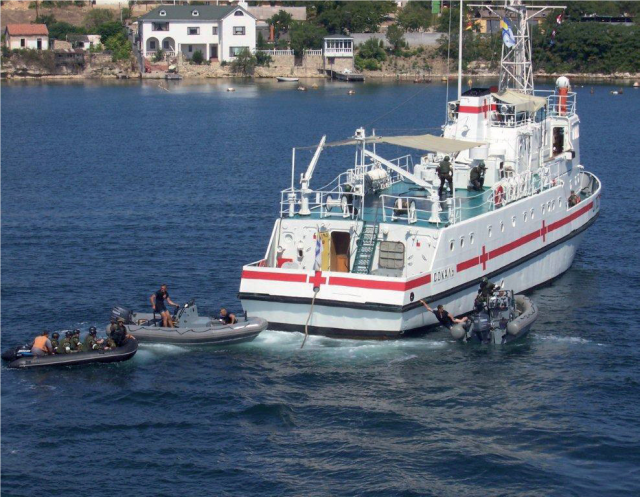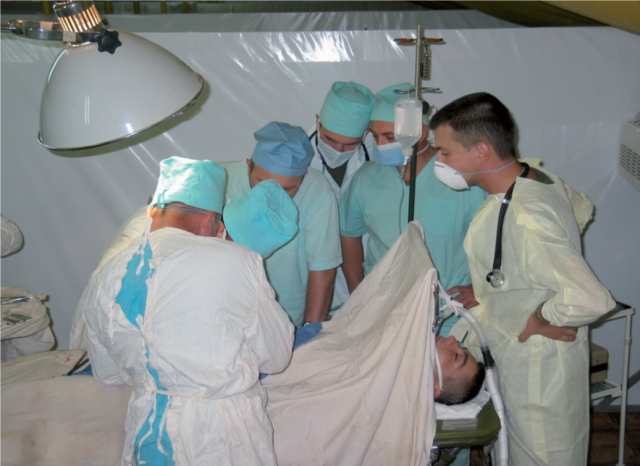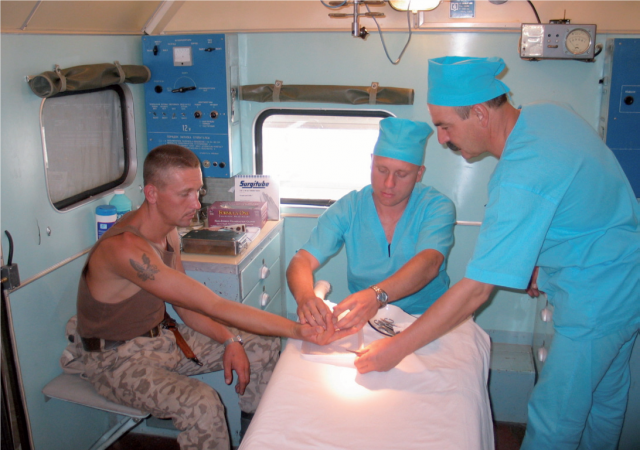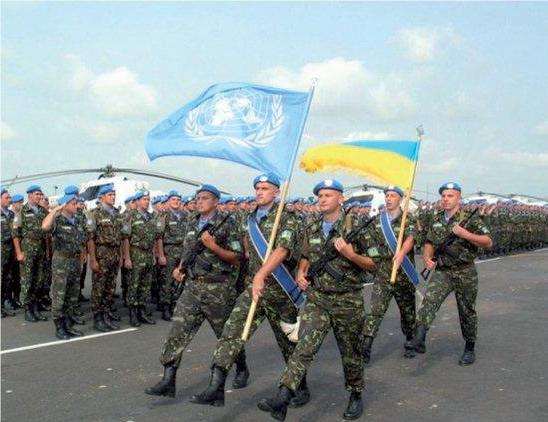 Civil-Military Cooperation
Medical treatment establishments of MOD are partially integrated in the national public health system providing emergency medical care to the civilians and medical support in disaster situations. Moreover, Military Hospitals and Medical Rehabilitation and Sanatorium Treatment Centres provide a paid high-specialized medical service and rehabilitation to the civilians. In wartime the capabilities of the civilian health system are incorporated into the military medical service. The Ukraine Military Medical Academy serves as a retraining and education facility both for military and civilian specialist, even from other countries.
Other Special Aspects
The quarterly scientific and practical journal – "Military Medicine of Ukraine" and annual scientific digest – "Problems of Military Health Care" were founded by Ukraine Military Medical Academy in 2000. There are Herald and Annual Scientific Digest "Modern aspects of military medicine" published by the Main Military Medical Clinical Centre.