Almanac
Thailand (Army), Kingdom of
Capital: BangkokArea: 513.115 km2Population: 69.428.524Official Language: ThaiArmed Forces Personnel: 314.000Medical Officers: 752Military Hospitals / Institutes: 37/n/aMissions: multiple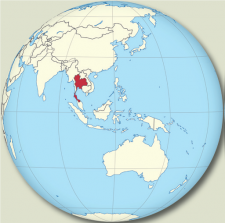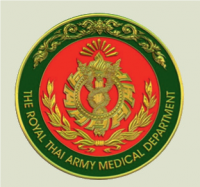 Surgeon General
Chumpol Piamsomboon MD
Lieutenant General

Royal Thai Army Medical Department
8 Phaya Thai Road, Ratchathewee
Bangkok 10400
THAILAND
Basic Tasks of Medical Service
• Medical Specialist Staff advisor to Chief of Army on all medical matters.
• Command Soldiers Performance Centre.
• Define its research policies of the Armed Forces Research Institute of Medical Sciences.
• Supervise Phramongkutklao Medical Centre.
• Supervise the operational readiness of all Army Medical Units.
• Develop medical support doctrine and procedures for the Army and supervise their implementation.
• Develop training standards, systems and syllabi and ensure the professional training of Phramongkutklao College of Medicine, Army Nursing College and all army Medical units.
• Responsible for all health matters in the Royal Thai Army.
Structure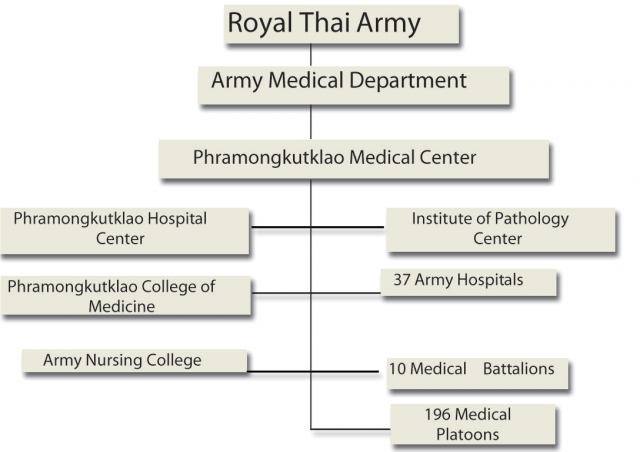 Medical Facilities
Phramongkutklao Medical Centre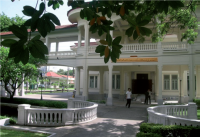 • The major role of the Royal Thai Army for conduct training for many nursing and enlisted medical specialities to support the Royal Thai Army.
• Promoting excellent medical education, training, pathologic investigation service, research and medical care for the purpose of reliability acceptation and faith of Thai people.
• Integrated health care delivery system offering military families, in the Thai Kingdom, access to quality, comprehensive medical care.
---
Phramongkutklao Hospital, Bangkok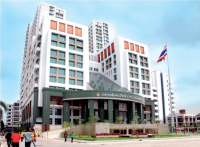 • The excellent medical care centre to military personnel and civilian.
• Training centre for medical specialists.
• 1200 beds in full capacity.
---
Phramongkutklao College of Medicine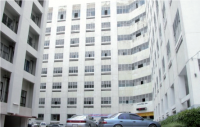 • The medical student cadet institute that produces military physicians to serve all 3 forces of Royal Thai Armed Forces by the integration of medical knowledge and military medicine so that medical service can be provided both during war and peace.
---
Institute of Pathology

• Provides pathological examinations to Royal Thai Army Hospitals as well as provide blood bank service both during military operation and civilian.
• AIP also supports the laboratory development of all RTA Hospitals to the international standard.
---
Armed Forces Research Institute of Medical Sciences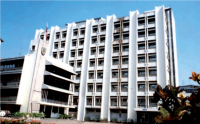 • Conduct researches and analyses related to diseases that impede military operations by diagnosis and determine effective preventions as well as to conduct researches with allied countries.
---
Army Nursing College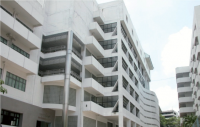 • The main institute that produces nurses for Royal Thai Army by implantation of both military and civil professional nurse.
---
Field Deployments
The Royal Thai Army Medical Department is also tasked with Military Operations other Than War such as humanitarian assistance under the auspices of the United Nations in Cambodia, East Timor, Afghanistan, Iraq, and Burundi. Our officers have served in the medical section of the African Union Nations Hybrid Operation in Darfur: UNAMID. Furthermore, we have been honoured to serve in crisis consequence management in such diverse international and domestic situations such as the Bali Bombing, the Iranian and Indonesian earthquakes, and the tsunami and mudslide rescue operations in Thailand.
Civil-Military Cooperation
Academic Cooperation of the medical department includes domestic and international. On the domestic side, there is an affiliation with Thammasat University at post-graduate levels. Standing affiliations includes USUHS of USA and Monash University of Australia. Excellence relationships with Tianjin University of Traditional Chinese Medicine in Acupuncture Training Courses for the past 5 years.
Telemedicine represents a vital link between the medical department and the rest of the world. There has been an active exchange program via this media with Tripler Army Medical Centre in Hawaii. Other international affairs include training in International Red Cross and US Department of Defence cosponsored Humanitarian Assistance in Large Population Courses, sending medical personnel to be trained and certified in Advanced Trauma Life Support in Singapore.