Almanac
Thailand (Navy), Kingdom of
Capital: BangkokOfficial Language: ThaiArmed Forces Personnel: 69.850Medical Officers: n / aMilitary Hospitals / Institutes: 4/2Missions: multiple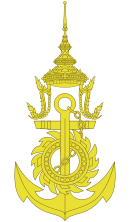 Surgeon General
Panlert Klaewtanong MD
Vice Admiral

Royal Thai Navy
504 Taksin Road Thonburi
Bangkok 10600
THAILAND
Basic Task of the Military Medical Service
Health service for the beneficiary.
Health service for readiness.
WAR – MOOTWAR – DISASTER
Structure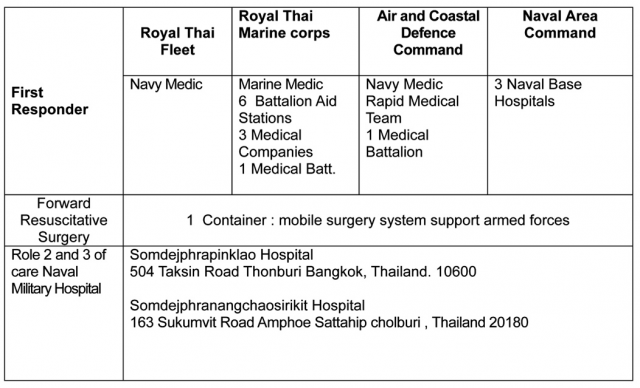 Military Hospitals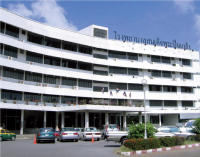 Somdejphrapinklao Hospital
Number of beds: 750
Specialized Clinics: Ob-Gyn Laparoscopy, Family Planning Clinic Internal Medicine, Dermatology, Nephrology, Oncology, Haematology, Endocrine, Neurology, Chest clinic, Pediatrics Newborn, Preterm, Nephrology, Respiratory diseases, Allergy, Surgery Laparoscopy, Proctoscope, Plastic Surgery, Urology, Neuro Surgery, Orthopedics Laparoscope, Opthalmology Lens implantation, Corneal transplantation, Otolaryngology Speech therapy, Alternative medicine Acupuncture.
---
Somdejphranangchaosirikit Hospital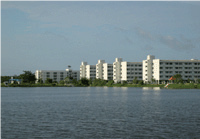 Number of beds: 420 beds
Specializations: General hospital
The number of departments: Directorate Division, Division of Out-Patient, Division of Medicine, Division of Surgery, Division of Obstetrics and Gynaecology, Division of Pediatrics, Division of Orthopedics, Division of Anaesthesiology, Division of Ophthalmology, Division of Otorhinolaryngology, Division of Physical Medicine And Rehabilitation, Division of Dental, Division of Nursing, Division of Professional Activities, Division of Medical Services, Division of Pathology, Division of Radiology, Division of Pharmacy, Division of Supports, Division of Finance. Main diagnostic equipment: Spiral CT scan, Fluoroscope ultra-sound, Gastroscope, Bronchoscope, Ureterorenoscope, Echo Cardiogram.
Bangkok Naval Hospital
The number of beds: 76 beds.
Specializations: Psychiatry & Drug addict.
The number of departments: 4.
Specialized clinics: Psychiatry clinics, Rehabilitation clinics, Oriental clinics.
Main diagnostic equipment: Plain X-Ray, Routine blood chemistry tests & urine examination, EKG.
Abhakornkiartiwong Sattahip Naval Base Hospital
The number of beds: 47 beds can be extended to 108 beds.
Specializations: psychology, underwater medicine, preventive medicine.
The number of departments: 12.
Specialized clinics: Psychiatry, Alternative Medicine.
Main diagnostic equipment: blood chemistry laboratory, microbiology, x-ray.
Equipment: 1 Inflatable tent, 4 tents.
Institutes
Division of Underwater and Aviation Medicine
Establish, provide and maintain Underwater and Aviation Duty Medical Standards for the Navy Personnel, provide Medical Support for the Underwater Operations and Aviation, provide Medical Support in Aeromedical Evacuation, Referral Centre for Hyperbaric Oxygen Therapy, Data Collection, Analysis, Evaluation, Research and Development in Underwater and Aviation Medicine.
Division of Education
Training facilities for Medical Service Officers: Post basic surgical nursing and perioperative nursing, Underwater and hyperbaric nursing, Pathological technician program, Post basic program in mental health and psychiatric nursing, nursing of health promotion and prevention, Medical logistics technician, Dental technician program, Underwater and hyperbaric medicine for psychiatric.
Number of Medical Service Personnel
Field Deployments
Medical Battalion,

Service Support Regiment Marine Division
First Responder:
• First Aid.
• Basic first aid (self-aid, buddy aid).
• Advanced First Aid (combat lifesavers).
• Combat Medic and/or Corpsman Care.
• Advance Casualty Management.
Equipment:
| | |
| --- | --- |
| Tents | 7 |
| Physician box | 8 |
| Physician bag | 9 |
| Medic box | 27 |
| Medic bag | 165 |
| Protected Ambulance cars | 4 |
Experience of active deployment with medical services of
other nation:
Humanitarian assistance in disaster relieves at Iran, Indonesia, Humanitarian assistance in peace operation in Timor-Leste and Iraq.
Civil-Military Cooperation
Medical Battalion, Service Support Regiment Air and Coastal Defence Command
National Health and Medical Action plan for disaster prevention and relief.
Equipment supplied: 2 tents, medical box, set minor, set suture, 80 medic bags, 3 field ambulance transport vehicles.