Almanac
Germany, Federal Republic of (Navy)
Capital: BerlinOfficial Language: GermanArmed Forces Personnel: 16.300Medical Officers: 84Military Hospitals / Institutes: /1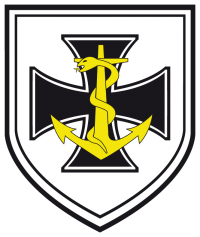 Surgeon General
Dr med Stephan Apel
Rear Admiral (lh) MC

Navy HQ
Kopernikusstr. 1
18057 Rostock
GERMANY
Basic Task of the Military Medical Service
The Medical Service of the German Navy ensures medical care for all seagoing and flying units of the fleet, deployed or in port, including the Navy´s special forces, using the very latest in medical technology and procedures. It protects, maintains and restores the health of soldiers.
Structure
The Medical Service of the German Navy is headed by the Surgeon General of the German Navy. He is head of the Navy Medical Service Directorate, is a member of the German Navy Headquarters Board, and is the Medical Advisor of the Chief of German Navy.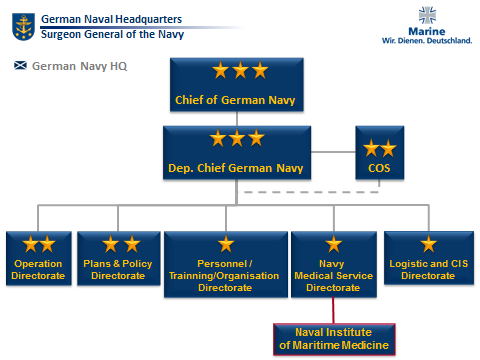 The Navy Medical Service provides health support for Navy operations and training ashore and afloat. The Navy Medical Service works closely together with the Bundeswehr Joint Medical Service to provide primary surgery and dental care during Navy operations and training afloat.
Institutes
The Naval Institute for Maritime Medicine covers the entire field of maritime medicine. This institution is located in Kiel and is directly subordinate to the Surgeon General of the German Navy. It is also collocated with other institutions of the Bundeswehr Joint Medical Service. It is the "alma mater" of all German medical officers of the Navy and directly supports the Navy through research and education. After the reorientation of the Medical Service, all Navy-related responsibilities were given to the Naval Institute, which remains the land-based centre of excellence within the Navy. The Institute covers the entire range of scientific, research, care-providing, preventive and teaching facilities. Due to the increasing importance of departmental research, it was divided into three sections:
Maritime Medicine, Diving and Hyperbaric Medicine, and Research and Education.
The Institute of Naval Medicine
provides medical care in the event of hyperbaric accidents;
provides mission-specific medical education to personnel on board and
provides threat-related medical expertise.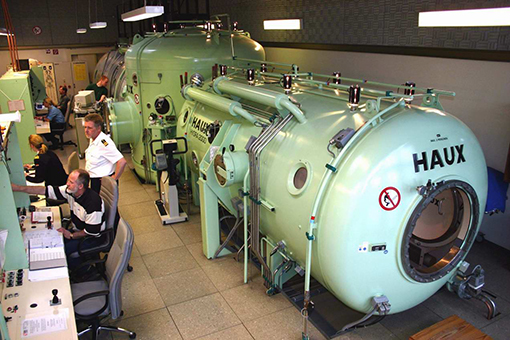 Number of Medical Service Personnel


Physicians
Dentists
Pharmacists
Officers
CPO
PO
Seamen
Civilians
Trainees/Students
77
2
5
20
199
64
46
22
168
Deployments Afloat
The medical capabilities of deployed Navy units vary strongly and depend on the platform and the embarked personnel. All levels of medical care can be provided, ranging from two Role 2 naval rescue centres (NRC), in which several medical teams perform primary surgery within clinical timelines on a combat support ship, to surgeons and anaesthesiologists embarked on frigates, to shipboard physicians or highly trained ship's paramedics performing pre-hospital emergency care.
Role 1 is performed at sea on every unit. At this level, a well-trained paramedic is responsible for skilled first aid and diving medical support for all divers on board. This minimum level is also provided on submarines and mine-hunting vessels. All hunting vessels have a decompression
chamber for treating diving accidents.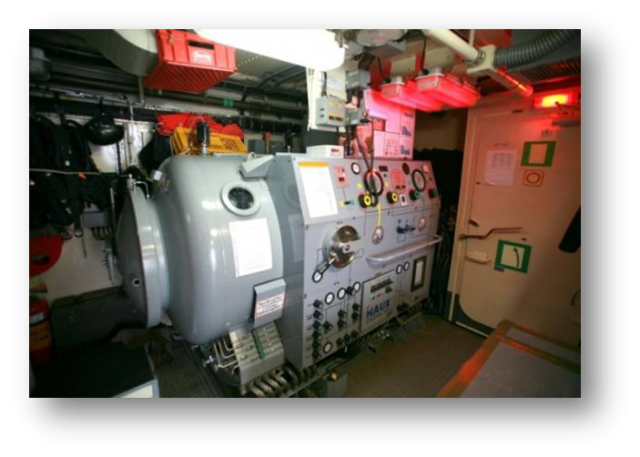 Different medical kits are available depending on operational needs, the number of soldiers, and the expected numbers of casualties. These kits include appropriate sets of drugs and dressing material, defibrillators, monitors, respirators as well as rescue equipment such as stretchers, transport hammocks and vacuum mattresses.
All other units have their own ship hospital. These units have shipboard physicians and two paramedics. In addition to the minimum equipment found on boats, ship hospitals also have laboratory equipment (blood count, clinical chemistry and enzymes), ultrasonic diagnostic equipment, and basic surgical equipment.
Frigates are also equipped with an anaesthetic machine, an X-ray device, and surgical material for damage control surgery. They have a limited holding capacity. On deployments, frigates receive a DCS team.
On combat support ships, a Role 2 naval rescue centre (NRC) can be activated and made operational within about one week. Activated to the highest configuration, it serves as a Role 2 Enhanced afloat. It offers 34 beds (plus 9 in the ship´s own hospital) and 5 ICU beds (plus 1). There are no Role 3 or higher facilities afloat in the German Navy.
Dental care is provided on frigates, combat support ships, and support ships (tenders). Ship hospitals can be equipped with mobile dentist material. Combat support ships have an integrated dental centre.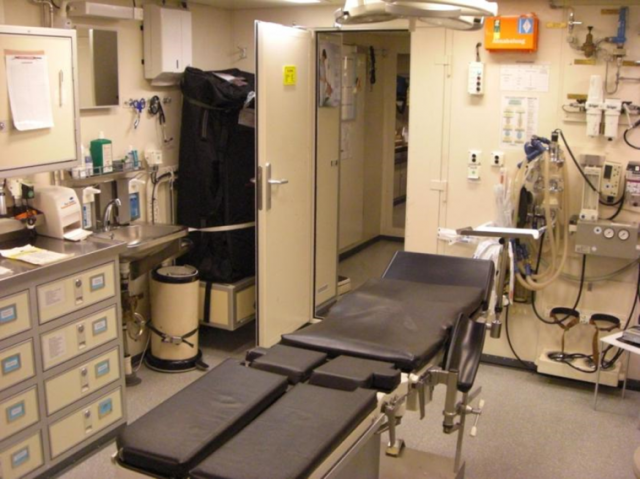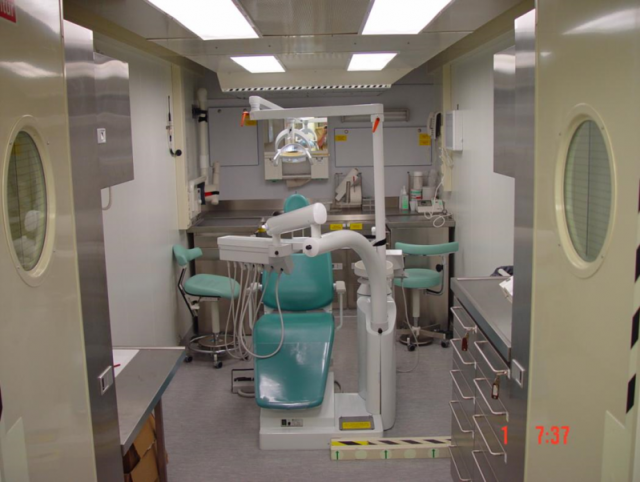 The Navy has MK 88A Sea Lynx and MK 41 Sea King helicopters. For some deployments, frigates embark two MK 88A, whereas combat supply ships have two MK 41. These helicopters can also be equipped with medical kits. In its current configuration, the MK 41 is able to carry 1 ICU litter patient and six patients with minor injuries. An MK 88A has space for one litter patient or 5 seated patients with minor injuries.
The German Navy cooperates closely with medical services ashore and afloat of all combined forces and relies on host nation support in all deployments and missions. Especially in OEF and ATALANTA, it relies on Role 2/3 support provided by French and American forces in Djibouti.