Almanac
Japan
Capital: TokyoArea: 377.975 km2Population: 125.559.223Official Language: JapaneseArmed Forces Personnel: 247.154Medical Officers: n/aMilitary Hospitals / Institutes: 12/n/aMissions: multiple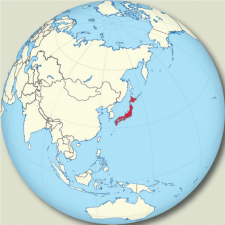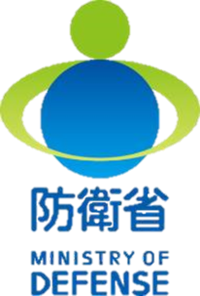 Surgeon General (Civ)
Dr Takehiko SUZUKI MD
Director General for Health and Medicine

Ministry of Defense
5-1 Ichigayahonmura-cho
Shinjuku-ku
Tokyo 162-8801
JAPAN
Surgeon General:
Tomohisa MORI (Japan Ground Self-Defense Force), Major General
Hitoshi OGAWA (Japan Maritime Self-Defense Force), Rear Admiral
Naruo KUWADA (Japan Air Self-Defense Force), Major General


Basic Task of the SDF Medical Service
The mission of medical services of the Japan Self-Defense Forces (SDF) is, to promote, protect and restore the health of SDF personnel to ensure that they are medically fit for accomplishing SDF missions.
For this purpose, the Ministry of Defense and the SDF have implemented consistent and comprehensive medical measures, from disease prevention to rehabilitation, including periodical medical examination and mental assessment, preventive medicine, adequate vaccination, regular follow-up for daily fitness enhancement and early therapeutic intervention up to full recovery of injuries or diseases. During disaster relief and other operational deployments, SDF medical services provide treatment, medical supply as well as medical evacuation.
Structure
Director General for Health and Medicine at Internal Bureau is a civilian officer who is primarily responsible for SDF's medical service from administrative perspective, such as developing fundamental policy and compiling/requesting a budget in medical service of the SDF. He/She also assists Defense Minister and Administrative Vice-Minister as a medical expert. Medical Department of each Staff Office (Ground, Maritime and Air) formulates and supervises the implementation a plan of medical service of each service (Ground, Maritime and Air Self-Defense Force). Each service has medical sections/units throughout Japan and they are responsible for medical service of their garrisons/bases. Besides these medical sections/units, there are various SDF medical institutions including each SDF hospital, National Medical Defense College.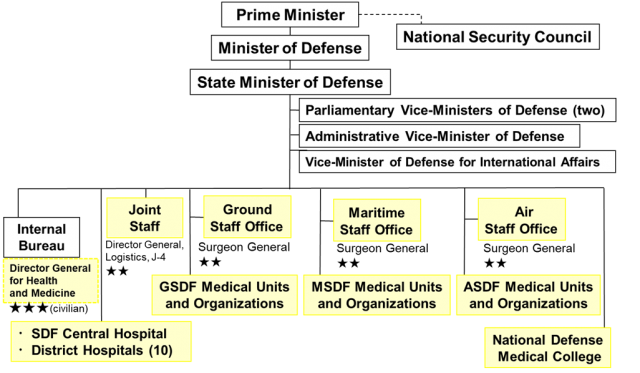 Medical Facilities
12 hospitals across Japan, including National Defense Medical College Hospital (Saitama) and the SDF Central Hospital (Tokyo), with some SDF district hospitals open to the public.
SDF Central Hospital is unitedly operated as a cooperative organization of all SDF and is the center of SDF medical treatment facilities, with 29 clinical and 5 administration departments as well as Institute of Medical Radiological Technologists and Vocational Skills Development Center, and it is also a clinical training hospital for doctors, etc. The hospital has a helipad where large transport helicopter such as CH-47 can take off and land.
10 SDF district hospitals are also cooperative organization and regional hubs for health and medical support to local clinics, training of medical staff, etc.
Clinics are attached to garrisons, bases and ships of the Maritime Self-Defense Force, providing medical services for SDF personnel.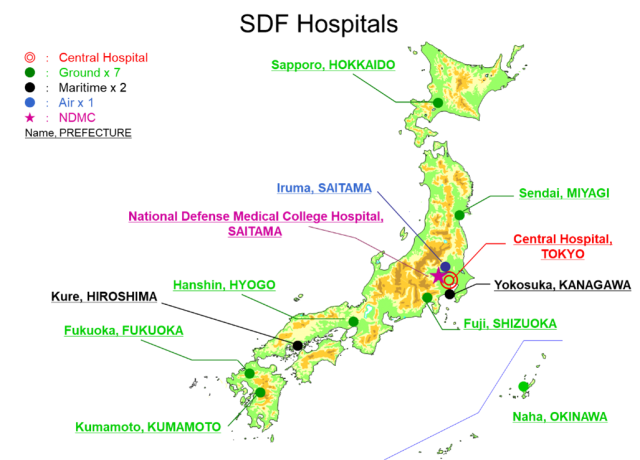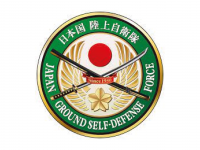 Medical Service of the Japan Ground Self-Defense Force (JGSDF)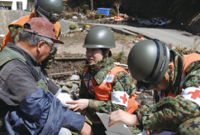 The mission of medical services of the JGSDF is to support each unit as follows so that they can exert full fighting capability in human resources.
To admit injured/diseased and provide them with treatment for their early return to work and life-saving
To provide technical support etc. from the medical/health aspects to maintain their fitness
It is primarily responsible for 'medical treatment and evacuation', 'technical support for healthcare from the medical aspect', 'technical support for epidemic prevention' and 'procurement, maintenance and upgrading of medical equipment.'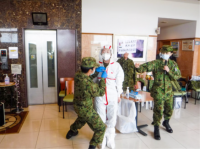 It has also developed the doctrine for life-saving designed to improve survival rate by reducing the time until performing damage control surgery after the injury as well as required time for medical transportation to treatment facility at each phase of the transportation. Based on the doctrine, it carries out improvement of medical support readiness/structure.
In response to COVID-19 pandemic, it engaged in various disaster relief activities including giving vaccinations at the SDF large-scale vaccination centers (in Tokyo and Osaka) and contributed to acceleration of COVID-19 vaccination roll-out.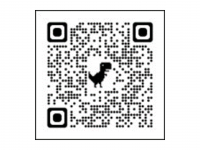 SDF activities at the SDF large-scale vaccination centers
https://www.youtube.com/watch?v=thzYpM7OTcQ
*Subtitles are only in Japanese
JGSDF Military Medicine Research Unit
Military Medicine Research Unit conducts medical tests and research such as tests on equipment that JGSDF will introduce and carried out by Acquisition, Technology & Logistics Agency (ATLA) of MOD. The unit also performs research on battle injury prevention, temporary care, healthcare management and medical ergonomics.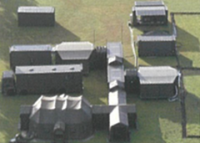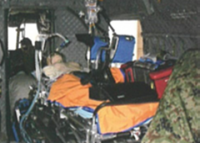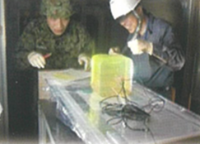 Medical Service of the Japan Maritime Self-Defense Force (JMSDF)
Mission
To provide appropriate treatment and health management of members in a wide range of occupations, such as submarine, and aviation crews, to maintain and improve maritime strength


Function
- Treatment/Medical evacuation
- Health care
- Quarantine
- Supply and maintenance of medical equipment
- Research on diving medicine


Medical Treatment
- Provide medical care for SDF personnel and their dependents
- Each SDF hospital can provide hyperbaric oxygen therapy to patients with diving illness
- Establish a medical control system and create an environment that can provide appropriate medical care even at sea


Education / Research
- All medics are educated with the provision of medical care at sea in mind
- Research on diving medicine
JMSDF Undersea Medical Center
JMSDF Undersea Medical Center, located in Yokosuka -south of Tokyo, contributes to health promotion and safety improvement for personnel assigned to submarine and diving services through studies on medicine, physiology, psychology and ergonomics. In addition, the center provides education and training for saturation divers and diving medical officers. Through these activities, the center aims to contribute to further improvement of undersea technology in JMSDF.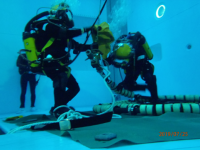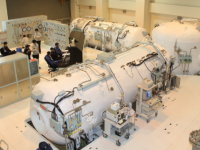 (picture of MSDF Undersea Medical Center)

Medical Service of the Japan Air Self-Defense Force (JASDF)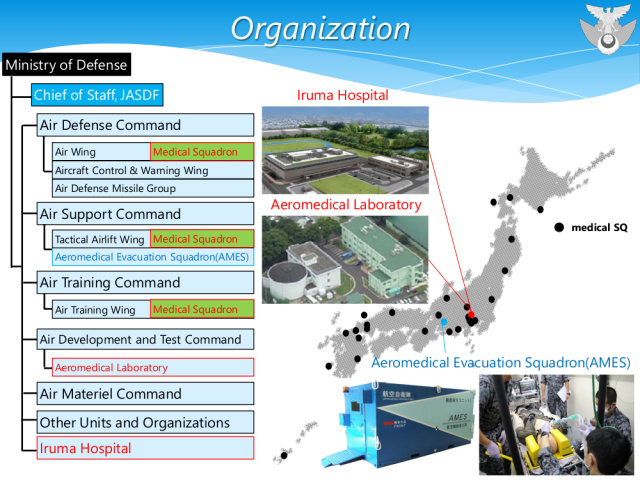 The JASDF has one hospital (Iruma hospital), 28 medical SQ, and 2 unique squadrons, Aeromedical Laboratory and Aeromedical evacuation squadron (AMES).
It has 3 organizational capabilities. The first one is casualty care. Air evacuation of AMES, tactical combat casualty care, mass casualty management and medical control are involved. Iruma hospital provides high quality medical service. The second is health care. Iruma hospital and medical SQ provide primary care, preventive care and mental healthcare. And the third is aeromedical. The Aeromedical Laboratory is responsible for aviation related medical and psychological research, and psychological training of aircrew. Iruma hospital provides aeromedical education and training to flight surgeons, nurses/EMTs, and other JASDF medical personnel.
JASDF Aeromedical Laboratory
The JASDF has the Aeromedical Laboratory which conducts aviation related aeromedical and psychological research, tests and evaluation of life support system, aeromedical evaluation, aeromedical education and training for pilots, etc., using equipment including hypobaric chamber and G-acceleration training system.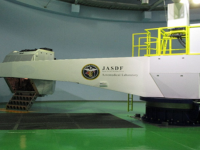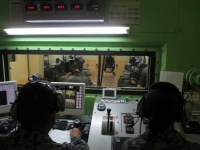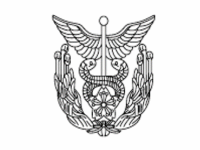 National Defense Medical College (NDMC) / NDMC Research Institute
National Defense Medical College (NDMC), established in 1973, is specialized in training medical doctors and nurses as SDF officers. Students receive fundamental education and training needed for future SDF officers as well as medicine. After graduation, they acquire skills as general practitioner at NDMC Hospital etc. and get clinical training for developing skills as clinical specialist.
NDMC Research Institute, attached to NDMC was established in 1996 as an organization specializes in critical care medicine which can respond to various mass casualty emergency events. It consists of 6 divisions – Division of Traumatology, Division of Biomedical Engineering, Division of Environmental Medicine, Division of Behavioral Science, Division of Bioinformation and Therapeutic Systems, and Division of Infectious Diseases Epidemiology and Control. Research there is conducted in collaboration with relevant research, clinical and administrative divisions based on the needs of operation of each service - JGSDF, JMSDF and JASDF and they aim to give the research results to the whole MOD/SDF systematically.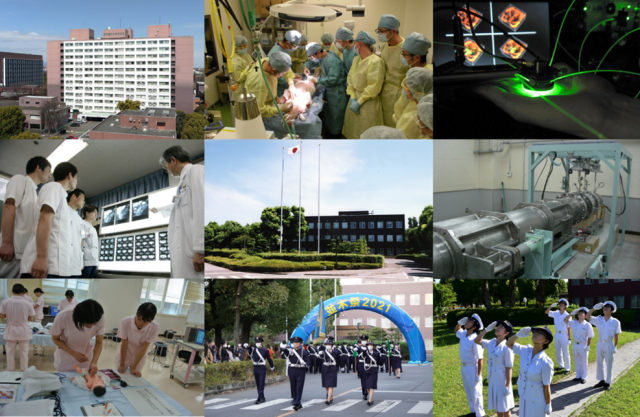 Refer to
https://www.mod.go.jp/ndmc
Field Deployments
Medical component of SDF has been frequently dispatched for disaster relief domestically and internationally as well as PKO activities and counter-piracy activities, etc.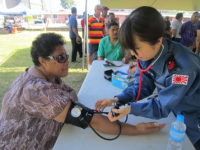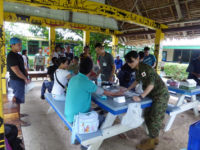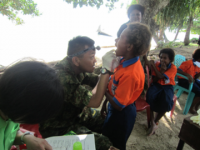 Capacity Building Activities
The MOD/SDF uses their own resources and aims to improve the capabilities of recipient countries, and to help their military forces broaden their roles so that they can further contribute to international peace and stability in the region. Since 2012, the MOD/SDF has engaged in capacity building activities in medical field including undersea medicine and aviation medicine and supported eight countries of the Indo-Pacific region through seminars (including via online) and field training, technical assistance, on-site observations of education/training and opinion exchanges etc. The MOD/SDF also cooperates with partner countries like the US and Australia, and effectively implements activities by leveraging their strength one another.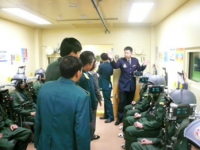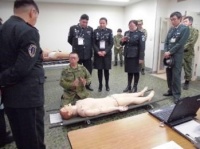 For more information:
https://www.mod.go.jp/en/capacity-building/
https://www.mod.go.jp/j/approach/exchange/cap_build/common/pdf/cap_build_e_panf_r03.pdf
Equipment for Field Deployment
Mobile Medical Unit 
Mobile Medical Unit is composed of around 30 functional containers and some tents. Each container has different function. CT, ICU and many other functional containers can provide advanced medical treatment (equivalent to levels of 2-3 medical support for UN peacekeeping missions).
For disaster relief and international peacekeeping activities, the SDF chooses some of functional containers and tents tailored for the missions and deploy them to the theater.
Vehicle-mounted mobile CT scanner of this unit was dispatched to a cruise ship to treat patients with COVID-19 who were on board the ship.
Field Surgical System
Medical units of JGSDF are equipped with Field Surgical System. This system consists of four vehicle units - surgical operation unit, surgical preparation unit, sterilization unit and sanitary supply unit and enables emergency medical care and primary surgical treatment.
JGSDF deploys this system to forward area, the time from the injury to the operation is to be shortened, and the improvement of the lifesaving rate can be expected. As one example, the system was deployed near the summit venue to be prepared for any contingencies at the G7 Ise-Shima Summit in 2016.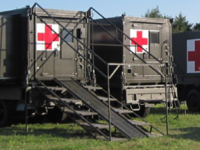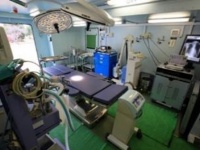 Mobile Medical Unit
The JASDF has "Mobile Medical Unit", which can provide intensive care and is a (ICU)-style container type module with sound-proof, electro-magnetic shielding, lighting capabilities, three beds and various medical devices. By using this unit, critically ill or severe injured patients can be provided with appropriate intensive care and medical intervention to ensure the vital sign and functional prognosis during long distance transport by air, including using C-130H and C-2 aircraft. The unit has worked on more than 40 missions of transporting critically ill patients including 15 cases with ECMO (extracorporeal membrane oxygenation) (*as of Mar 2022) since it started operation in 2011.