Almanac
China (Taiwan), Republic of
Capital: TaipeiArea: 35.980 km2Population: 23.316.841Official Language: Mandarin, Taiwanese, HakkaArmed Forces Personnel: 215.000Medical Officers: 1.407Military Hospitals / Institutes: 18/1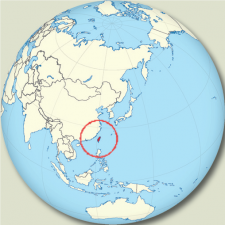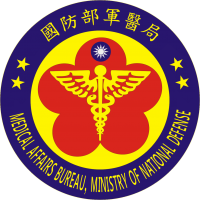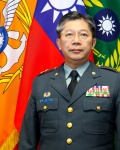 Surgeon General
Chen, Jiann-Torng MD PhD
Lieutenant General

Preliminary note:
The "People's Republic of China" considers the island of Taiwan as part of the Chinese territory. The government of Taiwan calls itself as government of the "Republic of China (Taiwan)". Taiwan is officially recognized by only a few governments as an independent state. However, there are separate Taiwanese Armed Forces with own Military Medical Services.
Basic Task of the Military Medical Service
Primary Missions of Military Medicine
Medical Affairs Bureau (MAB) under Ministry of National Defence (MND) is tasked with responsibility of overseeing military medicine and field health service support within the Taiwan military health system (MHS). Primary missions of MAB include: formulation of military medicine policies, management and supervision of military health system, military health administration, readiness of health service support, service member healthcare & promotion, medical material supply, medical equipment maintenance, military medicine R&D, and stewardship of "Military Healthcare Operation Fund". Ensuring healthy and fit defence forces while conserving fighting strength remain ultimate goals of Taiwan MHS.
Structure
Military Health System
As the most senior commander of Taiwan MHS, Director General of MAB commands all units assigned to him including military medical school, hospitals, and research labs. He is also the most senior chief of staff on military medicine to both Minister of National Defence and Chief of General Staffs in the capacity of Surgeon General of Defence.
MAB is the single and most important ministerial level military medicine staff organization. Under MAB, 4 departments of Medical Management, Medical Planning, Medical Readiness & Healthcare, Pharmaceutical Management, and Comptroller Office are established to ensure efficient implementation and supervision of military medicine enterprises. By law, National Defense Medical Center (NDMC), Tri-Service General Hospital (TSGH), all military hospitals and military clinics, and Armed Forces Medical Supplies Office (AFMSO) are under the command of MAB.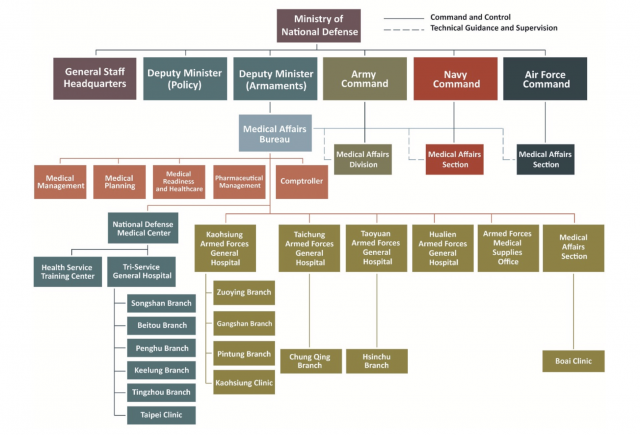 Military Health System Structure
A "2 categories, 3 roles" system of Health Service Support is adopted by Taiwan Armed Forces. Field health service support (category 1) is conducted by respective military services, while clinical treatment (category 2) is provided by military hospitals. In accordance with missions, organizations, and unique characteristics of each military service (Army, Navy, and Air Force), flexible and most appropriate modes of health support will be planned and executed.
Commanders (Superintendents) of Armed Forces General Hospitals located in each theatre of operations (TOs) are the highest-ranking medical officers in each TO. Based on tactical situations, these medical commanding officers assume overall commanding & managing responsibility for comprehensive casualty care and disposition (category 2) via critical care urgency analyses and flexible utilization of medical resources within the TO health support network.
Missions of field medical units of military services (category 1) focus primarily on preventive medicine, EMS, and prompt casualty evacuation with no treatment beds established. When necessary, medical clinics/infirmaries can be operated by regional field medical units to provide primary outpatient services, simple trauma management, and short-term patient observation. Patients/casualties with more complicated conditions and beyond clinical capability of these clinics will be referred or evacuated promptly to suitable medical treatment facilities for further management.
Roles/ Echelon /Level of Care of Taiwan MHS
*Equivalent to Roles/ Echelon /Level Ⅲ-Ⅴ of the US MHS

Training
Medical Education and Training
Medical education and training are inseparable and reinforces each other in supporting the most robust military healthcare system. Taiwan MHS features both a sensible division of responsibility and a seamless integration between education and training programs.
NDMC, TSGH, and Health Service Training Center (HSTC) are the three most important pillars of military medical education and training system, and are the proponent agencies for basic/advanced medical education, clinical specialty training, and tri-service field health service support training respectively.
Founded in 1902, NDMC (equivalent to USUHS of The U.S. Military) is the one and only military medical university in Taiwan. Educating diverse classes of medical professionals, devoting to the advancement of military medicine, and promoting medical research and development (R&D) remain core missions of NDMC.
At NDMC, students can pursue courses in various areas: medicine, dentistry, pharmacology, nursing, public health administration, biomedical engineering, etc. There are three levels of degree, including bachelor degree, master degree, PhD degree. Education programs of NDMC feature in seamless integration of teaching, research and medical care.
TSGH is not only the teaching hospital of NDMC but also the highest-ranking centre of medical excellence of Taiwan MHS. As the most important teaching hospital of Taiwan MHS, TSGH provides clinical rotation trainings for interns of NDMC and other leading medical schools, residency training programs, and numerous specialized training programs tailored for specialists.
NDMC along with TSGH also offer scholarship programs and various levels of clinical training opportunities for medical and nursing students as well as medical professionals from allied and friendly nations. For those interested in such scholarship programs or clinical training opportunities, please visit official websites of NDMC or TSGH for more information.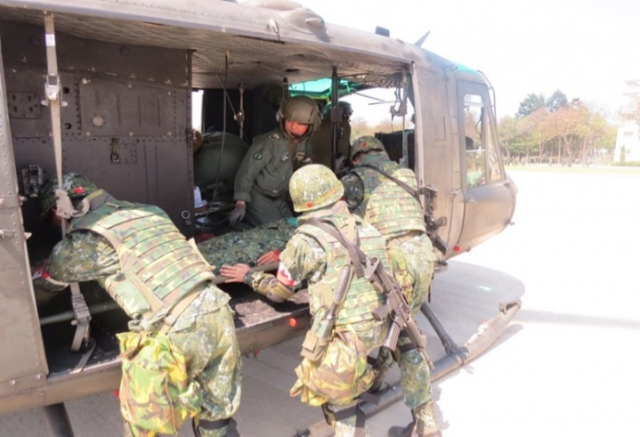 Missions Executed by Army Combat Medics and Aero-Medical Evacuation Team in 2017
HSTC is the institute designated to provide pre-hospital EMS training programs. Self-aid, buddy aid, advanced trauma life support, aeromedical evacuation techniques and tactics of field health service support activities are primary programs tailored to equip trainees with all the necessary knowledge and skills to successfully perform their peacetime and wartime health service support missions.
HSTC has trained and certified more than 11.307 EMTs (EMT-1, EMT-2 & EMT-P) as of September 2017. Most of the nationally certified EMT-Ps will be primarily stationed or embedded in military units in offshore islands or remote sites where local healthcare infrastructure is less developed. Those deployed EMT-Ps constitute the backbone of Taiwan MHS pre-hospital care system.
Military Hospitals
Armed forces general hospitals and their respective branch hospitals are strategically located in each TO throughout Taiwan Proper and its offshore islands. Total treatment bed capacity of these hospitals amounts to 6.887. When necessary, treatment bed capacity can be expanded to meet wartime surge demand to accommodate casualties based upon directives issued by MND. Furthermore, treatment beds of certain pre-designated civilian hospitals can be mobilized by the military hospital to augment healthcare capacity during wartime, as per national medical mobilization plan promulgated by the Legislative Yuan (Congress).
Additionally, some military hospitals are tasked with secondary missions covering various health screening programs for military personnel, aviation physiological training, aviation medicine R&D, undersea & diving medicine R&D and training, and military medicine R&D programs in accordance with military buildup and operation readiness policies of Taiwan military.
Today military hospitals in Taiwan remain the best choice of healthcare services for beneficiaries such as service members, veterans, their dependents, and civilians from home and abroad.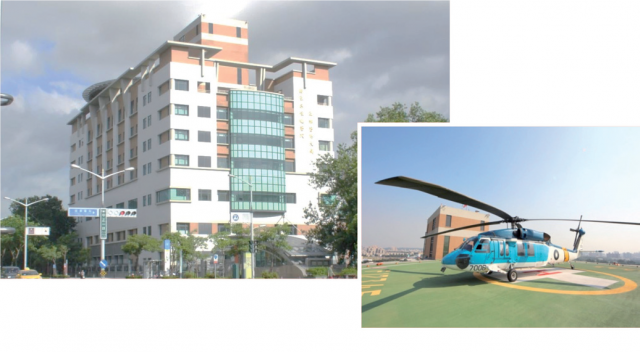 Kaohsiung Armed Forces General Hospital with HEMS Capability
Additionally, some military hospitals are tasked with secondary missions covering various health screening programs for military personnel, aviation physiological training, aviation medicine R&D, undersea & diving medicine R&D and training, and military medicine R&D programs in accordance with military buildup and operation readiness policies of Taiwan military.
Today military hospitals in Taiwan remain the best choice of healthcare services for beneficiaries such as service members, veterans, their dependents, and civilians from home and abroad.
Military Medicine R&D
MAB Military Medicine R&D Steering Committee consisting of experts from diverse disciplines of military medicine is charged with overseeing policy directions, projects funding and execution, and program effectiveness evaluation & validation for military medicine R&D programs.
The R&D programs are guided by defence policies from the top and driven by real world challenges encountered by frontline healthcare professionals from the bottom.
The R&D initiatives are aimed at advancing science and art of modern military medicine based on evidence-based research methodologies and global best practices with the followings foci:
Health promotion and management
Aviation medicine
Hyperbaric and diving medicine
Global emerging infectious diseases
Trauma medicine and mental health
Suicide prevention and control
Lightweight deployable medical equipment sets
Humanitarian assistance and disaster relief medicine
Regenerative medicine and Geno-therapy
Medical Simulation & 3D Printing Applications
Medical simulation & 3D printing applications is a vital R&D milestone for Taiwan Military Health System in 2017 with tremendous value and implications in trauma care and tactical combat casualty care applications.
Smart glasses and wearable device technologies have been applied to integrating field tactical care of field medical units and clinical treatment by military hospitals, creating a seamless linkage of care continuity. 3 D Printing technologies have been widely applied to surgical care in Tri-Service General Hospital with significant improvement of clinical outcomes observed, via pre-op surgical guides, pre-surgery planning and rehearsals, precision surgical procedures, shortened operating time, decreased infection risk, and reduced hospitalization days, to the benefits to patients and clinicians.
Medical Affairs Bureau has long envisioned dawning of the new era dominated by smart medical applications in the wake of digital technologies and artificial intelligence development. The MAB has in recent years dedicated itself in integrating advanced ICT technologies, cloud-based healthcare, and digitalized gadgets/appliances. The MAB has imported the latest smart wearable device, smart glasses, into clinical healthcare and tactical combat casualty care applications, with fruitful outcomes attained and accumulated. The MAB has further combined wearable devices with 3D printing technologies and applied them to clinical simulation and smart combat casualty care.
With support and sponsorship from Medical Affairs Bureau (MAB), National Defense Medical Center (NDMC), and Tri-Service General Hospital (TSGH), NDMC research team has embarked on 3D printing medical application research for many years, with practical clinical applications devised and applied in orthopedic, thoracic surgery, dental, plastic surgery, and otolaryngological surgical procedures. In the future more innovative surgical applications will be derived from NDMC 3D medical printing research team and applied to more medical specialties and sub-specialties.

Video Clip 1: 3D Printing Assisted Pelvic Fracture Surgery Video
Video Clip 2: 3D Printing Assisted Rib Fracture Surgery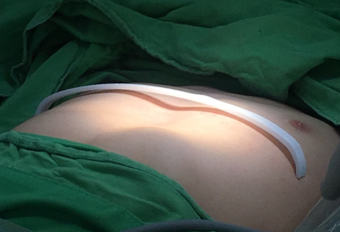 Printing Technologies Applied to Combat Casualty Care by Military Hospitals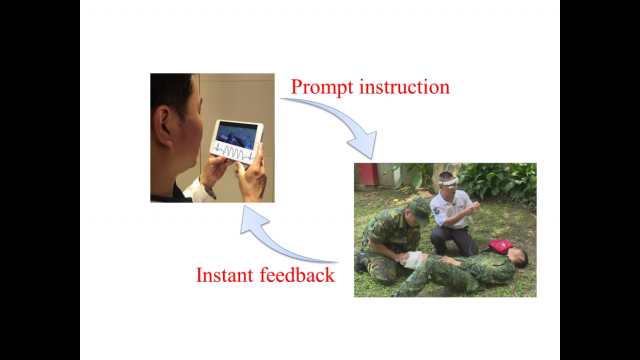 Mobile & Wearable Devices Application in Tactical Combat Casualty Care
Civil-Military Cooperation
Humanitarian Assistance and Disaster Relief (HADR) Health Support
Domestic HADR Missions
As one of the most important national strategic medical assets, Taiwan MHS has long been the indispensable backbone of national disaster medical system with footprints present in each and every major domestic disaster scenarios. Each day, medical teams contributed by armed forces hospitals augmented by health service support teams contributed by field medical units stand ready to deploy and execute disaster medical support missions.
From 2008 to September 2016, a total of 1195 medical teams had been activated and deployed to render HADR medical support under 21 natural and man-made disaster scenarios. A total of 11.990 patients/casualties had been cared for by medical teams of Taiwan MHS and more than 328 cases of medical evacuation had been carried out.
Domestic HADR Medical Support Missions
International HADR Missions
Taiwan MHS has also been very active in International HADR medical support missions. Guided by policy directives from the government, MAB collaborates with Ministry of Foreign Affairs, Ministry of Health and Welfare, and NGOs such as Taiwan Red Cross and Tzu Chi Buddhist Foundation in manning, training, and material provisioning necessary for international HADR medical missions on short notice.
From 2010 to 2016, Taiwan MHS' international HADR medical mission footprints have included Haitian Earthquake in 2010, The Philippines, and Palau, to name just a few.
To further regional & international health engagement and actively participate in international HADR medical missions, volunteers consisting of students from medical, nursing, and public health schools of NDMC and medical staffs from TSGH, in partnership with domestic and international NGOs, have in recent years dispatched HADR medical teams, rendering medical as well as public health services to disadvantaged local populations of friendly frontier countries.
Medical specialists dispatched by Taiwan MHS to Burkina Faso, providing healthcare services to the local population, have partnered with local health authority on several public health cooperation and collaboration projects for more than 20 years. To ensure that local population in Burkina Faso have access to quality specialist consultation & care, Taiwan MHS has already established telemedicine links between medical facilities in Burkina Faso and Taiwan for years.
In recent years Taiwan MHS has task-organized & dispatched numerous medical teams to provide medical services to local population, and to build up public health and emerging infectious diseases prevention capacity and capability of allied & friendly countries.
Healthcare Provided to Local Populations in HADR Medical Missions in Cambodia and Kiribati in 2017.
Regional & International Cooperation & Exchanges:
Being a vital national strategic medical asset, Taiwan MHS has both the will and capability of meaningfully participating in regional and international cooperation and exchange initiatives, to positively contribute to the international community to the benefit of all stakeholders concerned.
Facilitating learning and sharing, partnership building, and advancing the science and art of military medicine remain guiding principles of Taiwan MHS' regional and international engagements.
Below highlights a snapshot of regional and international cooperation & exchange activities by Taiwan MHS teams in recent years.
President of Marshall Islands 2017 Visiting Medical Cabin of ROC Navy Ship
Taiwan MHS Delegation Participating in APMHE
Taiwan Aero-Medical Evacuation Team Participating in Mobility Guardian Exercise 2017 in the U.S.
Medical Professionals Providing Healthcare to Local Population in Kiribati in 2017