Almanac
Germany, Federal Republic of (Joint Medical Service)
Capital: BerlinArea: 357.582 km2Population: 83.100.000Official Language: GermanArmed Forces Personnel: 184.000Medical Officers: 3.800Military Hospitals / Institutes: 5/6Missions: multiple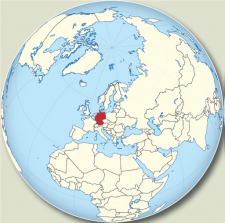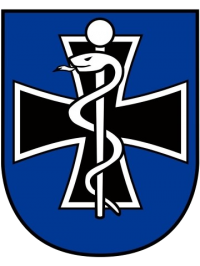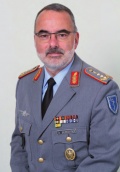 Surgeon General
Dr med Ulrich Baumgärtner
Lieutenant General MC

Bundeswehr Medical Service Headquarters
Von-Kuhl-Strasse 50
56070 Koblenz
GERMANY
Basic Task of the Military Medical Service
The core task of the Bundeswehr Joint Medical Service (BwJMS) is to protect, sustain and restore the health of service personnel.
The spectrum of health care services in the Bundeswehr is tailored to the requirements of operations abroad and is the product of all capabilities and capacities needed for protecting, maintaining, promoting and restoring the physical and mental health, social well-being and operational readiness of the soldiers in accordance with current scientific and technological standards. These services include tasks of preventive medical care, free health services, military medicine, dental medicine, veterinary medicine, military pharmacy (including food chemistry), CBRN medical defence and other tasks under public law.
From this spectrum, specific services will be provided for soldiers in the fields of health care, medical training and medical support. The guiding principle for the quality of medical care during deployments abroad is to guarantee a treatment outcome that, in terms of quality, corresponds to medical standards in Germany. For that purpose, the medical service engages in specific projects of cooperation with national military and civilian partners also under the aspect of burden-sharing.
Structure
Consistent orientation towards mission-related tasks, the streamlining of command and control structures and the continued focus on tasks that require a medical licence are essential determinants of the Bundeswehr Joint Medical Service.
In order to achieve these goals and maintain personnel sustainability, the Bundeswehr Joint Medical Service comprises a total of approximately 18.000 military and 3.000 civilian posts.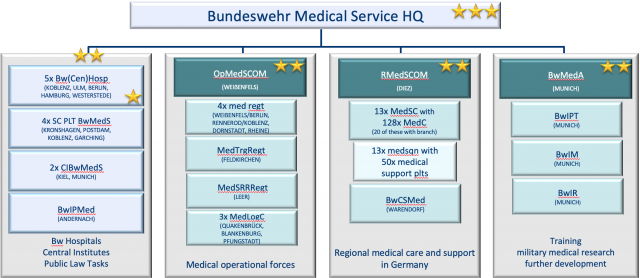 The Surgeon General is the commanding general of the German Joint Medical Service and, in medical matters, exercises control over the medical services of all branches of the Bundeswehr.
He also commands the Bundeswehr Medical Service Headquarters (BwMS HQ) located in Koblenz, which at field army level is the highest military medical command in Germany. It is under the direct control of the Federal Ministry of Defence (FMoD).
All command and control structures of the Bundeswehr Medical Service are organized at the Bundeswehr Medical Service Headquarters, focusing on a process-oriented organisation rather than on customary staff branches. In the training branch, for example, staff from personnel management work alongside staff from operations and readiness.
The five Bundeswehr Hospitals are commanded directly by the BwMS HQ. Therefore, a division of hospital management is integrated into the command structure of the BwMS HQ under the direct control of the Deputy Commanding General of the BwMS HQ.
A feature unique to the Medical Service is its responsibility for the organisation and management of Strategic Aeromedical Evacuation (StratAirMedEvac) operations. This responsibility includes stationing, military security, alerts and mobilisation.
At the division level, two commands and the Bundeswehr Medical Service Academy are subordinate to the Bundeswehr Medical Service Headquarters.
The leadership mission "medical support on operations" is executed at Operational Medical Support Command (OMSCOM) in WEISSENFELS. Subordinate to this capability coordination command are four medical regiments, Medical Training Regiment, and Medical Service Rapid Reaction Regiment, as well as three Medical Logistics Centres. Operational Medical Support Command in WEISSENFELS – as kind of "permanent lead command" – is thus responsible for providing medical operational forces and for coordinating and steering their pre-deployment training.
Regional Medical Support Command (RMSCOM) in Diez exercises command and control over all regional medical facilities in Germany. In numbers, this is 13 Medical Support Centres, 128 Medical Clinics, 15 Medical Clinics with Speciality Services and the Bundeswehr Centre of Sports Medicine. The aim is to ensure that military personnel are never more than 30 kilometres or 30 minutes away from the nearest regional medical treatment facility.
The spectrum of the Medical Support Centres includes Medical care by General Practitioners, dental care, medical care by specialists (out-patient clinics) and occupational health care. The Bundeswehr Centre of Sports Medicine provides advice to military sports teams, works in research on the topic of sports and preventive medicine, develops concepts (individual personal fitness training et alia) and has a significant part in the rehabilitation of personnel injured during missions abroad.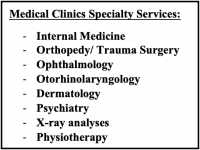 In addition, the Medical Support Centres are also in command of the 13 Medical Squadrons whose task ist to provide medical support to the troops.
The Bundeswehr Medical Service Academy in MUNICH constitutes the fourth capability pillar. It is the central research, capability development and teaching facility of the Bundeswehr Medical Service. In addition, it has available three departmental research facilities within the FMoD area of responsibility for the field of CBRN medical defence.
Five Bundeswehr Hospitals located in Koblenz, Ulm, Berlin, Hamburg and Westerstede are directly subordinated to the Bundeswehr Medical Service Headquarters as well as the Central Institutes of the Bundeswehr Medical Service at Kiel and Munich and Supervisory Centers for Public Law Tasks of the Bundeswehr Medical Service North (Kiel), West (Koblenz), East (Potsdam) and South (Munich).
The military hospitals take care of a multitude of tasks, which are all necessary to maintain the basic operation of the hospitals. As part of the findings from our participation in missions, since 2007 the military hospitals consistently have been aligned on the requirements for the provision of medical care in use. Without the execution of all these tasks, an adequate treatment of the personnel on missions would be impossible.
Therefore, military hospitals treat military personnel as well as civilian patients. To acquire the required spectrum of patients, the military hospitals are involved in the civilian land-based and airborne emergency service in the respective region. The military hospitals include a capacity of 1811 beds to serve as training centres for our medical personnel, to have a suitable range of diseases and injuries and to have special skills to treat patients with (poly)trauma, patients with mission-related mental and psycho-traumatic disorders and patients with infectious diseases. Of their total of 1811 beds, 787 are approved for civilian inpatient care and thus serve as a contribution to the overall German healthcare system. Without this integration in the civilian health care system, the military hospitals would not be able to fulfil their task to qualify the physicians for missions. Thus a relevant spectrum of patients and a relevant mix of medical cases or injuries is needed, which is required to prepare the physicians for their duties.
The military hospitals thus form the central part of the commitment to ensure the effectivity of the medical service. In addition to the provision of their own staff for missions abroad, they are primarily responsible for medical education of members of the Medical Corps, pre-deployment training, continuing education and training of our medical specialists.
The Bundeswehr Joint Medical Service has four Medical Regiments, elements of which will be stationed at or close to Bundeswehr hospitals in order to strengthen the training and exercise system and to increase options for the mutual support between field units and Bundeswehr hospitals.
Three Medical Regiments are located in Weißenfels/Berlin, Rennerod/Koblenz and Dornstadt/Ulm. The main task of the medical regiments is to provide personnel and material to maintain a hospital on deployment, augmented by medical specialists from the military hospitals and the regional medical facilities.
Related to collective defence and as a consequence of the latest NATO Summits, future medical units will be also stationed in the vicinity of the potential beneficiaries. That was one of the reasons the fourth Medical Regiment was recently stationed in Rheine.
In Addition, the Medical Service Rapid Reaction Regiment in Leer combines all airmobile and airborne medical capabilities of the Bundeswehr Joint Medical Service to ensure that medical care and support are made available to troops on deployments abroad within a very short period of time. During longer deployments, rapid response forces are relieved by stabilization forces.
Basic training of medical trainee soldiers and pre-deployment training of medical personnel is provided by the Medical Training Regiment in Feldkirchen.
Military Hospitals
Bundeswehr Central Hospital Koblenz: 509 beds, 23 medical departments

Bundeswehr Hospital Ulm: 496 beds, 20 medical departments


Bundeswehr Hospital Berlin: 367 beds, 16 medical departments





Bundeswehr Hospital Westerstede: 135 beds, 10 medical departments (a cooperation of civilian and military facilities in one hospital)

Institutes, Research and Public Health
Veterinary and pharmaceutical laboratory diagnostics including potable water and food examination are provided by Central Institutes of the Bundeswehr Medical Service at Kiel and Munich.
Medical research in the field of detecting and preventing CBRN-Threats is conducted in the laboratories of the institutes affiliated with the Medical Service Academy in Munich. The Bundeswehr Institutes of Microbiology, of Pharmacology and Toxicology, and of Radiobiology are also stationed in Munich. The Bundeswehr Institute of Preventive Medicine will be established in Andernach and will provide research and operational assets for injury protection, health protection and surveillance capabilities.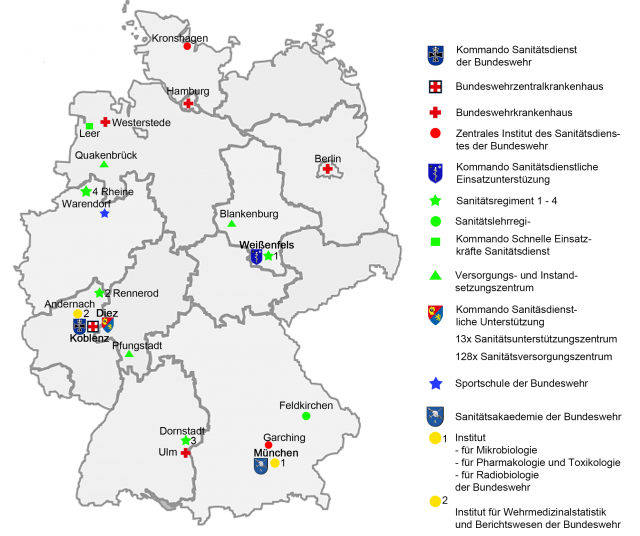 Medical Logistics
Medical logistics is provided by three Medical Logistics Centres located in Quakenbrück, Blankenburg and Pfungstadt.
The main task of a Medical Logistics Centre is to supply military missions and regional medical facilities with pharmaceuticals and medical devices. Pharmacists and pharmacy staff assure storing and shipment in accordance with national and international regulations.
Training and provision of personnel for military missions is another important aspect. The regional medical facilities are provided with advice on drug selection and proper usage of medicines. In addition, the centres provide repair and maintenance of medical equipment.
Thus, the Medical Logistics Centres cover a variety of logistical and pharmaceutical capabilities to ensure sufficient health care to the soldiers of the Deutsche Bundeswehr.
Field Deployments
Medical care for personnel who become ill, injured or wounded during deployment is provided through the medical evacuation chain. This chain of closely interlocking phases ranges from self and buddy aid through medical care in field medical treatment facilities to final clinical treatment and rehabilitation in Germany. The medical evacuation chain consists of four medical service treatment levels. Depending on the severity of the illness or injury, the patient will pass through some or all of these levels. Well-trained specialist personnel and efficient, mobile equipment are available for the benefit of personnel at all times.
First aid through self and buddy aid forms the start of the medical evacuation chain. Initial emergency medical care is rendered at Mobile Aid Stations (Role 1). Trained medical specialists perform on-site triage, shock and pain management as well as haemostatic measures. They also ensure the clearance of the respiratory tract and artificial ventilation.
Mobile Aid Station Role 1

Complimentary emergency diagnostic services and treatment are provided at Mobile Surgical Hospitals (Role 2). These are able to deal with acute injuries and disorders and the relevant surgeons and anaesthetists. A Mobile Surgical Hospital consists of mobile containers. Tents are used in some cases. The size and facilities of a centre are adapted to the requirements of each deployment.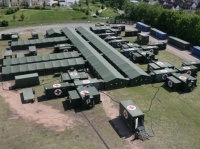 Mobile Surgical Hospital (enhanced)
Field Hospitals (Role 3) provide in-patient and out-patient specialist medical care. They have extended surgical, intensive care and specialist diagnostic and treatment facilities and, if necessary, can stabilise casualties for direct evacuation back to Germany.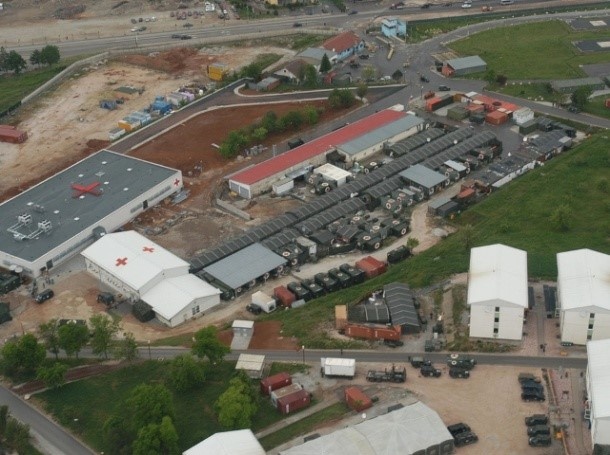 Field Hospital Role 3 In relation to the kind and severity of their injuries, Casualties are generally transported back to Germany in specially equipped Bundeswehr aircraft within the framework of StratAirMedEvac. Special equipment includes Patient Transport Units (PTU) for the movement of intensive care patients. Six PTU can be installed in Airbus A-310 aircraft operated by the Deutsche Luftwaffe (German Air Force, see Luftwaffe).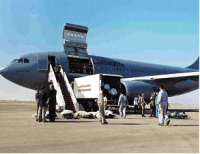 Airbus A-310 with Patient Transport Units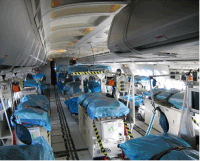 The main elements at Role 4 level are the Bundeswehr Hospitals in Germany. If necessary, civilian hospitals and rehabilitation centres are also used. These facilities provide for the further treatment of patients who have been evacuated from the area of deployment. As a rule, strategic air medical evacuation aircraft land in the reserved military zone of Cologne- Bonn airport. From there, patients are transferred to the Bundeswehr hospitals.

Protected Casualty Transport Vehicles used (examples)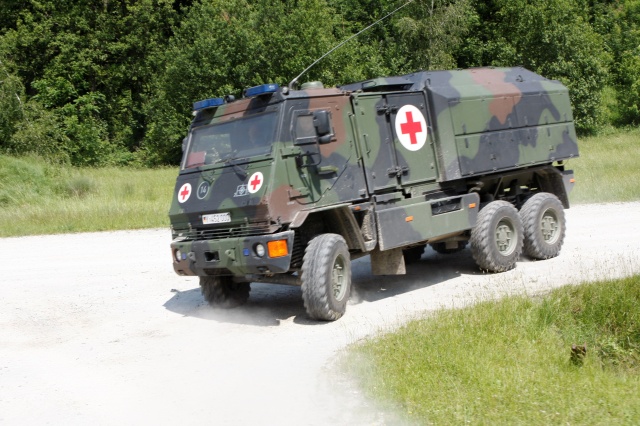 Yak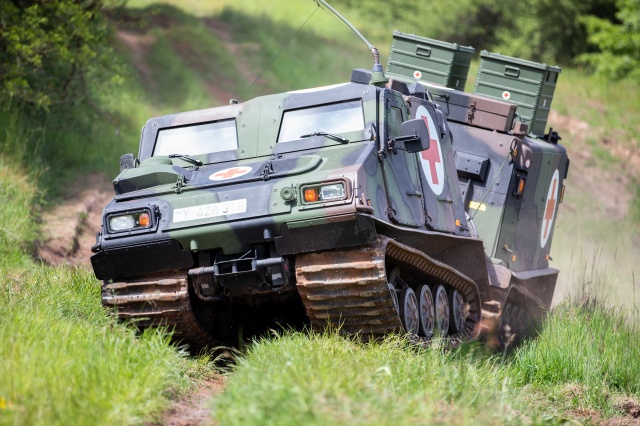 Hägglund (Photo: Medical Service/Laymann)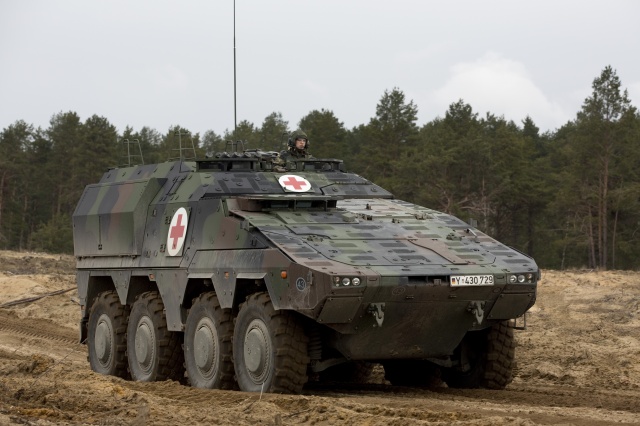 Boxer (Photo: Medical Service/Thiel)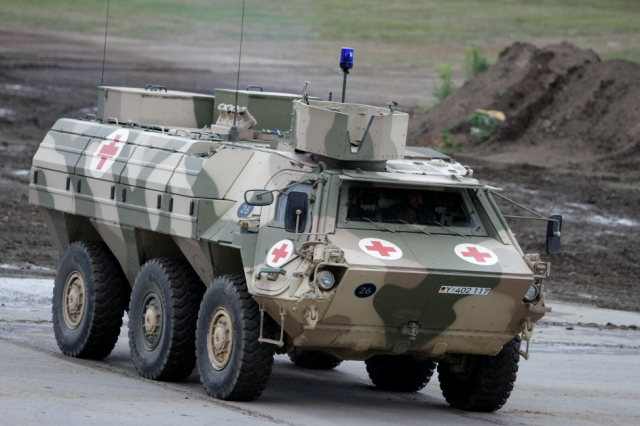 Fuchs (Photo: Medical Service/Dittrich)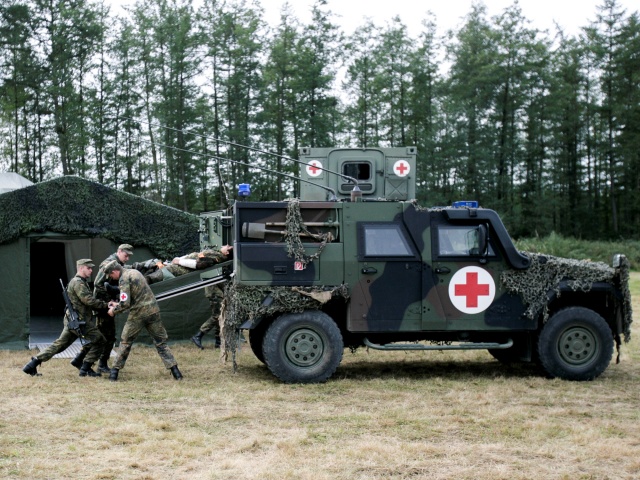 Eagle IV
Dingo 2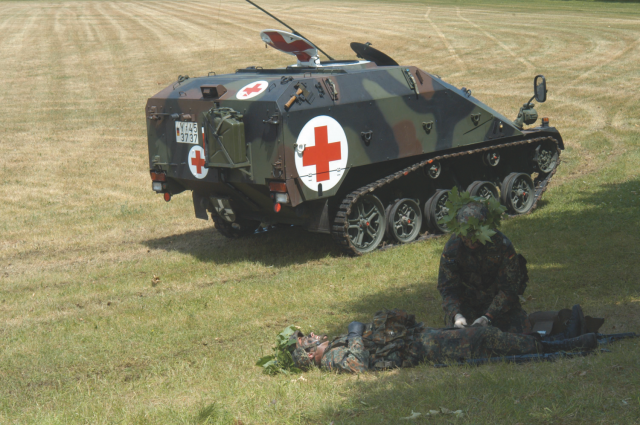 Wiesel 2
Current missions:
1999 – KFOR / Kosovo
2015 – RS / Afghanistan
2015 – CD / CBI Jordan / Iraq
2005 – UNMISS / South Sudan
2006 – UNIFIL / Lebanon
2007 – UNAMID / Sudan
2008 – ATALANTA / Horn of Africa
2013 – MINUSMA / Mali
2013 – EUTM / Mali
2013 – MINURSO / West Sahara
2017 – eFP BG LTU / Lithuania
2019 – UNMHA / Yemen
Civil-Military Cooperation
The Bundeswehr cooperates with its civilian counterparts were measures, personnel and resources. The purpose of the cooperation is to promote a closer relationship between Bundeswehr units on the one hand and civilian authorities and the civilian population on the other.
The Bundeswehr Joint Medical Service has established seven centres for civil-military cooperation across Germany for subsidiary medical support.
These centres have the following capabilities:
- Conducting triage and providing medical treatment within the scope of available capacities, operating facilities in the following medical support roles:
- Role 1 – mobile aid station. (All-terrain) patient evacuation capacity and casualty decontamination capability require planning and allocation of the necessary medical personnel as determined by the Bundeswehr Medical Service Headquarters.
- Role 2 – mobile surgical hospital. Requires at least one week of planning (including reconnaissance, transportation and setup) and allocation of the necessary medical personnel as determined by the Bundeswehr Medical Service Headquarters.
The above capabilities can only be provided with the involvement of medical personnel from the Bundeswehr hospitals and the Central Institute of the Bundeswehr Medical Service and, where applicable, only with the involvement of materiel resources from the command area, since it may not be possible for one centre alone to provide these capabilities.
Civil-Military Cooperation
Social Media
Links
Articles
Browse by category
Events