Almanac
Japan
Capital: TokyoArea: 377.835 km2Population: 126.045.000Official Language: JapaneseArmed Forces Personnel: 247.150Medical Officers: n/aMilitary Hospitals / Institutes: 17/4Missions: multiple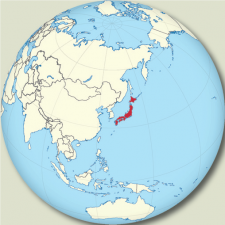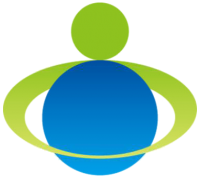 Surgeon General (Civ)
Dr SUZUKI Takehiko MD
Director General for Health and Medicine

Ministry of Defence
5-1 Ichigayahonmura-cho
Shinjuku-ku
Tokyo 162-8801
JAPAN
Mission
The primary mission of medical services of Self Defense Forces (SDF) is, to promote, protect and restore the health of SDF members to ensure that they are medically ready for accomplishing SDF missions.
For this purpose, Ministry of Defense (MOD) and SDF have implemented consistent and comprehensive medical measures, from prevention to rehabilitation, including periodical medical and mental assessment, preventive medicine, adequate vaccination, regular follow-up for daily enhancement of fitness and early therapeutic intervention up to full recovery of injuries or diseases. Also, during operational deployment of SDF units for coping with situations and disaster relief activities, etc., medical services of SDF provide medical treatment, medical supply as well as medical evacuation.
Structure
Director-General for Health and Medicine in Internal Bureaus is in charge of overall health and medical issues of MOD/SDF. Deputy Director-General, Logistics (Medical) in Joint Staff Office is responsible for the planning of the medical aspect of joint operations. Also, each service of Ground, Maritime and Air SDF has a central organization in its staff office to plan projects and control their implementation of health and medical matters, headed by the respective Surgeon Generals of GSDF, MSDF and ASDF. Further, each unit and organization of SDF has a health and medical division, unit, or team, etc. to handle health and medical issues related to their units and organizations. In addition to these, there are various facilities such as medical treatment facilities, education and research facilities, logistic facilities for medical supplies, and these organizations are working together to implement health and medical tasks as one body.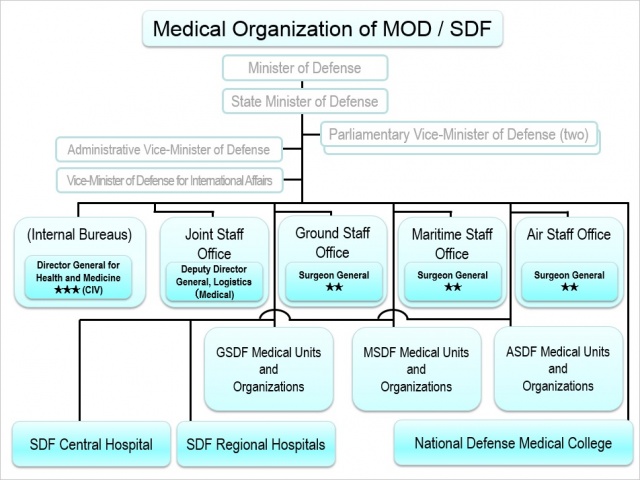 Hospitals
The MOD has:
-17 hospitals across Japan, including National Defense Medical College Hospital (Saitama) and SDF Central Hospital (Tokyo), with some hospitals open to the public.
- SDF Central Hospital is unitedly operated as a cooperative organization of all SDF and is the centre of SDF medical treatment facilities, with 29 clinical and 5 administration departments as well as Institute of Medical Radiological Technologists and Vocational Skills Development Center, and it is also a clinical training hospital for doctors, etc. The hospital has a heliport where CH-47 can take off and land.
- 15 SDF district hospitals (7 GSDF, 5 MSDF, 3 ASDF) are also the cooperative organization and regional hubs for health and medical support to local clinics, training of medical staff, etc.
- Clinics are attached to Garrisons, bases and ships of SDF, providing medical services for JSDF members.
- NBC Counter Medical Unit, JGSDF Medical Service School, etc.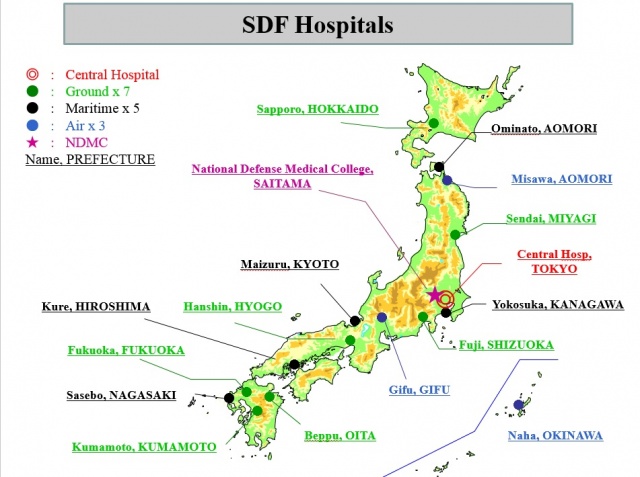 SDF Central Hospital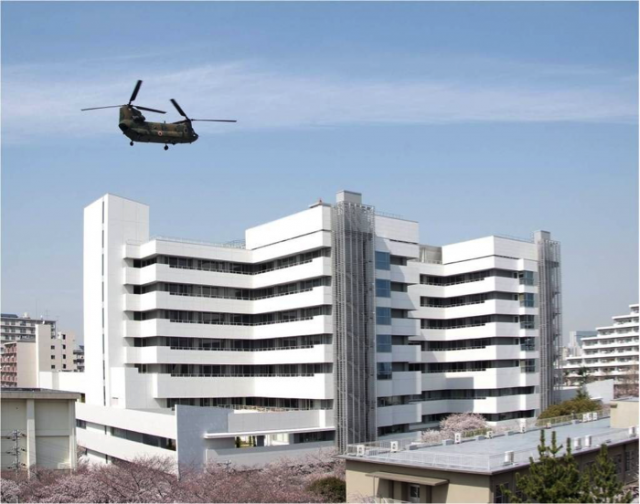 Education and Research Facilities
National Defense Medical College (NDMC)
The NDMC, established in 1973, is specialized in generating and training military doctors, and military and civilian nurses. NDMC hospital is open to the public with 800 beds. NDMC Research Institute is attached to NDMC.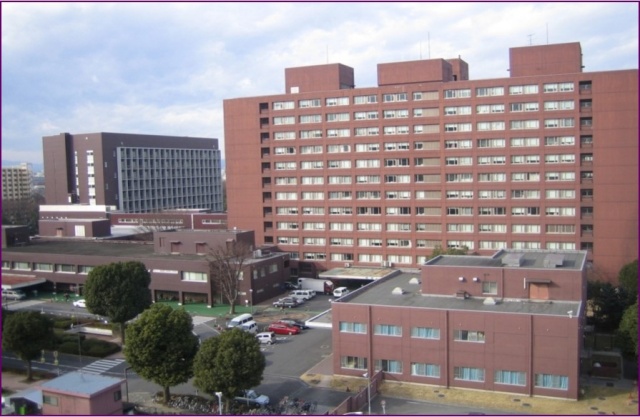 Military Medicine Research Unit
Military Medicine Research Unit conducts medical equipment tests and medical research.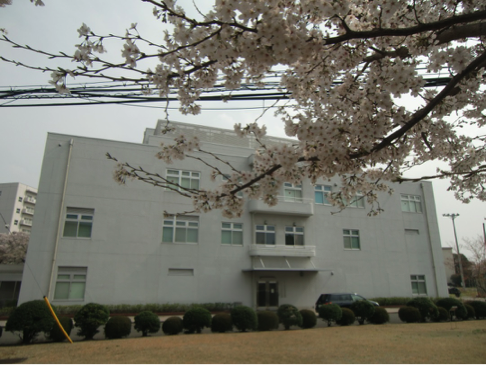 Undersea Medical Center
MSDF has Undersea Medical Center in Yokosuka, south of Tokyo. The mission of the undersea medical centre is to conduct research and development related to diving medicine and to provide education and training for divers, etc.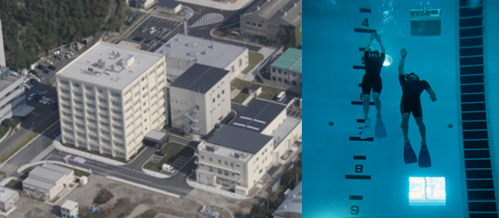 Aeromedical Laboratory
ASDF has the Aeromedical Laboratory (AML) which conducts aviation-related aeromedical and psychological research, tests and evaluation of life support system, aeromedical evaluation, education and training for pilots, etc., using equipment including pilot workload assessment system and G-acceleration training system.
Deployments
The medical component of SDF has been frequently dispatched for disaster relief domestically and internationally as well as PKO activities and counter-piracy activities, etc.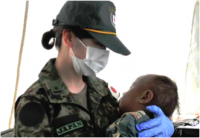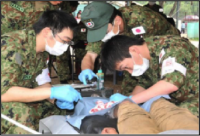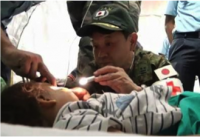 Equipment for Field Deployment
Mobile Medical Unit 
Mobile Medical Unit is composed of around 30 functional containers and some tents. Each container has a different function. CT, ICU and many other functional containers can provide advanced medical treatment (UN level 2-3).
For international missions or domestic disaster relief operations, SDF chooses some of functional containers and tents tailored for the mission and deploy them to the theatre.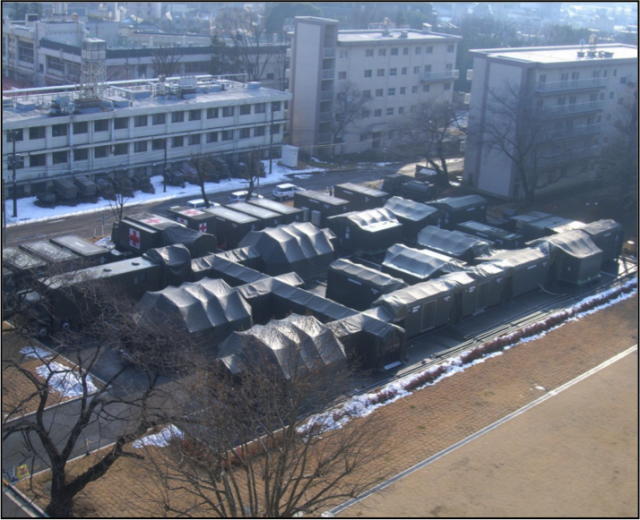 Field Surgical System
Medical units of GSDF are equipped with Field Surgical System. This system enables emergency medical treatment and primary surgical treatment.
GSDF deploys this system to forward area, the time from the traumatism to the operation is to be shortened, and the improvement of the lifesaving rate can be expected.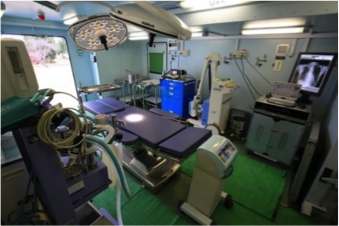 Aeromedical Evacuation Unit
ASDF has Aeromedical Evacuation Unit, which can provide intensive care and is an (ICU)-style container type module with sound-proof, electric magnetic shielding, lighting capabilities, three beds and various medical devices. By using this unit, critically ill or severe injured patients can be provided with appropriate intensive care and medical intervention to ensure the vital sign and functional prognosis during long-distance transport by air, including using fixed-wing aircraft.