Article: Wehrmedizinische Monatsschrift 10/2018
Risk Aware, not Risk Averse - Risk management and practical planning of training and operations in heat environments in the British Army
Peter Wright
Oxford Brooks University – Department of Sport, Health Sciences and Social Work
Training in the British Army
The UK's Ministry of Defence and therefore British Army policies dictate the controls that should be adhered to when delivering physical training during hot and cold environments. Failure to account for climatic conditions during training could cause irreversible injuries to soldiers or even death.
The key stakeholders in the implementation process are primarily the physical training instructors (PTIs), but it also involves medics, endurance trainers and occasionally health trainers, nurses and physicians. However, there is always a residual risk that needs to be accounted for during arduous military training and/or operations.
Heat illness in the British Army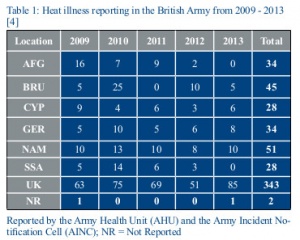 In the UK military, heat illness is an important cause of morbidity that may arise during training and on deployed operations. It occurs when excessive body heat develops under conditions of increased heat stress, to which physical exertion and impaired thermoregulatory capacity may contribute. The effects of heat illness range from mild symptoms, such as muscular weakness and headache, to severe manifestations, including collapse, coma and death [5].
On operations in a hot environment the potential for heat illness must be considered as part of the combat estimate process. Possible impacts on operations when planning for heat illness include:
Increased casualty rates.
Increased water re-supply requirement.
Rest periods may require additional manpower to complete the task.
Degradation of Service personnel through prolonged exposure to heat.
The requirement for prolonged acclimatisation period and re-acclimatisation after periods of absence.
The following table (table 1) shows the total heat illness reporting (2009 - 2013), by region of incident: Afghanistan (AFG), Brunei, Asia and the Middle East (BRU), Cyprus and Southern Europe (CYP), Germany (GER), North America (NAM), Sub-Saharan Africa (SSA) and United Kingdom (UK).
Reported by the Army Health Unit (AHU) and the Army Incident Notification Cell (AINC); NR = Not Reported
There is a wide variation in human tolerance to heat (table 2). In some cases of heat illness it is possible to identify factors that have caused particular individuals to become heat casualties [1].
Danger of over-hydration (hyponatremia)
Whilst rehydration is an important preventative measure over-hydration does not further reduce the risk of heat illness. Over-hydration can cause potentially severe medical consequences (nausea, vomiting, headache, irritability and loss of consciousness) and can be fatal. Only in exceptional circumstances should the daily intake exceed 12 litres. The hourly rate of fluid intake should not normally exceed 1.5 litres per hour. Commanders are responsible for monitoring the fluid intake of their personnel. This may require systematic checks particularly where hydration bladders or similar fluid delivery systems are used. Personnel who are urinating more often than normal may be over-hydrated [5].
Education & training system in the context of preventing heat casualties
The British Army's education and training system for the prevention of heat illness includes the following documents tests and/or training:
Supporting policy documents: JSP 539; CLIMATIC INJURIES IN THE ARMED FORCES: PREVENTION AND TREATMENT
A Commander's Guide to Climatic Injury
An Individual's Guide to Climatic Injury
MATTs (Mandatory Annual Training): medical training, nutrition/lifestyle education
Training of subject matter experts
There is a series of experts involved in the overall context of climatic injury prevention. However, the following are the key stakeholders on the ground when it comes to the prevention of heat illness in the British Army: Physical Training Instructors (PTI), Endurance Training Leader (ETL) and Medics. Additionally, there is a role of a Health Trainer who is working within the unit as a basic health adviser and therefore contributes to reduce individual risk factors such as smoking and obesity.
Endurance Training Leader
Pre course reading
5 day course
Examination: several practical and theory tests.
Role: embedded in troop/unit conducting endurance training and assisting PTI.
Physical Training Instructor
Interviews
PTI Corps entry test
Pre course reading
7 week course Basic PTI course and then Advanced PTI (two levels)
Examination: several practical and theory tests.
Role: embedded in unit conducting all physical training and exercise related health tasks. Sitting on several committees [2]
The WBGT and its role in preventing climatic injuries
The Wet Bulb Globe Thermometer (WBGT) is a key piece of equipment in planning and conducting physical training (PT) in various climatic conditions. Every unit in the British Army has access to a WBGT and it is used by the PTIs to implement the safety measures and assess the risk of outdoor and indoor PT and thereby adhere to MOD policies.
It should be noted that:
The WBGT Index only forms part of the overall risk assessment and it should not be used in isolation.
In the planning and execution phases of mandatory tests and activities lasting in excess of 1 hour, and where this guidance cannot be followed, commanders should pay particular attention to the whole risk assessment and the other risk factors present.
An assessment of risk using the WBGT Index is only valid or accurate if the measurement is taken at the same time and location as the proposed activity. [5]
Risk Assessment and Implementation
Risk Assessment is a careful examination of what, in the workplace could cause harm. There are two forms that are relevant in this process: Military Training Risk Assessment (5015) and Health & Safety Risk Assessment (5010).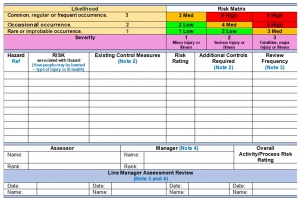 Figure 1: Example of the MOD Form 5010 [5, 7] There are 3 recognised Methods of assessment: a) Dynamic – A mental assessment; b) Formal – A written method of evaluating the risk of harm; c) Generic – An evaluation of risk that can be applied to common tasks
The Risk Assessment Process MOD Form 5010
Step 1. Describe the activity – the subject of the risk assessment.
Step 2. Identify the hazards associated with the activity.
Step 3. Identify the risk by assessing the probability of the hazard being realised.
Step 4. Identify any existing controls to be implemented to reduce the risk.
Step 5. Identify any residual risks taking into account existing controls.
Step 6. Identify the need for any further controls.
Step 7. Identify any residual risks after taking into account the further controls.
Step 8. Where any residual risk is greater than Low (once further controls have been implemented) and there are no further controls available, inform the Chain of Command and ask for further direction.
Step 9. The Chain of Command should review the task and amend the direction given to reduce the risk where possible or, where it remains essential, apply for authority to continue the activity.
Step 10. Communicate and implement the controls.
Step 11. Review the risk assessment. [6]
Although JSP 539 Vol 2 is guidance, strong evidence would be required if units worked outside of the guidelines, this would include a full audit trail of decisions taken, why they were taken and what additional Control Measures were put in place. These decisions would need to be recorded and the activity monitored closely. Unless training for operations a decision to work outside of the guidelines would be hard to justify.
Exercise heat tolerance assessment following a diagnosis of heat illness in UK military personnel
In 2001, the Institute of Naval Medicine (INM) established a formal protocol for Heat Tolerance Testing (HTT) and in 2003 it became UK Armed Forces Policy that personnel who have been diagnosed as having suffered from an episode of heat stroke or heat illness (HI) with a significant biochemical disturbance or multiple episodes of HI are referred to the Heat Illness Clinic (HIC) at the INM.
Following a full medical examination and assessment of maximal aerobic fitness (VO2 max) patients are asked to exercise on a treadmill at 60 % VO2 max at 34 °C dry bulb, relative humidity 40 % (WBGT of 27 °C) with clothing limitations and load carriage to initially raise the deep body temperature of the individual. At 30 minutes the jacket and weighted rucksack (Bergen) are removed and at 45 minutes the remaining t-shirt is also removed.
Patients continue to exercise for a minimum of 60 minutes or up to 90 minutes duration to determine whether thermal equilibrium (i.e. a plateau of rectal temperature) can be achieved. Patients achieving thermal balance are considered to show normal thermoregulation (and pass HTT), those who do not or have another medical issue identified are considered to be heat intolerant (fail). Those who do not pass the assessment are reviewed at least once a minimum of 8 weeks later [3].
Measurements of rectal temperature, skin temperature, heart rate and sweat rate made during the HTT are used to determine whether an individual's heat intolerance relates to an abnormal level of heat production (abnormal muscle) or impaired heat dissipation mechanisms.
Conclusions
The UK military has a thorough and evidence based approach in the prevention of heat illness which was developed over a period of almost 200 years of experience of warfare in hot climates. However, there is always room for improvement. The PTI plays the central role of implementing any preventive measures and/or policies on the ground – in the UK, but also in operational theatres. The main conclusions are:
Conduct a risk assessment and continually review this.
Allow for acclimatisation, even in home country.
Monitor WBGT index and adapt PT accordingly.
Keep individuals in the shade where possible.
Observe work/rest cycle.
Identify high-risk groups/individuals.
Apply buddy-buddy-system.
Utilise 2ICs as a monitoring system.
Monitor, encourage and supervise food and fluid intake.
Teach early recognition of heat illness symptoms and use -"idiots guide".
Encourage individuals to speak up if feeling unwell.
Recognise the cumulative effect of dehydration and exercising on sequential hot days.
Have a contingency plan for emergencies, including cooling and evacuation.
Consider re-timing or cancelling if conditions warrant it.
… and above all have a qualified PTI!!!
These measures should be implemented in such a manner that it does not lead to an avoidance of risks, but an improved risk management –promoting the sense of being
Risk Aware, not Risk Averse!
References
Moore AC, Stacey MJ, Bailey KGH, et al.: Risk factors for heat illness among British soldiers in the hot Collective Training Environment. J R Army Med Corps 2016; 162: 434 - 439.
Royal Army Physical Training Corps (ed.): PTI training guide. Army physical training instructor basic course. Aldershot: Royal Army Physical Training Corps, 2015.
Sa D de, House C: Exercise heat tolerance assessment following a diagnosis of heat illness in UK military personnel. Extr Physiol Med 2015; 4 (Supplement 1): A105.
Stacey MJ, Brett S, Woods D, Jackson S, Ross D: Case ascertainment of heat illness in the British Army. Evidence of under-reporting from analysis of Medical and Command notifications, 2009 - 2013. J R Army Med Corps 2016; 162: 428 - 433.
United Kingdom Ministry of Defence (ed.): Joint Service Publication (JSP) 539 Heat illness and cold injury: Prevention and management. Part 2: Guidance. London: Ministry of Defence, 2017.
United Kingdom Ministry of Defence (ed.): Joint Service Publication (JSP) 375 para 40. A 1.3 Military Training for Land Systems: Ministry of Defence, 2016.
United Kingdom Ministry of Defence (ed.): MOD form 5010: MOD risk assessment form (Version 2015). MOD (last accessed on 08 August 2018).
Dr. Peter Wright
E-Mail: pwright@brookes.ac.uk
Date: 10/18/2018