Abstracts
17 Medical Chemical Defense Conference
Chemical Warfare Agents - Old Problems and New Challenges
The Bundeswehr Institute of Pharmacology and Toxicology organized the 17th Medical Chemical Defense Conference, which took place in Munich from March 27 to 28 this year.

All abstracts can be downloaded here.
Date: 05/31/2019
Articles
Browse by category
Events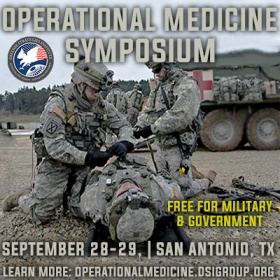 The 3rd Annual Operational Medicine Symposium will focus on DoD initiatives to enhance military medicine in an era of great power competition. This symposium will bring together highly regarded medical professionals from all services to discuss the practice of medicine in expeditionary environments.