Almanac
Australia, Commonwealth of
Capital: CanberraArea: 7.692.024 km2Population: 24.194.600Official Language: EnglishArmed Forces Personnel: 76.874Medical Officers: n/aMilitary Hospitals / Institutes: 4/4Missions: multiple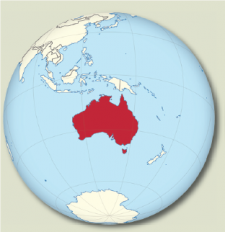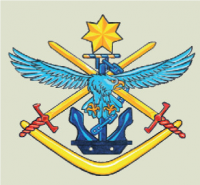 Surgeon General
Tracy Smart
Air Vice-Marshal

Commander Joint Health
Department of Defence
Campbell Park Offices
Northcott Drive
Canberra ACT 2600
AUSTRALIA
Basic Task of the Military Medical Service
The mission of the Australian Defence Force's Joint Health Command (JHC) is to provide a joint health effect to enable Australian Defence Force (ADF) capability and provide care for our people. JHC is a joint enabler through the provision of a world-class military health system to maintain the fitness of individuals to meet ADF preparedness requirements and ensure wounded, ill and injured personnel receive timely, high quality health care when required. JHC forms part of Joint Capabilities Group which delivers joint capabilities to improve the ADF's war fighting effectiveness. Joint Health Command is responsible for:
The provision of health advice to Commanders at all levels
Developing health policy and programs
Delivery of garrison health services to the ADF through a network of facilities in Australia and overseas
Coordination of the joint health capability domain
Coordination of health research
Capability coordination of health materiel.
Commander Joint Health (CJHLTH) commands Headquarters Joint Health Command and its subordinate units. CJHLTH is Defence's principal advisor for high-level integration and coordination of health services within Defence. CJHLTH is responsible for:
efficient and effective delivery of agreed health services and functions including the provision of garrison health and health related support services to enable Defence preparedness
joint capability coordination for the Australian Defence Force's joint health capability domain including health materiel, health workforce and health preparedness.

Commander Joint Health will normally also be designated Surgeon General Australian Defence Force (SGADF). SGADF exercises technical authority through:
developing and managing Australian Defence Force joint health doctrine and health policy. This includes health manuals, health directives and bulletins and Australian defence doctrinal publications
delegations to Directors General within Joint Health Command and Chief Medical Officer of Defence Force Recruiting to authorise publication of technical health policy and procedures in Volume three of the Defence health manual
regulation, governance and strategic reporting across the Defence Health domain to assure the quality of health service delivery by complying with applicable policy and technical direction
participating in and developing and managing health agreements, arrangements and relationships with international military partners, Australian Government bodies and non-government organisations.
SGADF is also the authoritative source of strategic health advice. Health staff within Joint Operations Command and the single Service environmental Commands are responsible for deployable health capabilities.
Structure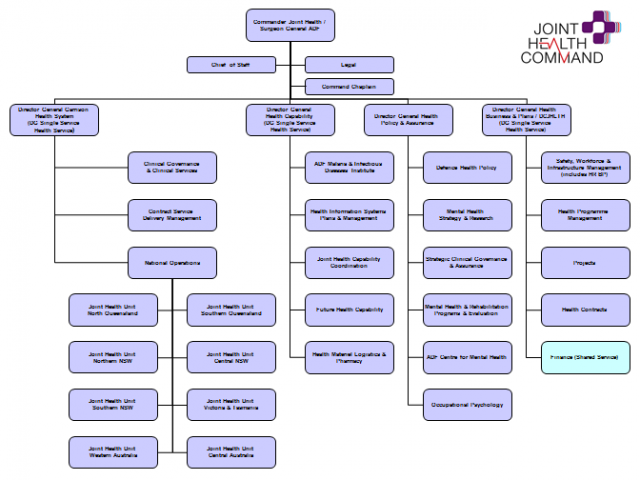 Military Hospitals
JHC manages 58 health facilities commanded by eight Joint Health Units (JHU) located in Australia and overseas. The JHUs report to Garrison Health Operations (GHO) Branch within Headquarters JHC. GHO Branch coordinates the delivery of a comprehensive range of health services to ADF personnel within Australia in order to support operational capability. Services provided to personnel on base include primary health care, preventative health care, diagnostic testing, pharmaceutical supply, physiotherapy services, dental services, mental health and psychology services. Services such as specialist medical care, tertiary level inpatient services within the local civilian hospital healthcare network, and rehabilitation services including specialised case management are provided off base to ADF personnel usually within the local area.

The ADF's current contract with an external health provider continues to deliver a suite of health services packages to ADF personnel in the garrison environment, including:
•Contracted health professionals in support of on-base services
•Pathology, Imaging and Radiology services via a national provider network
•A 24-hour Health Hotline Service
•Access to off-base specialist and allied health services via a national provider network

Institutes
Submarine and Underwater Medicine Unit (SUMU) – Royal Australian Navy
The main function of this unit is to give expert advice on diving and submarine medicine to the ADF. The unit provides emergency decompression for diving accident victims and provides the emergency medical system required in the event of a submarine accident. The unit also supports the emergency treatment of civilians suffering from diving illnesses.
ADF Malaria and Infectious Diseases Institute - JHC
The primary role of the Australian Army Malaria Institute is to research infectious diseases pertinent to the ADF in areas of operation and to investigate measures to prevent catastrophic mission failure due to infectious diseases.
Areas of research include prevention and treatment of vector borne disease through pharmacological agents or physical means.
Institute of Aviation Medicine – Royal Australian Air Force
The Royal Australian Air Force (RAAF) Institute of Aviation Medicine at RAAF Base Edinburgh is formally commanded by the Air Force. The unit is staffed by a mixture of uniformed and civilian personnel with diverse skills in Aviation Medicine, Human Factors, and Aeronautical Life Support.
Australian Defence Force Centre for Mental Health (ADFCMH) – JHC
The ADF Centre for Mental Health is a centre of excellence in military mental health providing leadership, best practice and innovation. The centre is staffed by a multidisciplinary and integrated military and civilian clinical team who provide tertiary level consultancy services, develop and trial mental health programs and support the training and development needs of the Defence mental health workforce.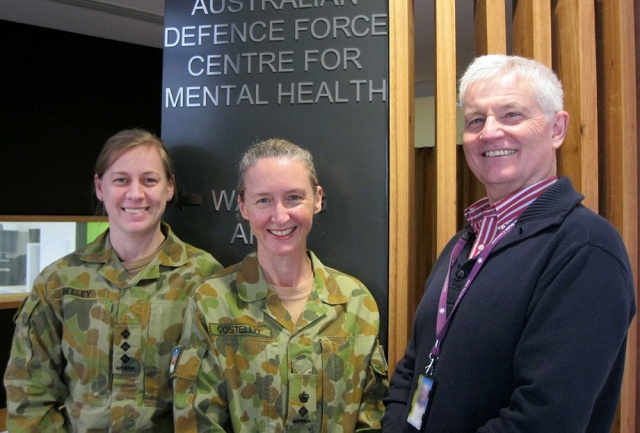 Number of the Medical Service Personnel
Garrison Health
JHC has an integrated clinical workforce of approximately 2,000 personnel comprising of uniformed, public servant and contracted employees. Together, this workforce delivers care to more than 80,000 entitled persons serving in permanent and part-time positions as well as attached members of partner militaries and entitled civilians. In delivering this care annually our clinicians recorded more than 1.1 million consultations where more than 330,000 imaging and pathology tests were administered and 110,000 external specialist episodes were sought.
Our combined care approach and singular electronic health record facilitates connected and informed decision making. It also facilitates health and business intelligence, and supports improved processes through evidence-based examination of care and financial records associated with the delivery of care.

Operational Health
Operational health support to deployed forces is delivered by the single Services through Joint Operations Command. ADF uniformed full time health services personnel number:
-Navy: 406 Officers and Sailors;
-Army: 1400 Officers and Soldiers;
-Air Force: 416 Officers and Airmen.
The deployable health workforce is supported by over 3000 ADF Reservists.
Field Deployments
All aspects of operational (field) health support to ADF operations remain the responsibility of the individual single Services – Navy, Army and Air Force. Single Services are responsible to the Chief of the Defence Force to Raise, Train and Sustain deployable health capability including personnel and equipment. Deployable health capabilities are then assigned to, and commanded by, Joint Operations Command for specific operational missions and exercises.
ADF Role 2E on exercise

The Royal Australian Navy has Role 1 health support organic within all its ships. It has the capacity to deliver Role 2 and Role 2 Enhanced capabilities through a small number of appropriately equipped ships within the fleet. This capability is currently provided through the Bay Class Landing Ship Dock HMAS Choules and the Canberra Class (Landing Helicopter Dock) Amphibious Assault Ships HMAS Canberra and Adelaide.
The Australian Army divides it deployable health capability in two broad categories; Close Health Support and General Health Support. The majority of Army's permanent force health personnel are divided between two units. The Close Health Battalion provides Army's point of injury through to Role 1 care, and can be reinforced to provide a non-surgical Role 2 capability. The General Health Battalion provides Army's deployable Role 2 Light Manoeuvre and Role 2 Enhanced capabilities. It can also act as the framework unit for the Australian Defence Force Role 3 capability, which is generated on a Joint Service basis. Army Reserve health units can provide additional point of injury, evacuation and Role 1 assets along with specialist health personnel to reinforce the Role 2 Light Manoeuvre, Role 2 Enhanced and Role 3 capabilities.

The Royal Australian Air Force operational health capability is a Health Services Wing consisting of an operational training unit, two Expeditionary Health Squadrons that can generate a deployable health capability up to Role 2 Enhanced and an Aeromedical Evacuation Squadron that provides Aeromedical Evacuation capability as part of the ADF Aeromedical Evacuation System. Aeromedical Evacuation is performed across a variety of rotary wing and fixed wing platforms including C-17 Globemaster, C-130J Hercules and C-27J Spartan aircraft.
Missions
Since 1999, the ADF has deployed on over 100 operations. Globally, the ADF has made significant contributions to coalition campaigns in Afghanistan and Iraq. Regionally, ADF personnel have operated in significant numbers in Timor Leste, the Solomon Islands and Bougainville. Domestically, the ADF has been involved in border protection operations and counter terrorism activities. ADF personnel have also contributed to humanitarian and disaster relief (HADR) operations in the Philippines, Pakistan, Indonesia the Solomons, and Fidji as well as undertaking HADR activities in Australia caused by fire, flood and cyclone.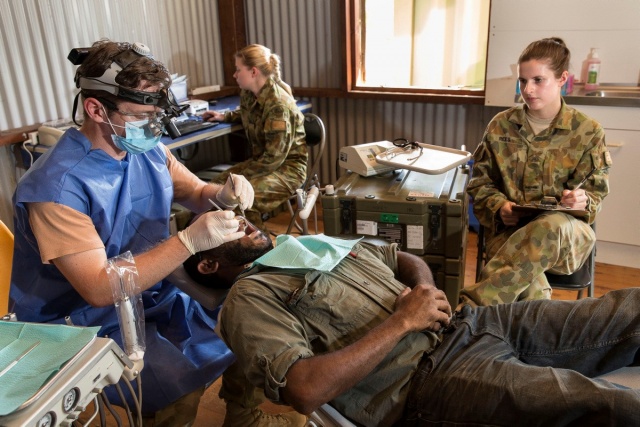 The ADF is often called upon to contribute highly specialised, niche medical capabilities, tailored to meet its obligations as part of a multinational force. ADF Medical personnel are currently supporting operations in the ADF contribution to the international effort to combat the terrorist threat in Iraq, and as part of the NATO mission in Afghanistan.
Civil-Military Cooperation

The ADF uses civilian services and facilities extensively, appreciating that civilian and military expertise and experience can enhance each others' operations. The far-reaching coverage required across the Australian continent presents operational challenges for the ADF and timely support depends on the close relationship that exists between the ADF and civilian health systems.