www.military-medicine.com
Beta Verlag & Marketinggesellschaft mbH
Celsiusstr. 43,
53125 Bonn
Fon: +49 – 228 – 9 19 37- 0
Fax: + 49 – 228 – 919 37- 23
eMail: info[at]beta-publishing.com
Internet: www.beta-publishing.com
Executive Directors
Heike Lange, heike.lange[at]beta-publishing.com
Founded by Heinz-Jürgen Witzke
Disclaimer
We make every effort to keep this website accurate and timely. However, Beta Verlag & Marketinggesellschaft mbH accepts no responsibility or liability whatsoever with regard to the information on linked third party sites.
Privacy Policy
We take your privacy very seriously and adhere strictly to the rules of data protection laws. Personal data are collected on this website only for technical purposes. In no case will the data be sold or passed on to third parties.
We use third-party advertising companies to serve ads when you visit our Web site. These companies may use information (not including your name, address, e-mail address or telephone number) about your visits to this and other websites in order to provide advertisements about goods and services can appear that interest you.
Cookies
The web pages in several places so called cookies. They serve to make our service more user-friendly, effective and safer. Cookies are small text files placed on your computer and stored by your browser. Most of the cookies we use are "session cookies". They are automatically deleted after your visit. Set cookies on your computer do no harm and do not contain viruses.
Articles
Browse by category
Events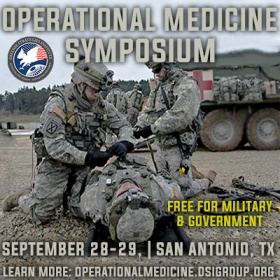 The 3rd Annual Operational Medicine Symposium will focus on DoD initiatives to enhance military medicine in an era of great power competition. This symposium will bring together highly regarded medical professionals from all services to discuss the practice of medicine in expeditionary environments.