Business forum
ZOLL Medical Corporation

ZOLL Medical Corporation



www.zoll.com/medical-markets/military
Improving Outcomes for Every Role in Military Healthcare
For more than 25 years, ZOLL® has been a trusted partner delivering acute critical care technologies to the military. ZOLL is proud to honour your trust with unmatched commitment to those who care for others during operational, humanitarian, disaster and peacetime missions. Within Military Hospitals and EMS/HEMS, throughout medical evacuation and aircraft, in battalion aid stations, on hospital ships, in field hospitals and far-forward locations by Special Operations teams – through unparalleled ease of use and superior technology, ZOLL helps improve survival outcomes and operational efficiencies. Thus, ZOLL devices are the standard products of choice by many militaries in U.S., NATO and global coalition partners.
---
North America
ZOLL
269 Mill Road
Chelmsford, MA 01824-4105
U.S.A.
+1-978-421-9655 Telephone
+1-978-421-0025 Fax
E-Mail: info@zoll.com

Europe, Russia, Middle East & Africa
ZOLL Medical U.K. Ltd.
9 Seymour Court
Tudor Road
Manor Park
Runcorn Cheshire WA7 1SY
United Kingdom
+44 (0)01928 241 700 Telephone
+44 ( 0 ) 1928 241 702 Fax
E-Mail: info-uk@zoll.com

Latin America
ZOLL Latin America S.A.
Av. de la Rotonda, Costa del Este
Edif. Prime Time Tower (Banco Aliado) #12A
Panamá, Rep de Panama
+507 830-7999
+1 (978) 614-4963

Asia Pacific
ZOLL Medical Singapore Pte Ltd
12 Kallang Avenue
#03-24 Aperia Annex
Singapore 339511
+65 6807 1600 Telephone
+65 6807 1699 Fax
Articles
Browse by category
Events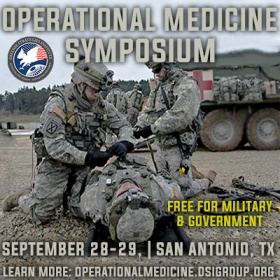 The 3rd Annual Operational Medicine Symposium will focus on DoD initiatives to enhance military medicine in an era of great power competition. This symposium will bring together highly regarded medical professionals from all services to discuss the practice of medicine in expeditionary environments.