Almanac
China (Taiwan), Republic of
Capital: TaipeiArea: 36.193 km2Population: 23.584.865Official Language: Mandarin, Taiwanese (Min), Hakka DialectArmed Forces Personnel: 215.000Medical Officers: 1.407Military Hospitals / Institutes: 14/1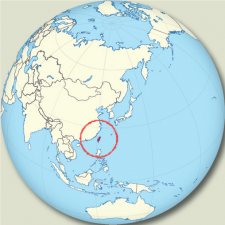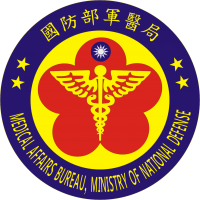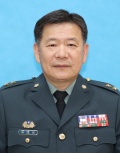 Surgeon General
Tsai, Chien-Sung MD
Lieutenant General

Director General of Medical Affairs Bureau
Ministry of National Defence, R.O.C. (Taiwan)
No.409, Bei-an Rd.
Taipei City 10462
REPUBLIC OF CHINA (TAIWAN)
Preliminary note:
The "People's Republic of China" considers the island of Taiwan as part of the Chinese territory. The government of Taiwan calls itself as government of the "Republic of China (Taiwan)". Taiwan is officially recognized by only a few governments as an independent state. However, there are separate Taiwanese Armed Forces with own Military Medical Services.
The Military Health Services of Taiwan
Section 1: National Context and Summary
Taiwan, officially the Republic of China (ROC), is a country in East Asia with a population of 23.58 million people. It has an area of 36,193 km². Mandarin is the official, national language. The national capital, Taipei, is located in the north of the country. It is home to the majority of government offices, including the Ministry of National Defense.
The Ministry of National Defense is a cabinet-level agency supervised by the Executive Yuan (Cabinet of the national government) responsible and accountable for defense and military affairs, including the military medical system in Taiwan. There are subordinate headquarters for each of the Services, Army Command Headquarters, Navy Command Headquarters, and Air Force Command Headquarters. Operational health support will be planned and executed according to the missions, organisation, and unique characteristics of each military service (Army, Navy and Air Force).
The healthcare system in Taiwan is based on National Health Insurance (NHI). Every citizen, including military personnel, has an equal right to receive healthcare and treatment. In line with a policy of "localisation of medical services", the ROC Armed Forces set up military hospitals and medical centres in each theatre of operation (TO) to offer the public and service members medical services, such as outpatient, inpatient and emergency medical treatment, and physical checks. Military hospitals are also medical institutions contracted by the National Health Insurance Administration (NHIA). It is compulsory for every citizen to register with the NHI to support their treatment and care. The NHIA bears responsibility for medical expense review and approval, then pays the medical expenses to contracted medical institutions.
The NHIA is considered to be a successful health system with sufficient services. NHIA facilitates diagnosis, treatment and prescriptions through a national patient health information system on the NHI MediCloud System. Based on the NHI, the majority of citizens, including military personnel, only pay 30% of the insurance fee, and their employers or the government cover the remaining 70%. Generally, citizens only pay £20 per month to access all levels of healthcare.
Section 2: Organisational Structure
The Medical Affairs Bureau (MAB), located in Taipei within the Ministry of National Defense, runs the military health system in Taiwan, including the National Defense Medical Center (NDMC), Tri-Service General Hospital (TSGH), Military Medical Clinics, Armed Forces Hospitals, Armed Forces Medical Supplies Office, and Medical Affairs Section. The Director General of the Medical Affairs Bureau, Lieutenant General Jiann-Torng, Chen (Surgeon General), is the most senior commander in the military health system. There are five departments in the MAB, namely Medical Management, Medical Planning, Medical Readiness & Healthcare, Pharmaceutical Management, and Comptroller Office to manage all the military health units (Figure 1). The MAB holds an administrative-level committee to regularly review the need for medical capability building and equipment procurement, in order to allocate financial resources adequately.
Figure 1: Structure of the Medical Affairs Bureau (please provide this image to the Almanac as a separate file)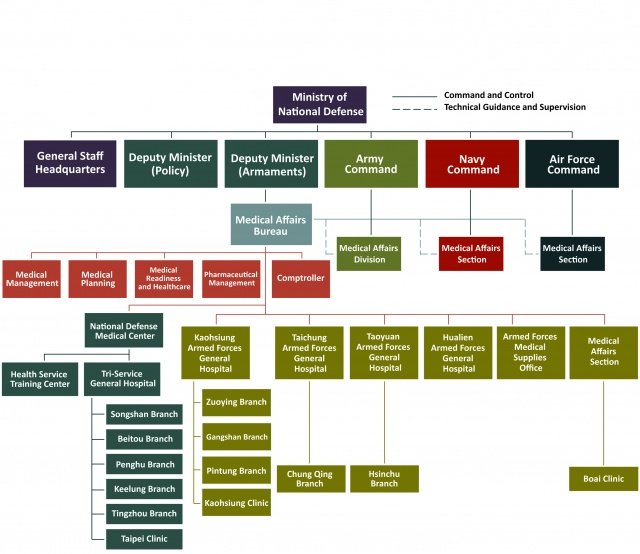 Primary care is provided by local military health clinics on military bases, and secondary health care is provided by military hospitals. Primary care includes preventive medicine, emergency medical services (EMS), prompt casualty evacuation, outpatient services, simple trauma management, and short-term patient observation. However, military personnel with more complicated conditions will then be transferred to military hospitals for secondary health care. The Commanders of Armed Forces General Hospitals are the highest-ranking medical officers in each TOs of Taiwan. The medical commanders are responsible for overall command and management responsibility for casualty care and critical care, emergency response, and utilisation of medical resources.
Section 3: Firm Base Health System
There are one military medical school (National Defense Medical Center), one Health Service Training Centre, and 14 military hospitals. The locations of the military hospitals is shown in Figure 2. There are also 15 veterans' hospitals which are managed separately by the Veterans' Affairs council. Through the Military-Veteran Cooperation Platform, the two parties are able to collaborate on medical specialist training and research, and clinical techniques mutual support. According to the Ministry of Health and Welfare, the total number of hospital beds in Taiwan in 2021 was 151,171, including 6,966 beds in military hospitals and 11,313 beds in veterans' hospitals.
Figure 2: Location of Military Hospitals (please provide this image to the Almanac as a separate file)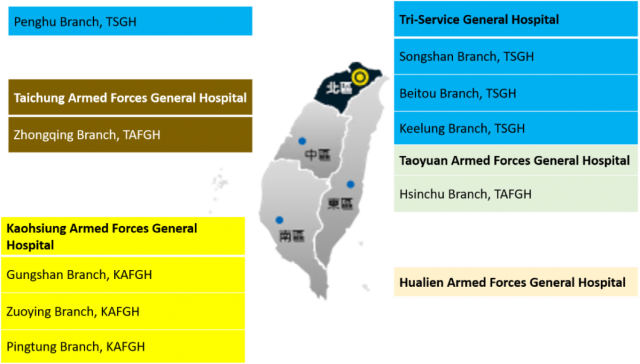 Various medical specialties are covered in the military health system. These include family medicine, internal medicine, surgery, paediatrics, obstetrics and gynaecology, orthopaedics, neurology, neurosurgery, urology, E.N.T., ophthalmology, dermatology, psychiatry, physiotherapy and rehabilitation, plastic surgery, anaesthesiology, diagnostic radiology, radiation oncology, anatomical pathology, clinical pathology, nuclear medicine, emergency medicine, occupational medicine, oral and maxillofacial surgery, oral pathology, and orthodontics.
Following the guidance to provide medical attention swiftly, MEDEVAC without delay, and medical treatment at the closest location, the military Firm Base healthcare units have links and cooperation with the neighbouring civilian public health systems. The field medical units of Tri-services primarily provide preventive medicine, and emergency medical services, using the "Military Clinic Management Information System" to manage military medical/clinical information.
The MHS in Taiwan offers healthcare and services to military personnel and their families, and other categories of civilians. Military personnel are entitled to services free charge as they are exempt from National Health Insurance outpatient, emergency and hospitalisation copayments, as well as the registration fee. Their family members are also exempt from both when accessing the MHS. All other citizens are allowed to access the MHS if they wish, they are required to pay the registration fee and the copayment for healthcare.
The MAB Military Medicine R&D Steering Committee, consisting of experts from diverse disciplines of military medicine, is charged with overseeing policy directions, projects funding and execution, and program effectiveness evaluation & validation for military medicine R&D programs. The R&D initiatives in the MAB are aimed at advancing science and art of modern military medicine based on evidence-based research methodologies and global best practices with the following foci:
Health promotion and management
Aviation medicine
Hyperbaric and diving medicine
Global emerging infectious diseases
Trauma medicine and mental health
Suicide prevention and control
Lightweight deployable medical equipment sets
Humanitarian assistance and disaster relief medicine
Regenerative medicine and Geno-therapy
Within the research capability of the MAB and military medicine, there is a strong emphasis on building research capability through regional and international collaboration between civil research institutions and military medical institutions. Some of the researchers in the military health system in Taiwan have previously been involved in other research. For instance, researchers at the NDMC have successfully developed a four-serotype-specific NS1 ELISA assay, which is a highly effective and rapid method for discriminating between distinct stereotypes of DENV infections. In particular, the research topics cover Aerospace and Undersea Medicine.
There are several existing research interest sections in the School of Public Health of NDMC, where staff are investigating related health science issues, including Military Public Health issues, Long Term Care, Health Services Management, Health Welfare, Primary Health Care, Health Policy for the Underserved (the elderly, children, the military, the disabled, etc.), Health Promotion, Nutrition and Health, Injury Prevention, Mental Health, Health Effects of Obesity, Occupational and Environmental Hazards to Health, Health and Bio-Informatics, Chronic Disease Prevention, Cancer Molecular Epidemiology, etc.
In particular, one specialised mental health hospital under Tri-Service General Hospital (TSGH) aims to provide military mental healthcare and community mental healthcare. Health professionals and researchers from the hospitals have conducted some studies to understand military mental healthcare and improve the quality of care for the military and also the community.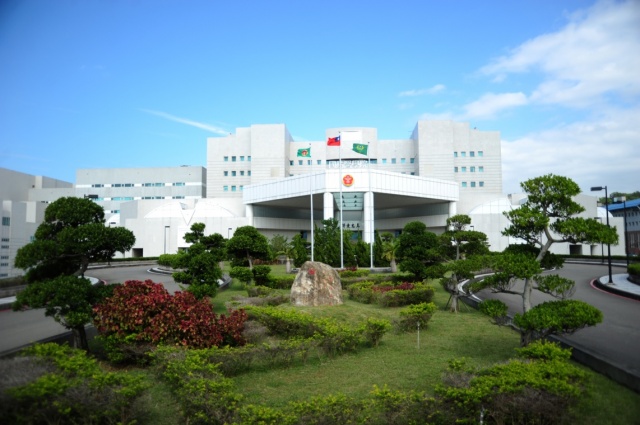 Section 4: Operational Capabilities
Regular drills in the form of the annual joint exercise for the armed forces are conducted in Taiwan. There is a comprehensive system to treat and transfer casualties from military operations from the point of injury through different levels of care. Under the system, initial emergency treatment and an assessment is given by first responders (military medical personnel). Following this, the wounded military personnel are immediately evacuated to the nearest military or civilian hospital to receive follow-on emergency care. Commanders of military hospitals then provide specialty care assistance. After this, if necessary, wounded military personnel are transferred to TSGH for advanced care (Figure 3).
Figure 3: MAB Concept of medical support (please provide this image to the Almanac as a separate file)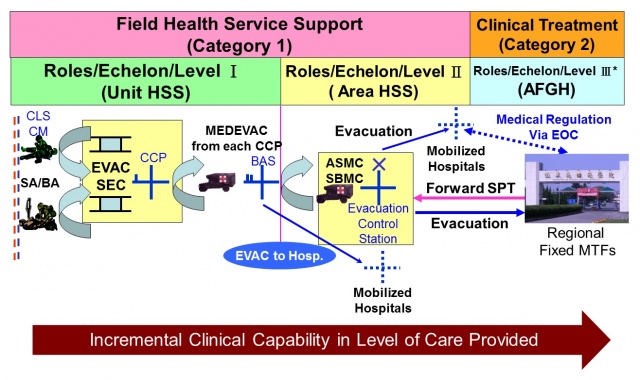 Figure3 MAB Concept of medical support

HSS: Health Service Support; CLS: Combat Life Support; CM: Combat Medic; CCP: Casualty Collecting Point; ASMC: Area Support Medical Company; SBMC: Strike Brigade Medical Company; EOC: Emergency Operation Centre; AFGH: Armed Forces General Hospital; MTF: Medical Treatment Facility; SA/BA: self-aid, buddy-aid
The military health service support system in Taiwan is run on a "2 categories, 3 roles" basis. Category 1, field health service support, is conducted by the respective military services. Category 2, clinical treatment, is provided by military hospitals. In an emergency, civilian hospitals may be assigned to command of the military system ('mobilised hospitals'). According to the nature of the missions and the characteristics of each military service (Army, Navy, and Air Force), flexible modes of health support are applied to deliver appropriate care for wounded personnel. The missions of the military services' field medical units (Category 1) mainly focus on preventive medicine, EMS, and prompt casualty evacuation, with no treatment beds being set up. Patients/casualties with more complicated conditions beyond the capability of these clinics will be referred or evacuated promptly to suitable medical treatment facilities in the Taiwan-based secondary military health service. As Taiwan is large and mountainous, military helicopters are often used for medical evacuation missions to ensure military personnel gain access to healthcare in a timely manner.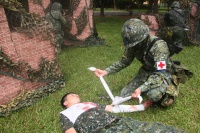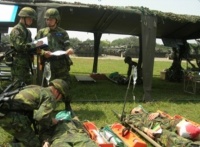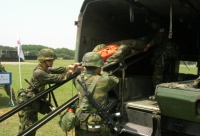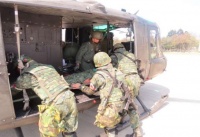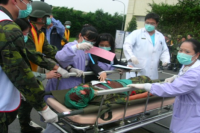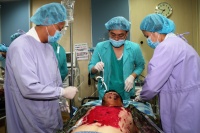 Commanders of Armed Forces General Hospitals are the highest-ranking medical officers in each area. Based on tactical situations, these medical commanders are accountable for overall command and management responsibility for comprehensive casualty care and disposition (Category 2) via critical care urgency analyses and flexible utilisation of medical resources.
Taiwan MHS actively participates in international military medicine seminars and platforms, such as APMHE, AMSUS, and DiMiMED, to expand multilateral cooperation and solidify the bond with friendly countries around the world. The U.S. is their most important strategic partner. Under the Taiwan Relations Act and the "Six Assurance," Taiwan continues to upgrade its comprehensive defense capabilities through various Foreign Military Sales programmes and cooperation with the U.S.
To build medical preparedness and capability, the MAB is following the guidance "resolute defense and multi-domain deterrence" to fit into their overall defence concept. They train as they fight in places of war, as well as how they conduct battlefield management, so as to shape their medical operational capabilities to meet the health service support needed. During wartime, the military health system embeds its special medical teams into civilian hospitals to supervise and directly manage hospital resources including manpower and equipment.
Section 5: Military Medical Personnel
Due to the national security reasons, the exact numbers of military personnel in military health systems cannot be published. However, there are both military personnel and civilians serving in the systems, including physicians, Chinese medicine doctors, dentists, pharmacists, assistant pharmacists, medical laboratory scientists, medical laboratory technicians, medical radiation technologists, and nurses. The military medical education system comprises, the National Defense Medical Center (NDMC), Tri-Service General Hospital (TSGH), and the Health Service Training Center (HSTC) are the three most important facilities for basic/advanced medical education, clinical specialty training, and tri-service field health service support training, respectively. The National Defense Medical Center (NDMC), established in 1902, is a military medical school in Taipei. The NDMC is responsible for the military medical training of military doctors, nurses and other medical personnel. At the school, military students can study eight different subjects: medicine, nursing, dentistry, pharmacology, public health engineering, public health equipment, public health inspection, and public health administration to three levels of degree: bachelor's, master's, and PhD. The school of medicine of the NDMC contains 21 departments, such as internal medicine, surgery, obstetrics, paediatrics, radiology, and emergency medicine. Meanwhile, the school cultivates mostly military doctors with profound medical knowledge, excellent medical skills, high moral character and good medical ethics, to serve the armed forces. The military hospitals may also hire civilian physicians and medical personnel in order to fulfill its mission.
The school of nursing of the NDMC is responsible for recruiting and training military medical student nurses based on an educational philosophy of fraternity, loyalty and the spirit of holistic care. Various modules have been developed by the school of nursing to foster nursing talents with professional competence and humanity. The military nursing training courses include: basic military training, military nursing professional training (emergency room, operating room, and intensive care unit training), military health promotion practice, as well as military nursing project education.
In accordance with the Act of Military Service System, military training for conscripts contains a two-phase training course. Firstly, Basic Military Training (BMT) for the first five weeks aims to train the individual in rifle marksmanship as well as combat skills and capabilities, CBRN protection and first aid. Since 2018, enlistees have to complete generic shooting training with designated sections and hours in order to be certified. Secondly, Military Occupational Specialty (MOS) Training in the following 11 weeks provides necessary courses that correspond to conscripts' designated MOSs which includes those assigned to medical duties.
Along with the NDMC, TSGH is the primary teaching hospital for clinical medical training for the military. The aim of TSGH is to provide clinical rotation training for military medical students, residency training programmes, and numerous specialised training programmes for military medical specialists. In addition, HSTC is designated to provide EMS training programmes, including first aid, buddy aid, advanced trauma life support, aeromedical evacuation techniques, and tactical field health service support activities. As required by the Emergency Medical Services Act, the MND has initiated a certification system for military emergency medical technicians (EMTs) and has designated the Health Service Training Center (HSTC) to provide medical specialist training such as TCCC, self-aid, buddy aid, and aeromedical evacuation techniques.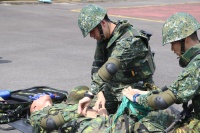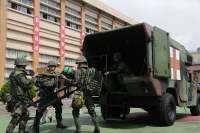 In accordance with the "All-out Defense Mobilization Readiness Act", the MAB is in charge of the Military Medical Mobilisation Programme, which includes completing the related measures for investigations and calculations of medical organisations, facilities and personnel, and issuing requisition orders to cope with disaster or wars. For the quick call-up of reservist medical personnel to support effectively during a Mobilisation Implementation Phase, the MAB will arrange training and preparation of reserve forces. Whenever military mobilisation is required, the reservist medical personnel should provide their full support and participate in military drills. To address enhanced training, the MND makes use of annual major drills and exercises to assemble forces from three services in the designated areas to jointly practice defensive operations. This allows participating service members to become familiar with operational settings, battlefield environments, and methods for carrying out operational plans and battlefield management. It also provides an opportunity to improve their competencies and maintain combat preparedness.
Section 6: Civil-military relations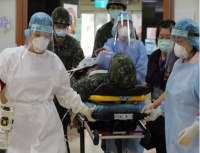 As one of the most important national strategic medical assets, Taiwan's MHS has long been the indispensable backbone of the national disaster medical system, with a presence at each and every major domestic disaster scenario. Each day, medical teams contributed by military hospitals, augmented by health service support teams contributed by field medical units, stand ready for deployment to execute disaster medical support missions. In compliance with the Disaster Prevention and Protection Act, the ROC Armed Forces' Regulations on Assistance in Disaster Prevention and Protection, and Emergency Medical Services Act, medical troops will assist in Humanitarian Aid/Disaster Recovery operations in coordination with local government departments. The operation of ambulances in disaster will be coordinated between civilian and military hospitals. During peacetime, regional medical troops sign memorandums of cooperation with civilian hospitals responsible for patient transfer and treatment. During wartime, these civilian hospitals automatically turn into the mobilised hospitals in each theatre of operations (TO). On top of that, the coordination between civilian and military health system is reinforced through the annual "disaster prevention exercise" and "civil-military joint air defence (Wan An) exercise".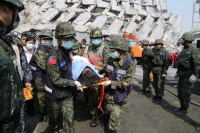 Additionally, in order to promote Humanitarian Assistance and Disaster Relief (HADR), 1,195 military medical personnel were deployed between 2008 and 2016 to support 21 natural and man-made disasters in Taiwan. Various military medical personnel engaged in these medical teams, such as military medical students from NDMC and medical staff from TSGH, in international HADR medical missions. To meet the needs of international Humanitarian Aid/Disaster Recovery missions, the MAB has a modularized medical team for international Humanitarian Aid/Disaster Recovery according to its disaster relief mechanism, and modularized man-portable equipment (including medical equipment, material, tents, generators, and lamps). In recent years, the ROC Armed Forces have assigned medical resources to overseas Humanitarian Aid/Disaster Recovery missions, including: "Medical Team to Macedonia," "Medical Team and Material Haiti," "Medical Material Support to the Philippines," "Medical Material Support to Palau," and "Medical Assistance to Nepal." All the above missions were concluded successfully to fulfill ROC's obligations and demonstrate its substantial efforts in Humanitarian Aid/Disaster Recovery.
Section 7: History/Cultural artefacts/symbols/features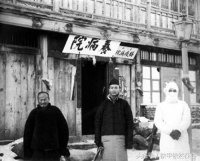 The Medical Division of the National Revolutionary Army (the predecessor of the Medical Affairs Bureau), established in 1925, is the origin of the military health system. There are three major facilities within the military medical system, namely the Medical Affairs Bureau (MAB) established in 1925, the National Defense Medical Center (NDMC) established in 1902 and the Tri-Service General Hospital (TSGH) established in 1946. In accordance with the implementation of "the National Defense Law" and "the Organizational Law of the Ministry of National Defense" on March 1st 2002, military medical treatment facilities (MTFs) were reorganised into affiliated institutions of the MAB, for the integration and optimisation of the MHS.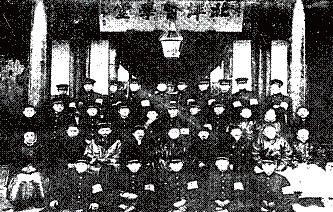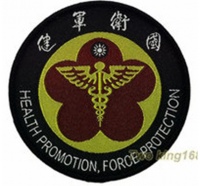 Table 7 Examples of cultural artefacts/symbols/features of the Taiwan MHS
Facility

Mission/Motto

Weblink

MAB




"Medical Affairs Bureau Ministry of National Defense aims to establish a streamlined and high-quality military medical corps that provides the men and women of the armed forces with timely and appropriate medical services to fulfill military build-up and combat missions. The establishment of the military medical corps will center around a few principles; strengthening the organizational effectiveness through integration and operational improvement; building solid foundation for military medical organizations by innovative ideas to achieve self-sufficiency; providing medical service to all military personnel in an enthusiastic and sincere manner." 6

https://mab.mnd.gov.tw/EngDefault.aspx

NDMC




Mission: To Train Medical Professionals; To Devote to the Advancement of Medical Education; To Promote Medical Research and Development"9

https://www.ndmctsgh.edu.tw/english

TSGH







https://www.tsgh.ndmctsgh.edu.tw/

Brief of Tri-Service General Hospital https://www.youtube.com/watch?v=CR3xxA2m-KA
Museums: The Armed Forces Museum was built in 1961 in Taipei.
https://museum.mnd.gov.tw/ArmedForcesMuseumEn
(status: 19 December 2022)