Almanac
Canada
Capital: OttawaArea: 9.984.670 km2Population: 36.048.521Official Language: English, FrenchArmed Forces Personnel: 115.000Medical Officers: n/aMilitary Hospitals / Institutes: 0/n/aMissions: multiple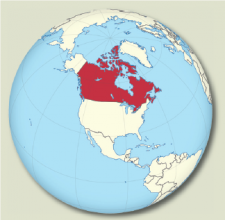 Surgeon General
Marc Bilodeau, CD, MD, CCFP(EM), FCFP
Major General

Canadian Forces Health Services Group Headquarters
NDHQ/Carling Campus 101 Colonel By Dr,
Ottawa ON K1A 0K2
CANADA
Basic Task of the Military Medical Service
The Canadian Forces Health Services continues to make progress in meeting several transitional challenges in response to the cessation of Canadian operations in Afghanistan in 2014, greater national focus on domestic defence and humanitarian operations, and continuing pressures for the health sector to deliver sustainable high quality health care.Post-combat reconstitution in training and equipment is ongoing, as are further modularization and mobility enhancements to permit more rapid and scalable medical capabilities to support deployed conventional, humanitarian, and special operations.Although the positive impact of our mental health resiliency, suicide prevention, and stigma reduction efforts have been impressive, a significant burden of operationally-related mental health conditions is expected to persist and possibly increase for several years, necessitating an ongoing major focus on prevention, treatment and research.Recruiting and retention of skilled health professionals continues to present challenges as a result of competition with the civilian sector and national demographic factors that increase civilian health care demands. Greater allied interoperability and coordination remain a focus, as well as a review of our organization and processes to further optimize efficiencies in an already-nimble health system. Further health system management efficiencies are expected as we expand the clinical support and analytical applications of the Canadian Forces Health Information System, which permits clinician access to electronic health records anywhere on land or at sea where Canadian Forces operate. The second generation of the Performance Measurement Framework was based on refined outcome-based metrics developed through logic modelling of the Military Health Program. It is structured around the Quadruple Aim of: Health of the Population; Enhancement of Patient Care; Resource Stewardship; and Operational Excellence. As more measures are developed in support of the Quadruple Aim, the senior leadership will have greater ability to assess and articulate which aspects of the CFHS are performing well and which need further attention, resources or both. The continued support of our health research program will be critical to maintain leading-edge capabilities, to address evolving operational, occupational, and environmental health threats in expeditionary operations, to optimize our cold climate health service support as we further expand our military presence and sovereignty operations in our vast Arctic territories, to optimally target health resource allocations and program modifications, and to find better and less resource-intensive technological approaches to training. Medical simulation in particular is being studied closely to enhance operational clinical readiness, and maximum use of distance learning technologies is being aggressively pursued to mitigate some of the training challenges related to our physical dispersion across six domestic time zones.
Mission and Vision of the Canadian Forces Health Services Group
The mission of the Canadian Forces Health Services Group (CF H Svcs Gp) is to provide full spectrum, high quality health services to the Canadian Forces (CF) wherever they serve.We are a professional military health service recognized for providing excellent care as an integral part of a world class fighting force.Our mandate is three-fold:
1 – Deliver High Quality Health Care
2 – Provide a Deployable Health Capability
3 – Provide Health Advice
The Canadian Forces constitute an independent health jurisdiction and system. CF H Svcs Gp is a fully integrated team of military and civilian health professionals and a national leader in health services reform. The team supports the Canadian defence strategy by offering a patient-focused comprehensive spectrum of evidence-based health services.
The Surgeon General's obligation to the CF is to provide the advice and services necessary for military personnel to maintain their health and enhance theirhealth and mental well-being, to prevent disease and injury, to diagnose and treat injury, illness, or disability, and to facilitate rapid return to operational fitness.
Structure
CF H Svcs Gp is a distinct formation of the CAF. With few exceptions, all health service resources for the Regular and Reserve Force are under the command of the Commander CF H Svcs Gp/Surgeon General. CF H Svcs Gp Headquarters is located in Ottawa. Dedicated health advisory and planning cells support the Royal Canadian Navy, the Canadian Army, the Royal Canadian Air Force, the CAF operational commands, and the CAF Regional Joint Task Forces. Two subordinate regional formations respond to domestic requirements: 1 Health Services Group (1 H Svcs Gp) for western Canada and 4 Health Services Group (4 H Svcs Gp) for eastern Canada.
Currently, CF H Svcs Gp comprises 43 units and 82 detachments, including static clinics, field ambulances, a field hospital, a health services training centre, one environmental medicine and research establishment, two trauma training centres, two medical simulation centres, a dental unit,one medical equipment depot, and other specialized elements.
Training
Military and civilian CF H Svcs Gp personnel comprise approximately 50 health occupations and specialties. Most university-level basic professional clinical and scientific qualifications are obtained at civilian universities and clinical teaching facilities, while most military health training and education takes place at the CF H Svcs Training Centre (TC) located at Canadian Forces Base Borden, Ontario. The TC provides training for the following personnel:
Bioscience Officers
Dental Hygienists
Dental Officers
Dental Technicians
Health Care Administration Officers
Health Services Operations Officers
Medical Assistants
Medical Officers
Medical Specialist Officers
Medical Technicians
Nursing Officers
Pharmacy Officers
Physician Assistants
Physiotherapy Officers
Preventive Medicine Technicians
Social Work Officers
CF H Svcs Gp partners with civilian health facilities throughout Canada for the provision of clinical education. The TC collaborates with civilian colleges and institutions throughout Canada to provide occupational training for many of the health services occupations and specialties.
Advanced education in aerospace medicine and hyperbaric diving medicine occurs at the School of Operational Medicine and the CF Environmental Medicine Establishment in Toronto, and a submarine medicine course are conducted at CFB Halifax and CFB Esquimalt. In addition tomany other clinical and non-clinical health-related post-graduate programs, specialist residencies in occupational, preventive, aerospace, and hyperbaric medicine are completed at Canadian and American universities.
Health Services Reserves
The CF Health Services Reserve (H Svcs Res) is a Reserve component integrated into the CF Health Services Group command structure. It is organized into two functional groups – 14 Reserve Field Ambulances (Res Fd Ambs), and the 1 Canadian Field Hospital Detachment Ottawa (1 Cdn Fd Hosp Det Ott). Res Fd Ambs force generate trained personnel to support, augment and sustain the CF Health Services Group; provide health services support to Canada's Primary Reserve (Naval, Army, and Air Force Reserves); and conduct community outreach activities. 1 Cdn Fd Hosp Det Ott specialist clinicians provide depth and breadth to the H Svcs Gp clinical capability on international operations and in military clinics within Canada. The clinical capability of the Res Fd Ambs and 1 Cdn Fd Hosp Det Ott continues to be enhanced through targeted recruiting and a harmonized recruiting and training plan. Within the CF H Svcs Gp HQ, the Directorate of H Svcs Res (D H Svcs Res) provides overall guidance for strategic planning and readiness, recruiting, training and retention, resolving Primary Reserve care issues, and performance measurement in support of the H Svcs Res.
Total Force healthcare-focused international collective training opportunities continue to build readiness, interoperability with allies, and the domestic and international operational response capability to meet Defence imperatives. Domestically, H Svcs Res train in partnership with Canadian Army Reserve Canadian Brigade Groups (CBGs) to prepare for Artic Response Company Group (ARCG) and Territorial Battalion Group (TBG) tasks. H Svcs Res contribution to expeditionary operations is targeted at 10% of CF H Svcs Gp missions.

Research
Through the Surgeon General Health Research Program the CF H Svcs Gp conducts significant basic and applied militarily-relevant health research to advance evidence informed best practice and to support the decision making process. The program is achieved by way of collaborative projects with Defence Research and Development Canada, other partners within the Department of National Defence and other government departments, military health research organizations of the USA and of other allies, Canadian industry, and academia. Many of our Science and Technology initiatives are coordinated with the Canadian Institute for Military and Veterans Health Research (CIMVHR - https://cimvhr.ca/), a network of 42 Canadian universities. CIMVHR publishes a unique online open access academic journal through University of Toronto Press entitled the Journal for Military, Veteran and Family Health (http://digital.utpjournals.com/i/588198-volume-1-issue-2-november-2015). This arrangement and partnership has been vital to our research program and ensuring CAF is on the cutting edge of new technologies and health care practices. CF H Svcs Gp personnel also participate in several multi-national research efforts, for example the Health, Medicine, and Protection area committee in NATO's Science and Technology Organization and several of its Research Task Groups, along with the Technical Cooperation Program (TTCP) Technical Panels on Military Medicine. The CF H Svcs Gp has also partnered with the Royal Ottawa's Institute of Mental Health Research (IMHR) to enable the IMHR to acquire a Positron Emission Tomography functional Magnetic Resonance Imaging (PET fMRI) system to help researchers map an individual's neuronal and biochemical activities, identifying malfunctioning brain circuits for different types of disorders or symptoms, and analyze the brain's responses to specific interventions. CF H Svcs Gp personnel continue to publish peer-reviewed articles and technical reports annually. Presently, the focus is on mental health diagnostics and treatment, neural imaging, simulation technology for training, rehabilitation, point of injury care, health protection, epidemiology, with anticipated growth in military occupational health and operational medicine.
Field Deployments
CF H Svcs Gp is frequently called upon to deliver essential health services internationally in support of CAF operations and as part of Humanitarian Assistance/Disaster Response.During large and established operations, CF H Svcs Gp provides on-site primary and emergency health services, including initial surgery and post-operative care, short-term surgical and medical in-patient care, as well as diagnostic imaging, dental, pharmacy, and laboratory services.Robust health protection capabilities are applied and deployed to identify and maximally mitigate health threats arising from operational, occupational, industrial, and environmental health hazards.
CF H Svcs Gp currently supports 19 international missions. CF health planners supporting the operational commands establish health services to meet the challenging demands of operational environments, such as Africa, Europe, the Middle East, and Asia Pacific, Latin America and the Caribbean.
OPERATION REASSURANCE
In support of NATO, the Government of Canada has committed to demonstrating cohesion as part of the Alliance assurance measures. As a result, Health Services elements have provided integral real life support to deployed CAF throughout Europe.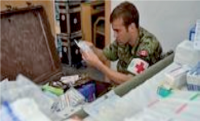 OPERATION UNIFIER
As part of the Ukrainian Joint Commission, Canada is working with the US, the UK and the Ukraine to support a training mission for the Ukrainian Armed Forces. CF H Svcs Gp personnel are deploying to the Yavoriv training Centre in Western Ukraine to provide both real life support to the members of the training teams as well as to provide medical combat first aid training to members of the Ukrainian Armed Forces.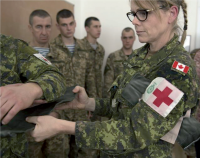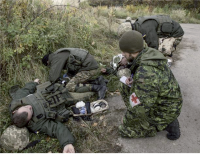 OPERATION IMPACT
As part of the coalition, Canada contributes to international efforts to degrade ISIL and assist Iraqi Forces to further demonstrate the Government of Canada's commitment to international peace and stability. To support this mission, CF H Svcs Gp has deployed medical personnel to provide real life support to both the Air Task Force as well as the Joint Task Force Support Component in Kuwait. Furthermore, we have deployed medical specialists as part of a coalition with Australia.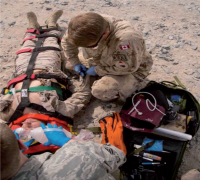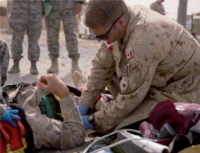 OPERATION ADDENDA
In support of the Head of the embassy in Kabul, Health Services elements are deployed to provide integral real life support to deployed CAF personnel.
OPERATION CARIBBE
This is Canada's participation in a multinational campaign against illicit trafficking by transnational organized crime in the Caribbean basin and the eastern Pacific Ocean. Health Services Group elements are deployed to provide real life support to this mission.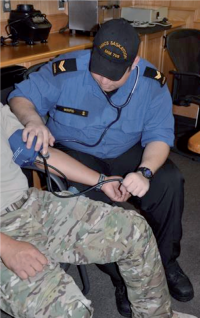 Civil-Military Cooperation
To fulfill its mandate to provide comprehensive health services to CAF personnel across Canada and abroad, CF H Svcs Gp is supported by a wide variety of Canadian civilian provincial and federal health agencies. Although it's primary mandate is the care of CAF members, CF H Svcs Gp is integrated within the mainstream of the national and provincial/territorial health systems through strategic alliances, memoranda of understanding, local arrangements, and a general spirit of cooperation and goodwill. CF H Svcs Gp also enjoys close relationships with allied military medical organizations in NATO and around the world. The CAF health system is accredited by Accreditation Canada, an independent national healthcare quality authority that is internationally recognized for setting standards of excellence.