Business forum
OR Technology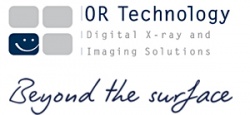 OR Technology
Neptunallee 7c
18057 Rostock

Telefon: +49 381 36 600 500
Fax: +49 381 36 600 555
Internet: www.or-technology.com
E-Mail: Military.Medicine@or-technology.com

OR Technology is your partner for digital X-ray imaging with compact mobile and portable solutions for outpatient and stationary use for air, naval and ground forces made in Germany.
OR Technology has been successfully creating innovative and specialised X-ray solutions for more than 30 years, applying the highest German quality standards and providing excellent support service all over the world. Our company is a leading provider of digital X-ray imaging (CR, DR) and image management (PACS) and web based image distribution (ORCA).
OR Technology is in a position to offer sophisticated and individually configurable system solutions to partners in medicine (human and vet) and industry.
The company's prosperous track record includes several thousand installed X-ray and image processing systems in over 120 countries worldwide.

More information please find in our new brochure: Digital X-ray systems for mobile and inpatient medical facilities or visit www.or-technology.com .