Almanac
Lebanon, Republic of
Capital: BeirutArea: 10.450 km2Population: 4.145.000Official Language: ArabicArmed Forces Personnel: 40.500Medical Officers: 69Military Hospitals / Institutes: 1/n/aMissions: n/a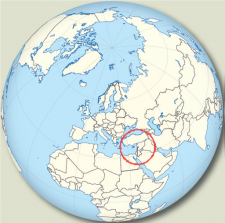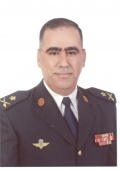 Surgeon General
Georges Youssef
Brigadier General

Commander Military Health Care Services
Lebanese Armed Forces
Beirut-Badaro
LEBANON
Basic Task of the Military Medical Service
It is the right for the military community to receive medical care, all kinds of therapies, paramedical care, medications, prosthesis, medical devices, implants and aids with no copayment and no exclusions; and this right is endorsed and provided by the Military Health Care Services in the Leba - nese Army. The medical services are provided to beneficiaries who comprise around 10% of the Lebanese population. The medical corps is invariably keen to provide excellent and competitive medical services either at the military health care facilities or at the private sector in secondary or tertiary care hospitals and diagnostic medical centres. Referring beneficiaries to the private sector is done in case of unavail - ability of the medical service and with full financial coverage. The beneficiary has the right to receive his medical care even abroad if the service is locally unavailable. The military health care services ensures that medical care conforms with Good Medical Practice guidelines in an era of emerging health challenges and changing economies of scales. This is accomplished by the periodic training of the medical corps and supporting continuous medical education through annual international or local courses and programs. Besides, the Military Health Care services provide policies for preventive medicine, field sanitation and general health awareness. Another mission for the Military Health Care Services is to provide medical support, evacuation (land, air, water) and treatment for casualties during disasters and wars.
Beneficiaries:
• Active duty members and families
• Retired members and families
• Civilian employees (active and retired) with families
Structure: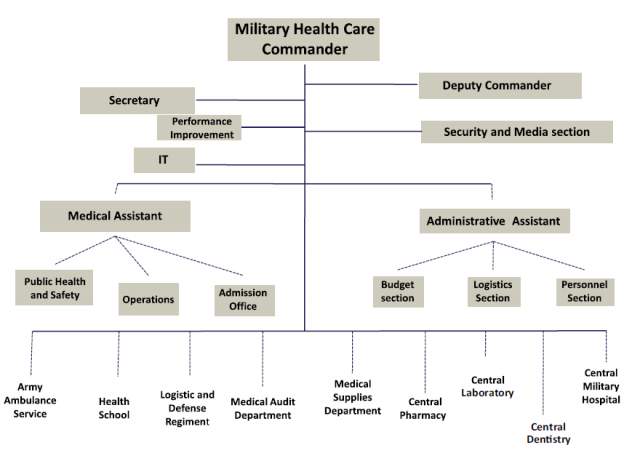 Regional Medical Facilities
There are five Regional Health Care Facilities as shown in the organizational chart. Under the jurisdiction of those Regional Health Care Facilities are 34 dispensaries that serve as primary health care centres to all beneficiaries. The regional medical facilities include outpatient departments for medical consultations, laboratory, radiology, dentistry and pharmacies. The regional health care facilities are connected to the Central Health Care Services by networking.
Military Hospital
The Central Military Hospital
There is one military hospital located in Beirut with a capacity extending to 140 beds and occupancy rate of 95%. It accommodates 20,100 admissions per year with 9,011 annual surgical operations. About 2,790 surgeries are ophthalmic, 2070 are orthopedic, 1780 are general surgeries, 1020 are urology surgeries and 600 are ENT. The main Central Military Hospital accommodates Medical and Surgical Departments supported by Laboratory and Radiology departments. The services are provided through, Department of Internal Medicine, Department of Oncology and Hematology with 4120 chemotherapy sessions per year, Hemo-dialysis with 6000 sessions per year, Intensive Care Unit, Cardiac Catheterization Unit, Endoscopy, besides surgical departments mentioned above. In addition, the Outpatient Department provides a wide spectrum of all medical consultations including Pediatrics, OBSGYN, Ophthalmology, Psychology, Speech Therapy and Dietary.
• The Emergency Department
at the Central Military Hospital has 750 m2. Besides its role in receiving cases of medical emergencies in its sections which are the triage section, stabilization section, trauma sections, surgery room, medical sections; it plays a major role in the area of Beirut and Mount Lebanon by having the highest capacity in receiving casualties in conditions of crisis or wars.
• The Cardiology Centre
The unit was launched in June 2009 and it is ranked as the first in Lebanon in terms of number of procedures since it performs around 2100 diagnostic procedures per year out of which 1100 are interventional. It is the busiest centre among all Lebanese University Hospitals. Many complex PCI are performed (unprotected Left Main, bifurcation, CTO). All the procedures are done by radial approach with percentage success rate of approximately 99%. The patients who complete their diagnostic catheterization usually leave the hospital after 2 hours; the majority of patients undergoing PCI leave the hospital within 12 hours. The rate of complication is very low as compared to literature. In addition, the Cardiology Centre hosts a fellowship program accepting residence from three medical schools in Lebanon in the Lebanese University, Saint-Joseph University as well as the Balamand University.
• The Radiology Department
The Radiology and Medical Imaging department at the Central Military Hospital accommodates state –of-the –art equipment that are: 1-Multi detector CT scan; 1 Fluoroscopy DRF; 1 Flat panel DR; 2 Ultrasound, 1 Mammography, 1 General Radiology located in the Emergency Department, 2 mobile X-Ray units. The annual workload for the CT scan is 12,000 patients; as for Fluoroscopy and General radiology 70,000 patients, Mammography is 4,000 patients and Ultrasound is 12,000 patients.
• The Endoscopy Department
The endoscopy department performs annually around 1020 colonoscopy and around 1530 Gastroscopy proce - dures; besides therapeutic endoscopy, ERCP, LVO, Breath Test, Echoendoscopy and Bronchoscopy.
Special Medical Procedures at the Central Military Hospital
• Posterior dynamic stabilization: The interspinous spacer from treatment to prevention
Management of lumbar stenosis evaluated over the time from decompression to dynamic stabilization preserving the motion segment passing by the rigid fixation. After long years of rigid fusion, adjacent segment disease became more and more frequent and the concept of dynamic stabilization emerged.
We report our experience with posterior dynamic stabilization using an interspinous distracter (ISD).
One hundred and eight patients were operated between September 2008 and January 2012 with different lumbar spine pathologies. The ages of our patients were between 45 years and 70 years, with a mean age of 55 years. With our growing experience, indication of ISD became narrowed and the interspinous spacer became an absolute tool for adjacent segment disease as a treatment as well as prophylactic with rigid stabilization.
Overall clinical improvement was noted in ISD-treated patients, with considerable satisfaction in 77% of patients on average. The patient at first reported an improvement of their radicular pain with a mean reduction of 3.6/10 on visual analog scale. Postoperative walking distance progressively increased during the next 3 months. Whereas, a radiological evaluation at 3 months showed a mean of 42% improvement of the disc height. On the other hand, all patients operated with posterior dynamic stabilization (PDS) at the time of rigid stabilization showed no adjacent segment diseasecompared to those operated with posterior arthrodesis (P < 0.05).
In Conclusion, Interspinous spacer after surgical decompression for spinal stenosis by excision of Ligamentum flavum demonstrates excellent short-term and long-term results for improvement in back pain, neurogenic claudication, and patient satisfaction. It provides restoration of disc height, reduction of vertebral slip and it's a necessary tool in the management and the prevention of adjacent segment disease.
• Vagus Nerve Stimulation in Children
Vagus nerve stimulation (VNS) is a well-known treatment modality for non-surgical refractory epilepsy patients. A team from the Central Military Hospital prospectively evaluated the efficacy of VNS in children over 2 years period. 90 Children aged between 6 months and 18 years who are not candidates for surgical treatment of epilepsy, treated by VNS were prospectively evaluated. Before surgery all patients were evaluated by Electroencephalography, epilepsy protocol, MRI, metabolic and genetic testing when indicated. Reduction of seizure frequency was assessed on regular follow up basis at 6, 12 and 18 months post implant. The efficiency of the magnet and the quality of life (alertness, memory, school achievements, mood, verbal skills, mobility, and independence) among those patients were also evaluated. The severity of seizure improved in 49% (p <0.05) of patients with 30% of decrease in seizure duration and postictal phase. 27 % showed no improvement in their quality of life. 60% were magnet dependent during seizure episodes. 21% stopped their anti-epileptic drugs and 54% continued their medications as pre-operatively. Overall improvement progressively increased over time with 62% at 6 months and 81% at 18 months. In conclusion, VNS is a good therapeutic option for patients with refractory seizures in the absence of surgical lesions. A large prospective multicentre study over prolonged period of time is needed to ascertain our results.
Institutes / Training
Special Institutes/Divisions in the Military Health Care Services
Military Health School
The Military Health School offers wide range of training courses in its curriculum, to mention a few are: Combat Medics, Combat Life Saver, Field Medics, Tactical Combat Casualty Care as well as foreign languages. Besides, the Military Health School hosts foreign military training teams to deliver courses at its premises requested by the Lebanese Army. For example, the USA Army DIMO training teams deliver a spectrum of courses to mention a few; Disaster Planners, Bio-security and Biosafety, Ebola and Pandemic Management, Public Health Emergencies, Health Systems Development and Best Practices, Mass Casualty Response for Primary Care Providers, Biological Weapons and Emerging National Security Threats Planning and many others related to preventive medical care. The audience of each course varies according to its objectives but usually it includes officers, administrators, health care workers, NCOs, civilians from national partners etc.…
Other training courses the Military Health Care is enrolled in are Advanced Trauma Life Support, Advanced Trauma Care for Nursing as well as Pre-hospital Trauma Life Support, which are conducted at the American University of Beirut Medical Centre.
Besides local programs, Officers and NCOs complete training courses in the USA such as Basic Officer Leader Course, Captain Career Course, Medical Logistic and Preventive Medicine.
Division of Health and Safety
The main tasks of this department are:
• Vaccination campaigns in various military units or as needed.
• Monitoring and evaluating occupational hazards such as exposure to ionizing radiations, exposure to chemical hazards, and ensuring biological safety.
• Monitoring the compliance by hygiene standards
• Cooperates with the Ministry of Public Health in the event of appearance of a transmitted disease or any outbreak for the welfare and protection of the military corps and those in contact.
Number of Medical Personnel
| Category | Central Military Health Care Services |
| --- | --- |
| Officers/ MD | 47 |
| Officer/ Pharmacist | 9 |
| Officer/ Dentist | 3 |
| Officer/ Medical Laboratory | 4 |
| Officer Hospital Management | 1 |
| Officer Health Services Management | 1 |
| Officer/ Physiotherapist | 2 |
| Officer/ Radiologist | 2 |
| Officer/RN | 4 |
| NCO Nurses | 193 |
| Contracted Nurses | 145 |
| Contracted Technicians | 148 |
| Contracted Administrative | 21 |
| NCO | 1079 |
| Contracted MD | 178 |
Field Deployments
The treatment chain for wounded soldiers starts at the Point Of Injury by medics and buddy aid. Next a Casualty Collection Point is identified where patients are collected for, triage, stabilization and resuscitative care if needed. From this point medical evacuation shall be done to a field hospital and that was the case during the 2008 North Lebanon aggression. However, the medical evacuation whether land or air is mostly done to the Central Military Hospital or contracted civilian tertiary or secondary care hospital since Lebanon with its relatively small geographical area of 10,450 km2 has around 170 private hospitals distributed in all its regions out of which 117 hospitals have contracts with the Military Health Care Services. Hence the scale of field deployment is adjusted according to the size of the country. One field Hospital is located in Bekaa region as a medical support for any possible aggression that might arise in that region. During peace, the field hospital has the role of a primary health care facility.
Protected transport vehicles during evacuation include M 113 and 2 UH for air evacuation.
Civil-Military Cooperation
The Military Health Care Services is a major stakeholder and responder during national disasters whether natural, aggressions, wars, displacement, aircraft crash, epidemics and others. The cooperation with the civilians is defined by pro - viding search and rescue of victims. It includes channelling medical aids from international agencies to the civilian authorities.
Another phase of cooperation is the hosting of fellowship and internship programs of medical schools, schools of nursing, departments of pharmacies and physiotherapy of re - putable universities in Lebanon such as of the Lebanese University, American University of Beirut, Saint-Joseph University, Lebanese American University, Balamand University and others.
Social Media
Links
Articles
Browse by category
Events