Almanac
Myanmar, Republic of the Union of
Capital: Nay Pyi TawArea: 676.578 km2Population: 53.582.855Official Language: BurmeseMedical Officers: n/aMilitary Hospitals / Institutes: n/a/n/aMissions: Make Fit to Fight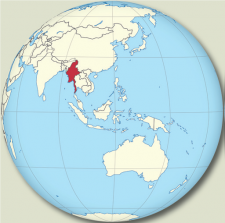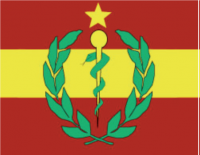 Surgeon General
Ko Ko Lwin
Brigadier General

Directorate of Medical Services
Office of the Commander-in-Chief (Army)
Nay Pyi Taw
Republic of the Union of MYANMAR
Basic Task of the Military Medical Service
The Myanmar Military Medical Corps is a specialist corps in the Myanmar Armed Forces (Tatmadaw) which provides medical services to all Myanmar Military personnel and their families in war and in peace. The Myanmar Army Medical Corps forms the Myanmar Armed Forces' (Tatmadaw) essential military medical services under the command of Directorate of Medical Services (DMS). Directorate of Medical Services commands Medical Corps of Myanmar Armed Forces. DMS also commands some military academies jointly with the Office of the Chief of Armed Forces Training.
Defence Services Medical Research Centre (DSMRC) is the first research centre in Myanmar with genome sequencing technology and BSL 3 laboratory facilities. Training on research methodology, rapid response to CBRNE incident, mass casualty management, good clinical practice, research ethics, laboratory safety, biostatistics and polymerase chain reaction are also provided at DSMRC.
Structure
Hospitals and Units
At the time of independence in 1948, the medical corps had two Base Military Hospitals, each with 300 beds, in Mingaladon and Pyin Oo lwin, a Medical Store Depot in Yangon, a Dental Unit and 6 Camp Reception Stations located in Myitkyina, Sittwe, Taungoo, Pyinmana, Bago and Meikhtila. Between 1958 and 1962, the medical corps was restructured and all Camp Reception Stations were reorganized into Medical Battalions. In the 1990s, the Directorate of Medical Services has significantly expanded along with the infantry.
At present, there are two (1000 bedded) Defence Services General Hospitals (Mingaladon and Nay Pyi Taw), two (700 bedded) Military Hospitals in Pyin Oo Lwin and Aung Ban, two (500 bedded) Military Hospitals in Meikhtila and Yangon, one (500 bedded) Defence Services Orthopaedic Hospital in Mingaladon, one Defence Services Liver Hospital, two (300 bedded) Defence Services Obstetrics, Gynaecological & Children Hospitals (Mingaladon and Nay Pyi Taw), one (300 bedded) Defence Services Rehabilitation Hospital (Mingaladon), five (300 bedded) Military Hospitals (Myitkyina, Ann, Kengtung Monywa, and Mawlamyain, ), twenty-two (100 bedded) Military Hospitals (Mongphyet, Hpa-an, Indaing, Bahtoo, Myeik, Pyay, Loikaw, Namsam, Lashio, Kalay, Mongsat, Dawai, Kawthaung, Laukai, Thandaung, Magway, Sittwe, Hommalin, Bokpyin and Thabekkyin, Hpapun, Thanlyin), fourteen (25 bedded) Military Hospital (Lanywa, Puta-O, Tantyan, Pantaung, Buthitaung, Hainggyikyun, ThinGanNyiNaung, Shwekyin, Kutkai, Danai, Mongpan, Bawlakhe, Kaleinaung, Hkamti, Taung Nyo), 14 Field Medical Battalions which are attached to various Regional Military Commands throughout the country. Each Field Medical Battalion consist of 3 Field Medical Companies & 3 Field Hospital Units and a Specialist team. Based Medical Store Depot located in Yangon and Advance Based Medical Store Depot located in Mandalay.
Health & Disease Control Unit (HDCU) performs epidemiological surveillance for prevention, control & eradication of diseases and conducts laboratory investigation for arthropod borne diseases and food & water safety. It also upgrades the fitness & knowledge of military families by health education & advice for scientific ways of health lifestyles. HDCU provides all preventive medicine activities to Myanmar Armed Forces under the command of DMS.
Institutes
The Institutes Defence Services Medical Academy (DSMA) was initially established at the Diagnosis building of No.(2) Military Hospital (500 bedded) on 19th November 1992. The Academy was shifted to the present site, Mingaladon in July, 2001 and to date; more than 4,500 graduates had been brought up. The Academy brings up medical officers imbued with courage and high morale for the Defence Services (Army, Navy and Air Force).
The Military Institute of Nursing and Paramedical Sciences (MINPS) was established on 24th February 2000 as Defence Services Institute of Nursing (DSIN). MINPS is responsible to produce skilful nurses, paramedical and pharmaceutical professionals with physical and intellectual process for Myanmar Armed Forces (Tatmadaw).
Under the supervision of the Directorate of Medical Services, the Defence Services Medical School (DSMS), formerly known as Medical Corps Centre, takes responsible for military training like training of medical battalion, medical company and medical platoon commander courses, medical assistant training courses, Diploma for Midwifery 2 year courses, basic medical training for Sergeant (Midwife), nursing training courses, training courses for Operating Room Assistants, laboratory technicians, radiographers, physiotherapists, entomologists, dental technicians, prosthetic technicians and nurse aid training courses.
Civil-Military Cooperation
Civil Support Operation
Directorate of Medical Services (DMS) is committed to providing medical treatment not only to the Tatmadaw families but also to the public, regardless of race, religion and socio-economic status. The Military Personnel of DMS visited far-flung regions and villages, giving free medical treatment under the arrangement of respective commands. From 2012 to 2020, altogether 2,388,605 people were given medical treatment. The program benefits patients suffering from TB, respiratory diseases, cancer, chronic arthritis, traumatic injuries and breast cancer by utilization of modern medical equipment such as CT scan room, Minor Eye Operation room, Minor Operation theatre, Laboratory room and Echocardiogram machine with mobile medical units, mobile laboratory and radiological unit and mobile dental unit.
The Tatmadaw mobile healthcare team led by the specialists and nurses provided healthcare services to the 159,455 people from the coastal areas in Rakhine State and Taninthayi Region during the period from December 2012 to November 2019 through a seagoing hospital ship called "Thanlwin". Altogether the 154,481 people in Yangon Region and Ayeyawady Region were provided with through a river going hospital vessel "Shwepazun" during the period from February 2013 to March 2020.
Thanlwin, the sea-going hospital vessel is a modified version of a vessel of Myanmar Five-Star shipping line. The vessel was upgraded and transformed into advanced hospital vessel in 2013. The vessel is completed with facilities of a 25 bedded hospital including CT scan room, minor eye operation room, minor operation theatre, and major operation theatre as well as patient room, and intensive care unit with anaesthetic machine and oxygen plant. In addition, X-ray machine, blood screening devices, eye, nose, ear medical instruments, oxygen concentrators and hospital incinerators. The vessel also has a delivery room and is also equipped with facilities to treat jaundice of newborn babies plus dental chair and units. As the hospital vessel has been put into service, it will substantially contribute to the medical services of the Tatmadaw provided the local people along coastal areas. In addition, it will also be able to provide emergency care in case of disaster.