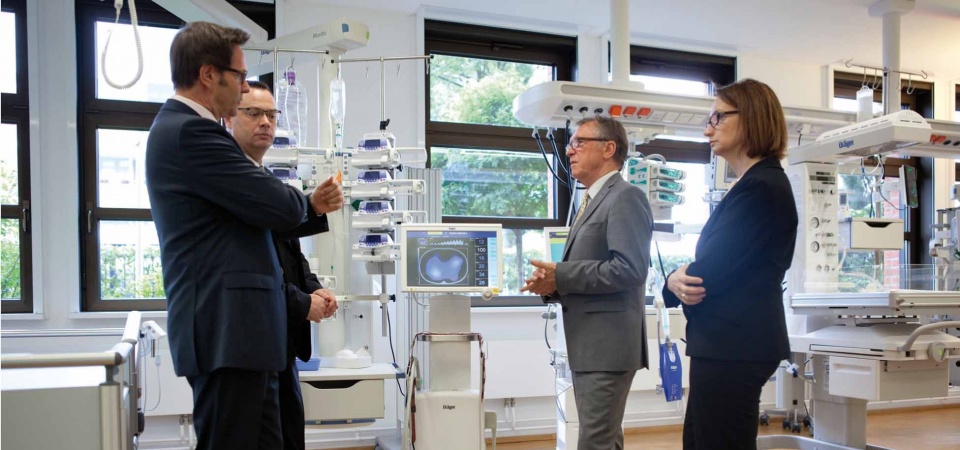 Interview
DRÄGER – more than five generations' technology for life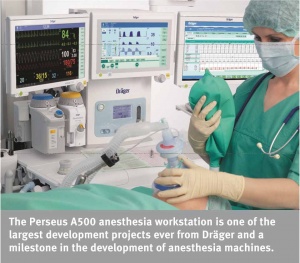 MCIF: Mr Engler, Dräger can look back on a business tradition that is now 125 years old, demonstrating a remarkable evolution – from simple beer pressurisation equipment to the development of the PulmoVista, a high-tech medical device for use in respiratory care. Could you tell us something about your company's history?
Engler: 2014 is a very special year for us. For 125 years, the Dräger family has been determining the fortunes of the company that bears its name. Stefan Dräger, our current Executive Board Chairman, represents the fifth generation of the family to manage the business. We now employ a total of approximately 13,500 personnel throughout the world and are proud of what we have achieved in the past 125 years.
Under our guiding principle 'Technology for Life', we have massively expanded our activities in the medical and safety technology sectors in recent decades.
Our life support systems were designed to be used in the operating theatre, in road-side emergency situations, following mining accidents and to monitor large complex industrial plants.
At present, medical devices represent some two-thirds, and safety technology products one third of our turnover.
MCIF: The first successful ascent of Mount Everest in 1953 by the team under Sir Edmund Hillary was achieved with the help of oxygen devices supplied by Dräger. Are you still active in such specialised areas?
Engler: Partly yes. We do work on special applications when we consider this to be of interest, and there is the opportunity for project-related collaboration. When merely a minor adaptation of our products will enable us to cooperate within a joint project, we are happy to become involved.
MCIF: Your corporate philosophy is 'to protect, support and save life' – to what extent do you involve potential customers in the development of your products?
Engler: As an engineering-driven business, we enter into dialogue with our customers and users and try to obtain their views so that we can incorporate their specific needs into the design of a new product or concept at a relatively early stage. As a corporation with international interests, we have established good contacts in 190 countries.
We have numerous subsidiaries and regional offices that we, of course, also use to maintain contact with our customers. We can employ their experience in the subsequent product development process.
Where there are special requirements, we try to modify our devices to meet the needs of customers as closely as possible. It is quite apparent that a device that is to be used on board a ship or plane needs to be installed in a very different way compared to a device that is to be used in a hospital. In some cases, it is necessary to comply with very specific requirements before an operating permit for a device can be obtained. But this is where our many years of experience come to our aid.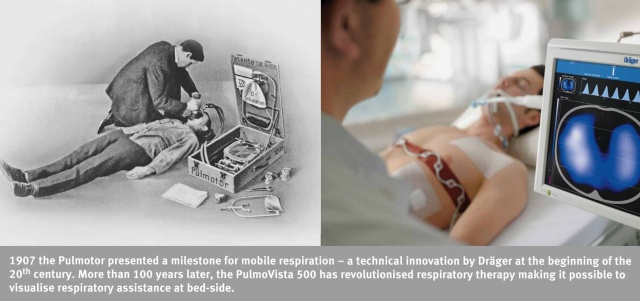 MCIF: In the past, when I visited the field medical facilities and hospitals run by the various national military forces I also encountered many of the devices manufactured by Dräger. If any of these devices malfunction, can you send out engineers to repair them, even in theatres of operations?
Engler: In such situations, the country in question permits our personnel to travel in so that they can carry out maintenance and repair work on-site. At the same time, today's military medical service technicians receive specialist training that enables them to themselves undertake the necessary maintenance and repair of our devices. So there are different solutions in place for the various nations that employ our devices.
MCIF: As in the case of the civilian sector, the military medical services around the world are establishing simulation centres to promote practice-orientated training of their medical and non-medical personnel. To what extent is Dräger active in this emerging sector?
Engler: Naturally, our various business divisions are extensively involved in developing simulation devices and simulation centres. We have supplied the equipment for the simulation centres in many of our partner hospitals. To some extent, we also work here in close collaboration with other medical technology providers in order to evolve the comprehensive systems required by hospitals for training. Dräger is an established supplier of both medical technology and safety technology products throughout the world. We can offer a wide portfolio of products designed for use in simulation training, with scenarios such as virtual surgical operations, helicopter landings on water and fires on oil rigs. In view of this extensive range of options, you can see that we have considerable potential for collaboration with the military.
MCIF: Dräger is now 125 years old. What does the future hold for the business? What are Dräger's plans?
Engler: We are a family- and very longterm-­oriented company. Stefan Dräger hopes at some time to pass on the business to a member of the next generation of his family. Our future strategy is to maintain and constantly expand the position as market leader in terms of quality in our markets. We already have an extensive share of the European and North American markets but need to concentrate more on our international presence and our options for growth in other regions because there is a massive potential here.
MCIF: In conclusion, I would like to return to your devices designed for use in intensive care and anaesthesia. It is extraordinary how far you have come from the creation of the world's first pulmonary resuscitator – the Pulmotor – by Dräger in 1907 to today's PulmoVista with which it is possible to visualise regional air distribution in real time; the progress you have achieved is in keeping with your corporate motto – 'Technology for Life'. But all technological improvements that are introduced into hospitals are associated with the risk of transmission of therapy-resistant nosocomial infections. I am thinking in particular of the problems associated with hospitalism.
How does Dräger deal with this challenge?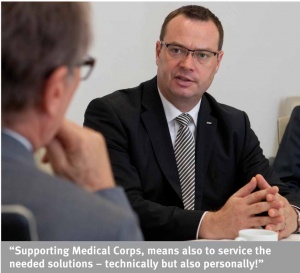 Engler: Of course, we take account of the potential risks when designing and constructing our devices. We take particular care to use materials that are not affected by desinfectants. This is of course thoroughly checked in our own test center, which incidently holds international accreditations.
Further, we put a lot of effort into preparing the surfaces of our systems for easy and effective cleaning. Accessories and cable management is also part of this encompassing consideration.
We use materials and surfaces that provide optimal protection against contamination. Also accessory- and cable management is included in this overall consideration.
MCIF: Mr Engler, thank you very much for this most interesting interview and the concise yet comprehensive information you gave us; the range of your product portfolio culminating in the development of the PulmoVista demonstrates that by following your principle 'Technology for Life' you will produce more outstanding devices in the future.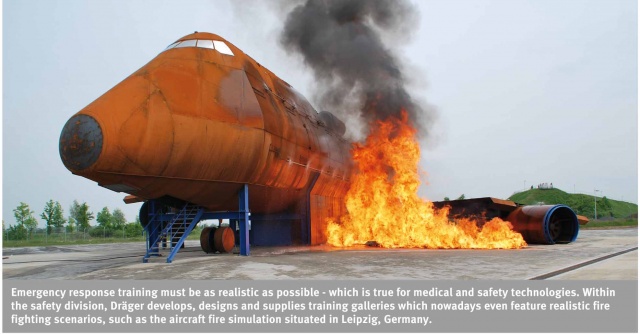 About Dräger
"For us, Technology for Life is more than a mission statement."
(Stefan Dräger, Executive Board Chairman)
Dräger. Technology for Life®
Dräger is an international leader in the fields of medical and safety technology. Our products protect, support and save lives. In the medical division, Dräger is one of the global market leaders with its products for ventilation, anesthetics and warming therapy as well as related accessories and consumables. In recent years, Dräger strengthened its expertise as a system provider with products such as integrated IT solutions for the operating room and gas management systems.
In the safety division, the portfolio includes stationary and mobile gas detection systems, personal protective equipment, professional diving systems, alcohol and drug testing devices, and a varied range of training and services, in addition to projects such as fire training systems and interchangeable special units for tunnel rescue trains.
Founded in 1889, Dräger generated revenues of around EUR 2.37 billion in 2013. The Dräger Group is currently present in more than 190 countries and has about 13,500 employees worldwide. It operates development and production sites in Germany (Lübeck), China (Shanghai and Beijing), Great Britain (Blyth), the Czech Republic (Policka), and the US (Andover, Pittsburgh and Telford) as well as production sites in Germany (Hagen), Brazil (São Paulo), Great Britain (Plymouth), Sweden (Svenljunga), South Africa (King William's Town) and the Czech Republic (Chomutov). Dräger continues to expand capacities in China in order to be able to efficiently meet the constantly growing demand there and in the rest of the Asia/Pacific region.
Please visit www.draeger.com for more information.
Drägerwerk AG & Co. KGaA
Moislinger Allee 53–55, 23558 Lübeck Tel.: +49 451-882 0, Fax: +49 451-882 2080, E-Mail: info@draeger.com
Date: 07/15/2014
Source: MCIF 3/14