Article: Lee H. Harvis
Lessons From Haiti
How The Second Deadliest Earthquake in History Can Teach us to be Better Prepared for Future Large Scale Natural Disasters
As a colonel and physician in the United States Air Force, I'm honored to have served a senior role in the Air Force Special Operations Command (AFSOC) following the devastating January 12, 2010 earthquake in Haiti, the second deadliest quake in recorded history. AFSOC was part of the massive humanitarian interagency mission of the United States Government known as "Operation Unified Response" that deployed tens of thousands of personnel from the US Departments of State and Defense. AFSOC was sent to Haiti primarily to reopen and take control of the very small and chaotic airport operation in Port-au-Prince. Our mission grew quickly beyond that important role.
This critical mission brought food, water, medical personnel and supplies to the million of suffering people in Haiti. Proudly, the airmen of the AFSOC, under the leadership of Colonel Elton reopened the airport 28 minutes after landing the day after the quake, connecting Haiti's lifeline to the world. Eventually, tens of thousands of military, government and private personnel from more than 30 nations converged on that small landing strip in the middle of a demolished city.
Our mission started by caring for the AFSOC members opening the airport and making sure the airfield was safe for our personnel from a public health perspective. That mission quickly evolved to include searching for and evacuating American citizens, setting up medical operations at the U.S. Embassy and at the Port-au-Prince airport, conducting surveys to determine the condition of hospitals, and providing aeromedical evacuations for the most critical American patients. An estimated 45,000 American citizens were in Haiti at the time of the quake, 20,000 of them in the quake zone.
The overwhelming medical needs of the Haitian people altered our mission again and we urgently began directing medical attention to the most critically wounded Haitians. Soon, aeromedical evacuations for the most critical Haitian patients were added to our assignment.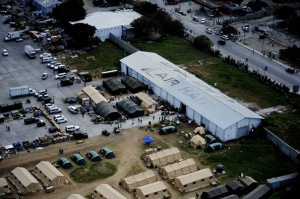 In my twenty-five year career in the Air Force, I've spent many days on and near battlefronts. I've even served on medical and rescue teams following other earthquakes, most notably Incirlik, Turkey in June 1998 when a 6.2 earthquake killed 140 people. As a physician I'm trained to handle life and death situations, regardless of how gruesome or disturbing. I had never seen anything like Haiti.
During the first two weeks we witnessed the worst of the worst. I saw more amputations than I can fathom, degloving of hands, feet, arms and legs, severe pressure wounds caused by days trapped under piles of rubble. The resources and assets of the U.S. military, especially our sizeable fleet of aircraft equipped to provide aeromedical evacuations, were among their only hope for survival. If not for these resources to get people to the right place to get the right medical attention, there's no question that the death toll would have been significantly higher.
Even though my twenty-five years in the US Air Force as a physician, combat-tested rescue pilot and participant in relief efforts educated me how to deal with disasters, my knowledge was vastly expanded through my experience in Haiti. I learned more about how we can improve our response to tragedies. Let's be even better prepared for the next one. Let's think about our world and how we respond to each other, especially during these unthinkable events that will surely happen again. Only next time, let's do it even better.
I firmly believe in continuous improvement. While success is something we all strive for, sometimes it's when things don't go as smoothly as expected that we often reach the biggest breakthroughs in thinking. In this spirit, I offer the following lessons learned with recommendations on how we can do it better the next time we face a major natural disaster.
Clear Command and Control
Obviously, someone has to be in charge. Yet in Haiti, who was in charge was not obvious. Normally, the Government of Haiti and the United Nations would have filled that role, but both were knocked out of commission. Senior level officials in both organizations were incapacitated. Some were dead. While the void is explainable, it's no excuse for a lack of command.
This lack of leadership shows that we can't take things for granted. The way it should work is not always the way it will work. Our plans need to have backup plans and contingencies to address the unforeseen twists that are sure to happen. For example, no organization can assume that its current leadership will be available when leadership is most needed. Who would have forecast that the leadership of both Haiti and the UN would be so severely impacted? A backup leadership plan will predetermine who will be in charge in case those who are supposed to be in charge are not available.
We really felt the void of leadership in the medical arena in Haiti. The UN or Haitian Ministry of Health should have established a central medical authority directly on the Port-au-Prince airfield on the first day. However, both organizations lost much of their leadership and manpower in the quake. Although the UN posted notification of meetings in the entry to the damaged terminal, many people never found the meeting, did not get the timely answers or just ignored the meeting all together since they had limited time or no transportation.
Without a clear central medical authority, many people (private foundations, NGO[DB1], international governments, international militaries) walked into our doors asking questions, seeking guidance and volunteering to help. We did not have the authority to direct them. The U.S. military was not there to invade Haiti. We were there to help at the invitation of the Haitian Government so we did the best we could. On several occasions, when more than one of these groups arrived at the Joint Special Operations Air Component at the same time, I would link them up to support each other. I also collected critical information, such as Haitian hospitals with available capacity and passed this information up the medical channels. Since the UN and Ministry of Health were overwhelmed, US Department of Defense or large, well-established NGO with Department of Defense and UN support could have taken over this role.
Be Prepared
Much of the critical information we needed should have been readily available long before we got to Haiti. Gathering and organizing this type of information should be the responsibility of groups such as the United Nations or US SOUTHCOM, the joint command for this region. These Commands should have predetermined plans for each country in their region, ready to go with all the information needed. This information should also be made available online so that it can be kept up-to-date more readily. Among other things, these plans should contain:
Contact information for the key US Government officials in the region.
Reliable GPS coordinates for the US[DB2] Embassy and where we can land helicopters.
Identified supply chains for water, food, and medical supplies.
Reliable GPS coordinates for hospitals and other health care facilities.
A plan for how they're going to secure the area.
Plans on where to set up mobile hospitals, Mortuary Affairs, and how to handle visits by high-ranking government officials.
Lists of NGO operating in each country
In Haiti, I sent my Situation Reports (SITREPS) up the chain nightly. Those reports contained important information about what's working and what's not, about what supplies and skills are needed. SITREPS should be a clearinghouse of data and information and a key source to monitor the situation and respond appropriately to the need.
NGO Play a Critical Role
As we plan for future humanitarian aid efforts, the U.S. government has an opportunity to work closer with non-government organizations or NGO. Many NGO have been working for decades in countries like Haiti and they have an intimate knowledge of how things work and have built relationships with the people who can make things happen. "Partners In Health" and the University of Miami's "Project Medishare" are two prime examples in Haiti.
University of Miami senior officials already had established connections with the top two percent of the most influential Haitians in the country. They could coordinate large sections of land and manpower to set up holding facilities. Partners in Health understood the capabilities of the hospitals in Port-au-Prince and the rest of the country. US government agencies should build relationships with these NGO now and maintain those relationships so everyone can be most effective in a relief effort.
Knowing what I know now, we should have allowed Partners in Health and Project Medishare do what they do best, which is provide medical assistance to the Haitian people. The US military should focus on the three things that we do best … provide security, logistical support, and transportation for patients to the United States for definitive medical care. Our medical care was best directed at American citizens since we had authority to treat and evacuate them to the United States. Removing American patients allowed for more medical resources to be directed to the Haitian people.
From a strictly medical point of view, there should be a plan that addresses the policy issues we had to contend with where there was no policy. Some of the issues that should have been pre coordinated were who could fly on US military helicopters during the first weeks, who had priority for being transferred to the US hospital ship USNS Comfort, and if helicopters could fly at night. The rules of engagement, for example, need to be clarified around our rights and authority to move Haitian patients out of their country and into ours. There are always serious immigration issues when we move people across borders. We need to predetermine, as much as we can, what those policies should be within the context of a humanitarian relief effort, which is, by its very definition, different from the daily immigration policies.
Communication Holds the Key
Communications is always one of the weakest capabilities in any natural disaster area, although AFSOC's communication was better than that of almost everyone else in Haiti. Most of the problem did not stem from AFSOC equipment, but rather from Haiti's poor infrastructure. During the first week, cell phones for most of the country were not working or were overloaded. Satellite phones had to be used outside of buildings and their system was overloaded. The Embassy phones were disrupted the first week, with only one phone number to contact SOUTHCOM Forward. Radios and cell phones did not work inside the embassy. We should leverage Air Force Special Operations (AFSO) communications type packages for large humanitarian efforts. This will have to come with the communication specialist personnel to support it.
State a Clear Mission Early
Missions must be defined and regional plans made available by day two. These too must be flexible for those who are first on the ground to accomplish things that are not expected. Part of the problems and disorganization in Haiti stemmed from the lack of clear mission guidance. The JSOAC Commander received clear guidance from the AFSOC Commander prior to departing, but the official Joint Task Force mission brief for Haiti was received on day twelve, which was 13 days after the quake. By then, just as most natural disasters begin to wind down, AFSOC was wrapping up to come home. I am sure that the people doing the planning were working as fast as they could around the clock. Yet, from those of us turning patients away, they should have been quicker it determining what our mission should focus on and provide us with guidance and rules of engagement for situations like the movement of Haitian patients to the United States.
The Right Medical Plan
We also saw opportunities to do a better job in the medical field. The President of Haiti did not list medical as a top priority during the first ten days. Instead, he made food and water the number one priority, which then dictated the landing priority given to arriving aircraft. Given the importance of water and food to the safety of the largest number of people, this prioritization was appropriate. However, it should not have stopped the UN from establishing a 24-hour a day medical information collection and control authority from day one.
A central medical authority needs to be established right up front. And just as with the overall command, there needs to be backup contingency plans in the event the designated medical authority is unavailable to fill the role. In Haiti, once we realized that the UN were not able to manage this function, an alternate should have been named immediately to fill the role until the UN could get back on their feet.
Prioritization of patient care during triage also needs to be handled differently if there are mass casualties. In normal circumstances, critically injured persons will get as many resources as possible to help with their recovery. They get triaged into three categories: immediate, delayed and minimal. In humanitarian disasters with hundreds of thousands of dead or injured, different priorities need to be established. With the inadequate resources in Haiti, an "expectant" category of triage should have been added for critical patients who are expected to die and so would not be treated. Failure to use the "expectant" category costs lives.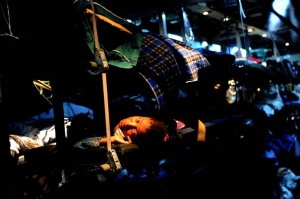 A plan also needs to be in place for the Aeromedical Evacuation (AE) system. Getting AE flights into the country took some time to coordinate, given the limited landing slots at the airport. At the start, we had no holding or staging capability. We had to move patients rapidly to the U.S. on aircraft of opportunity using our specially trained SO Forces Medical Elements and SO Critical Care Evacuation teams to care for patients in flight. For American citizens, the AE system worked well.
For Haitian patients, it took time for the bureaucracy to catch up to our capabilities and allow AE to move Haitian patients to the U.S. Bringing in AE aircraft just to move a patient was not a top priority in the early days of our mission. Food and water took a higher priority.
The difficult decisions were which persons to turn away. The JSOAC, SO Forces Medical Element, SO Surgical and Critical Care teams never turned a patient away. Before the USNS Comfort arrived, we had no outlet for Haitian patients. AEwas not established and most hospitals were at double capacity. We held patients for 3-4 days until deals could be made to accept our patients. This type of critical care services was well past the capabilities of the 44 medics in the JSOAC. Even after the third day that the Comfort was in port, Comfort personnel began limiting patients being transported by AE for treatment. Their orthopedic surgeons already had a four-week backload of surgical cases.
We needed a system within the first 48 hours to move patients from a higher to a lower level of care. I estimate that there were ten to fifteen thousand Haitian patients that required immediate medical assistance. Every local hospital was at double capacity, Comfort reached its critical care capacity within the first three days, and there was no established organization with the knowledge (or communication system) to control patient movement within Haiti. The larger NGO had capabilities that were not being used. Some of them have provided services in Haiti for 30 years. They understood the healthcare system, standard of care, and language. NGO like University of Miami arrived at Port au Prince the same day the earthquake happened, even before AFSOC arrived.
A large-scale humanitarian relief plan also needs to make sure the people with the right skills are in place. Yes, we need surgeons and physicians, but we also need medical support to manage the situation appropriately. Professionals in public health, bioengineering, medical planning and medical logistics are critical to a relief effort that involves a significant number of casualties.
A battalion of medical logisticians and medical planners on the ground in Haiti would have benefitted all medical operations immensely. The UN had a warehouse of supplies. Several of the NGO who have worked in Haiti for years also had supply chains and stockpiles. Medical supplies were dropped off at different locations around the airfield. In some cases, we watched as some supplies sat for days without anyone claiming ownership. Pallets of antibiotics sat on the ramp for days in the hot sun. Some medical supplies could have been used immediately to save more lives, if organized properly.
Medical planners and logisticians could have organized all of these supplies, established and maintained priorities on who should get what and keep an inventory of the exact needs so the shipments into the country would meet that need. Medical regulators are also critical to help find beds for patients and then keep track of each patient, including making sure they get treated by the hospital that is best able to treat their specific medical needs.
Medical plans also need flexibility. Just one example was the U.S. military's Global Patient Movement Requirements Center (GPRMC). The Center at Scott Air Force Base tried to use their normal checklist to help us manage patient movement. Their normal process, however, is much different from what we were facing. Normally, they move one to three patients on a flight with a medic for each patient. We were moving more than 20 patients on a flight and could not afford to give up our medics on the ground. GPRMC needed to send medics in with each aircraft and understand that their time on the ground would be limited. They only had time to load patients and take off again. Listening and responding to the needs of the professionals on the ground is critical in a fluid, devastating situation like Haiti.
Also lacking in Haiti was a plan for mortuary affairs. The Air Force has an effective system in place based at Dover Air Force Base to handle the movement of human remains back to the United States. As we saw in Haiti, this system can be used for all American citizens. What was missing was the interface with the Department of State.
As in most crisis situations when the infrastructure and normal processes fail, we had issues with getting accurate information. Medical professionals need to be especially alert to the increased likelihood that the information they are getting on each patient is not accurate. Confirm all information at least twice and ensure that the person providing the information includes contact information.
Finally, if a country has NGO established, use their resources, experiences and relationships to the fullest extent possible. Don't reinvent a process that they have taken years to design and improve. We found the medical NGO to be extremely professional and well connected. They were a valuable resource to us. In hindsight we should have allowed them to handle the Haitian patients and we should have provided the support in terms of security, logistics and transportation of patients to the United States.
Author:
Colonel Lee Harvis
United States Air Force
Date: 08/15/2018
Source: Medical Corps International Forum 1/2011