Interview: Martin Bricknell
The NATO response to the COVID-19 pandemic - Interview with Major General Timothy Hodgetts
This is one of a series of interviews conducted by the Editor-in-Chief with key medical leaders within the NATO health system to record their experiences and insights from the COVID-19 crisis.
Date: 06/09/2021

Interviewer: Lt Gen (Rtd) Prof. Martin Bricknell, Editor-in-Chief, military-medicine.com

Interviewee: Major General Timothy Hodgetts, Chairman Designate of COMEDS and UK Surgeon General

Bricknell, Martin:
Please can you summarise your current role.
Tim Hodgetts: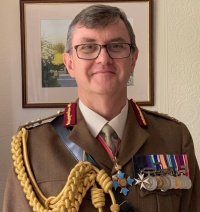 I am the Surgeon General for the UK Defence Medical Services (DMS) and the Chairman Designate for COMEDS, taking up the role in December 2021.
Bricknell, Martin:
What has been your involvement in the military response to the COVID pandemic?
Tim Hodgetts:
At the start of the pandemic in early 2020 until May 2021, I was the Head of the Army Medical Services and the Senior Health Advisor for the Army. In May 2021 I was appointed Surgeon General. Starting with the Army Medical Services' contributions, I saw my first priority was to protect our people within the Army supporting the Chief of the General Staff's (head of the British Army) intent of sustaining operational outputs, whether those outputs were in direct support of the pandemic response or our standing military tasks at home or overseas. I created a layered approach for self-protection. I also established a structure to ensure we could rapidly innovate and adopt emerging and indicative evidence of effective measures to combat the virus.
Critical to success was the effective communication of force health protection (FHP) measures which were applicable to the whole force and the creation of a single point of access to the contemporary truth, formalised within the Army's Force Health Protection Instruction (FHPI). This was maintained on the Army SharePoint website for collective direction and guidance. It was, and still is, a comprehensive primary source document as a one stop shop for organisational health advice, linked to all the related Defence Instructions and Notices and any national public health guidance. The changes to each edition were tabulated upfront and hyperlinked, so those who were busy could rapidly familiarize themselves with what was changing and see a summary of the updates. We also sent changes to key points of contact around the chain of command so those who are responsible for force health protection could immediately engage with that new direction and guidance. We had a good indication that it was an effective means of communication because of the high number of website hits each time we updated the information. However, the real proof of impact was in the compliance with the FHPI, and that could be mapped against the occurrence of outbreaks.
At the outset of COVID, we suspended basic training in the Army, but we were able to quickly re-establish this once we got environmental health and public health control systems in place. We assured compliance through serial site visits to those principal training locations by our Environmental Health (EH) teams. We adopted 'cohorting' early and we specifically liaised with our American counterparts throughout to share international experience on best practice for the military training environment. We also introduced measures to ensure social distancing, hand hygiene, and surface decontamination ahead of what later became familiar to everybody in public places. Our ability to conduct prospective EH visits for the Army did become constrained because there was a demand for those same experts to support the national effort and they got redeployed to regional COVID hotspots to support local authorities. Nevertheless, throughout the pandemic we would aggressively investigate any internal outbreak. And without exception, we would identify the root cause as a breach to the direction within the FHPI, confirming that it was comprehensive. The advice was there, it was accessible, but if you didn't follow it then predictably you could expect that you would start to see cases.
The professional advice behind that FHPI was based on the Army Preventive Medicine Group, which was a relatively new construct before the outbreak of the pandemic. It's got public health, occupational medicine, and environmental health experts on it, and that turned out to be a really powerful combination of advisors to me as a Senior Health Advisor to the Army. We had a full-time academic team supporting that advice and driving the innovation process to inform practice. This team comprised post-doctorate researchers and doctorate students in Army Health who were originally dedicated to the Women in Ground Close Combat Project. We re-assigned the entire team at the outset of the pandemic. They initially focused on establishing the right networks and horizon scanning for indicative evidence of effective countermeasures that could generate a series of disruptive innovations for FHP. The team then progressed to undertake primary research into other aspects of FHP such as vitamin D to reduce sero-conversion and wearables to detect cases early. This was enabled by both funding and ethical approval processes that were greatly accelerated.
One specific example of FHP development was an early repurposing of mosquito spray as a virucidal barrier spray for our troops in testing centres. I saw images of our troops leaning into vehicles and received reports of people coughing and vomiting on them. I thought that we had to try to protect these people better. There was indicative evidence that Citriodiol could be a potential virucidal barrier spray and it was an active ingredient in some mosquito repellents. So, we repurposed the mosquito repellent for that effect while putting it through a formal testing process within the UK Defence Science and Technology Laboratories. We knew it was going to take a significant number of weeks to get the result. Based on the precautionary principle for FHP, I didn't need absolute evidence of effect. I just needed enough evidence of effect without undue harm while I continued to look for corroboration once we had implemented that layer of protection. So, we adopted this measure, we did the formal science, and we did get a confirmatory evidence of both virucidal and barrier effects against COVID (Smither SJ, Eastaugh LS, Findlay JS, Laws TR, Marriott SN, Notman S, O'Brien LM, Phelps AL, Richards M, Ulaeto D, Watts P, Lever MS, Govan N. Investigative study into whether an insect repellent has virucidal activity against SARS-CoV-2. J Gen Virol. 2021 Apr;102(4):001585. doi: 10.1099/jgv.0.001585. PMID: 33891534; PMCID: PMC8290268). So, we were vindicated, by moving early, with that particular aspect. We followed a similar approach when we introduced vitamin D for our troops exposed to COVID and into the basic training setting about nine months ahead of the formal announcement that it was a good thing to do by the civilian public health system (Parsons IT, Gifford RM, Stacey MJ, et al. Does vitamin D supplementation prevent SARS-CoV-2 infection in military personnel? Review of the evidence. BMJ Mil Health 2021;167:280-286 http://dx.doi.org/10.1136/bmjmilitary-2020-001686 ). The outputs of the Army Health Academic Team fed into a wider defence and a new cross government innovation system that was called CRaIG, the Clinical Research and Innovation Gateway. This provided the academic information to feed regular defence level military judgment panels on COVID protection policies.
Bricknell, Martin:
What contributions have military medical services made towards the response to the pandemic?
Tim Hodgetts:
In the first wave, I think there was a period of understanding within the NHS that our secondary health care staff, our military healthcare staff, couldn't be withdrawn wholesale from the positions that they are already employed in to provide manpower somewhere else in the NHS without significant impact to their host trusts. So, we agreed that military clinical staff shouldn't be taken for other tasks unless it was for a greater benefit than their existing role. We placed senior personnel into key liaison and planning staff roles supporting strategic NHS functions. London was an early focal point for the pandemic, and members of the City's Reserve Field Hospital advised on the build of the Nightingale Hospital alongside other military enabling elements, particularly engineering staff. We had critical care transport teams working to support London Ambulance Service using experienced military clinicians with either prehospital care or anaesthetics qualifications. We had biomedical scientists supporting the establishment of new testing laboratories as they were popping up around the country. Our EH personnel enhanced local authority contact tracing. Our medics supported the rollout of national testing including in schools and other community settings.
In wave two, we got a more comprehensive ask for clinical support; I think because the NHS was now 'tired'. It was also because the NHS better understood what was available from the military and how to ask for support. I would say that 2020 was the year of the military medic in terms of their broad utility across internal and external tasks. The Defence Medical Academy developed bespoke just-in-time training that allowed them to fill a number of roles so they could be used as an ambulance driver, ambulance technician, healthcare assistant on a ward or on ITU, testers in schools, or vaccinators, in support of national priorities. We also deployed them overseas in support of NATO allies who asked for help.
Bricknell, Martin:
What do you think of the lessons from the pandemic for national military medical services?
Tim Hodgetts:
I think we reset the understanding of the value of Defence within the fabric of national resilience for the future. I think we've also reset the understanding of how the DMS interacts with the NHS and where it could add value in a crisis. That's across a spectrum of strategic and operational planning, support, and down to tactical clinical care delivery in many roles.
We also showed that when our NHS needs help, it doesn't necessarily need to be clinical staff. We found that non-medical general military staff might be able to do some of the NHS roles just as effectively. For example, the armed forces can provide drivers to an ambulance service, enabling the NHS to release more paramedics to treat patients. I think the pandemic also dispelled the important misperception of military medical services. Specifically, we don't have staff sitting on their rucksacks, sitting idly, waiting for a task. Our primary healthcare clinical staff are fully occupied, delivering a clinical service to military personnel and our secondary healthcare staff are embedded within the NHS, working alongside civilian colleagues. Finally, our personnel in field medical units are also committed to training, to exercises and to deployment tasks. So, if we're going to support military aid to the civilian authorities, then it will be at the expense of our primary roles.
Bricknell, Martin:
What do you think are the lessons from the pandemic for international military alliances?
Tim Hodgetts:
I think a key lesson is that in an uncertain and emergent crisis, information is key. Given that every NATO country has been directly affected by the COVID pandemic, but this varied in intensity across time, then it's a sentinel lesson that the COMEDS community or the NATO community can effectively share real time clinical lessons that allow our allies and partners to adapt their planning and response appropriately. This is based on our ability to share bio-surveillance understanding and to share emerging evidence of effective measures that prevent disease and share indicative evidence of interventions that impact on outcomes. This means that our collective response is going to be more informed and effective. The common enemy in a pandemic is time, how we use time to better prepare or to change tactics early will be a future key success factor and that comes from any information sharing.
Bricknell, Martin:
Do you think there are any risks to military medical services from the pandemic?
Tim Hodgetts:
I think the principal risk is that we don't learn effectively and exploit how the military supported the civilian community and national resilience. I've already mentioned the utility and adaptability of the military medic. The experience has opened opportunities for placements within the NHS and care sector. There's also a risk that we could forget the architecture, networks, and processes that were developed through an agile innovation pathway. We are codifying the lessons to avoid that risk and writing up vignettes for innovation during COVID. I think this will serve as a new cohort of legends and stories that need to become institutionalised and will help to inspire the next generation of military medical personnel.
Date: 01/27/2022
Source: Martin Bricknell