Report: Thierry Lanteri
Medical Cooperation and Coordination in Europe
On 11 December 2017, the Council of the European Union decided to establish Permanent Structured Cooperation (PESCO) in the area of security and defence policy. A total of 25 EU member states participated in this initiative, which offers a legal framework to jointly plan, develop and invest in shared capability projects and to enhance the operational readiness and contribution of armed forces.
A project called the European Medical Command (EMC) was one of the first PESCO projects agreed upon in 2018. The Bundeswehr Medical Service, which was already engaged in the Framework Nation Concept through the Multinational Medical Coordination Centre (MMCC), assumed primary responsibility for its development.
What is the added value of EMC?
The aim of the EMC is to establish uniform medical support coordination. This German-led PESCO project, which includes a strong multinational component, will fill a capability gap that was identified some years ago. It will provide a coordination and support element to EU headquarters and national military medical services and, in doing so, will improve interoperability and operational readiness and will strengthen capability development as well as civil-military interaction.
Based on the IOC declaration of MMCC/EMC 2019 and the COMEDS Statement of 49th Plenary 2018, the EMC merged with the MMCC in September 2019. The MMCC is also coordinated by Germany. Both projects are now developed together, and the MMCC/EMC represents a lighthouse project of military and civilian cooperation between the EU and NATO. The MMCC/EMC has established full operational capability (FOC).
Since the creation of the MMCC/EMC, the European medical services have further intensified their cooperation. The COVID pandemic has revealed considerable room for improvement, however, particularly when it comes to international cooperation between medical services as well as civil-military cooperation within the EU. Several projects have been developed in order to make crisis response more efficient, thus further enhancing the EU's ability to act as well as its resilience.
Some of these projects have already been completed and have been provided and implemented by the MMCC/EMC in Koblenz during the last two years: - Medical situational awareness
Good situation assessment is a precondition for better resilience and a basis for every military coordination process. A full branch is dedicated to gathering the necessary information in a constant effort by building "medical situational awareness". Building up a reliable situational picture is one of the core tasks of the MMCC/ EMC.
Stockpiling concept
As a direct response to the challenges of the global COVID-19 pandemic, a concept called "Military Modular Multipurpose Epidemic/Pandemic Stockpiling" (M3-EPS) has been developed with the aim of facilitating swifter and better crisis response. The EMC has also studied CBRNT and has already produced a jointly agreed list of essential products in this area. In this domain, the next step will be the development of supplementary procurement and stockpiling concepts.
Blood database
Existing European Union directives on blood and blood products (Directive 2002/98/EC – quality and safety standards for the collection, testing, processing, storage and distribution of human blood and blood components) only specify minimum standards and tests for the production, distribution, and use of blood and blood products. National laws can differ from EU directives and contain their own standards. This complicates and even prevents sharing. Another issue is different definitions for blood and blood products. Depending on the national regulation, these can be pharmaceuticals, medical devices, or blood products.
The MMCC/EMC considers the interoperability of blood and blood products to be necessary not only in the military but also in the civilian sector. It conducted a survey to identify discrepancies among its participating nations and made the outcome available to the directorates-general of the EU Commission. This effort is intended to support the efforts of DG SANTE (Directorate-General for Health and Food Safety) to change from a directive to uniformly binding regulations for blood and blood products.
Training course
With the growing importance of the European Union Common Security and Defence Policy (CSDP), the need arose to better understand the mechanisms, structures and procedures that regulate and guide the planning, provision and governance of medical support to EU CSDP operations and missions. The MMCC/EMC collaborated with the EU Military Staff and the EU Security and Defence College to develop an introductory course/training to educate/train military medical personnel to work either with EU institutions or in CSDP operations.
Wargaming and exercises
During the past few months, the MMCC/EMC has developed and implemented a series of wargames that have included extensive external participation. Filling an identified gap in multinational medical support, participating nations have asked that the MMCC/EMC continue the wargaming series.
The multinational exercise Resilient Response 2020 was conducted in November 2020. It was organised as a hybrid distributed wargame dealing with a multinational response to a pandemic crisis. It provided an opportunity to build relationships and increase the knowledge of medical military representatives of participating nations and representatives of EU institutions like DG ECHO and DG SANTE. This exercise was an important contribution to preparedness for future pandemics.
Resilient Medical Interface 2021 was conducted in November EMMS  European Military Medical Services 2022 23 Medical Cooperation and Coordination in Europe 2021 and aimed at gaining experience and developing best practices for the improvement of multinational medical coordination, cooperation, collaboration and communication in Europe with respect to medical information and situation awareness, disaster relief operations, transnational patient flow management, joint medical CBRN surveillance, and joint medical logistics.
Biosensors supporting healthcare in missions
Again, the COVID-19 pandemic demonstrated the necessity of enhancing capabilities with a focus on the increasing relevance and demand for telehealth to meet critical health needs while reducing exposure. Additionally, the advantages of utilizing wearable biosensors to support healthcare in missions have become more apparent in recent years. This has led the military medical services of several nations to implement various solutions in the near future.
The MMCC/EMC therefore organized and hosted a virtual workshop on biosensors for supporting healthcare in missions in May 2021.
Three programme clusters took great care to present a wellbalanced and informative agenda. The first cluster and day were about the implementation of biosensors that support human performance and soldier/warfighter readiness. The second day focussed on the use of biosensors in missions, i.e. health and medical management applications. Presentations were held about biosensors that can support triage situations and improve medical awareness during missions, for example. On day three, various considerations about wearable biosensors were explored as well as ethical, legal, and CBRN-related concerns.
Conference participants included subject-matter experts from national and international institutions such as Johns Hopkins University, the Fraunhofer Institute for Manufacturing Engineering and Automation, the British JHUBMED, representatives from COMEDS working groups and panels, the Swiss Centre for Military Medical Ethics (University of Zurich), and the Netherlands Organisation of Applied Scientific Research (TNO). The programme included 30 speakers from 17 nations (AUT, BEL, CHE, CZE, DEU, ESP, EST, FIN, FRA, GBR, GEO, HUN, ITA, NLD, SVK, SWE, USA). More than 100 participants took part in this event.
The general objective of the MMCC/EMC is to bundle knowledge and consolidate the understanding of this important field for the future. The goal is the creation of a community of interest in telehealth and especially in wearable technology.
The next biosensor and telehealth workshop of the MMCC/EMC will be held on 21-23 June 2022. The working title is WE CARE 22 – "WEarable Biosensors in casualty CARE". The primary aim is to gain and monitor vital information on the status of injured soldiers on the battlefield to support medical treatment in pre-hospital care. Lecturers from different areas (civil, military, medical, emergency services, etc.) will share their experience with wearable biosensors in this specific area.
The year 2021 was a year of success and growth and witnessed the advancement of many projects by the Koblenz based organization. For the next few months, its primary focus will be the establishment of the situation centre, which will serve as a coordination centre and broker for medical information and expertise at the operational level.
The MMCC/EMC is ready and able to support the missions and operations of NATO and the EU with its operational knowledge and capabilities. This will benefit the health of our soldiers by combining efforts in medical support. The support already delivered to EU and NATO initiatives over the past few months has been assessed to be very valuable and sums up our key task, namely that MMCC/EMC is building a bridge between the EU and NATO.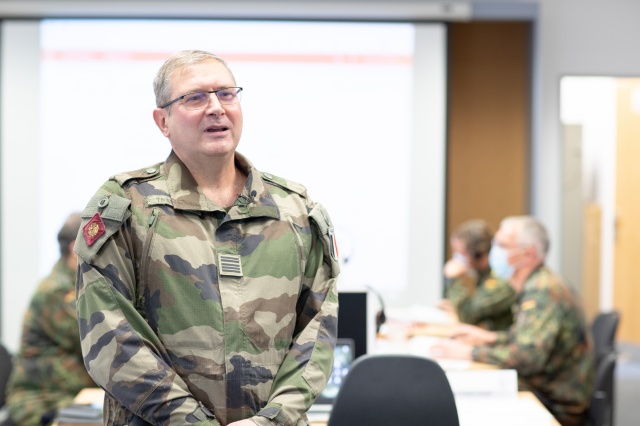 Colonel Thierry Lanteri highlights the importance of the MMCC/EMC network for the accomplishment of the task. (Source: Bundeswehr/Markus Dittrich)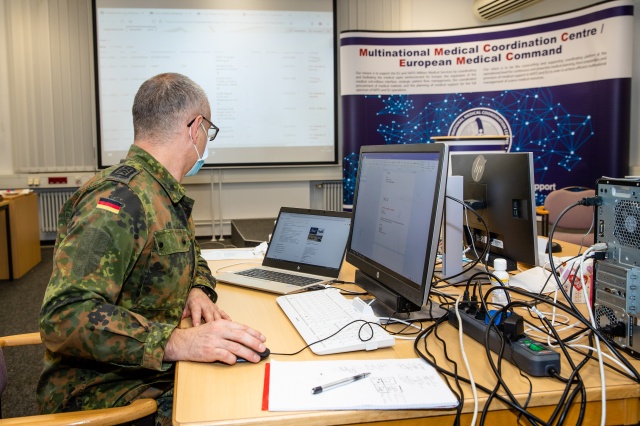 ---
Author:
Colonel Thierry Lanteri
Deputy Director EU Matters
MMCC/EMC
Andernacher Straße 100, 56070 Koblenz
E-Mail: MMCC-EMC-PAO@bundeswehr.org
Date: 02/17/2023
Source: EMMS