Almanac
Bahrain, Kingdom of
Capital: ManamaArea: 711 km2Population: 708.573Official Language: ArabicArmed Forces Personnel: 11.000Medical Officers: n/aMilitary Hospitals / Institutes: 1/n/aMissions: n/a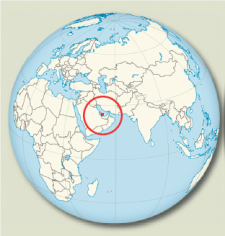 Surgeon General
Prof Khalid Ben Ali Al-Khalifa
Major General

Director of Royal Medical Services
Bahrain Defence Force
Wali Al Ahed Highway
West Riffa
BAHRAIN
Military Medical Service

Vision Statement:
To be one of the leading national and regional hospitals in efficiency and continuously providing highest quality health care.
Mission Statement:
The Mission of the BAHRAIN DEFENCE FORCE ROYAL MEDICAL SERVICES is to provide:
In War:
•Excellent medical support to all BDF Units.

In Peace:
•Excellent, quality driven healthcare to BDF, Members of the Royal Family, Ministry of Interior and Royal Court Employees and their families.
•Emergency services to the public.
•Coordinates with the Cardiac Centre services to provide cardiac care to all Bahraini nationals and residents of the Kingdom who works in various government ministries.


Bahrain Royal Medical Services (also known as Bahrain Defence Force Hospital) is one of the major hospitals in the Kingdom of Bahrain. It is staffed by 800 personnel and is part of the Bahraini Defence Force.
The Bahrain Defence Force Hospital is 400 bed capacity hospital service inpatient, outpatient and emergency patients. The hospital rank as the second largest hospital in Bahrain constitute all clinical infrastructure and highly trained medical staff.

The main mission of the B.D.F hospital is to provide health care services for the Military and Interior forces (i.e. both primary and secondary health care), emergency services for the public, specialized medical for referral patients, government VIP's in addition to medical services are the Military Hospital which is a General Hospital and the Cardiac Center, in addition to the Primary Health Care Clinics. All Bahrain residents and non-residents are entitled to free health care services and treatment.

Clinical facilities within B.D.F
•Accident & Emergency
•Primary Health Care
•Dental Clinics
•Consulting Clinics
•Inpatient Services : 15 Wards
•Specialized Cardiac Center

Mission
•Medical Services to Military & Interior Forces
•Emergency Services to the Public
•Medical Service to Private Patient with Fee
•Specialized Service to Referred Patient
•Medical Service to Royal Court




Articles
Browse by category
SDFDS is the Section Defence Forces Dental Services from the FDI. Every year prior to the FDI annual congress we organize an annual meeting. This meeting contains of a cultural day and a scientific program of 2 days, in which international military dentists share their experiences, challenges and latest developments.
The next meeting will be from 29 AUG-1SEPT in Shanghai, China
Events