Almanac
United Kingdom of Great Britain and Northern Ireland
Capital: LondonArea: 243.610 km2Population: 66.435.550Official Language: EnglishArmed Forces Personnel: 150.000Medical Officers: n/aMilitary Hospitals / Institutes: n/a/n/aMissions: multiple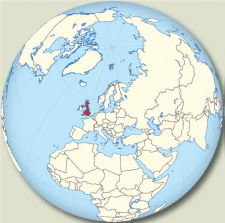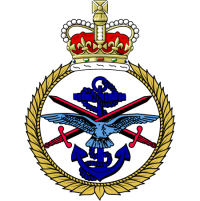 Director General Defence Medical Services
Peter Homa
CBE DBA

HQ Joint Medical Group
Coltman House
Defence Medical Services
Whittington
Lichfield, Staffordshire
WS14 9PY
The Defence Medical Services (DMS) in the UK
DMS promotes, protects and restores the health of the UK armed forces to ensure that they are ready and medically fit to deploy globally. The DMS is staffed by circa 11,000 service personnel (7,800 regular and 3,200 reserves) and 2,600 civilian personnel and provides healthcare to circa 148000 UK Regular Armed Forces personnel.
The DMS comprises personnel from the Royal Navy Medical Service, Army Medical Service, the Royal Air Force Medical Service and the Headquarters Defence Medical Services.
Service personnel and civilians work side by side as medical, dental and allied healthcare professionals with other personnel to plan and deliver excellent healthcare services wherever they are needed. DMS' include primary healthcare, dental care, rehabilitation, occupational medicine, community mental healthcare and specialist medical care.
Defence Functional Leadership of Healthcare and Medical Operational Capability:
Defence's medical capabilities lie at the heart of the moral component of fighting power. Healthcare and Medical Operational Capability (H&MOC) forms one of 15 Functions across Defence. The purpose of a Function is to provide leadership and coherence to activities that transcend organisational boundaries to enable the MOD to operate effectively and efficiently and deliver Government's requirements.
The Functional Owner (3*) for the Healthcare and Medical Operational Capability Function is the Director General Defence Medical Services responsible for functional coherence and delivery of H&MOC Defence Functional Leadership strategy on behalf of MoD Head Office.
The Functional Leader (2*) is the Surgeon General (SG). SG is responsible for delivery and coherence of Defence medical policy and medical operational capability.
The Head of Profession (2*) is Director Medical Personnel & Training (DMP&T). Dir MP&T is responsible for DMS' people capability, developing and delivering skills frameworks, career pathways and strategic workforce planning, professional leadership, professional standards, promoting learning, development and talent management for all in the H&MOC Profession.


The H&MOC Function is responsible to Defence for:
Delivering a comprehensive healthcare system that provides the appropriate timely healthcare to Service and other entitled personnel.


Setting the overall direction on all clinical matters relating to the practice of military medicine.


Setting the joint medical training requirements for Defence, to build and maintain the medical cadre.


Providing and cohering deployable medical operational capability.

Developing the science of military medicine to develop approaches and treatments that will best counter threats to the health and wellbeing of Service personnel.


Setting and auditing the professional performance of all military medical personnel.


Setting clinical and medical policies and standards, and auditing compliance by military organizations across Defence.


Ensuring coherence of health plans between Defence and the NHS.


Defining the boundaries and processes, in consultation with Top-Level Budget Holders, together with the organisational structures and composition of Forces, and the standards and quality needed, to deliver advice on health policy, healthcare and medical operational capability.


Accountable to the 4* Defence Medical Services Board that provides strategic direction and guidance to the DMS.
HQ DMS
HQ DMS is the strategic headquarters of the based at DMS Whittington (DMS(W)) near Lichfield, Staffordshire. It is closely engaged with many Defence medical programmes, projects, initiatives, campaigns and policy areas.
The HQ DMS has an annual budget of circa £500m and responsible for delivery of the Healthcare and Medical Operational Capability Function on behalf of Defence. HQ DMS provides an occupationally focused primary healthcare service, encompassing primary medical and dental care, occupational health, public health, force preparation, travel medicine, mental health and rehabilitation, and selected outsourced services. Secondary healthcare is provided by the NHS with HQ DMS input to ensure it meets specific defence requirements. The HQ DMS is also responsible for the delivery of Joint Medical Training through the Defence Medical Academy.


The HQ DMS is responsible for:
Advising on the generation, delivery and assurance of medical operational capability for operations and fixed tasks.


The provide and commission safe, effective and efficient healthcare services for all armed forces personnel.


Provide policy and advice on health, healthcare and medical operational policy.


Direct medical research and clinical innovation in Defence.


Delivery of joint medical training for Defence.

The HQ DMS has:
Regional Rehabilitation Units (RRUs) across the UK and Germany


Joint Hospital Group (JHG) Units embedded within NHS Trusts


The Royal Centre for Defence Medicine (RCDM) in Birmingham


The Defence Medical Rehabilitation Centre (DMRC) Stanford Hall near Loughborough


Mental health services are delivered through a network of Departments of Community Mental Health (DCMHs), Mental Health Teams (MHTs), and some additional locations have a dedicated permanent Community Mental Health Nurse.


Deployable healthcare capability for military and humanitarian operations


HQ DMS Organisation.
Directorate of Defence Healthcare
Responsible for delivery of healthcare to the Defence population, through Defence Primary Healthcare (DPHC) in the Firm Base (UK and overseas permanent bases) as well as leading the transformation of Healthcare through the Healthcare Improvement Programme (HIP). HIP targets four key delivery functions: Primary Medical Care, Dental Care, Healthcare Recovery (Mental Health, Rehabilitation and Occupational Health) and Pharmacy/Dispensing to develop an enduring Improvement capability for Defence personnel.
Directorate of Medical Personnel and Training (DMP&T)
DMP&T is responsible for DMS workforce planning, Command of medical training and placement of DMS personnel into the NHS. It provides a balanced, qualified, experienced, and motivated workforce that supports HQ DMS the operational needs of Defence. This is achieved through high-quality clinical placements to develop clinical competency in support of operations and the efficient force generation of medical capability. In parallel, it delivers, assesses, and innovates medical training and education through courses delivered on-site and a system of external training.
Surgeon General
The mission of the Defence Medical Directorate is to develop, deliver and maintain the moral, physical and conceptual components of the operational patient care pathway for which the HQ DMS has a direct responsibility; influence those areas where HQ DMS has a direct interest and advise in those where HQ DMS' interest is more indirect but where our expertise and experience adds value. In doing this we will have the greatest opportunity to maximise the health and optimise the care of the Defence population. The Directorate comprises 2 main pillars namely Medical Operation Capability and Research/Clinical Innovation.
Defence Primary Healthcare (DPHC)
DPHC delivers occupational health based primary healthcare. DPHC's purpose is to sustainably deliver and commission safe and effective healthcare, which meets the needs of patients and the chain of command. It provides primary healthcare, dentistry, rehabilitation, mental healthcare and occupational health in the UK and overseas to service personnel and, where appropriate, their dependants.
DPHC supports medical force preparation of service personnel deploying on operations and exercises through the provision of health advice, preventative medicine, vaccinations, chemoprophylaxis and medical risk assessments. Responsibility for the day-to-day management of primary healthcare rests with regional teams in the UK and a separate team embedded in HQ DPHC for overseas medical treatment facilities. DPHC facilities are regulated by the Defence Medical Services' Regulator supported by the Care Quality Commission.
Joint Hospital Group (JHG)
JHG provides highly capable secondary healthcare personnel for operations and Defence activity other than operations (DAOTO), and delivers the Firm Base medical care as part of the operational patient pathway. Defence secondary healthcare personnel are assigned to carefully selected NHS Trusts. Day-to-day interaction with these Trusts and operational command of military personnel embedded within them is conducted by five JHG regional headquarters (Royal College of Defence Medicine, JHG North, JHG South, JHG South-East and JHG South West). This ensures that our secondary healthcare personnel develop their clinical skills, meeting statutory and professional needs, whilst remaining available to Defence at the required readiness. The Role 4 Operational Care Pathway comprises the Royal Centre for Defence Medicine (RCDM) at the Queen Elizabeth Hospital, Birmingham and the Defence Medical Rehabilitation Centre (DMRC) at Stanford Hall, Loughborough. The Role 4 supports and enhances the NHS in the treatment of eligible MoD patients and facilitates their seamless transition into rehabilitation.
Defence Medical Academy (DMA)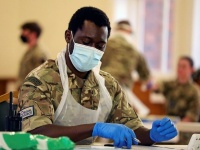 DMA, established in September 2019, develops, delivers, assures and innovates military medical education and training to meet the needs of Defence. The medical training and education provided by the DMA extends across a wide range of disciplines from Level 3, non-vocational healthcare support workers (e.g. Military Medics) to consultant Doctors, Dentists and other health professionals undertaking Level 8 (Doctorate) qualifications. Much of the academic training is delivered by the DMA.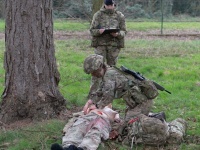 Higher academic training is delivered in partnership with academic institutions including our partners such as Birmingham City University and Leeds Beckett University. Trainees undergoing this training are managed and provided with academic and supervisory support from our staff. The DMA is formed by a small Headquarters and three departments: Training Division (includes the Defence School of Healthcare Training (DSHT) and Defence School of Healthcare Education (DSHE)), Defence Postgraduate Medical Deanery, and Training Plans and Support. Read more about the DMA – Defence Medical Academy Prospectus. .
The Royal Naval Medical Services (RNMS)
The Royal Navy Medical Service (RNMS), also known as Navy Healthcare, provides comprehensive healthcare to ships, submarines and Royal Marine personnel at sea and on land.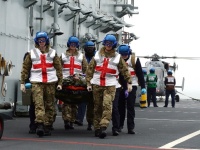 It delivers healthcare to deployed service persons in the land and maritime environment, including surface and subsurface assets. Providing primary care and prehospital care including Damage Control Surgery (DCS) and Damage Control Resuscitation (DCR). Moreover, deployed hospital care is delivered in the maritime environment by surgical facilities aboard the Queen Elizabeth Class aircraft carriers and by Commando Forward Surgical Group (CFSG) on land. RFA Argus is also utilised as a Casualty Receiving Facility.
It provides specialist advice in fields of radiation protection, diving medicine and environmental medicine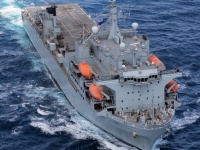 through the Institute of Naval Medicine. It also includes the Queen Alexandra's Royal Naval Nursing Service.
The RNMS is headed by the Head of Navy Healthcare within the People and Training 2* Directorate. They are responsible for providing medical advice to the Naval Executive Board (NEC) and facilitate delivery of medical operations in support of the Royal Navy and wider defence operational outputs.
The Army Medical Services (AMS)
The Army Medical Service (AMS) provides Army medical and veterinary policy, operational capability, healthcare advice and assurance, to enhance and sustain the operational effectiveness of the Army. Army operational healthcare is integrated within the Army's organisational structure, regular Army medical regiments and regular and reserve multi-role medical regiments provide coordinated operational forward of hospital and hospital capabilities.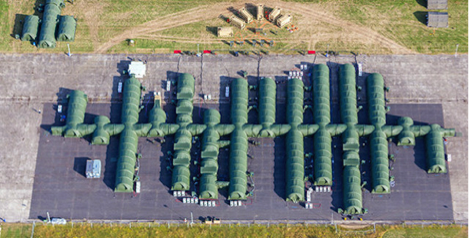 The AMS is made up of the following:
Royal Army Medical Corps
Royal Army Veterinary Corps
Royal Army Dental Corps
Queen Alexandra's Army Nursing Corps
The Royal Air Force Medical Services (RAFMS)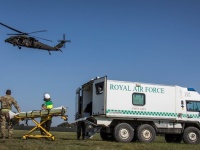 The Royal Air Force Medical Service (RAFMS) provides direct medical support to the deployed force and delivers medical expertise including aviation medicine, training and support to RAF personnel and the wider armed forces.
The RAF Centre of Aviation Medicine conducts a wide range of activities in support of air safety delivering aircrew and aircraft integration, aviation medical policy and training and specialist support through research and medical boards.
Tactical Medical Wing (TMW) provides operational outputs including aeromedical evacuation, deployed primary care, pre-hospital and hospital capabilities and delivers the 24/7/365 strategic aeromedical evacuation capability. TMW is supported by two medical Reserve squadrons: No 612 and No 4626.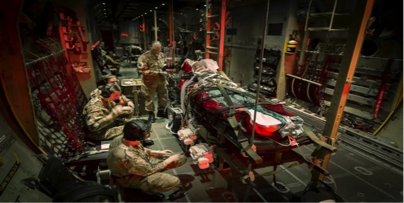 Deployed Hospital Care
Deployed hospital care is delivered on a joint basis, with each Service providing trained and equipped personnel for the deployment. The aim is to return the sick and injured to duty as quickly as possible. The intent is to provide a seamless continuum of consultant-led (where possible) specialist care encompassing preventive medicine, pre-hospital emergency care, primary and secondary care (including dental), imaging and diagnostics, and medical resupply and evacuation.
Patients requiring care beyond the capabilities of deployed medical treatment facilities are evacuated to the UK, usually to the Royal Centre Defence Medicine (RCDM) at the Queen Elizabeth Hospital Birmingham. Established in 2001, RCDM's primary role is the focal point for the military reception of operational casualties, providing the 'front door' component of the Role 4 aspect of the operational patient care pathway.