Almanac
Venezuela, Bolivarian Republic of
Capital: CaracasArea: 912.050 km2Population: 31.689.176Official Language: SpanishArmed Forces Personnel: 343.000Medical Officers: 430Military Hospitals / Institutes: 21/n/aMissions: n/a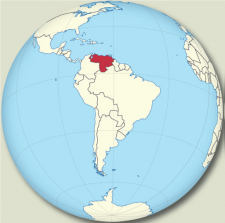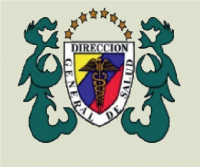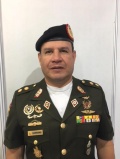 Surgeon General
Pedro Jesus SERRANO DUQUE
Major General

Dirección General de Salud FAB
Hospital Militar "Dr. Carlos Arvelo"
Piso 2 ala norte
Av J. A. Lamas San Martin
Caracas
VENEZUELA
Basic Task of the Military Medical Service
The General Medical Service of the Bolivarian Armed Forces is the governing and regulatory body of the Integrated Defence Health System Sector, whose primary function is to ensure the physical and mental welfare of military personnel from Army, Navy, Air Force and National Guard as well as their families. Since 2004, it also supports the national public system.
Structure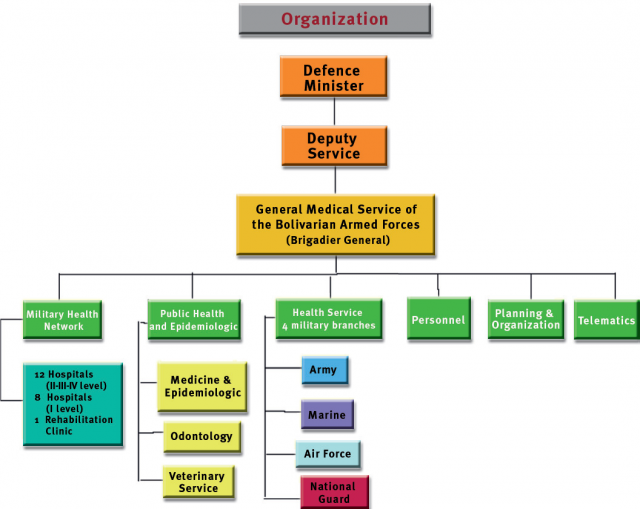 The Defence Forces encompass the Army, Naval Corps, Air Forces and National Guard, also Reserve Defence Forces. In Venezuela, there are four Medical Service, one for each Armed Forces. They are under the authority of the General Director of the Medical Service. There is a network of military hospitals distributed throughout the territory. Moreover, each military unit has its medical facilities.
Military Hospitals
The Military Hospitals attends the Military Personnel from de four Armed components, including the reserve, their families and all the civilians in need. There are 21 Military Hospitals, of these twelve have II, III or IV complexity level (> 60 beds, and specialized services and equipment). Eight have first level attention. There is also a Rehabilitation Clinic.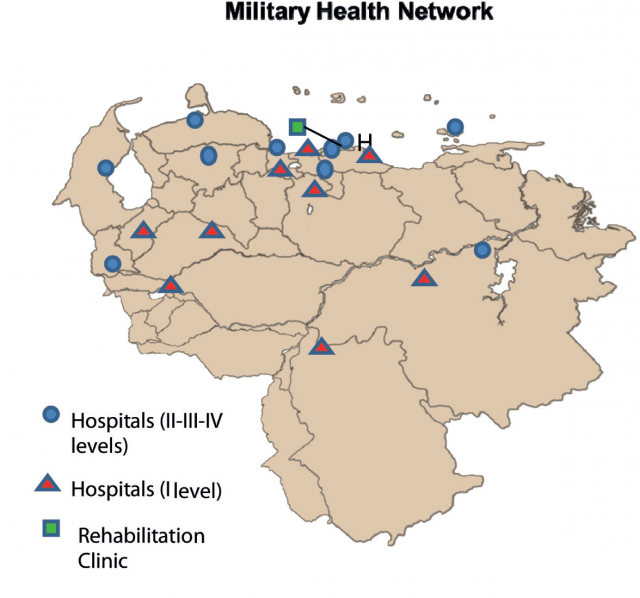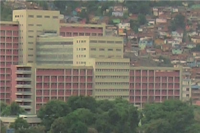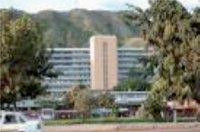 ---
Both "Dr Carlos Arvelo" Military Hospital (900 beds) located in Caracas and "Colonel Albano Paredes Vivas" Military Hospital (120 beds), located in Maracay, offer general and postgraduate studies in Medicine and Nursing.
Number of the Medical Service Personnel
Staff Military Hospitals
| | Health Military Personnel | Health Civilian Personnel |
| --- | --- | --- |
| Qualified physicians | 375 | 868 |
| Qualified dentists | 45 | 115 |
| Qualified laboratory's personnel | 28 | 59 |
| Pharmacists | 10 | 26 |
| Assisting/Nursing Personnel | 578 | 1648 |
| Veterinary surgeons | 5 | 8 |
Civil-Military Cooperation
In 2000 the "Plan Bolivar 2000", a civil-military plan was established to provide contingent solutions to urgent problems. Its goal is to improve the quality of life in the areas of health, education and infrastructure. The National Armed Forces and the civilian population are an integral part of this process.
In 2004 presidential President Hugo Chavez determined that all military hospitals would provide free care for the civilian population.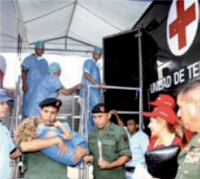 In 2010 a total of 2 834 648 patients, of whom 1 594 787 (56%) civilians, military 765 490 (27%) and 474 365 family members (17%) were treated in Military Hospitals. These patients were attended in the obstetric gynecologic, surgical and specialized assessment areas. They came voluntarily or were referred from the modules of the Mission Barrio Adentro (Health Primary Level).
A total of 23 events Medic-Surgical fairs were held in areas far from urban centres or at the country´s borders, serving a total of 3 381 patients. Also, 10 dental fairs were health providing services to 5 454 patients.
Mission Milagros specialized in visual area to Venezuelans and foreigners. It is supported in 60 % by military medical doctors. In 2010, 6 576 patients were treated (127 Venezuelans, 6 449 foreigners).