Almanac
Bangladesh, People's Republic of
Capital: DhakaArea: 147.570 km2Population: 164.700.000Official Language: BanglaArmed Forces Personnel: 450.000Medical Officers: n/aMilitary Hospitals / Institutes: 1/4Missions: multiple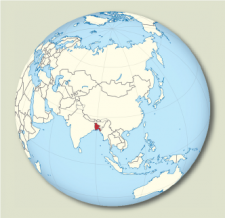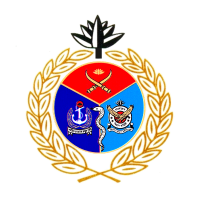 Surgeon General
Dr Fashiur RAHMAN MD
Major General MC

Directorate General of Medical Service
Ministry of Defence
Dhaka Cantonment - 1216
BANGLADESH
Armed Forces Medical Services of Bangladesh
History
Med support system currently in practice in our Armed Forces is an extension of the British concept of the med services, like other countries of the subcontinent. The outline of the Armed Forces Med Svc was developed concomitantly with the British Army in this subcontinent. As a result of which IAMC, IMS, and IAHC were developed. Combined Military Hospital, combat treatment centre and different training, institutions started developing at that time to meet the requirement of the combat casualties.
The germination of the Bangladesh Army Medical Corps started during our war of liberation in 1971. It has passed through the saga of strife, struggle, pains, and sacrifice in the war of liberation. At that time a huge number of officers and men defected from Pakistan Army Medical Corps (PAMC) and joined the war of liberation. Squadron Leader M Shamsul Haque, the senior most AMC officer, being dejected by the flagrant action of Pakistan Army, crossed over border on 16th Apr 1971 and started organizing the med svc by collecting Doctors, Med students, and Med Assts. Med svc started playing an active role during war of liberation. In the month of Sep 1971, Directorate General of Medical Services HQ was established and Squadron Leader M Shamsul Haque was appointed as the first DGMS of Armed Forces Med Svcs and Maj Khurshed Uddin Ahmed was appointed as the Director Medical Svcs (Army) and OIC Records and Maj Shamsul Alam was appointed as the Director Medical Svcs (BN & BAF). First Bangladesh Field Hospital was established at Melaghar under Sector-2 of Liberation War.
During the war of liberation total 137 AMC soldiers including 14 officers were killed. They laid down the example of supreme sacrifice, which made them the best sons of the soil. The example set by them will remain ever glorious for the days to come and inspire people for ages. Two officers and seven other ranks of AMC were awarded for their heroic activities with gallantry awards.
Structure
The Medical Services of the Bangladesh Armed Forces consist of the Medical Services of the Army, Navy and Air Force and a Directorate General of Medical Service as part of the Ministry of Defence. The head of the Directorate General is designated Director General Medical Services (DGMS). DGMS is assisted by Consultant Surgeon General and Consultant Physician General on relevant issues.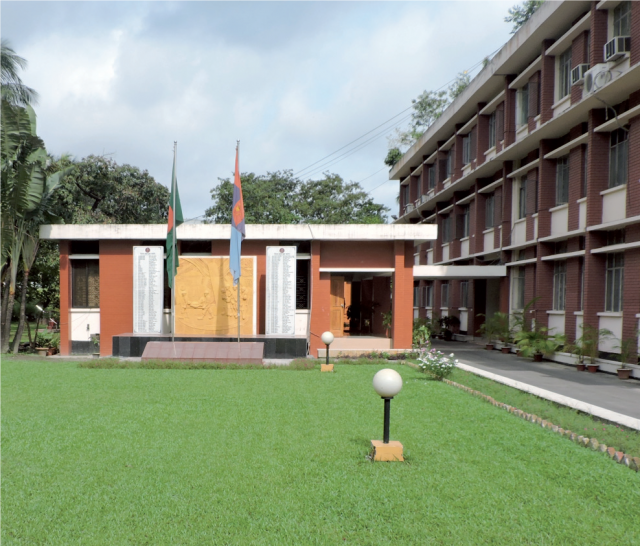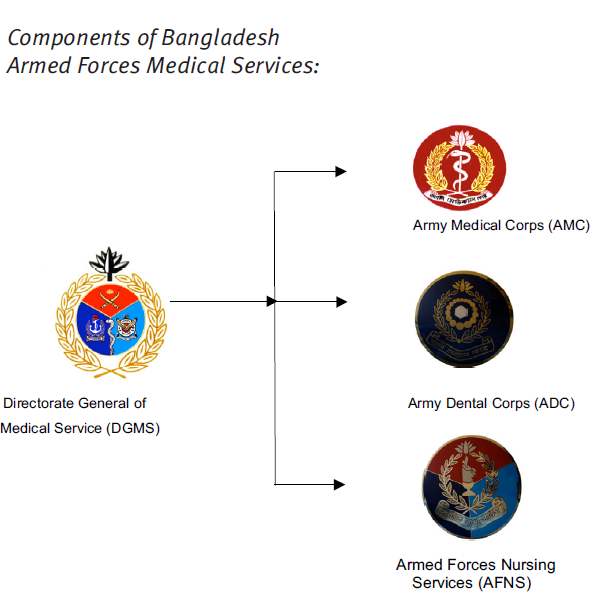 DGMS has technical control over following Directorates and Inter Service Organizations:

Directorates Inter Service Organization
Directorate of Armed Forces Institute of
Medica Services (Army) Pathology (AFIP)
Directorate of Armed Forces
Medical Services (Navy) Medical Institute (AFMI)
Directorate of Armed Forces Medical
Medical Services (Air Force) Store Depot (AFMSD)
Armed Forces Food and
Drugs Laboratory (AFF&DL)

Following Institutes are also affiliated with DGMS
Armed Forces Medical College (AFMC) Army Medical Corps Centre and School (AMCC&S)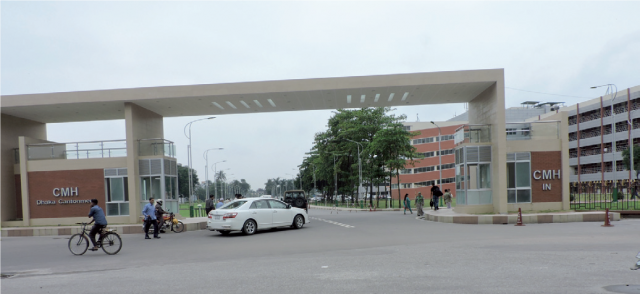 Missions
As a part of the largest troops contributing nation, Bangladesh Armed Forces Medical Services has significant role in United Nations Peace Keeping Operations. At present we have deployment of medical elements with manpower of about six hundred doctors, nurses and paramedics in following missions:
Besides, we have team of almost two hundred doctors, nurses and paramedics deputed in Armed Forces of Kuwait.
Name of Mission
Number of Hospital
UNMIL LIBERIA
1x Level-II Hospital
2x Level-I Hospital
UNMIS - SUDAN
1x Level-I Hospital
UNAMID - DARFUE
2x Level-I Hospital
MONUC - CONGO
4x Level-I Hospital
MINURSO - Western Sahara
1x Level-I (Plus)
MINUSCA-CAR
1x Level-II Hospital
2x Level-I Hospital
UNOCI - IVORY COAST
1x Level-II Hospital
4x Level-I Hospital