Almanac
Georgia
Capital: TbilisiArea: 69.700 km2Population: 3.729.635Official Language: GeorgianArmed Forces Personnel: 37.000Medical Officers: n/aMilitary Hospitals / Institutes: 1/n/aMissions: n/a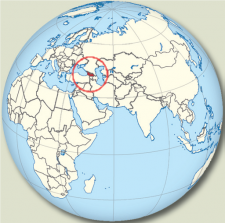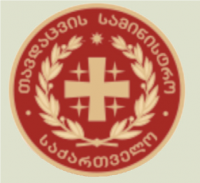 Surgeon General
Medea Betashvili
Colonel

Head of Medical Department of General Staff of GAF
26 General Kvimitadze str
0116 Tbilisi
GEORGIA
Basic Task of the Military Medical Service
The basic task of Military Medical Service is to provide medical support to MOD personnel in peacetime as well as in combat and noncombat operations.
Objectives of military-medical activities are as follows:
• Maintaining Health and Life;
• Minimizing further physical and psychological disorders;
• Personnel recovery and Rehabilitation;
• Prevention;
• Evacuation and treatment;
Structure
The Military Medical Service of the Georgian Armed Forces is under the supervision of the Medical Department of the General Staff of Georgia. The Chief of the Medical Department is the senior medical advisor to the CHOD.
Medical Department is responsible for:
• health care policy (coordination with the Ministry of Health, Doctrines, programs implementation, SOPs, prevention);
• planning (operations, prevention/vaccination, training, budget, supplies);
• coordinating and monitoring (medical support, evacuation, patient flow, rehabilitation, medical logistics, accountability, epidemiology, hygiene, deployment vaccination, education and training);
• Statistics, analysis, evaluation, recommendation.
Medical personnel is integrated into the troops at unit and command level.
Troops' medical units are Role 1 medical support providers (medical platoon, medical company, Brigade Surgeon).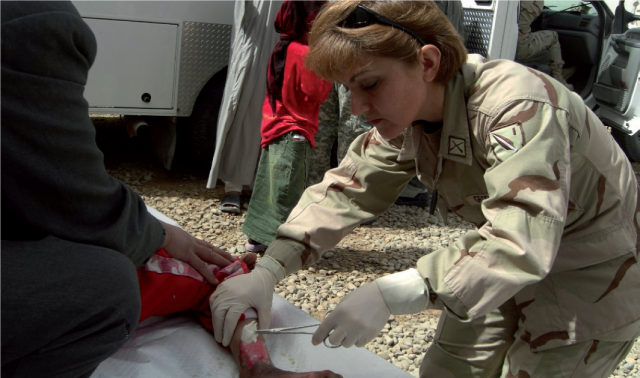 Role 2
Medical support is provided by the separate medical battalion. The main objectives and functions of the Separate Medical Battalion are as follows:
• To provide complex and effective medical care for the GAF personnel;
• To provide medical care to the exercises;
• To conduct preventive activities through the units of the GAF (including vaccination for deployed personnel);
• Enhancement of the medical elements of the GAF;
• To provide GAF units with medical supplies;
• To provide assistance for civil structures during natural disasters and in high altitude regions of the country.
Role 3
The provider is ''Legal Entity of Public Law Giorgi Abramishvili MOD Georgia Military Hospital''.
The hospital is under the direct supervision of the Ministry of Defence and is staffed by civilian personnel. Hospital status makes some gaps in the relationship between the Medical Department and Hospital (e.g. military doctors can't be promoted) and difficulties for hospital integration in the GAF. Hospital is located near the conflict zone, so it is planned to dislocate it to the Capital city and turn staff into the military. The military hospital provides medical service to all the personnel of the Ministry of Defence of Georgia as well as ordinary citizens from any part of the country.
Except for the medical service the medical institution carries out pedagogical activities, medical check and fitness for military service.
Role 3-4
Providers are civilian medical facilities all over the country. For rehabilitation of wounded warriors, Rehabilitation Centres, Tbilisi and Tserovani are functioning. Tbilisi Rehabilitation Centre deals with a prosthesis, prosthesis update and maintenance. Tserovani Rehabilitation Centre is the best recreation zone adopted for persons with limited ability where Georgian and foreign wounded soldiers and their family members get rehabilitation therapy.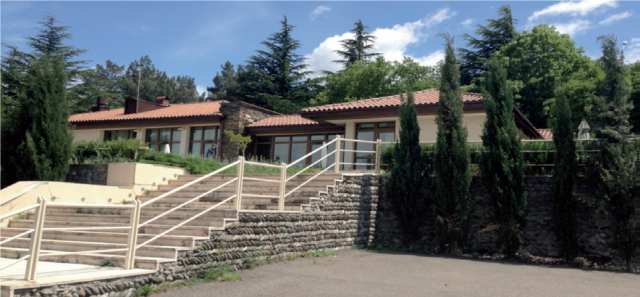 Training
Transformation of medical doctors to military medical doctors as well as Training of combat medics and combat lifesavers is a responsibility of military medical school under Military Training and Education Command. Because of school low capability, there is still a high percentage of civilian medical doctors in the GAF.
Field Deployments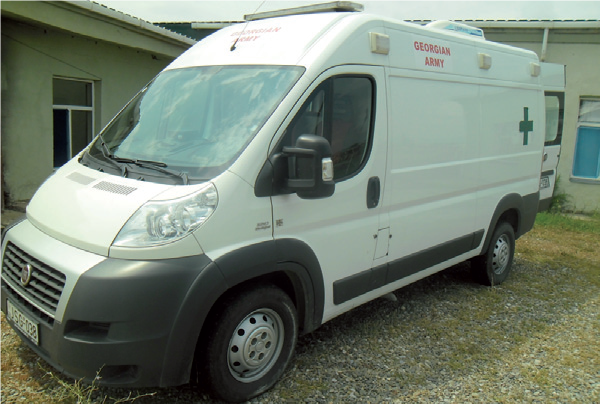 Medical personnel have served in multiple missions (KFOR, OIF, ISAF, RSM, EUFOR RCA, EUTM RCA). Since Georgia is contributing forces to support NATO and EU-led missions, manoeuvre battalions have their organic Role 1 capability. Emergency and routine dental care are assigned to this Role 1, reinforcing it. Georgian General Surgeons are participating in Role 2 facility as needed.
Civil-Military Cooperation
Military medical doctors are taking part in civilian medical services.
All MOD servicemen and their family members have health insurance which is provided by a civilian insurance company in civilian clinics.
Other Special Aspects
The way ahead
• Improve Medical Command and Control;
• Improve Medical Support effectiveness;
• Doctrine development;
• Education and training enhancement;
• Preventive medicine development;
• Medical supply development;
• Establish Fully equipped medical and social rehabilitation centre;
• Implementation of the medical electronic program;
• Establish military outpatient clinic to west Georgia.