Almanac
Kyrgyzstan, Republic of
Capital: BishkekArea: 199.900 km2Population: 5.508.624Official Language: Kyrghiz, RussianArmed Forces Personnel: 11.000Medical Officers: n/aMilitary Hospitals / Institutes: 1/n/aMissions: n/a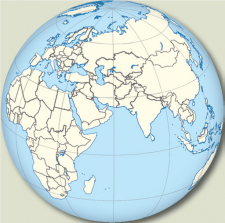 Surgeon General
Iskender Abykeev MD
Colonel MC

Ministry of Defence
Logvinenko Str. 26
720001 Bishkek
KYRGYZSTAN
Medical personnel is integrated in the troops on unit and command level.
It is supervised by a Department of the MoD. Chief of Department is Col MC Iskender Abykeev MD.
Training / Education
Kyrgyz State Medical Academy / Department of Military Medical Training and Emergency Medicine
Military Department of KSMA was created in the beginning of the Great Patriotic War, in October 1941, when the acute shortage of medical personnel in the organization of medical assistance to the wounded and sick people at the front of the former USSR. Originally it was the Sanitary Department of Defence, and in 1942 it renamed to the Department of Military and Health Training, and since 1944 is called the Department of Military Medical Training.
Tasks and objectives:
Military training of students of medical, paediatric, dental, sanitary and pharmaceutical departments of the Kyrgyz State Medical Academy of the country to prepare for the Armed Forces of the Kyrgyz Republic reserve medical officers, able to work in wartime for the following positions:
a) Students who have completed medical and paediatric faculty – doctor of medical aid unit (male) doctor of medical unit (female)
b) Students who have graduated from the Faculty of Dentistry – dentists of medical facility, medical unit
c) Students who have completed the sanitary-hygienic faculty – a specialist sanitary-epidemiological service
d) Students graduating from the Faculty of Pharmacy – chief pharmacy, the chief of supplies of Medical Department, and their equal.
Military Hospital
Besh-Kungei Military Hospital, Bishkek
Articles
Browse by category
SDFDS is the Section Defence Forces Dental Services from the FDI. Every year prior to the FDI annual congress we organize an annual meeting. This meeting contains of a cultural day and a scientific program of 2 days, in which international military dentists share their experiences, challenges and latest developments.
The next meeting will be from 29 AUG-1SEPT in Shanghai, China
Events