Almanac
Kyrgyzstan, Republic of
Capital: BishkekArea: 199.900 km2Population: 6.592.000Official Language: Kyrghiz, RussianArmed Forces Personnel: 10.900Medical Officers: n/aMilitary Hospitals / Institutes: 1/n/aMissions: n/a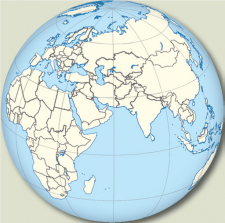 Surgeon General
A.K. Matisakov
Colonel MC

Ministry of Defence
Logvinenko Str. 26
720001 Bishkek
KYRGYZSTAN
The medical service of the Armed Forces of the Kyrgyz Republic is an integral part of the state healthcare system and ensures the implementation of the rights of military personnel and other citizens to health care and medical care.
Organizational structure of the military medical service comprises:
governance bodies
medioprophylactic units and institutions (military hospitals, military polyclinics)
sanitary and epidemiological institutions (sanitary and epidemiological units)
medical supply establishments (medical depots of military hospitals)
special military medical establishments (military medical, medical flight commissions, military medical academic department of the Kyrgyz State Medical Academy)
medical subdivisions (medical posts of formations, units).
The Military Medical Directorate of the Ministry of Defense of the Kyrgyz Republic is a control agency for the management of the medical service, the organization of medical support for personnel, as well as a medical supply body which catering medical equipment and property for formations, units and institutions according to the fixed lists.
The functionality of the military medical department contains 4 main areas:
planning
medioprophylactic work
sanitary and epidemiological supervision and anti-epidemic work
medical supplies.


The training of military doctors is carried out at the military department of the Kyrgyz State Medical Academy, which is the main training base for reserve medical officers for the Armed Forces of the Kyrgyz Republic. The military department trains reserve medical service officers in four military specialties: general medicine, epidemiology, medical supply (pharmacists) and dentistry.
Ministry of Defense of the Kyrgyz Republic
Head of the Military Medical Department
Colonel A.K. Matisakov
(status: 8 April 2023)