Interview: The Polish Armed Forces Military Medical Service
Interview with Colonel MC Dziegielewski MD, Surgeon General Polish Military Medical Service
Both the armed forces and medical services of Poland have been an active participant in international missions for many years.
MCIF is very grateful to Colonel Dziegielewski, Surgeon General of the Polish Military Medical Service, to have granted the following interview.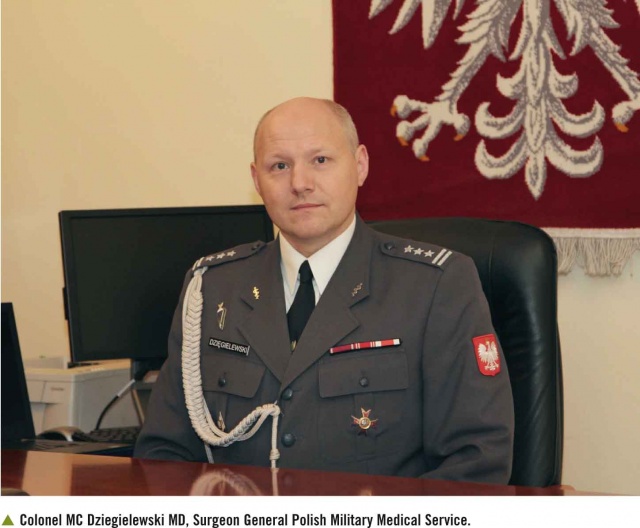 MCIF: Poland has been a valuable participant in international military missions for many years. What were the most significant operations for your medical service?
Colonel Dziegielewski: Poland has been taking part in many peace keeping, humanitarian, training and stabilization missions since 1953. However, a real challenge taken up by the Polish Armed Forces (the PAF), and thus also by the Military Medical Service, was a stabilization mission in Iraq where the Polish Military Contingent was tasked with Role 2 Medical Task Force (MTF). It was the first time such significant elements of medical support have been used outside our country. Experience gained in that field contributed to many improvements introduced to the activity of the Military Medical Service (trainings, medical procedures, supply, etc.) and to the technical modernization of our equipment, which is currently used during the next demanding ISAF mission in Afghanistan where we also have Role 2 MTF. Everyday work allows us to use and exchange our experience and at the same time constantly improve field medical procedures, which result in new training programs in Poland.
MCIF: As Surgeon General of an important NATO member, how would you characterize the structure of your medical service and its integration in the Polish Armed Forces?
Colonel Dziegielewski: Direct medical support of the forces is provided by military medical units of the Services (Land Forces, Air Force, Navy and Special Forces) and Armed Forces components. Military medical potential of the Services is an integral part of the respective service, subordinate to the Commanders. The Surgeon General of the Polish Armed Forces is responsible for professional supervision and coordination of efforts of this potential, with no command authority.
Currently the Polish Military Medical Service consists of a central institution – Inspectorate of the Military Medical Service and about 50 medical facilities: 4 Military Clinical Hospitals, 10 Military Hospitals, 2 Field Hospitals, 4 Military Rehabilitation Hospitals, 3 Military Medical Institutes, a Military Blood Bank Centre and many military out-patients clinics.
MCIF: Could you please outline the main tasks of your medical service, and are there any particular challenges you are facing at present?
Colonel Dziegielewski: The Military Medical Service organises and coordinates the system of the PAF's medical support in the following respects:
n resolving any matters related to health service in the Ministry of National Defence;
n sanitary conditions of work and service;
n anti-epidemic and veterinary support to the army;
n specialist trainings for medical personnel and improvement of professional skills;
n conducting research in the field of medicine;
n international cooperation in the field of military medicine;
n supplying equipment, medical materials and medicaments;
n preparing medical units to conduct tasks during peace, crisis or war.
Currently, we realize the process of adapting the Military Medical Service to the actual needs of the PAF and focus on our involvement in peace missions, NATO Response Force and European Union Battle Groups.
MCIF: In times of reduced numbers and limited resources, close cooperation between military services participating in international missions seems essential. Do you consider this to be equally important for medical services – including training and preparing for missions?
Colonel Dziegielewski: There aren't many countries which can afford to send a fully self-sufficient, highly specialized and complete military component. Previous missions have shown that international cooperation is crucial while preparing military contingents. More and more often international units are built from functional modules. It is also the case while organising medical support. An initiative which consists in distinguishing defence capabilities from a national reserve and linking them with the capabilities of other countries is worth mentioning here. Its aim is to create a separate multinational whole and at a time make specific defence capabilities available to other countries so that all parties can use the existing capabilities more effectively.
By building international structures we might face many problems such as restrictions imposed by national law, language barrier or procedural differences. Thus, it is essential to closely cooperate in the field of trainings and exercises. Clearly, any international factors are taken into account already while planning a mission. Still, if we want these structures to work properly, we need to organize trainings which would allow their participants to meet one another and learn how to cooperate so that there are no misunderstandings during real activities.
MCIF: Which are the main international partners of your Medical Service?
Colonel Dziegielewski: As already mentioned, medical treatment facilities closely cooperate with their foreign partners during the Polish Military Contingent's mission in Afghanistan. Moreover, as part of improving and broadening the capabilities of the Military Medical Service, we have been cooperating with medical units of the US National Guard for many years, mostly in respect of medical support of the army in case a weapon of mass destruction is used. Emphasis is put here on exposure to biological factors. As a result of this cooperation training procedures have been carried out both in Poland and the US repeatedly – and are still ongoing. Also, medical units of the Armed Forces of the Slovak Republic participate in exchanging our experience in the field of identifying threats connected with bio terror attacks, the use of a biological weapon as well as the rules of medical treatment of the victims of such attacks. As a result, military sanitation services of the countries could inter alia exchange their epidemical data. Also, we have recently started cooperating with the Armed Forces of Hungary in the field of mutual actions regarding identification of the factors of biological weapon based on field MTF.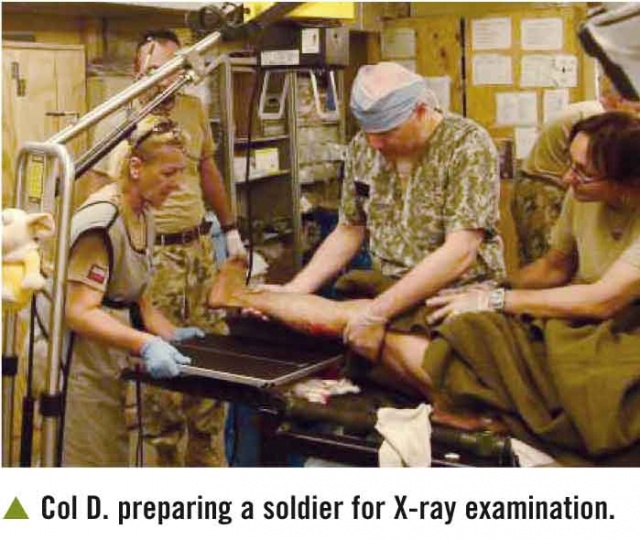 MCIF: Your medical service maintains several re­nowned military hospitals and institutes. To what extent do they cooperate with the civilian sector?
Colonel Dziegielewski: Polish military medical facilities have the status of public independent healthcare facilities, providing health services based on the contracts with the National Health Fund – the national institution financing medical care for Polish citizens. Thereby the Polish Military Medical Service is situated between military and civilian area, the Chief of Inspectorate of the Military Medical Service provides control and supervision over military medical facilities on behalf of the Minister of National Defence.
Moreover, military hospitals conduct specialized trainings for the graduates of civilian universities, expecting the same activity from the civilian sector in return.
MCIF: How do you motivate young doctors to be trained and employed in the military rather than in civilian hospital?
Colonel Dziegielewski: It's a great challenge and responsibility for us when young doctors take up their posts and hardships of service as this group is very much motivated to work in the military medical service. Improving professional qualifications and allowing doing this within the military medical service provide additional opportunities which the management of the military medical service tries to adapt to the system of specializations universally applied in the country (preferential regulations in legal acts for military doctors).
MCIF: Do your military surgeons have the opportunity to take part in any foreign exchange-programs?
Colonel Dziegielewski: Training doctors is a crucial issue for the Inspectorate of the Military Medical Service. Apart from the chance to raise qualifications in national training centres, military doctors have a chance to take part in many courses, conferences and other forms of trainings abroad. This way doctors gain knowledge regarding new trends in treating standards and specific cases which they may encounter during their service.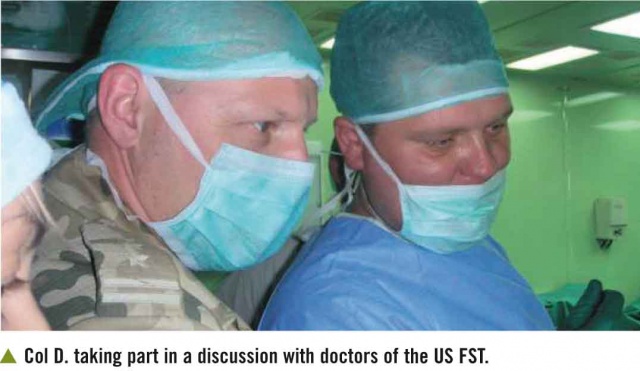 MCIF: Finally, may I ask your opinion on MCIF? Are there any particular topics you would like to read more about and do you have any suggestions for further improvement?
Colonel Dziegielewski: I find the themes present in the MCIF interesting and important at a time. For me the articles regarding multinational and multi-institutional schemes of medical support for military operations are particularly significant as they contribute to the constant improvement of medical care which is of course the most important task of the military medical service. As a former officer in the Polish Air Force I think highly of the themes connected with aviation medicine as well as modern trends of aeromedical evacuation and I appreciate the fact that they appear so often in your magazine.
Let me thank you for the possibility of giving this interview and wish the editors to provide the readers with many new absorbing topics and wish the readers to find articles which will satisfy their curiosity. By reading the MCIF we have more experienced doctors and as Homer said: "A wise physician, skill'd our wounds to heal, is more than armies to the public weal". (Alexander Pope) /"A physician is worth more than several other men put together, for he can cut out arrows and spread healing herbs". (Samuel Butler) / "One experienced doctor is worth more than one hundred warriors". (tłum. pol. – "Jeden doświadczony lekarz jest wart więcej niż stu wojowników.")
MCIF: Colonel Dziegielewski, you have given our readers a clear and destinctive insight into your medical service and its accomplishments in international mission.
Knowing and understanding each other's systems and capabilities greatly enhances international cooperation – much to be benefit of the patients entrusted to our medical facilities.
Let us thank you for this concise and informative interview.
Date: 12/30/2012