Article: D. BOEDEKER, J. FAULKNER, E. TAYLOR, Sh. NESSEN, B. BOEDEKER (USA)
Development of a Tele ENT Program for the European Regional Medical Command
Two hundred forty-five thousand patients seek care at Landstuhl Regional Medical Center. They battle lengthy commutes, costly procedures, and limited specialty care in order to consult their physicians. Healthcare providers who were trained in Tele ENT procedures unanimously accepted the technology as an alternative way to care for patients.
Introduction
Landstuhl Regional Medical Center(LRMC) provides primary care services for more than 65 000beneficiaries as well as specialty care and hospitalization for 245000 U.S. Service Members and their families serving in Europe. Thesepersonnel are located in Germany, Italy, and Belgium. Numerousprimary care clinics are located at distant sites from LRMC. Thisproject was developed to expand specialty care reach in the areasserved by LRMC. The goals of the project were:
Expand specialty care reach todistant sites in the European Regional Medical Command, allowingpatients to seek care within the military medical community versusseeking contract care from local civilian providers
Decrease patient travel which iscostly and removes the military member from their duty station
Facilitate health care access todistant service members and their families.
This project concentrated on Tele ENTas the initial telemedicine product line. Tele ENT was chosen becausethis specialty requires significant endoscopic evaluation to work upa patient for possible surgical correction of problems. If the ENTdiagnosis/work up could be done via telemedicine at the distant enduser site, it was speculated that significant cost savings andenhanced patient service would be accomplished.1,2.
Methods
Pilot Tele ENT medicine clinics wereestablished at the SHAPE clinic in Mons, Belgium and the Vilseck Armyclinic in Vilseck, Germany. A virtual simulation-distance educationprogram was developed to teach end site users how to perform basicENT endoscopic diagnostic methods.3 Students completed apost-training questionnaire to measure their perceived value of thetraining.
Telecommunications ­Methods
A goal in telecommunications supportfor this project was to integrate the telemedicine work flow intoboth the specialist (at the hub site/LRMC) and the primary careprovider (at the end user distant clinics/Vilseck and SHAPE) intotheir daily work processes. This objective was accomplished byinstalling Polycom enterprise-class HD video software onto thecomputer workstations for the primary care providers and thespecialists.4 That action converts the providers computer into atelemedicine videoconferencing station. Use of the provider'sexisting computer for the telemedicine video conferencing preventedthe need for an expensive, dedicated CODEC telemedicine system andconserved limited space in the physician's office.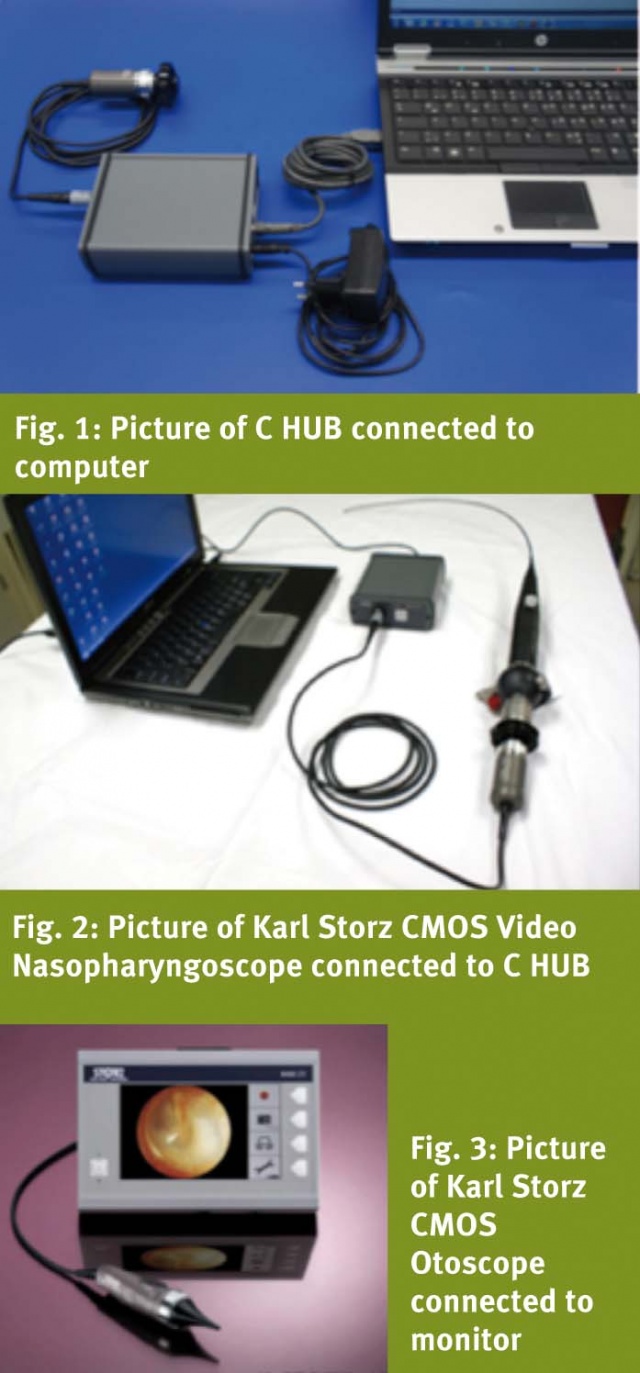 Endoscopic capabilities wereestablished for the desktop Polycom system by attaching a Karl StorzC HUB to the computer as shown in Fig. 1. The C HUB allows videolinkage from any Karl Storz imaging device to a computer forvisualization on the computer screen or transmission via theInternet. The C HUB was used to link the CMOS videonasopharyngoscope (Fig. 2) and the CMOS otoscope (Fig. 3), allowing adistant consultant to telementor the technician during examinationand to perform a diagnosis.
Tele ENT Diagnostic Training
Participants were trained in otoscopyand nasopharyngoscopy. During training, the participants at the enduser sites were telementored by an ENT consultant at the hub site inthe performance of otoscopy and in the examination of the tympanicmembrane as shown in Fig. 4 (students at end user site) and Fig. 5(hub site consultant telementoring students).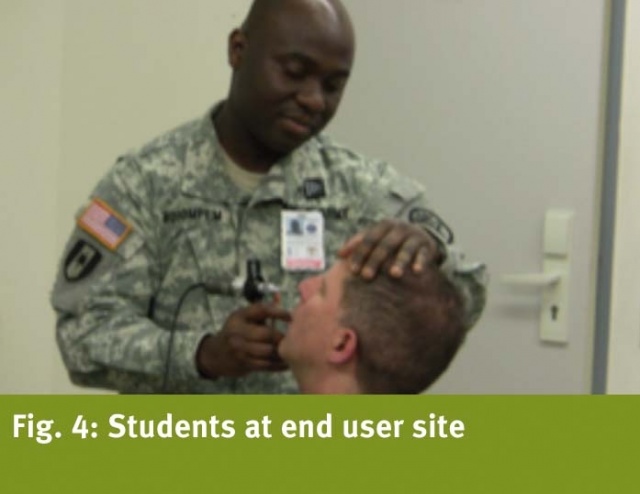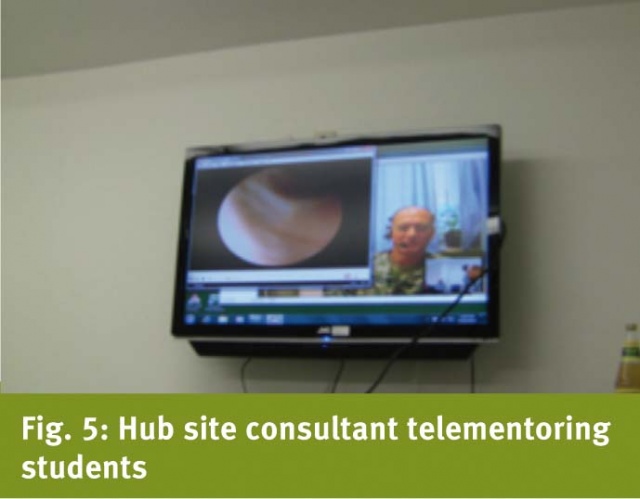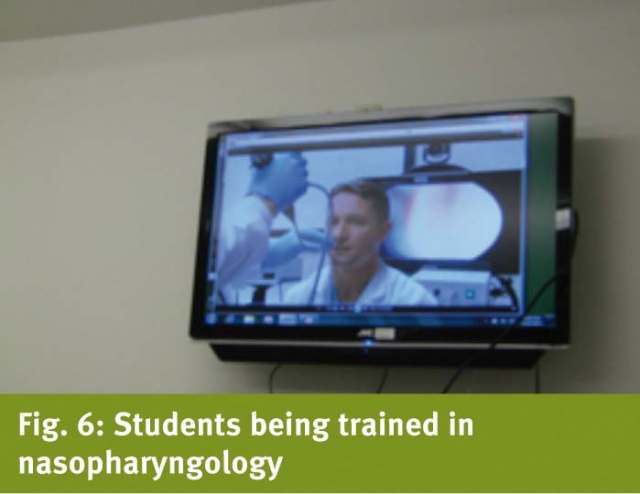 Fig. 6 shows students being trained innasopharyngology from the hub site.
Tele Otoscopy Training
The originating clinic personnel weretrained in small groups via Video-Teleconferencing (VTC). Thestudents included physicians, physician's assistants, nurses, andmedics. Students were trained to use the AMD 2000 GeneralTelemedicine camera general exam camera and the Karl Storz CMOSvideo-otoscope. After training, VTC appointments were set up forOtolaryngology referral patients to be presented by the originatingclinics. Over the next few months, several patients were presentedto the Otolaryngology consultant and a standardized work-flow wasdeveloped in collaboration with the Head Nurses of the Otolaryngologyclinic and the originating clinics. Once both sides were comfortablewith that process, the pre-operative process was introduced. TheHead Nurses for the Otolaryngology clinic trained the originatingclinic personnel in the process our hospital uses for pre-admissions. They were also trained on the Electronic Medical Record (EMR) usedby our surgical services for documentation. At that point theoriginating clinic began presenting patients for Pre-op to ourAnesthesiologist Chief of Perioperative Care. This action was doneto ensure that the process met with the approval of Anesthesiologyand to refine the work-flow for Pre-Operative Care. Once thatwork-flow was defined, the presentations were transferred to theoff-site consultants to complete the project.
Results
Training was accomplished for 13participants. The trainees consisted of multiple medical backgroundsincluding physicians, nurses, physician assistants, and medics.
Over the course of 7 months using oneVideo Tele-Conference (VTC) clinic, ENT tele-health was able to see92 patients for evaluation and treatment of ENT related diagnosis. In tracking the 92 visits, the referring clinics command was able tosave $25 450 in travel expenses alone from figuring at a $0.50 permile JTR rate for 50 900 miles. The receiving clinic was able tobring in a total of 291.74 Relative Value Unit (RVU) for VTC clinicvisits which relatively equaled $10 058.26. The VTC clinic visits inturn brought 329.76 RVU's for surgical services for the hospitalwith a relative value of $10 863.14. The cost savings did not endthere, International ­Tricare spends in the Kaiserslautern,Germany community for an average tonsillectomy with no complications$7 200. The ENT Tele-Health was able to successfully complete 17tonsillectomies with an estimated total cost savings of $122 400. While the receiving clinic and hospital does not receive any creditor kick back for this cost savings, the Department of Defense as awhole will from the efforts being made for wide spread expense cuts.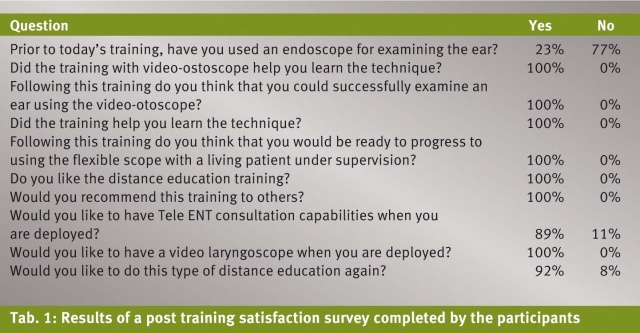 The post training questionnaire resultsare shown in table 1.
Discussion
This paper describes a methodology toestablish low cost Tele ENT consultation capabilities between amilitary medical center to rural outlying clinics. The methods usedconsisted of a low cost approach to creating telemedicine videoconferencing capabilities to support the project. Use of existingmedical infrastructure, such as computers already used by physiciansto perform routine medical record tasks allowed better integration ofthe telemedical tasks to their usual workflow. Linking videoinstruments to the physician's computer using the C HUB created alow cost, low weight, low cube solution to provide medical videoimaging. This system can be used for low-cost and effectivespecialty outreach from a military medical center to distant end userclinics, including deployed locations.3,4 Review of post-trainingevaluations shows that the training and that the telemedicine systemwere well accepted by end user site medical participants.
Acknowledgements
The authors would like to thank GailKuper, Chief Operating Officer for the Center for Advanced Technologyand Telemedicine, UNMC for assistance with this project.
Date: 03/11/2014
Source: MCIF 1/14