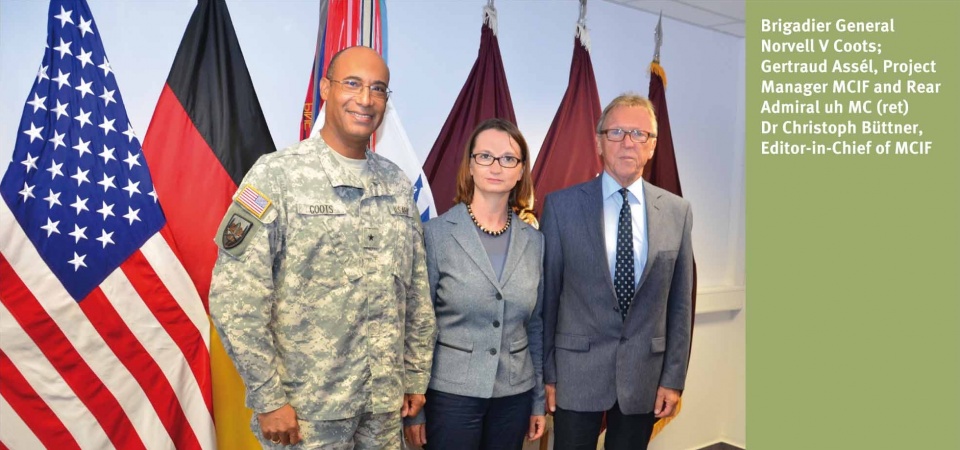 Interview: CHIEFS OF MEDICAL SERVICES
Interview with the CO / CEO Europe Regional Medical Command
MCIF is very grateful to BG Coots for granting this interview. He is Commander and Chief Executive Officer of Europe Regional Medical Command (ERMC) and the head of the US Army Medical Service in Europe.

MCIF: General Coots, for the benefit of our readers, could you please explain the structure and mission of your command
BG Coots: ERMC's mission is to positively impact soldiers' and family members' health and provide a trained, ready and capable medical force. Our vision is to be the Army's premier medical team, saving lives and fostering healthy and resilient people. We do this by operating 14 medical treatment facilities in Germany, Belgium and Italy, to include Landstuhl Regional Medical Center, the largest military medical center outside the United States. We provide quality medical services to more than 200,000 beneficiaries from all services. We support medical missions in U.S. European Command, U.S. Africa Command and U.S. Central Command. We also provide support to wounded, ill and injured Soldiers through the Warrior Transition Battalion-Europe.
In addition to my role as ERMC's commander I'm also the U.S. Army Europe Command Surgeon, and as such provide input on medical matters to the USAREUR commanding general.
MCIF: Whom does ERMC report to?
BG Coots: ERMC is part of the U.S. Army Medical Command, headquartered in San Antonio, Texas and commanded by LTG Patricia Horoho, who is also The Surgeon General for the U.S. Army.
MCIF: Are there similar commands in other parts of the world?
BG Coots: ERMC is one of five regional medical commands that fall under MEDCOM. Each is responsible for Army Medicine activities in a particular geographic region. Europe and Pacific Regional Medical Commands are the two with responsibility for medical treatment facilities outside the United States.
MCIF: What does your staff consist of?
BG Coots: ERMC consists of the headquarters at Sembach Kaserne, Germany, which provides overall support for the command in the areas of clinical operations, logistics, personnel, finance, operations and other necessary areas. Under that umbrella is Landstuhl Regional Medical Center commanded by COL Judith Lee; the Bavaria Medical Department Activity at Vilseck, Germany, commanded by COL Darrin Cox; and the Warrior Transition Battalion – Europe, command by LTC Larry Burns. These medical activities share responsibility for all medical treatment facilities in the command, while the Warrior Transition Battalion supports those soldiers in transition.
MCIF: Which other medical commands in Europe do you work with?
BG Coots: We have several units that we work closely with under the heading of Army Medicine in Europe. We work together to bring the full spectrum of medical support to military units across the continent.
Europe Regional Dental Command here at Sembach provides quality dental care for more than 75,000 enrolled beneficiaries through 16 dental clinics in covering almost 44,000 kilometers in Europe. They provide the full range of treatment options to include general dentistry, endodontics, prosthodontics, periodontics and oral maxiofacial surgery.
Public Health Command Region-Europe operates 19 veterinary clinics in England, Spain, Belgium, Germany, Italy and Turkey. These clinics are primarily for the care of our military working dogs, but they also provide care to the pets of military members and their families. They also operate the Dog Center in Kaiserslautern, the only facility of its kind in Europe. It is a level three facility that can provide extensive services for wounded, injured or ill military working dogs. In addition, they provide more than 600 public health and food related inspections, and process 250 food, water and soil lab samples each and every day to ensure the health of our people.
The U.S. Army medical Materiel Center-Europe in Pirmasens is a strategic national asset that provides medical logistics support to U.S. European Command, U.S. Central Command, U.S. Africa Command, U.S. Pacific Command and the Department of State. They manufacture all the eye glasses made for military members in Europe, provide medical maintenance and repair, kitting and assembly, medical materiel sales and are often involved in humanitarian assistance programs.
The 30th Medical Brigade, who is subordinate to the 21st Theater Support Command, has responsibility for the Army's deployable medical assets in Europe. Major units include the 212th Combat Support Hospital and the 421st Multifunctional Medical Battalion. They provide Army Health System support for Brigade Combat Teams and Corps, joint and multinational forces.
The smallest of the Army Medicine in Europe units is the U.S. Army Medical Research Unit-Europe. While small in the number of personnel assigned, they have an important mission to conduct applied psychological research for the purpose of protecting, optimizing and enhancing warfighter psychological health and resilience. They are the Army's only forward-deployed behavioral health research unit and have been supporting USAREUR and ERMC for 37 years.
In addition we work closely with our partners in the other services – the Air Force's 89th Medical Group at Ramstein Air Base, for example – and with our NATO partners.
MCIF: What is your role during U.S. missions abroad?
BG Coots: To ensure a world class system of health is provided to all we are privileged to serve in Europe and other areas of the world. A perfect example is the work done at Landstuhl Regional Medical Center. LRMC is the first stop for wounded, injured or ill personnel, whether from Afghanistan, Africa or other areas in this part of the world. Since 2001 we've treated thousands of U.S. and coalition troops who have been medevaced from the Afghanistan and Iraq theaters of operations. In some cases they were treated and returned to duty, but often we stabilize their condition and then fly them back to hospitals in the U.S. where they can continue their treatment and rehabilitation.
MCIF: What kind of cooperation does ERMC have with other nations?
BG Coots: We work closely together with our fellow medical professionals in Europe. We train together during exercises like Cold Response, Saber Guardian, Anakonda, Austere Challnenge, and Combined Endeavor which are hosted annually and in conjunction with our allied partners. We've had the opportunity to train with our German counterparts at the Viper Pit in Baumholder, a very realistic simulator that helps medical personnel understand the intensity they can encounter during combat operations. We already have quite a few people from a number of countries across Europe who have signed up to compete for our Expert Field Medical Badge, one of the most prestigious awards – and one of the most difficult to obtain – in Army medicine. We both attend and host multinational medical conferences like the one we met at in Hungary. And just a few weeks ago members of the Army Medicine in Europe community met with our Bundeswehr counterparts to begin discussions that we hope will open up even more partnering opportunities for both countries. ERMC and USAREUR medical professionals have participated in more than 25 training events with other countries to exchange doctrine, tactics, and techniques and build long lasting partnerships. Relationships are important. We are unique in our area of operations and should take advantage of opportunities to develop friendships and partnerships with network providers, local medical universities, and the Bundeswehr medical personnel in our areas.
We have fostered and developed partnerships with over 12 countries and continue to actively work toward strengthen those bonds. Partnered countries include Kosovo, Slovenia, Lithuania, Estonia, France, Belgium, Netherlands, and, of course, Germany. We are currently engaged in a variety of medical cooperative efforts through Task Forces such as TF Med-Falcon in Kosovo, preventive medicine engagements in the Balkans, and medical support to AFRICOM and CENTCOM.
MCIF: What are some of the problems you face in having closer cooperation with your counterparts in other nations (we talked about the acceptance of examinations)?
BG Coots: Challenges to close cooperation arise from the lack of interoperability exercises with partner nations. These challenges are being slowly but decisively overcome through the use of unit level and senior level training exercises both in the field and in planning conferences focusing on the security of the EUROPEAN theater and allied Nations.
In addition we encounter problems in the area of accreditation when we are trying to bring medical personnel from Germany or other nations into our facilities to work alongside our people, or to have our people work alongside their host nation counterparts. These can be overcome but it takes some work.
In the recent past, fiscal constraints have prevented us from attending many of the military medical conferences that have been available, but we need to reevaluate our conference attendance policy since it pertains to maintaining direct involvement with our NATO partners. Specifically, we need to be able to get off our bases, meet with our NATO partner colleagues and reenergize our engagement program. I recently attended a conference in Hungary and it provided information on existing technologies, identified deficiencies and addressed solutions for conducting health protection in deployed forces. The discussions about national approaches to health care, health surveillance and public health services in deployed environments identified the critical information needed to conduct effective multinational force health protection and recognized necessary changes to health policy, military regulations and national laws that will be required in order to conduct multinational health protection in deployed military forces. This is the kind of information we can't afford to miss out on.
MCIF: General, is there anything you'd like to add for our readers?
BG Coots: I am very happy to return to Germany where I have so many good memories and friends. I look forward to making many new friends and developing new partnerships, which will strengthen the bonds between the U.S. and Germany, and Italy, and Belgium and other partner nations.
MCIF: General, thank you very much for this most interesting and informative interview and the very comprehensive view of your organization you allowed us. I am confident that such information will support mutual understanding and enhance international cooperation between Military Medical Services. Let me wish you personally and your staff all the best and every success in your important work for all patients requiring your support.
Date: 08/22/2014
Source: MCIF 3-14