Interview
The Joint Staff Surgeon
The Face of U.S. Military Medicine in the International Community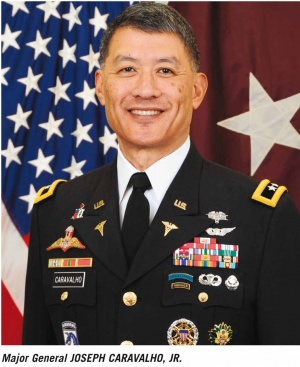 MCIF: Major General, you are the Joint Staff Surgeon at the ­Pentagon in Washington, DC. Would you please describe your service post with the tasks undertaken so that our readers can get to know your job profile, since many of them are naturally not very familiar with the American Military Medical Service?
Major General JOSEPH CARAVALHO, JR.: As the chief medical advisor to the Chairman of the Joint Chiefs of Staff, I provide military medical advice to the Chairman on issues impacting the Joint Force. I operate as the global synchronizer for joint health operations, and as the "connective tissue" between the Combatant Command Surgeons and both the Services and the Defense Health Agency. Additionally, I am the US delegate to NATO's Committee of the Chiefs of Military Medical Services, serving alongside the Surgeons General from 28 partner nations. In this capacity, my responsibilities include oversight of US medical activities under auspices of NATO, while promoting the US positions and goals within the alliance.
MCIF: The American Military Medical Service operates worldwide and gains this huge technical experience. What in your opinion are the options for sharing more and more knowledge with the medical services of the other NATO partners? Perhaps this could also bring about improvements in technical standardization, such as in the medical treatment methods adopted during the deployments among the NATO Military Medical Services.
Major General JOSEPH CARAVALHO, JR.: The Joint Concept for Health Services (JCHS), published in 2015, is one option for sharing our medical services knowledge throughout NATO. The JCHS establishes a conceptual foundation and vision for how medical capabilities should be jointly employed to support Combatant Command planning, while preserving the Services' unique capabilities. Additionally, it applies combat lessons learned to shape future solutions to healthcare challenges.
MCIF: All the Military Medical Services of NATO are engrossed in thinking about the technical requirements that need to be fulfilled in future deployments. In several conflicts today when the opponent can no longer be recognized as a soldier and self-protection of Military Medical Services is gaining priority, how strong, in your opinion, would be the challenges for our Military Medical Services in the days to come?
Major General JOSEPH CARAVALHO, JR.: Globalization and the proliferation of technology will both challenge the US and NATO's current advantages over state and non-state adversaries. The future security environment also includes changes that will mandate greater agility and innovation to operate successfully. Finally, winning against current and future non-state adversaries may require Military Medical Services to conduct multi-functional operations, changing from day-to-day to enable our Forces to operate decisively in contested areas of operation. In other words, gaining military advantage over these adversaries may weigh heavily on the use of soft power. We will have to be ready to execute with agility under these conditions.
MCIF: The COMEDS meeting 2017 in Washington will be held under your leadership. As host of this important NATO event in 2017, can you tell us today what you think would be the key issues of the event?
Major General JOSEPH CARAVALHO, JR.: The purpose of the meeting is to allow senior healthcare leaders from across the NATO COMEDS to discuss issues, mutual interests, and promote initiatives. We assembled a three-day agenda that will provide both a professional rewarding and memorable experience in our country. The Plenary and accompany forums held at the General Jacob E. Smart Conference Center on Joint Base Andrews will allow the participants to see how the US conducts military requirements-driven research and development procedures. In turn, we hope to learn how our work complements what is being done by partner nations. As with each of our plenary session over the years, COMEDS goal is for all of us to gather in a formal setting to improve coordination, standardization, and interoperability within the medical field.
MCIF: What do you see as the primary task of such meetings? In addition to mere exchange of information, which of course is essential, it should also deliver concrete results.
Major General JOSEPH CARAVALHO, JR.: My goal is to emphasize multinational healthcare, treatment facility modularity, and collaborative partnerships. Regarding the future direction for military medicine in general, I hope to be able to collaborate and coordinate with partner nations in areas such as systems biology, tele-health, autonomous and robotic initiatives, healthcare innovations under austere operating conditions, and resiliency efforts.
Date: 10/19/2016
Source: MCIF 4/16