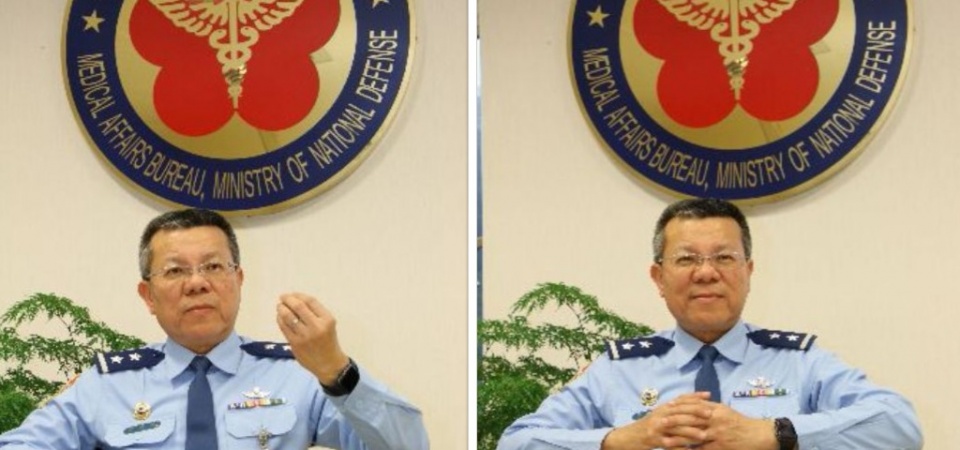 Interview: Dr med Lutz Bandekow, Brigadier General MC (ret), ALMANAC
Lieutenant General Yi-Chang WU MD PhD ROCAF, Surgeon General of Republic of China (Taiwan)
Give a brief description of the main structures of your Military Medical Service; what are its chief characteristics?
In the Republic of China (Taiwan) Armed Forces, the term "Military Health System" (hereinafter Taiwan MHS) is the official terminology to refer to the Military Medical Service of Taiwan.
The main structures of Taiwan MHS are comprised of two distinct yet integrated subsystems, namely role 3 to role 5 medical facilities under the command and control of Medical Affairs Bureau (MAB), Ministry of National Defense (MND) and role 1 to role 2 field medical units under the command and control of Military Services (Army, Navy, and Air Force).
The first fundamental characteristic of Taiwan MHS is that it is fully integrated with the National Health Insurance Program and becomes an indispensable strategic medical asset of Taiwan. This has enabled Taiwan MHS to operate in parallel to its civilian counterparts under the framework of National Health Insurance System (NHI). By means of NHI framework, the MHS can cultivate partnership with civilian medical facilities during peacetime and subsequently transform cooperative partnership into collaborative medical mobilization during wartime, disasters, pandemics, and other national emergency scenarios to maximize national health assets to respond to all possible contingencies.
Secondly, all military hospitals are mandated to provide healthcare to both service members and civilians and are subject to the same rigorous standards of hospital accreditation programs. Such civil-military medical partnerships allows military healthcare professionals to hone their clinical skills during peacetime and at the same time retain and sharpen their core expertise on diseases and injuries of military significance so as to provide the same level or standard of care to service members under austere environments such as deployment or disaster relief operations.
Thirdly, all military hospitals are under the command and control of MAB to maximize operational effectiveness and eliminate inefficiency. Starting from 1995, all former Military Service Hospitals (Army, Navy, and Air Force Hospitals) have been reorganized and reassigned under MAB for economy of scale consideration. During the transition periods, special care has been taken to ensure that hospitals originally organic to Military Services can retain their core expertise such as combat casualty care, trauma care, aviation medicine, submarine medicine, critical care, infectious disease research, and cancer R&D.
What role does the Medical Service play in Taiwan's Armed Forces?
Ensuring a fit and healthy fighting force has remained one of the most fundamental roles of Taiwan Military Health System. To fulfill this role, Taiwan MHS has formulated and implemented a series of programs to include medical fitness standards for service members, preventive medicine programs, recruitment and retention of high quality military healthcare professionals along with the training, education, and performance evaluation for those professional staffs, establishment of patient-centered care environment for both service members and the general public, a proactive rather than reactive system of casualty care and evacuation for the sick and wounded, and a continuity of care system by partnering with Veteran Affairs Council hospitals.
Furthermore, as previously mentioned, Taiwan MHS is not only a military asset but also a vital national asset and has played a very significant role in various national contingencies and missions, such as the disaster medical response of Sept. 21 Earthquake in 1999, the fight against the SARS epidemic in 2003, the H1N1 epidemic in 2009, the Haiti earthquake medical assistance missions in 2010, Typhoon Haiyan medical assistance missions for the Philippines in 2013, and more recently the Formosa Amusement Park dust explosion mass casualty medical response in 2015.
How does the cooperation with the other parts of the Taiwanese Armed Forces work?
In my capacity as Surgeon General of Defense, I am the principal advisor to Minister of National Defense as well as The Chief of General Staffs on all health and personnel readiness policies and agendas. I and my deputies participate in meetings chaired by senior leaders of Taiwan MND and routinely interact with various functional departments, agencies of MND and senior leaders of Military Services. Such Cooperative relationship is paramount to ensure interoperability and strategic alignment among senior leaders of MND, Military Services, and Taiwan MHS.
Additionally, Command Surgeons of Army, Navy, Air Force, and the Reserve Command function as senior medical advisors to senior leaders of Military Services to ensure that medical units under their command can fulfill missions assigned.
Vertical integration and horizontal connection between Taiwan MHS and other functional elements of MND as well as Military Services is the primary mechanism via which Taiwan MHS cooperates with other parts of Taiwan Armed Forces.
Is there cooperation / dialogue with International Military Medical Services?
Absolutely, we all understand that cooperation and dialogue with regional or international military medical services is paramount to ensure synchronized and joint efforts in maintaining peace and stability, as well as in fostering partnership and cooperation among nations.
Guided by the principle of "meaningful participation and positive contribution" in regional and international cooperative initiatives, Taiwan MHS has in recent years focused its effort on health infrastructure buildup, cross-border infectious diseases prevention & control, disaster relief medical assistance, exchange and sharing of military medicine R&D, providing clinical trainings for healthcare professionals from allied and friendly countries, and sustainable partnership programs aimed at improving public health system of allied and friendly nations.
Does your Military Medical Service participate in international deployments / aid missions?
For the international political reality well known to all, Taiwan MHS has limited experience in participating in international deployment for missions more geared towards multi-nations military operations such as peacekeeping. Having said that, we do not rule out the possibilities of partaking in such joint deployments if conditions are adequate.
As for now, foci of Taiwan MHS' regional and international missions have primarily been on humanitarian missions such as disaster medical assistance, infectious diseases prevention cooperation, sharing clinical best practices and medical R&D with military medical services from other countries, and joint endeavors in building and improving health infrastructure of related countries.
Furthermore, because of the highly advanced medical capability and capacity of Taiwan MHS, professional medical teams of Taiwan MHS have been highly sought after and welcome by countries and regions wishing to exchange and cooperate with Taiwan.
What are your experiences in this regard?
Footprints and experiences of Taiwan MHS in international cooperation have been quite diverse and wide-reaching, both in terms of countries and regions involved, as well as scope of cooperation and exchange.
Since 2012, Taiwan MHS has adopted a pragmatic and flexible approach in international engagements. For example, we have donated medical equipment and materiel for countries impacted by the Ebola epidemic in West African in 2013-2014 and convened regional Ebola response workshops to enhance awareness and vigilance for clinicians and senior health seniors from countries threatened by Ebola epidemic, short of actually sending military medical teams on the ground.
Other examples of Taiwan MHS international engagement in recent years have included the Haiti Earthquake medical support in 2011; medical assistance missions of Triple Disaster of Japan in 2011; tri-lateral medical exercise aimed at enhancing cross-border cooperation on infectious disease prevention in the Republic of Kiribati in 2015; tri-lateral medical exercise aimed at enhancing public health capacity in the Solomon Islands in 2016; bilateral military health exchange and health infrastructure assessment mission in Burkina Faso in 2016; 2016 Asia Pacific Military Health Exchange (APMHE 16) in Malaysia and APMHE 2017 in Singapore; tri-lateral medical exercise aimed at building sustainable health infrastructure of the Republic of Kiribati in 2017, to name just a few.
Taiwan MHS has organized delegations to participate in DiMiMED 16 in Singapore and again in DiMiMED 17 in Dusseldorf, Germany to share expertise and experience of Taiwan MHS on mass casualty management, burn care, 3 D printing medical applications, and other novel medical R&D.
To cultivate cooperation and partnership with military health systems of allied and friendly countries and sharing best practices of military medicine, Taiwan MHS has convened the 2017 Taipei International Military Medicine Forum (TIMMF 2017), inviting subject matter experts to shed new light on military medicine and discuss mechanisms of strengthening cooperation and exchange among participating delegations. With positive feedback from forum participants and other stakeholders, Taiwan MHS intends to make Taipei International Military Medicine Forum a routine platform for regional and international partnership building in the field of military medicine in the future.

Your medical service has a number of recognized good military hospitals. What are their main specialist medical focuses?
Because military hospitals of Taiwan MHS provide healthcare to service members and civilians, the main specialist medical foci are determined both by military readiness considerations as well as distribution of regional medical resource and local population healthcare requirements.
Tri-Service General Hospital (TSGH) is not only a nationally and internationally accredited center of medical excellence, but also the teaching hospital of National Defense Medical Center (NDMC), which is the only military medical university of Taiwan. Given its status as a medical center, TSGH has a full array of medical specialties and subspecialties aimed at providing comprehensive definitive healthcare to all beneficiaries.
Armed Forces General Hospitals of Kaohsiung, Taichung, Taoyuan, and Hualien are classified as regional hospitals under National Health Insurance System and serve as central hubs of medical operations in respective theaters of operations (TOs). These General Hospitals can also provide comprehensive definitive care to beneficiaries, covering most if not all medical specialties and subspecialties.
Other branch hospitals affiliated with TSGH or General Hospitals are also strategically located in each theater of operations to provide healthcare to military and civilian beneficiaries.
When deciding what medical specialties to develop for each military hospital, Taiwan MHS has kept in mind both peacetime healthcare requirement and wartime missions. As such, a well-balanced strategy of clinical capability buildup considers both beneficiaries healthcare needs and wartime missions. For instance, some military hospitals will focus on aviation medicine while others will emphasize trauma care, burn care, submarine medicine, psychological health, among other medical specialties of military significance.

Where do you educate / train your medical personnel?
Medical education and training are inseparable and reinforces each other in supporting the most robust military healthcare system. Taiwan MHS features both a sensible division of responsibility and a seamless integration between education and training programs.
NDMC, TSGH, and Health Service Training Center (HSTC) are the three most important pillars of military medical education and training system, and are the proponent agencies for basic/advanced medical education, clinical specialty training, and tri-service field health service support training respectively.
Founded in 1902, NDMC (equivalent to USUHS of The U.S. Military) is the one and only military medical university in Taiwan. Educating diverse classes of medical professionals, devoting to the advancement of military medicine, and promoting medical research and development (R&D) remain core missions of NDMC.
At NDMC, students can pursue courses in various areas: medicine, dentistry, pharmacology, nursing, public health administration, biomedical engineering, etc. There are three levels of degree, including bachelor degree, master degree, and PhD degree. Education programs of NDMC feature in seamless integration of teaching, research and medical care.
TSGH is not only the teaching hospital of NDMC but also the highest-ranking centre of medical excellence of Taiwan MHS. As the most important teaching hospital of Taiwan MHS, TSGH provides clinical rotation trainings for interns of NDMC and other leading medical schools, residency training programs, and numerous specialized training programs tailored for specialists.
NDMC along with TSGH also offer scholarship programs and various levels of clinical training opportunities for medical and nursing students as well as medical professionals from allied and friendly nations.
Health Service Training Center (HSTC) of NDMC is the institute designated to provide pre-hospital EMS training programs. Self-aid, buddy aid, advanced trauma life support, aeromedical evacuation techniques and tactics of field health service support activities are primary programs tailored to equip trainees with all necessary knowledge and skills to successfully perform their peacetime and wartime health service support missions.
HSTC has trained and certified more than 12,000 EMTs (EMT-1, EMT-2 & EMT-P) as of September 2017. Most of the nationally certified EMT-Ps will be primarily stationed or embedded in military units in offshore islands or remote sites where local healthcare infrastructure is less developed. Those deployed EMT-Ps constitute the backbone of Taiwan MHS pre-hospital care system.

Taiwan is often threatened by natural disasters. To what extent is your medical service integrated into civil relief organisations?
As one of the most important national strategic medical assets, Taiwan MHS has long been the indispensable backbone of national disaster medical system with footprints present in each and every major domestic disaster scenarios. Each day, medical teams contributed by armed forces hospitals augmented by health service support teams contributed by field medical units stand ready to deploy and execute disaster medical support missions.
As per Article 34 of Disaster Prevention and Protection Act promulgated by Taiwan Government in 2016, disaster preparedness and response has become one of the core missions of Taiwan Armed Forces. Consequently, Taiwan MHS has been fully integrated into the national disaster relief program, by partnering with central and local governments, as well as co-working with domestic NGOs in medical assistance aspects of disaster relief operations.
From 2008 to December 2017, a total of 1,325 medical teams had been activated and deployed to render HADR medical support under 28 natural and man-made disaster scenarios. A total of 14,738 patients/casualties had been cared for by medical teams of Taiwan MHS and more than 356 cases of medical evacuation had been carried out.
Are you satisfied with your medical service's facilities, specifically its medical equipment? In that area, do you perceive any particular needs? Do you have any specific wishes?
With the support and championship from senior political and military leaders, as well as budgetary endorsement from the Congress, Taiwan MHS is adequately funded to acquire necessary financial and human resources in upgrading military medical facilities, including clinical care facilities, research labs, medical college, and combat casualty care training institutions.
Over the next ten years which I prefer to term "Golden Decade for Taiwan MHS", the Congress has authorized special budget for military medicine infrastructure renovation in the order of 10 billion NT (350 million USD) aimed at making sure that Taiwan MHS has the state of the art facilities, capabilities, and high quality professionals to fulfill its multitude missions. Such capital investments are vital to sustainable competiveness of Taiwan MHS and consequently its ability to provide the best possible healthcare to service members and civilians under its care.
We've been blessed for the past seven decades that Taiwan Strait has been a region of relative peace and stability without actual military confrontations. However, constant military threat posed by potential adversaries entail that Taiwan MHS also adequately invest in field medical units, especially regarding its mobile medical equipments and more broadly its mission capabilities.
So my particular needs and specific wishes now and in the near future will be for field medical units of Taiwan to acquire more advanced equipment and training facilities to ensure interoperability, especially when considering the scenarios of joint actions or deployments. It is therefore the priority agenda of Taiwan MHS to upgrade mission capability of field medical units by means of more capital investment on field medical equipment procurement and more frequent exchange and engagement with military health systems of other countries in the future.
How has the International Military Medical Service developed over the past ten years and, in your opinion, how will it develop in the future?
Over the past decade, we've witnessed a trend of cross-border cooperation and collaboration of military medical services among countries, irrespective of their geographic locations and status of economic development. This is especially true for regional and international cooperation in the fight against emerging infectious diseases, disaster relief medical assistance, and public health infrastructure improvement projects, to the benefit of not only host nations and local populations but also the military medical service rendering support and assistance.
As for future development of international military medical service, my assumption and belief is that, with partnership, cooperation, and joint effort among different countries, international military medical service will no doubt become one of the most potent prophylaxis for preventing war and human sufferings. Guided by the universal value of humanity, I also predict that international military medical service will play an even more proactive role in facilitating peace and promoting health infrastructure buildup.
I personally also believe that military medical service will eventually become a vital strategic national asset in building trust and confidence among countries. If utilized cleverly and creatively, military medical service can significantly contribute to the betterment of health infrastructure of host nations or local communities receiving support and assistance.
Is there anything else you would like to tell the readers of the interview about?
I'd like to appreciate the professional assistance and support from senior leaders and staffs of both The Almanac and www.military-medicine.com/MCI-Forum to Taiwan MHS. These are great platforms with which we can interact and integrate with other military medical services of different countries.
Other than appreciating and recognizing the significance of The Almanac and www.military-medicine.com/MCI-Forum as vital mechanisms of international cooperation, I sincerely hope that Taiwan MHS can contribute more to the international military medical communities by sharing its unique capabilities and soft powers, to the benefits of regional and international societies.
Before the conclusion of this interview, I would like to once again emphasize that Taiwan MHS is both willing and capable of contributing to the international community in a feasible and flexible manner to advance the common good of humankind and we welcome and appreciate any opportunities and initiatives that are mutually beneficial to stakeholders concerned.
General Wu, thank you very much for the interview!
Date: 01/16/2018