Article
THE ROAD TO ACCREDITATION (Part 3 / 4)
LESSONS LEARNT FROM THE FIRST PUBLIC SECTOR ISO 15189 ACCREDITED LABORATORY IN GHANA.
Mentorship
Laboratory mentorship programmes have been described as the conduit by which quality management systems can be strengthened to help laboratories achieve accreditation goals12. As a result of the high impact expected, the implementers of the SLMTA programme, Global Health Systems Solutions (GHSS), adopted the facility based-embedded mentorship, an approach which has been observed to yield significant positive results in the implementation of quality management systems7,13. An in-country resident mentor was assigned to the Laboratory from February 2013 to November 2015. The primary duty of the mentor was to provide guidance and coordinate the activities of the quality system of the laboratory while providing technical support leading to ISO 15189 Accreditation. Mentorship was designed to enable continuous training, one-on-one coaching and ensuring laboratory staff personally carried out most tasks to build their capability in performing such assignments and making the quality process sustainable.
Site visits and scheduled audits were conducted by staff of GHSS who had extensive training and experience in SLMTA implementation, the SLIPTA process and ISO 15189. Outcomes of these audits were reviewed and incorporated into the laboratory's workplan and evaluated at the end of the defined timelines.
In 2015, two years after the initiation of the improvement process, external funding was cut. The embedded mentorship program was however maintained to sustain the gains made and support the laboratory close its pending gaps. With management support the mentorship program functioned as a "gap-improvement" detection system to identify and draw management attention to all weaknesses of the LQMS while providing guidance to their resolution. The mentorship program also identified strengths and opportunities for improvement.
Process Monitoring and Evaluation
To monitor the progress of the laboratory, several progress assessments were conducted by the internal audit team which had been trained in the audit process and the use of the WHO-AFRO SLIPTA checklist. These audits cut across all phases of total laboratory testing. Action plans were developed from the outcomes of each audit process and reviewed when stated timelines were due. Several facility tours and inspections by Hospital Command, the Centers for Disease Control and Prevention (CDC), United States-Deployment Health Assessment Programme (US-DHAP), HIV/AIDS Program, John Hopkins Programme for International Education in Gynaecology and Obstetrics (Jhpiego-Ghana) and Global Health Systems Solutions (GHSS- Ghana) were conducted to keep the laboratory on the alert in maintaining the standards of quality.
The laboratory adopted the use of customized spreadsheets as a means of collecting, analyzing, monitoring and interpreting data. They were used in reporting critical aspects of not just the Quality Management System but of analytical aspects as well. These tools provided effective means of monitoring and reviewing quality control runs and verification of methods for all analytes. This resulted in early detection of failures and the development of appropriate corrective actions. The spreadsheets were at no cost, customizable and easy to use compared to the many commercial softwares available on the open market.
Progress to accreditation
An initial intention to present all tests and all departments up for accreditation led to a focus on the entire laboratory system and all phases of total laboratory testing. However, to ensure a more effective process and management of the quality system, laboratory management decided to employ a more stepwise approach to accreditation by gaining accreditation for all tests and departments in phases. The first phase focused on two departments; Chemical Pathology and Haematology. With support from staff from all other departments, the management and technical processes of the selected departments were critically reviewed and assured for accreditation acquisition.
The laboratory was assessed in April 2017 by the Southern African Development Community for Accreditation Services (SADCAS) and in September 2017 the Pathology Division of the 37 Military Hospital received its certificate of Accreditation making it the first public sector laboratory in Ghana to attain international accreditation status.
PLEASE NOTE, the next part will be released on the 6th of April 2018.
Authors: Dr. (Col) Seth Attoh1, Mr Raymond D. Fatchu1, Mr I.T. Kodjoe1, Lt Col Richardson B Owusu1, Maj Cynthia Boateng1, Capt Alhassan M Yakubu1, Maj LX Adusu-Donkor1, Maj Joseph Boafo1, Mrs Patience N Matey1, Ms Sarah Kwao1, Mr John Ani-Amponsah1, Lt Cdr (Dr) Emmanuel Sarkodie1, Maj Kwasi Boaheng1, Flt/Lt Mary McAddy1, Capt Richmond Kyei1, Maj Monica Asante Addo1, Mr Anthony Mason1, Mr Joseph Addy1, Maj Kingsley Ackah1, Maj Anita Adjabu1, Lt Col (Dr) Fred Hobenu, Sgt Godwin Dutsyo1, Mr Godwin Nyarko1, Capt Nana Yaa F Snyper1, Capt Adu Ahenkan Poku1, Capt Christina Banamwin1, Prof Andrew Adjei2, Dr Amma Benneh-Akwasi Kuma2, Richard Asmah3, Marian Kpakpah3
Author's affiliations: 1Pathology Division-Laboratory 37 Military Hospital, Accra-Ghana, 2College of Health Sciences University of Ghana, 3School of Allied Health Sciences- College of Health Sciences University of Ghana
Date: 03/30/2018
Articles
Browse by category
Events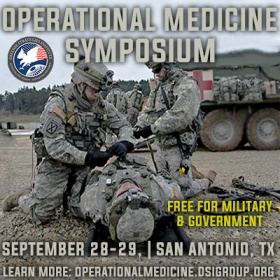 The 3rd Annual Operational Medicine Symposium will focus on DoD initiatives to enhance military medicine in an era of great power competition. This symposium will bring together highly regarded medical professionals from all services to discuss the practice of medicine in expeditionary environments.