Article: J. Rehder
Dental treatment at sea by on-board dentists and naval surgeons
A dental surgeon is not always on board or near at hand to provide dental care to personnel serving on sea-going naval units. However, it is essential to ensure that appropriate dental treatment can be provided in emergencies that occur at sea by either an on-board dentist or naval surgeon.
The particular nature of service at sea means that special framework conditions apply with regard to the provision of dental treatment to on-board naval personnel. There are specific factors that must be taken into account that deviate markedly from those relevant to the treatment situation on land, such as spatial restrictions, swell, vibration, environment, battle readiness status, the nature of operating rooms, availability of trained (and untrained) assistants, problems with supplies and maintenance, adaptation of equipment to the space available and others. Yet the greatest problem at sea is undoubtedly the availability of medical personnel, as a dentist is not always directly accessible or near at hand at all times. As a rule, the Bundeswehr does not assign its dental medical officers to naval boats and ships on a permanent basis, but only does so when there is a specific requirement for these personnel and where the necessary manpower and resources are available for the purposes of naval operations, participation in multinational missions and exercises abroad which require the naval units to be absent from home ports for longer periods.
In view of this, a two component system has been adopted to provide dental care on sea-going naval units – either "with dental surgeon" or "with naval surgeon" – and this has made necessary differing approaches with regard to training and equipment, consultations and deployment planning.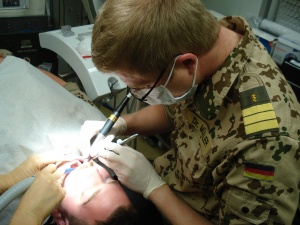 The theories underlying the general concepts for the provision of dental treatment on board sea-going naval units have already been outlined in Wehrmedizin und Wehrpharmazie (issue 3, 2007). Dental medical officers of the Joint Medical Service of the Bundeswehr have also published articles describing the excellent results of their deployment as on-board naval dentists and have specified in detail their remit, training and the equipment and materials supplied to them, and have specifically praised the new Amadeus on-board dental station by KaVo, which has now made possible effective dental treatment on board sea-going vessels (see, for example, issue 2, 2007).
However, even with an optimal preventive programme in place, the possibility of the occurrence of emergency dental cases involving pain cannot be completely excluded, while cases of this nature will not always occur in vessels provided with a dental medical officer. In this situation, where no dental surgeon is to hand, the naval surgeon will be responsible for providing the emergency treatment required. To this end, Bundeswehr naval surgeons deployed at sea are provided with a dental micromotor and a carefully selected range of dental instruments and materials appropriate to their needs. The purpose is not to make the naval surgeon a kind of substitute ship's dental surgeon – naval surgeons have neither the skills nor the authorisation for this. Long term dental care and the maintenance and restoration of dental health remain the preserve of the qualified dental surgeon. However, in view of the special situation obtaining at sea, naval surgeons must at least be equipped with the skills required to recognise a dental emergency case as such, to provide symptomatic analgesic treatment and to stabilise the patient, to prevent the spread of dentogenic infections and to provide initial treatment following traumatic injuries to mouth, jaw and facial region. Moreover, the naval surgeon also needs to be in the position – if necessary, with the help of telemedical or radio-based support – to provide this kind of adjuvant treatment to enable patients to overcome periods of up to one week, until it is possible to refer them for definitive treatment to a qualified dentist at the next port of call or on board another vessel.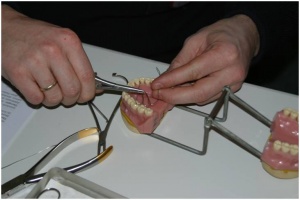 Trainee naval surgeons are prepared for these responsibilities at the Schiffahrtmedizinischen Institut der Marine (Naval Institute of Maritime Medicine) in Kronshagen[EC1]. Part of the course for naval surgeons is a seminar "Techniques for management of dental pain for naval and fleet surgeons" that provides participants with the necessary theoretical knowledge of the treatment techniques to be used in various emergency dental situations and the use of the corresponding instruments and materials. This is supplemented by practical instruction in the techniques of dental examination and diagnosis, the induction of local anaesthesia for dental purposes and traumatology. One unique aspect of the course is the use of dummy heads for training purposes, with the aid of which the trainee naval surgeons can practice their acquired dental skills. The seminar participants also practice using the dental instruments and corresponding materials that are provided on naval vessels.
During the seminar, the trainee naval surgeons are issued with a manual that has been specially designed for their use. This "Manual of treatment of dental emergency cases at sea" gives naval surgeons concrete advice on the treatment of the dental emergency cases they are likely to encounter on their vessel and also provides them with guidelines on how to deal with patients experiencing pain in the form of an "If-Then" checklist. Naval surgeons are also supplied with photo documentation material to help them prepare and employ instruments and materials, which has an additional value in that the assisting personnel available to them are likely to be untrained in their use. In order to consolidate what they have learned during the seminar, the participants are also given the opportunity to gain practical experience by working with a dental team and may also be provided with further supervised practical training by an on-board dental medical officer.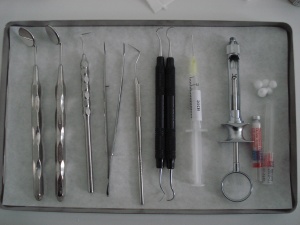 When faced with a dental emergency on board, a naval surgeon can obtain telemedical expert advice from the Naval Institute of Maritime Medicine at any time. The naval surgeon need only make radio contact to obtain continuing help and support.
However, the limitations of this concept, whereby naval surgeons are expected to deal with dental emergencies on sea-going vessels, do become apparent in certain situations. It may be possible, for example, to refer a dental patient to a land-based dentist within a reasonable time, but it may not be possible for this dentist to fully re-establish the dental health of the patient in the time available, meaning that subsequent treatment will be needed after the vessel has again put to sea. If cases of this type are found to occur with increased frequency in a unit, a need-based strategy is available, whereby an appropriately equipped dental treatment team can be embarked at short notice to improve the dental fitness of the crew so that the risk of dental emergencies occurring during the remaining period of deployment is reduced to a minimum.
Author's note:
As a dentist, I have never before found myself as popular as in a situation on which I recently reported when I was posted at short notice to serve at sea with a unit in which serious and frequent dental problems were occurring. I was faced with none of the usual and, it must be said, understandable qualms that we dentists tend to encounter – even on the part of the most "dentophobic" of my patients!
Commander (Dentistry) Juliane Rehder
SchiffMedInstM/ FG I 3
Kopperpahler Allee 120
24119 Kronshagen
Commander Juliane Rehder
Born 1971 in Kiel. Entered the Bundeswehr Navy in 1990 as a medical officer cadet. Studied dentistry at Hannover Medical University 1991 - 1996
Most recent postings:
2002-2007 Personnel Office of the Bundeswehr: posts included Head of Department IV 2 (K) and IV 3.
From 2008. Head of Department I 3 Naval Institute of Maritime Medicine
Various deployments and cruises as on-board dental medical officer, latterly with
SNMCMG2 in November 2008
Date: 08/20/2018
Source: Medical Corps International Forum 1/2011