Article: J. LOWE, R. J. McCORMICK (UK)
The Future Direction for Oral Healthcare in the British Army
From the Public Health Department, United Kingdom Defence Dental Services
The British Armed Forces Defence Dental Service (DDS) provide dental treatment to all serving personnel and until recently have predominantly been clinical care delivery focused. In recent times it has been recognised that a health promotion based strategy would better serve our population, help reduce dental morbidity on operations and minimise the individual impact of oral disease on military personnel. This paper demonstrates why and how this is being achieved.
Development of the Oral Health Strategic Plan (OHSP), moving towards prevention
The DDS aims to maintain at least 75% of the military population at NATO Cat 1, dentally fit for deployment, with no dental treatment required. Looking at health status trends since 2005, the oral health statistics had 'flat lined' between 50 – 60% NATO Cat 1, depending on Service, seeing no significant rise in fitness states over the years, regardless of the hours spent on dental treatment. An important stage occurred in observing that recruits were arriving for initial training with large amounts of dental treatment need. These trainees were, on completion of training, entering the trained strength with the same high treatment needs, reducing the overall dental fitness state of the Army. This was due to little time being allocated in the trainees program for dental appointments, due to the tempo of training. In 2006 project Military Oral Liability Army Recruits[1] (MOLAR) was introduced. Project MOLAR ensured that each trainee would be allocated up to 2 hours to attend dental treatment during their initial training. The aim was to deliver at least 80% of Army recruits from initial training to the Army dentally fit (NATO Cat 1). Recent years have seen the 80% target being reached, and exceeded. At present, British Army recruits are now entering the Army at over 90% NATO Cat 1.
The Oral Health Strategic Plan – 2 years in development
The OHSP was developed by the UK Defence Consultant Adviser in Dental Public Health, who recognised that the priority, at that time, regarding dental care was on treating dental disease with little time dedicated to prevention.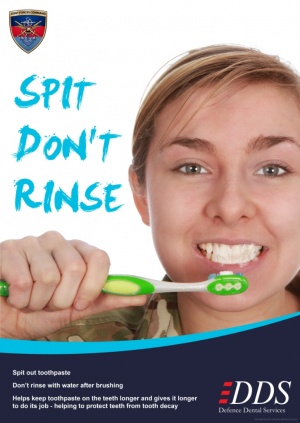 The strategy has a five year rolling plan aiming to reduce dental morbidity, and the impact of dental disease, by implementing an oral health promotion focused approach to care. The Army Project Molar principles have now been extended to the Royal Navy and the Royal Air Force. Patients then enter a military care pathway, based on disease risk assessment. All patients are assessed at routine inspection to determine and document their evaluated level of risk in four areas. These being dental caries, periodontal disease, tooth surface loss and oral cancer.
Health protection and disease prevention can be applied at the individual level and to the population. Policies affecting health protection are often designed to influence specific common risk factors by changing the environment in which people live and work. The DDS determined to do this by improved stakeholder involvement in the following areas:
- Nutritional policy and advice development through the Services Nutritional Advisory Panel.
- Engagement with the Defence Health Strategy Steering and Working Groups.
- Active membership with Services Health Promotion Committees.
- Appropriate involvement in policy development to promote the sensible consumption of alcohol and in smoking cessation initiatives.
- Improved involvement in national health promotion initiatives e.g. No Smoking Day, National Smile Month and Oral Cancer Action Month.
What we have done so far:
A new role of Dental Public Health Warrant Officer (DPH WO) was introduced into the Dental Public Health (DPH) department in May 2011. The Warrant Officer's role has become instrumental in ensuring that Oral Health Promotion is delivered to personnel 'on the ground'. Eleven Regional Oral Health Coordinators (ROHCs) were introduced in June 2011. The ROHCs role is to liaise with the DPH WO and work with personnel within their region, ensuring that information and guidance coming from the DPH team is passed down, and OHP reports are passed up to DPH WO. Since introduction, ROHC preventive dentistry coordination meetings have been held which have offered a forum for sharing health promotion ideas. The introduction of the ROHCs has shown an increase in health promotion events at unit level, with a consistent message being given at each. The ROHCs are responsible for holding OHP packs for their region containing tooth/mouth models, and oral health promotion material. Within the population cared for by the DDS are families and children. To cater for these patients there is a family orientated OHP pack available, one pack each for Germany, Cyprus and the UK. We also have 3 'Big Cigs' available for loan. Big Cig is a costume that personnel wear to attract attention whilst carrying out smoking awareness campaigns, there is also a little cousin to Big Cig. Figure 1 shows Big Cig and Little cousin.
A DPH team website has been set up and is accessible via the defence intranet, this means military personnel are able to access the site regardless of their assignment. The DPH team has uploaded oral health promotion materials onto the site as well as links to websites relevant to OHP. This has allowed personnel who are setting up a Unit Health Fair easy access to health promotion material. On the website we also have promotional videos which have been produced by DPH department and posters designed by DPH WO in conjunction with RAF Cosford graphics studio as shown in Figure 2 and 3. The website in the future will also have material and advice for patients to access and signposts to various useful websites regarding oral health.
Implementation of the strategy
April 2011 saw the introduction of the new strategy with initial focus on the prevention of dental caries. This initial focus was chosen as a "quick win" to an important oral health benefit, whilst introducing a new strategic direction to the dental workforce. Oral Hygiene instruction and twice yearly application of fluoride varnish was provided to moderate and high caries risk patients. The application of fluoride varnish to patients saw the introduction of dental nurses being trained in this area. An initial course for fluoride varnish application was held in March 2011 and an evaluation into the effective use of the nurses was carried out using data received from dental centres. There have been 2 subsequent courses held since with a total of 18 students per course.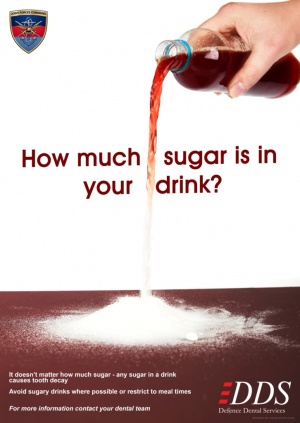 The medium term aspiration is that with a steady improvement in health, more clinical time will become available for preventive care, as illustrated in figure 4. We are reasonably optimistic, as the volume of outstanding treatment need within our military population, as indicated in Figure 5, has demonstrated a fall in outstanding treatment over the last few years.
The next phase in implementation of the Oral Health Strategy will see the introduction of performance management for the other areas of disease risk assessment. Our intention has been to slowly introduce elements rather than overwhelm patients and dental staff with too much change. This first year after the introduction of the OHSP has been an exciting time and has seen improvements in DDS performance indicators. A big thank you must go to the dental teams who have been instrumental in implementing and embracing the changes required.


Summary
In summary the OHSP has been in place since April 2011 with caries control and prevention being the first part of the plan being addressed by the introduction of twice yearly application of fluoride to Medium to High caries risk patients. The DDS has recognised that care needs to be prevention based if it is to move away from continual treatment focused care of patients, therefore providing a Military Force fit for deployment, with reduced risk of dental morbidity on operations.
Authors:
Jane Lowe, WO2, RADC
DipDH CertEd
Dental Public Health Warrant Officer
United Kingdom Defence Dental Services
Address for the authors:
HQ DDS
Coltman House
Whittington Bks
LICHFIELD
WS14 9PY
United Kingdom
E-mail: Jane.lowe900@mod.uk
(First and Corresponding Author)
CO-AUTHOR
Col Robert J McCormick
PhD MPH MSc BDS FDSRCS FDS(DPH) MGDS DDPH
Defence Consultant Adviser in Dental Public Health
United Kingdom Defence Dental Services
[1] Hurley and Tuck Military Medicine, Vol. 172, November 2007
Date: 10/04/2018
Source: Medical Corps International Forum