Report: S. WALDECK, E.K. KOLLIG (GERMANY)
The value of interventional radiology in current combat environments
Interventional radiology is a relatively recent development within the field of radiology. It has extended the reach of the technique from use in purely diagnostic procedures to employment as part of minimally invasive treatment approaches.
The main feature of interventional radiology is that it provides imaging guidance during therapeutic intervention, whereby all forms of radiological media can be used (CT, ultrasound, fluoroscopy). Particular successes have been achieved with CT-guided intervention under damage control conditions in Camp Marmal in Mazar-e-Sharif (MES), the base of the Bundeswehr in Afghanistan. To illustrate this, we outline three selected cases in the following:

• CT-guided osteosynthesis in a case of fracture of the femoral neck
• CT-guided kyphoplasty in a case of vertebral fracture
• CT-guided pain management in a case of disc herniation


Case reports
Used for all CT procedures in the field hospital at Camp Marmal was a six-slice CT scanner (Somatom Emotion, Siemens, Forchheim, Germany).
Case 1: Fracture of the femoral neck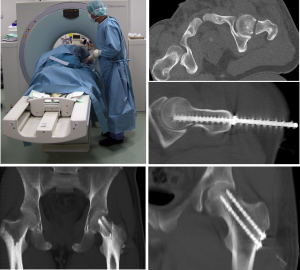 A married couple were involved in a road accident and brought to the field hospital. Both patients had suffered a medial fracture of the femoral neck – on the right in the case of the man and on the left in the case of the woman. Because of associated injuries to the lower leg, it was decided that it would be preferable to perform open surgery on the man. Following a diagnostic examination, the woman was referred for CT-guided percutaneous osteosynthesis in order to provide definitive remedial treatment as rapidly as possible.
After positioning of the patient, analgo-sedation was induced as was local anaesthesia under sterile conditions. Using a multiplanar intervention approach, the ideal work trajectory was first established. A guide sleeve was introduced into a stab incision so that a bone drill could be positioned at the correct angle. The angle of the bone drill was reviewed in multiple planes. The bore holes were prepared and evaluated with the help of CT. The use of this technique also made it possible to determine the ideal screw length. After the holes had been prepared using a thread cutter, the osteosynthesis screws were introduced and their positioning checked during a final review. Average time required for the introduction of each screw was 23 minutes. Immediately after surgery, the patient was stabilised for mobilisation.
Case 2: Vertebral fracture
An Afghan patient involved in a road accident (the vehicle had overturned) was brought to the emergency room of the field hospital of Camp Marmal in Mazar-e-Sharif (MES). Seen in computer tomography was a fracture of vertebrae T12 and L1 (Magerl A1.2). The patient was suffering extreme pain.
As the patient could not be hospitalised and a long period of immobilisation was not feasible, it was decided to perform kyphoplasty under damage control conditions. For this purpose, i.v. analgo-sedation was first induced and kyphoplasty needles were inserted in each of the vertebrae in question from the right hand side using a transpedicular approach under CT guidance. A kyphoplasty balloon was put in place and its positioning reviewed by means of CT. The bone cement was injected into the vertebrae through the needles. During final CT review, the cement was seen to be adequately distributed. The patient was kept under observation for a brief period of 4 hours after completion of surgery, and was then discharged in pain-free status.
Case 3: Disc herniation
A soldier reported with acute left-side lumbosciatica. Seen in CT was a left paramedial disc herniation at L5/S1 with associated discogenic recess stenosis at S1 left. There was no loss of strength. For purposes of acute pain management, an epidural interlaminar injection was recommended. The interventional procedures were planned, the patient placed in the prone position and a needle was introduced via the interlaminar epidural pathway into the spinal canal under sterile conditions and with the aid of CT guidance.
After the correct positioning of the needle had been confirmed, a mixture of a local anaesthetic, a corticosteroid and tramadol was injected. Following complication-free instillation, the patient was spontaneously almost completely pain-free. A second injection was given 2 days later, after which the patient no longer experienced any pain and was able to remain on duty in Afghanistan.
Discussion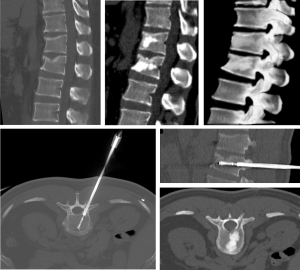 Computer tomography is a technique that provides for excellent diagnosis and visualisation of fractures and disc herniations. It also makes it possible to directly plan intervention with the aid of multiplanar views and in many cases it also facilitates image-guided, percutaneous minimally invasive primary intervention. With regard to radiation hygiene, there is no need for operator and surgical team to be exposed to radiation, as is the case when continual fluoroscopy is used, as these can leave the CT room for the period in which the CT scan is performed. There are also other ways in which exposure to radiation can be reduced during routine use (e.g. use of a sequential scan protocol with appropriate gantry tilting, manual KV and mAs reduction).
Because of the associated risk of aseptic necrosis of the head of the femur, fractures of the femoral neck must be treated as rapidly as possible. In this context, CT-guided osteosynthesis is a speedy and effective therapeutic option that can be performed under damage control conditions and which requires minimal personnel and material resources. The standard approach to dealing with Magerl type A fractures of the thoracolumbar region is either conservative (involving the corresponding prolongation of pain symptoms) or surgical, with the use of an internal fixation and ventral fusion as necessary (coupled with all the risks and expenses associated with surgery). A less invasive alternative is kyphoplasty, a technique which represents a favourable combination of the benefits and potential risks of the conservative and macrosurgical approaches.
Military requirements and the lack of the necessary infrastructure will normally exclude the possibility of rapid surgical intervention in cases of vertebral disc herniation in the field. In cases in which there is no loss of motor abilities, CT-guided epidural injection represents a safe and effective alternative for pain management. The supplementation of the solution with tramadol had a particularly beneficial effect.
Conclusions
Interventional radiology in combat environments provides a wide range of options with the aid of which highly precise emergency treatment can be provided under damage control conditions. CT-guided percutaneous intervention (in the cases of osteosynthesis of a femoral neck fracture, kyphoplasty in the thoracolumbar region and interlaminar epidural injection described above) made possible effective, safe, minimally invasive and resource-sparing primary treatment of the conditions. In certain situations, the technique is a practical supplement or even alternative to the standard open surgery damage control procedures used at level III.
References: ref@mcif-forum.com
Authors:
Lieutenant Colonel MC
Stephan Waldeck MD
Date: 01/28/2019
Source: Medical Corps International Forum (3/2012)
Articles
Browse by category
Events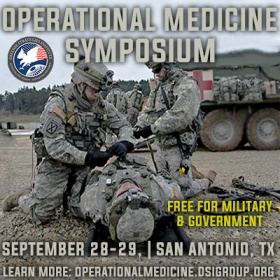 The 3rd Annual Operational Medicine Symposium will focus on DoD initiatives to enhance military medicine in an era of great power competition. This symposium will bring together highly regarded medical professionals from all services to discuss the practice of medicine in expeditionary environments.