Article: D.C. HOSTLER, D.S. VINCENT (USA)
Crisis Event on a Commercial Airline Flight - Military Medical Simulation Training at APMMC XXII
"Ladies and gentlemen, if there is a doctor on board, please identify yourself by pushing your call button."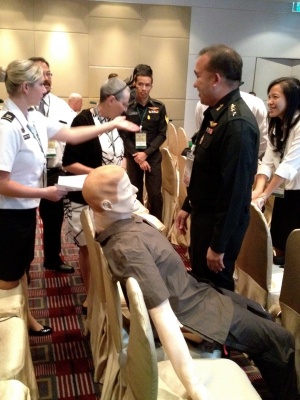 Physicians, nurses, and other healthcare providers are commonly asked to assist in evaluating and managing airline passengers who are in distress. Nineteen healthcare providers at Tripler Army Medical Center in Honolulu, Hawaii, and thirty-two healthcare providers at the Asia Pacific Military Medicine Conference in Bangkok, Thailand, participated in a seminar that simulated common urgent situations that can develop on a commercial airline flight.
A commercial airline flight from Narita, Japan to Honolulu International Airport was simulated. Conference room chairs were moved into a 3-5-3 arrangement, with two ailes and minimum space between rows. Two Laerdal SimMan manikens were then placed in sitting positions for the clinical situations that followed.
Overhead calls were made for passengers experiencing shortness of breath from an asthma attack, and chest pain from myocardial ischemia. Learning objectives were twofold: develop a management strategy using onboard medicines and equipment, and form an ad hoc team to effectively support the patient and communicate status reports to the crew.
Several key points were made. Often passengers need to be repositioned in the aisle or service area in order to optimize their care. Some airlines now stock emergency kits that include an extensive array of oral and parenteral pharmaceuticals. Finally, communication techniques such as closed-loop and directed communication can be as effective on airline flights as they are in hospitals or field units.
Authors:
Captain David C. Hostler, MD, MPH
Address for the authors:
Department of Medicine
Date: 03/07/2019
Source: Medical Corps International Forum (3/2012)