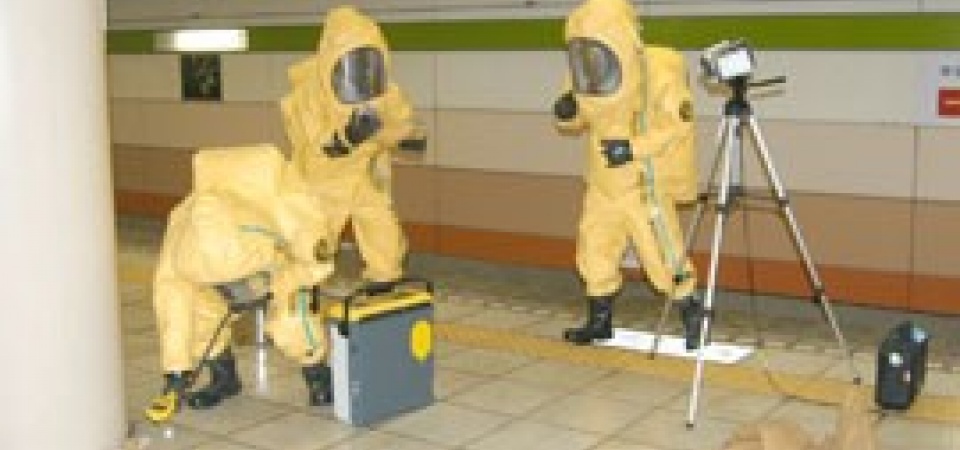 Report: Y. NISHIYAMA (JAPAN)
Readiness and response for chemical terrorism
Chemicals developed with human civilization are essential to everyday life. On the other hand, toxic chemicals have been used for purposes of murder. Once harmful chemicals have been converted into weapons, they will be able to take many lives indiscriminately. There is concern that terrorists will use chemical agent as a "weapon of the poor". Since the nerve-gas attack on the Tokyo subway system 17 years have passed. This paper describes that preparedness and response for unpredictable chemical terrorism with theTokyo subway chemical incident in mind.
Introduction
Chemicals have been used as a weapon to mankind from ancient time. Sparta force attackon Athens force using sulfurous acid gas in the 4th century BC is said to be the first chemical weapon in human history. Then, the mass production of chemicals began with the progress of the chemical industry, had been used in earnest in the World War Ⅰ. Chemical warfare throughout the world has been made since then. In modern times, the chemical has been attracted as a weapon of the poor. Actually, the chemical agent was used by the army or cult for indiscriminate attacks. Substances that are used in chemical terrorism, it is effective to those having some toxicity to the human body. Particularly important substances are designated as hazardous chemical agents. 17 years have passed since the sarin gas attack on the Tokyo subway and the memory of that shocking incident is gradually being weathered. this paper describes a general procedure of preparedness and response for counter chemical terrorism. In addition, the description about types and their characteristics of each chemical agent is entrusted to other articles.
Surveillance
Surveillance is very important. In Japan, manufacturing and distribution of hazardous chemicals have been registered under the governmental regulation. With the development of science technology or industrial activity in the world, more than 10 million chemicals are also present. Additionally, several million types of new chemicals developed for each month. But it is not practical to evaluate all of the numerous chemicals. Effect caused by harmful chemicals that are already present in the area that is responsible should be accurately evaluated. By surveillance, the type and amount of chemicals that can be grasped in the area of responsibility. In reference to the results of surveillance, the action plan is need to be prepared for each institution.
Preparedness
Consideration should be given priority in the preparatory stages are shown below in order to make the action plan. First, capacity to cope in the hospital for chemical terrorism should be analyzed accurately. Manpower, equipment protection, or the ability to accept patients depends on the faculty of hospital. The action plan in accordance with the size and capacity of the hospital will be ready. Second, ensuring the safety of medical staff or clerk should be cared. Possibility of cross-contamination is expanding through the care of patients with chemical terrorism are taken into consideration. A panic of medical staff may be assumed as the victim. Care must be taken to the medical staff because they might be patients. Taking action according to the mental health protocol that was previously prepared will contribute to the reduction of psychological damage. Third, means of contact are essential implements for the proper response. Communication system can be called all medical staff at night or holidays in emergency. In confusing circumstances, an appropriate communication system can provide accurate information. Using the database of hazards or keeping contact with chemical expert, can not be suddenly established after chemical terrorism. Medical staff participates in creating the action plan. Practice in accordance with protocols is required.
Protection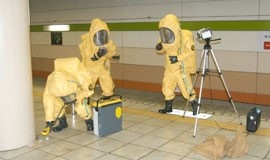 Personal protection is that wearing equipment to protect body from chemical agents. Protective clothing is divided into four levels to from A to D in the strength of the protection. Level A is the heaviest protection; entirely over wearing inside the portable respirator. Respiratory system is fully enclosed and highest protection. And used out of the causative agent is not specified, when the chemical has a dermal toxicity and carcinogenicity. Level B is lighter compared to level A. It carries a respiratory system from the outside of the protective clothing. There is also a method of breathing hoses connected to the mask. It is used when there is no dermal toxicity or not vaporized. Level C is used when there is no influence of direct contact to the human body. At level C, the canisters replaceable cartridge is attached to the mask. Level D is a normal work clothes. Level A protective clothing is expensive. Usually level C protective clothing is used at community hospitals. The canister cartridge should be used properly depending on the causative chemical agent types. With taking the protective clothing, taking vital signs of the patient are required. For this purpose, first responder should be familiar with the handling of protective clothing.
Zoning
If the chemical agent is sprayed, it is necessary to distinguish zoning region contaminated and uncontaminated areas. Hazardous area is managed by law enforcement agencies police, security forces, such as the fire department so that it can not be just an out and rescue experts. Free movement of people is restricted by zoning. Then, it is able to minimize the victim by the prevention of further spread of contamination,. Industrial accident in a chemical plant, similar zoning is necessary.
Specifically, chemical spraying around the field is defined as the most dangerous area so called hot zone. The warm zone is specified outside the hot zone. Chemical agent is an important consideration for the wind in the case of evaporated. Therefore, the decontamination is performed in the windward side of the outer edge of the warm zone. The first-aid station and headquarters are on the windward side of the plant decontamination. In consideration of the specific gravity of the air and vaporized chemical agent, it is necessary to consider the flow direction, as shown below.
-From areas of high to low-region
-From the upper floors to the lower floors
-From the surface to the sewer pipe underground or under
-Unexpected high concentration area, especially underground mall or subway
The limits into the hot zone should be equipped with personal protective equipment if the chemical agents used. With an explicit boundary to limit the intrusiveness, around the warm zone of the person is done strictly and out also. Originally, it is ideal to decontaminate for everybody in the hot zone, it is not simple whether terrorism was done really can recognize immediately. Contaminated persons who can walk on their own leave from the scene, or passing car carries the patient to the nearest hospital. It is not easy to be completely restricted the movement of people immediately after the incident. In fact, in the Tokyo subway sarin attack, patients with mild symptoms were admitted to nearby hospital by their own walking. Secondary contaminated damage was reported that the hospital staff complained of symptoms of poisoning by the vaporized from the sarin adhering to the clothing of these patients.
Detection
Analysis and identification of chemical agents is very effective in diagnosis and treatment. If the causative agent is not known, advanced analytical techniques is required. Reaction of chemical agents to the body is rapidly progressing, quick analysis is helpful. There are two types of detection system. The portable detectors made to specification for incident field is easy to handle and high performance to detect quickly for important chemicals. The large detector in laboratory requires taking back the samples from incident area, high sensitivity analysis is expected. Production of chemical agent sarin by Aum cult group was finally judged by a high-performance analysis with mass spectrometry.
Decontamination
The decontamination is to remove the chemical agent from the clothing or body of patients. Undressing is the first priority and simple decontamination. Clothing is depending on the temperature; over half of the chemical agent can be removed by undressing. In performing the undressing, the attachment of the body, such as wigs and glasses must remove all. If the manpower is limited, mild patient who can walk has his own body wash himself. During decontamination, wash the whole body, including the hair using a large amount of water (slightly warm water as far as possible). Chemical agents with the skin shall be decontaminated as soon as possible. Even though it is very small, the chemical injury progresses rapidly with time. It is not a certain view about sewage treatment after decontamination. Usually chemical agents can be detoxified by a large amount of water. For patients who can move on their own from the scene of the accident, it is necessary to pay particular attention. In the Tokyo subway attack, the damage caused by secondary contamination also occurred in medical staff and emergency personnel as described above). For this reason, in order to protect the medical staff, decontamination of the patient is always taken into account. Decontamination stations must be established immediately in front of the emergency room entrance. Understanding for roles of staff and also decontamination procedures should be prepared from peacetime. In order to distinguish contaminated patients and decontaminated patients, and make a smooth decontamination, security guard shall be placed at decontamination post. Education about the use of protective clothing and basic knowledge are also necessary for security guards. Need to prepare for a plastic bag to put other clothing, contaminated, management of personal valuables, but also consideration of the patient's privacy. Hospitals which have some difficulties in response to mass chemical casualties such as limited facility for decontamination, small man-power for decontamination, and insufficient water in the winter, it should not be particular that the goal of decontamination is fully complete. Rough decontamination is permitted within the capacity of each hospital. Flexibility is required to prevent the spread of contamination, such as the use of hospital surgical gown separated by partition some of the exotic, as a change of clothes.
Stress Control
Response to chemical terrorism is extremely hard and tough. With protection from dangerous chemicals, first responders must rescue many victims. So counter-terrorism is a big burden physically and mentally. When the mission is completed early, it is necessary to understand the psychological state of health and first responder. Chemical agent is noted to have a delayed effect. In addition, loss of appetite and abnormal behavior due to excessive stress is observed carefully. Proper nutrition and rest are necessary, of course, in some circumstances incident stress debriefing is an effective means. It shall be to minimize the psychological damage of the first responder can be expected.
Stockpile
In the Tokyo subway attack, atropine was effective to treat to the poisoning patient by sarin. At that time, only 1000 ampoules were actually supplied while all demand for atropine was estimated 2800 ampoules. Pralidoxime iodide (PAM) was used for the moderate or severe poisoning. PAM was also seriously shortage as well as atropine. Atropine is usually had in a lot of medical institutions, because it is popular medicine for emergency. It was collected with the time passage from near medical institutions. The lifesaving rate would be improved more if there was enough supply in acute phase that many patients rushed to the hospital. Therefore, stockpile of medicine for treatment of chemical casualty is an essential problem not only for hospitals but also government. Even if a lot of medicines can not be newly introduced by budgetary reasons, it is effective to share the information about storage of medicine among each hospital. It is ideal if there is sufficient national stockpile. Efficient storage and supply for large amount of medicine should be considered in case of national stockpile.
Conclusion
This paper outlines the response to chemical terrorism. In chemical terrorism, rapid and precise reaction is expected. Therefore, it is necessary to suspect that the causative agent may be a chemical agent as a first step in the diagnosis. The probability of chemical terrorism is not so high. The terrorism is suddenly generated without expectation; therefore, it is important to maintain knowledge and technique by periodical training and education for an emergency. Preparedness and response for chemical terrorism can be also applied to transport accidents or leakage trouble of the chemical plant.
Author:
LTC. Yasumasa Nishiyama M.D., Ph.D.
Associate Professor
Department of Defense Medicine, National Defense Medical College
Date: 03/18/2019
Source: Medical Corps International Forum (2/2013)
Articles
Browse by category
Events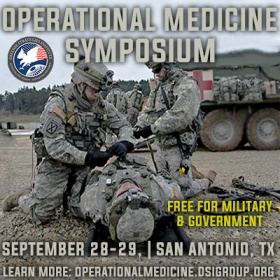 The 3rd Annual Operational Medicine Symposium will focus on DoD initiatives to enhance military medicine in an era of great power competition. This symposium will bring together highly regarded medical professionals from all services to discuss the practice of medicine in expeditionary environments.