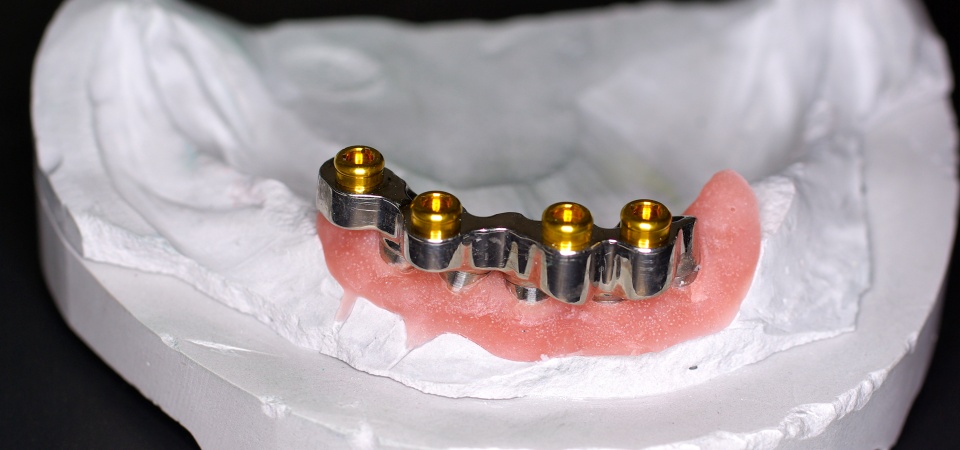 Report: M. LÜPKE, B. GREVEN (GERMANY)
Implant-supported Protheses: Current Practice in the German Armed Forces
During the last 37 years, insertion of enossal implants for the replacement of lost teeth and anchoring of dental prostheses has proven a safe and reliable procedure. It has been possible to demonstrate beyond doubt the dependability of the procedure through a large number of clinical studies throughout the world, and that dependability is generally acknowledged. In recognition of this, with a justified indication the provision of enossal implants also to soldiers of the German Armed Forces (Bundeswehr) is a tried-and-tested treatment option.The currently applicable guidelines will be presented in detail in the following article.
Introduction
In 2012, 4,494 enossal implants for soldiers of the Bundeswehr were inserted. In the Dental Service of the Bundeswehr, the by far most frequent form of implantological treatment in 2012 was the provision of an edentulous space by means of an individual implant and the subsequent fabrication of an implant-retained single crown. This treatment allowed to create a functionally and aesthetically fully adequate prosthesis without having to sacrifice the healthy tooth substance of the neighbouring teeth. The option of anchoring dental prostheses by way of enossal implants has significantly increased the possibilities for accurat treatment even under unfavourable anatomical preconditions. This applies primarily to the edentulous jaw where a dental prosthesis without enossal implants often only is possible with significant compromises due to the absence of anchoring options. When enossal implants are used, even with an edentulous jaw, both a fixed dental prosthesis and a removable denture can be produced, depending on the number and position of the implants. The fixed prosthesis does not always represent the best solution. Very good functional and aesthetic rehabilitation can also be achieved in cases of edentulism by means of a removable implant-retained dental prosthesis. And this can be achieved in a number of different ways. For long-term successful treatment, the exact fit of the prosthesis to the implants which is of decisive importance This can be achieved through a galvanic technique (like electroforming). In this article we shall examine in greater detail the provision of the edentulous jaw with implant-retained electroformed double crown prostheses. Due to the not inconsiderable costs of implant-retained prostheses, the use of enossal implants for soldiers of the Bundeswehr is subject to strict rules and guidelines. An implantation must always be preceded by a meticulous evaluation of the indication on the basis of a case-by-case decision made by the responsible higher-level authorities.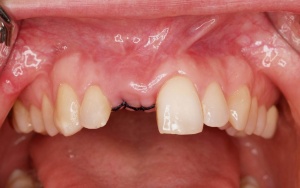 Only the orally healthy soldier is unreservedly deployable. Oral health e. g. also includes a properly functioning masticatory organ. Dysfunctions of the stomatognathic system can be caused by tooth loss. If extracted teeth are not replaced for a longer period of time, the elongation of antagonists and the tilting of neighbouring teeth resulint in a resultant disturbance of the occlusion are a possible consequence. Moreover, the missing chewing units may lead to a restricted masticatory function. If they are to maintain an unrestricted capability for deployment, the provision of implant-retained prostheses is therefore also possible for soldiers of the Bundeswehr. It should be noted that soldiers of the Bundeswehr have no fundamental right to dental-implantological treatment. This treatment does not form part of the free medical care provided by force medical officers (unentgeltliche truppenärztliche Versorgung [uTV]). However, if an indication for an implantation in accordance with the guidelines of the civilian medical societies is present, treatment paid for from federal funding may be provided on the basis of an individual case decision. Nonetheless, this requires certain prerequisites to be fulfilled and defined procedures to be followed. These shall be addressed below.
Basic information on treatment with enossal implants
Treatment concept and responsibilities
Treatment with enossal implants never takes place at the start of dental-prosthetic treatment. First, the preconditions for implantation must be created. In the first instance, these include a comprehensive analysis of the oral conditions including a periodontal assessment.(Fig. 3) Any existing pathological processes must be correspondingly treated. Particular attention should be paid to the treatment of periodontal diseases, since an implantation in periodontally compromised teeth gives rise to a significantly higher risk of inflammations of the peri-implant tissue.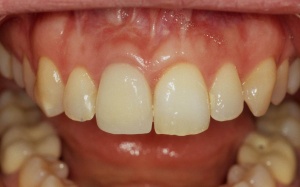 After approval by a consultant dentist, the soldier attends the implant consulting clinic at a military hospital or visits an oral surgeon. At the Hamburg Military Hospital, joint implant consulting clinics of the dental department and the department for oral and maxillofacial surgery are held once a week. They provide a joint assessment of the case for treatment in respect of the indication and the possibility in principle of an implantation. Close communication and consultation on the treatment between the implanting maxillofacial surgeon and the dentist responsible for dental-prosthetic work have very much proven their value. Recognised indications are, for example, edentulous spaces, the agenesis of teeth or an edentulous atrophied jaw. The implantation has to be approved by the higher level command authorities. On approval, the implantation is performed by a regional oral surgeon or a maxillofacial surgeon working at one of the military hospitals. As soldiers cannot be deployed for a number of weeks following an implantation, thislimitation must always be taken into consideration when planning treatment and appointments. This is particularly true in the case of planned deployments.
"Standard care" for soldiers of the Bundeswehr
The fabrication of the prosthesis is then carried out in the specialist medical centres of the military hospitals or by the force dental officer after the required healing period. The type of prosthesis is determined by a variety of parameters, including the number and position of the available implants. In 2012, 4,494 implants were provided by way of dental-prosthetic treatment to the soldiers of the Bundeswehr. With a share of 46 % (2,078 implants), the implant-retained single crowns made up the by far largest proportion of the total treatments. On approval of implantological-prosthetic treatment, the soldier has a claim under standard care. This treatment is free for the soldiers and includes the use of an alloy with reduced precious metal content as well as veneering with ceramic in the maxilla up to teeth 16 and 26 and in the mandible up to teeth 35 and 45. Alternatively, treatment with a high-gold alloy can be provided as standard care if the new treatment produces direct antagonist or proximal contact with an already existing high-gold alloy. A high-gold alloy is also used as standard care if a removable telescopic prosthesis is used. This is justified by a possible loss of friction when an alloy with reduced precious metal content is used in telescopic and conical crowns. If soldiers request the use of high-gold alloys or a veneering outside the regulation envelope they would have to bear the resultant additional costs for the alloying and laboratory production themselves. With a total of 142 implants, the implants for the treatment of the edentulous jaw only make up a relatively small proportion of the total treatments. However, the prosthesis that is then fabricated allows for many variants, is challenging in terms of treatment and, moreover, very expensive. We shall therefore examine this prosthesis in greater detail below.
Removable or fixed dental prosthesis?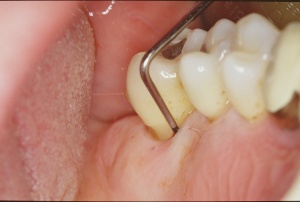 In the above-mentioned "Guidelines on the dental treatment of soldiers of the Bundeswehr" the principle is defined that "in particular in relation to deployment, treatment with a fixed dental prosthesis should always be the objective ....".This demand results from a number of benefits that can be offered by a fixed dental prosthesis. If there are unfavourable anatomical preconditions and an inadequate number of abutments that can be used for prostheses, a fixed dental prosthesis is, however, not always possible or does not always make sense. In these cases, the removable prosthesis may also be a meaningful alternative for the masticatory and aesthetic rehabilitation of the patient. This applies in particular to the edentulous jaw. A longer period of edentulism often leads to the advanced atrophy of hard and soft tissues, which can render the achievement of a satisfactory aesthetics and phonetics far more difficult. It is for this reason that with serious atrophy of the alveolar ridge, an augmentation is often required that involves demanding procedures and does not always lead to the desired success. To compensate for the maxillary resorption, a labial prosthetic support for the optimisation of the lip and facial profile may be required.
Large implant-retained bridges are normally firmly cemented and cannot therefore be removed. The fact that large fixed implant-retained structures cannot be removed can result in drawbacks, however, like producing far greater difficulties in carrying out necessary repairs or reshaping, e.g. when there is a fracture of the veneer. This aspect should not be disregarded particularly during deployment, since inadequate conditions may prevail and the optimal equipment may not always be available. Furthermore, in the case of large fixed implant-retained structures, the loss of one strategically important abutment alone may render the entire prosthesis dysfunctional. In this context, it must be mentioned that, for the fabrication of fixed structures in the edentulous jaw, at least six, and preferably eight or more implants should be incorporated. When producing removable implant-retained structures, however, while the highest possible number of implants and thus an ideal distribution of the burden should be the goal in principle, removable structures can be created with a smaller number of implants as compared to fixed structures. In times of limited financial resources, this aspect of economic efficiency should not be ignored. To prevent inflammations of the tissue near the implant that are very difficult to control, it is important that the patient controls his plaque efficiently, which in turn results in good accessibility of the tissue near the implant. This is substantially easier to achieve with a removable implant-retained dental prosthesis.
Removable structures
Removable implant-retained dental prostheses can be attached with a variety of anchoring elements (attachments). Simple attachments designed to ensure corresponding prosthesis retention may, for example, be ball abutments, locators or magnets. A standard anchoring element for removable implant-retained structures is bar attachments. They may be used as ready-made or individually milled structures.
A good hold between the bar and the friction element can be achieved through the design of long friction surfaces across one or more bar elements. With a corresponding support on a sufficient number of implants, the bar-retained dental prosthesis can be designed to be predominantly implant-retained. The implants feature a primary splinting by means of the bar. Nonetheless, with bar structures, as also with other long-span screwed structures, framework tensions resulting from manufacturing poor fit cannot be ruled out.
Double crown prostheses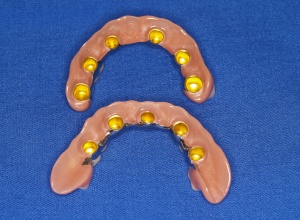 Double crown systems have for many years now been widely used in conventional prosthetics and can also be utilised as an anchoring element for implant-retained dental prostheses. They consist of an internal anchor (primary crown or abutment) and a secondary part, which is incorporated in and attached to the dental prosthesis. Double crowns are used in particular to attach removable bridges and prostheses. In comparison to other attachment systems, double crown prostheses primarily offer the option of easy extension when individual abutments are lost. Double crowns with parallel walls have been used for many decades in conventional partial prosthodontics. Here we can distinguish between cylindrical telescope crowns and conical crown systems. In the case of cylindrical telescopes, optimal adjustment of the pulling forces is difficult and technically extremely sensitive. Aditionally, the long guideways may already after a short time result in losses of adhesive force through wear. With the conical crown system, which was introduced later, the primary and secondary part can be separated with almost no friction, so that losses of adhesive strength are far less common and less pronounced in this system. Moreover, the conical crown system makes it possible e.g. to adjust the adhesive force more easily by selecting the angle of the cones (between 0 and 6 degrees). Double crown prostheses produced via electroforming are preferable for the provision of implants. With these structures, the benefits of removable structures can be combined with the improved fit of cemented frameworks through the intraoral adhesion of electroforming mesostructures. With a large enough number of implants and a favourable implant position, there is no need to cover the palate. This is appreciated by patients due to the greater comfort and the far smaller effect on the sense of taste.
Production of removable dental prosthetics by means of electroforming
Electroforming is a method in which, in a galvanisation process, metal ions are separated from an electrolyte solution on a cathode. This creates a plating of pure metal and thus the electroformed crown on the cathode surface.
For double crown prostheses, the primary crown or the primary abutment is always created on the cathode. Alongside the selection of gold and titanium as the material for the primary abutment, zirconium oxide is also used increasingly, although at present titanium is the least expensive option by far. Electroforming offers a number of advantages as compared to the conventional casting technique. As a number of clinical long-term studies have been able to demonstrate, the fit of dental prosthetics produced by means of electroforming is superior to that of the conventional casting technique. A further benefit offered by the process is the high level of biocompatibility of the electroforming gold, which is more than 99.9% pure. This prevents an occasionally arising bluish livid discolouring of the marginal gingival at the edge of conventional metal-ceramic crowns. Electroformed dental work can be produced with low material thicknesses of 0.2 to 0.4 mm which provides more than adequate space for an optimal layering of ceramic veneers. Thus with electroforming, conventionally cementable prosthetics with good aesthetic properties and excellent soft tissue integration can be produced.
In addition to the production of fixed dental prostheses, electroforming of this type can also be used to create double crown prostheses. Through the use of telescoping electroformed secondary parts, a reduction of fit-related tensions can be achieved if there is intraoral adhesion with the framework for the prosthesis.
The process makes it possible to produce outer telescopes with a precise fit and defined friction. As compared to conventional telescope or conical crowns, no time-consuming procedures are necessary to adjust the secondary parts so that they have the required retentive force.
The costs of such structures can be reduced substantially through the use of ready-made synthetic teeth. Nevertheless, an attractive aesthetic rehabilitation is possible through a corresponding individualisation of the artificial gingival parts and the prosthetic teeth.
Possible complications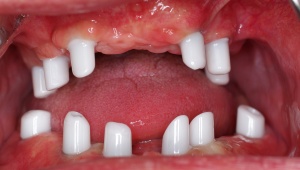 When examining the possible complications, we must distinguish between biological and prosthetic-technical complications. The biological complications include e. g. inflammations close to the implant in the sense of a peri-implantitis, which can lead to loss of the implant through bone resorption. In clinical studies and literature analyses regarding complications of implant-retained treatments, biological complication rates of the known magnitudes are always specified. For implant loss, these are 3% and for peri-implantitis 9% over a period of five years. While these biological complications arise with moderate frequency, the risk of technical and prosthetic complications was found to be much higher in this research. The risk of prosthetic complications such as retention loss, screw breakages or ceramic fractures over an observation period of five years reached values of up to 25 %. A large number of complications are possible that, however, vary significantly with regard to their possible effects on the proper functioning of the dental prosthesis.
Comparable prosthetic therapeutic procedures clearly lead to higher failure rates on implants than on natural teeth. Prosthetic complications can be experienced equally directly by patients and be equally relevant to them, such as peri-implantitis. Despite a regular osseointegration of the implants, they lead to an impairment of function and/or aesthetics of the dental prosthetic, often requiring repairs and new prosthetics. This costs time and money, and at worst can result in a patient losing confidence in the person treating him.
Poor fits
A precise fit is of decisive importance in the success of implant-retained dental prostheses. Badly fitting frameworks can transfer tensions to the implants, thus leading to biological and, above all, mechanical complications. The extent of these poor fits correlates directly with the occurrence of the loosening or fracturing of screws and prosthetic components. Imprecise fits may also be linked to an increased fracture rate for ceramic veneers. This is why the most exact fit possible should be the objective for an implant structure.
The precision of implant-retained suprastructures is determined both by the clinical and dental production process. In principle, an imprecise fit may result from the impression, model production, or framework production through to the ceramic veneer. A certain torsion of conventionally cast long-span implant structures thus appears to be inevitable. The tension resulting from poor fits can be still further amplified by an intensified attachment of screwed structures. To compensate for deviations between the framework and implant structure, the cementing of suprastructures to achieve a precise fit is therefore often recommended.
In this context, it is significant that conventional removable implant prostheses exhibit higher complication rates than fixed structures. A low-tension binding of the frameworks with the implants can be achieved through the intraoral adhesion of electroformed secondary crowns, similarly to with cementing. It is thus hoped that intraoral adhesion will bring about an improvement in the fit of dental prostheses and therefore a reduction in prosthetic complication rates.
Own follow-up research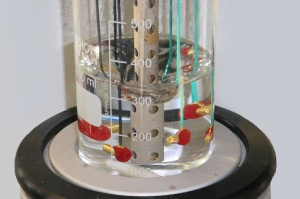 Electroformed double crown prostheses have been produced for a number of years for the treatment of edentulous jaws. To evaluate the success of the treatment, it was investigated as part of an MA dissertation of the co-author and analysed scientifically.
Without being able to go into all of the details of this research at this point, some individual findings will be addressed and discussed below. From the perspective of the Dental Service, it is, of course, of particular interest whether these complications led to an impairment of the soldier concerned during deployment.
Follow-ups were carried out for 28 patients with a total of 32 electroformed double crown prostheses. All prostheses were produced in the Specialist Dentistry Centre. For inclusion in the research, the following criteria had to be fulfilled:
- The provision of at least one completely edentulous jaw with a removable electroformed double crown prosthesis. A combination of implants and natural teeth was excluded.
- The prosthesis had to be supported on at least 4 implants.
- The implants and the prosthesis had to be connected solely via electroformed double crowns. An additional use of other attachments (e.g. bars, ball attachments) was excluded.
The structural principle of the electroformed double crowns had to be fulfilled. To achieve a uniform evaluation, only prostheses with gold primary crowns were examined in the research. Electroformed double prostheses with primary abutments made from zirconium oxide were disregarded.


Findings and discussion
At a value of 93.75 %, the electroformed double crown prostheses displayed a high survival rate. Nonetheless, prosthetic complications are not rarely occurring events, and in total 12 or 37.5 % of the prostheses exhibited one or more complications.
The total number of complications was 24. Of these complications, however, more than three quarters were classified as minor to moderately severe, and could be corrected by simple measures through a reworking of the prosthesis base or the synthetic teeth. Two prostheses (6.25 %) had to be rebuilt during the period under examination, one due to a framework fracture and one due to a loss of retention. These complications shall be examined in more detail below.
Framework fractures:
Only one prosthesis exhibited four framework fractures. With this prosthesis, four interforaminal implants with tooth positions up to the 7th chewing unit and a correspondingly long cantilever were provided in the mandible. For the casting of the framework, an alloy containing gold was used, which was clearly unable to provide sufficient resistance against the chewing pressure. To what extent casting defects may have led to the fracture cannot be determined, since the framework fractures were caused alio loco. These fourfold complications could very probably have been prevented through the use of adequately dimensioned non-precious metal alloy frameworks.
Loss of retention: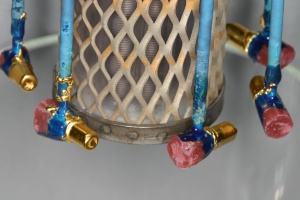 A loss of retention was exhibited by 4 prostheses, equivalent to 12.5 % of the 32 prostheses produced. Within the total of the complications that arose, retention loss accounted for 16.67 %. A factor, which might possibly have a negative effect on the frequency of retention losses, is a strategically unfavourable distribution of the implants. Two of the insufficiently retained prostheses displayed an imperfect tetragonal support. In one case, the positioning of the implants was rather linear (implants in region 13,12, 22, 23), while in the second case two implants were positioned directly next to each other and centrally. However, in this case it should be mentioned that the corresponding implants had been incorporated some years ago (before 2005), at a time when the use of surgical templates and 3D planning were not yet a generally recognised standard.
Suitability of electroformed double crown prostheses as treatment for deployment:
When examining the dental treatment of soldiers of the Bundeswehr, naturally it was always necessary to consider whether the respective treatment was also suitable for deployment and whether possibly a high complication rate or other aspects could render such treatment inappropriate for deployment. A severe prosthetic-technical complication, which can be properly resolved in the home country, can prove impossible to be resolved locally in Afghanistan. The most severe complication is the framework fracture, which generally leads to the dental prosthetic being no longer usable without repair. Among the patients investigated, this occurred a number of times for one type of prosthesis. The reasons for this have been set out. Comparisons with the literature show that in other studies the incidence of framework fractures among electroformed double crown prostheses is about 2.8% and thus similar to that of other forms of structure. The most frequent complication among conventional implant-retained overdentures with an incidence of about 30 % is the loss of retention. Together with clip and attachment losses (about17 %), the complication rate in relation to the retention mechanism is very high. By comparison, the checked electroformed double crown prostheses exhibit significantly better figures (retention loss 12.5 % and 16.67 % respectively). This overlaps with other research. Thanks to the recent progress in implantation insertion (e. g. 3D planning), the resulting more favourable position of implants should lead to a reduction in the incidence of retention loss. The complication rate for prosthetic-technical complications of electroformed double crowns thus appears to be at least equivalent when compared with other forms of treatment, and perhaps even better. At this point, it is necessary to draw special attention to one advantage of this treatment. As already mentioned elsewhere, the removability of the structure and the resulting very good access to the implant abutment make excellent oral hygiene possible. This is important particularly during deployment, since under the heavy burden of stress and more difficult conditions, a reduced quality of individual oral hygiene has to be assumed. It has been possible to demonstrate this in different studies. The fact that electroformed double crown prostheses can be cared for easily thus means that the removal of plaque is excellently supported.
Summary: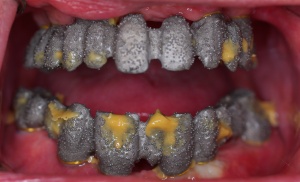 Treatment with implant-retained dental prostheses does not, in principle, form part of the free medical care provided by force medical offices. With a justified indication, however, soldiers of the Bundeswehr may receive implantological-prosthetic treatment on the basis of a case-by-case decision. Treatment with an implant-retained dental prosthesis is only meaningful within a treatment concept and it must be preceded by comprehensive diagnosis and analysis of the stomatognathic system. Treatment is initiated by the responsible force dental officer and, when he does not treat the patient himself, it must be coordinated by him. After approval, the soldier is entitled to free standard treatment. If his wishes go beyond this, he has to accept the additional costs of the dental prosthesis. By far the majority of treatments are implant-retained single crowns. The treatment of edentulous jaws constitutes a particular challenge. Here the described electroformed double crown prostheses have proven their worth. Thanks to the lowtension, the very good fit of the prosthesis, comparatively low complication rates for severe complications and the very good oral hygiene it allows, this treatment is the therapy of choice for soldiers of the Bundeswehr in cases of complete edentulism.
Author:
Lieutenant Colonel Dr. Michael Lüpke
Head of the Specialist Dental Centre
Hamburg Military Hospital
Date: 04/01/2019
Source: Medical Corps International Forum (4/2013)
Articles
Browse by category
Events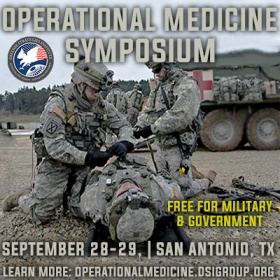 The 3rd Annual Operational Medicine Symposium will focus on DoD initiatives to enhance military medicine in an era of great power competition. This symposium will bring together highly regarded medical professionals from all services to discuss the practice of medicine in expeditionary environments.