Article: EUROPEAN MILITARY MEDICAL SERVICES (EMMS) 2019
Special Print 2019
We are pleased to present to you the announced 2nd edition of the EUROPEAN MILITARY MEDICAL SERVICES.
After the publication of the first edition last year, we received a lot of positive feedback for our decision to accompany the allied European Military Medical Services in their efforts to come closer together. This has further spurred us on, and now you can follow the current developments.
The Multinational Medical Coordination Center (MMCC) based in Koblenz has grown strongly since its foundation and has gained in importance. The MMCC will be a decisive element in the joint planning of contingents, deployment, joint training and possibly in future coordinated joint procurement of materials.
The task of designing the medical service of the future in close cooperation at the European level, as formulated in this document, has clearly picked up speed. Each of the participating nations is now finding points of contact and contributing its services individually to the focus on Europe.
This edition contains interviews with the Director of the Multinational Medical Coordination Center (MMCC), Brigadier General Dr Bruno Most, and with the French Surgeon General, Brigadier General LtGen Maryline Gygax Généro, talking about the achievements and the challenges ahead. Additionally, this edition offers articles on the multinational exercise "Vigorous Warrior 2019", the "Medical Table Top Exercises" and also five portraits of the new MMCC's members.
The MMCC extends constantly the European Military Medical Service and we will continue to accompany this process with the upcoming EMMS issue in 2020.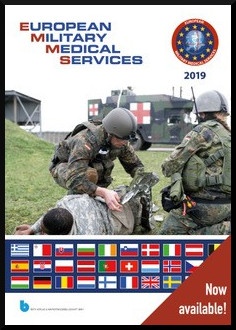 Date: 06/12/2019
Source: Beta Publishing