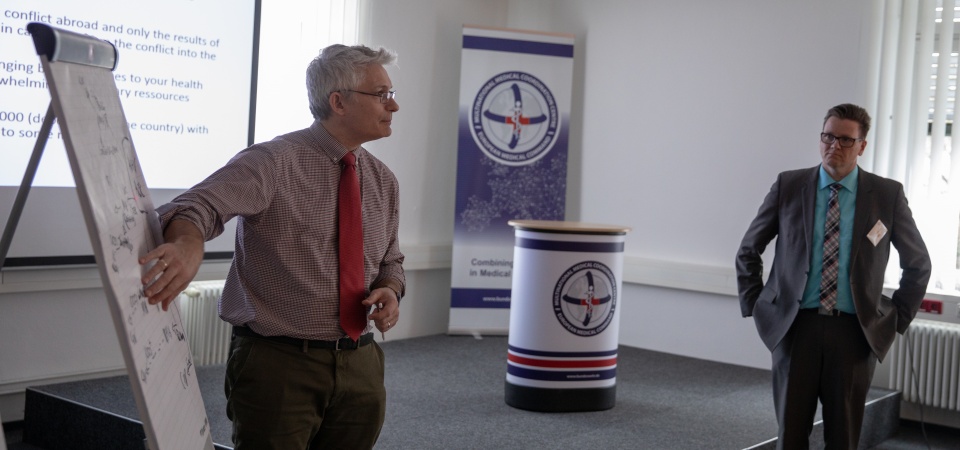 Article: Lieutenant Colonel Maren Kosak, MD
Multinational Civil-Military Cooperation
A workshop hosted by the MMCC/EMC
In early March 2020, shortly before the coronavirus crisis took hold of Germany, the Multinational Medical Coordination Centre/European Medical Command (MMCC/EMC) held a workshop on medical civil-military cooperation with a focus on major incidents with large numbers of injured or sick casualties.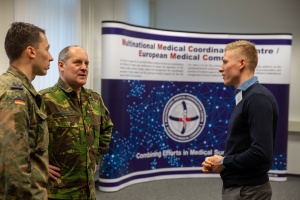 The workshop was held in cooperation with the Federal Office of Civil Protection and Disaster Assistance (BBK). Although some participants unfortunately had to cancel because of preparations for the developing coronavirus situation, participants and speakers from seven countries (BEL, DEU, FIN, GBR, HUN, ROU, USA) did attend and the workshop was a resounding success. In addition to the panel discussions that followed individual presentations, some topics were discussed in more depth in working groups. Participants discussed experiences and exchanged ideas on past and present incidents. The MMCC/EMC provides an ideal platform for this.
On the first day of the workshop, Dr Weber of the BBK presented the German system of civil protection and disaster assistance from the civilian perspective. Brigadier General (MC) Kowitz then presented the military perspective and the role of the MMCC/ EMC as a liaison element not just between military medical services in Europe but also between military medical services and civilian organisations and facilities. The highlight of the first day's presentations consisted of Adjudant-Majoor Jan Vaes (BEL) using his personal experience of the terrorist attacks in Brussels on 22 March 2016 to illustrate to the participants the medical challenges of major incidents. The lively discussion that followed highlighted the sometimes vastly different national organisational structures when it comes to civil-military cooperation. The general consensus was that we must be able to cooperate and take action not just nationally but across borders too. The participants unanimously agreed that multinational cooperation requires appropriate time to prepare as well as joint planning and exercises.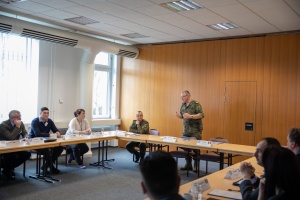 The concept of triage, where patients are categorised based on their immediate need for medical intervention, is a tremendous challenge not just in military medicine. As part of his scientific research for his doctoral thesis, Lieutenant Colonel Simon Horne(GBR) is examining the topic of civil-military cooperation in humanitarian emergencies. His very interesting presentation, entitled "Mass casualty management and a new look at triage", inspired a controversial and important discussion of triage systems. Building on this, the participants worked on the topic of "Preconditions and challenges of medical civil-military cooperation in major incidents" as part of a first group project phase. When the results were presented and discussed, one aspect emerged as particularly important: civil-military cooperation, be it national or multinational, requires coordination, both immediate and in routine duty. Participants were able to gather new insights and good results with regard to matters of medical resource management in the context of a major incident as well as in the context of national and collective defence. One conclusion was that a review of how planning can be used to reduce possible bottlenecks in intensive care is required. It was suggested that ventilator units be planned that require less highly qualified personnel to operate, which should then be trained for that task. When it comes to diagnostic radiology for trauma patients, planning a telemedicine network would increase capacities for diagnosis and assessment of CT scans. Patient flow should be controlled and managed to optimise the use of available capacities by diverting patients with minor injuries or diseases away from tertiary care hospitals. Such patient flow management requires a situational picture and centralised regional control mechanisms.
Although the coronavirus situation was not yet as pressing when the workshop was planned, outbreak scenarios in the event of an epidemic or pandemic were also discussed. How can we quickly and effectively respond together, what key positions must be staffed and what are the planning requirements? With his presentation on "Medical based hybrid threat scenarios", Mr Aleksi Aho (FIN) of the European Centre of Excellence for Countering Hybrid Threats initiated a discussion on epidemics, pandemics and hybrid threats, which could not be more topical in times of the coronavirus outbreak.
The challenges and ideas that emerged during the productive discussions were reviewed and fleshed out in the second and third group work phases on the last day of the workshop.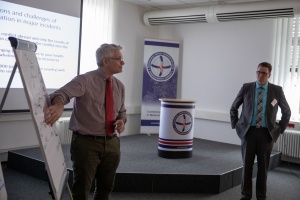 The two phases were respectively entitled "Medical civil-military cooperation: How to react quickly and efficiently to epidemics/ pandemics" and "Medical civil-military cooperation in cross-border incidents and hybrid threats: Essential stakeholders and planning requirements". The discussions surrounding the topic of triage already showed that participants not only considered organisation and medical aspects but also factored in ethical and moral considerations that we must be prepared for. A good example of such a challenge is that of the different expectations placed on the health care systems in the different countries, from the civilian and the military side and in the different starting situations. Cuts in military medical services over the past two decades as a result of the peace dividend after the end of the Cold War in particular have not been properly recognised in the civilian environment. This translates to false expectations in terms of the capacities and sustainability of the military medical services, which do not have extensive stockpiles. Personnel numbers and capabilities have been oriented towards and optimised for Non-Article 5 missions. Only since 2014, in the wake of the annexation of Crimea, have the military medical services reoriented their capability spectrum towards preparing for greater numbers of wounded, injured and sick patients. This process of reorientation has only just begun and will take years and sufficient financial resources to complete. It was already becoming apparent during the workshop that the number of coronavirus cases in Europe would soon increase dramatically. The workshop programme was thus streamlined and instead refocused on preparing for the looming coronavirus crisis / pandemic. In organisational and medical terms, the workshop participants agreed that certain medical and medicinal products would have to be stockpiled once more, not just at a national level but also in a coordinated multinational effort, for example at EU level. Quarantine systems and concepts must be developed and the participants agreed once more that the individual stakeholders and concerned parties need coordination in routine duty. As one participant aptly noted: "Efficiency comes from standardisation and communication."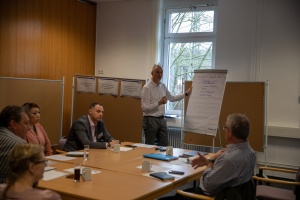 Besides many detailed and specific results and conclusions of this workshop, the bottom line is that – be it in the face of coronavirus, ebola or the attacks in Paris, Brussels and Berlin – nationally available medical resources may be insufficient for dealing with great numbers of sick or injured patients in a short time. Accidents or disasters with a cross-border impact are also a realistic scenario. Multinational civil-military cooperation in this context is thus particularly important. Through multinational coordination, based on joint planning and exercises, all military and civilian medical service providers can contribute their strengths to an overarching system to ensure best practice in providing medical care for sick and injured patients.
Finally, we – the MMC/EMC and the BBK – felt it was important that the workshop participants formulate the next steps and goals for working in this field. All participants agreed that not only the results of the workshop but also best practices and operational lessons learned from the current coronavirus situation should be incorporated. The MMCC/EMC in cooperation with the European Centre of Excellence for Countering Hybrid Threats and the BBK will conduct a relevant table-top exercise in order to operationalise initial theoretical approaches.
Date: 08/06/2020
Source: European Military Medical Services 2020