Article: Brigadier General Dr. Stefan Kowitz, MC
"The 7th domain of warfare"
First observations of the COVID-19 pandemic
In the NATO Prague Summit Declaration (2002), the Heads of State and Government announced their commitment to fully implement the Civil Emergency Planning (CEP) Action Plan for the improvement of civil preparedness against possible attacks on the civilian population with chemical, biological or radiological (CBR) agents. Additionally, they endorsed the implementation of five nuclear, biological and chemical weapons defence initiatives, which will enhance the Alliance's defence capabilities against weapons of mass destruction. One of the five initiatives was the development of a disease surveillance system.
In 2003, the French and German Medical Services developed and tested a multinational medical surveillance system under the leadership of NATO Allied Command Transformation (ACT). Based on a series of successful multinational exercises, the creation of a permanent multinational Deployment Health Surveillance Capability (DHSC) structure was requested by ACT and the COMEDS Force Health Protection Working Group. In January 2010, a multinational DHSC branch was implemented at the German Federal Armed Forces Medical Office in Munich. In the following year, this branch was integrated as a satellite unit into the NATO Centre of Excellence for Military Medicine in Budapest (Hungary).
Since the last quarter of the 20th century, humankind has experienced various emerging infectious diseases. These diseases have developed as a result of the interaction between people and animals. Deforestation forces animals to live closer to human populations. In addition, living spaces that are shared by people and farm animals have resulted in an increase in the number and spread of these new human infections. Up to two-thirds of emerging infections originate from wild and/or domestic animals. These are infectious diseases that are newly identified and caused by previously unknown infectious agents. They lead to public health problems either locally, nationally, or internationally. The most recent examples are the 2003 SARS outbreak, the 2009 H1N1 influenza pandemic, the 2014 Ebola outbreak, and the 2016 Zika outbreak.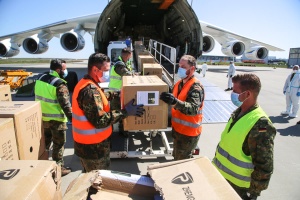 The Prague Summit (2002) and the Chicago Summit (2010) did not consider the specific challenges associated with naturally occurring epidemics. After the Ebola epidemic, the NATO nations did not decide to widen their planning scope to include communicable disease threats. NATO biodefence capability development is mainly focused on biological agents that can be weaponised or used for bioterrorist purposes. In 2016, The European Union Global Strategy acknowledged the necessity of change – "on health – we will work for more effective prevention, detection and responses to global pandemics". The Ebola outbreak in West Africa and the current COVID-19 pandemic have demonstrated that health crises can pose threats to the stability of entire states, regions and ultimately the world. Such a health crisis has severe negative effects on the international economy and security. This shows that preparedness only for responding to the consequences of man-made biological agents is not sufficient.
The medical services of armed forces have assisted civilian health care providers to the greatest extent possible during the COVID-19 pandemic.
The first actions and responses of the armed forces' medical services to support civilian healthcare systems were realised in the following areas:
• Medical staff from the armed forces were assigned to assist civilian hospitals.
• Medical equipment of the armed forces was handed over to civilian hospitals.
• Military hospitals increased their capacity for COVID-19 patients in support of the civilian health care system – reinforced with reservists, active personnel, and equipment from medical units.
• Field hospitals and hospital ships were set up in the most affected areas to treat COVID-19 patients or to help the overwhelmed health care systems to treat non-coronavirus medical cases in order to ease the flow of patients into civilian hospitals.
• Support for the treatment of less critical COVID-19 cases with medical personnel and equipment and for quarantine wards.
• Treatment of ICU COVID-19 patients from other countries in military hospitals.
• Donation of medical equipment to other countries.
• Provision of personnel and equipment for coronavirus testing stations ("drive-in" testing stations).
• Medical personnel from the armed forces were assigned to the Ministries of Health and the Interior as liaison officers.
• Fixed-wing / rotary-wing medical evacuation of intensive- care COVID-19 patients in their respective countries or to other countries.
• Provision of medical personnel for the implementation of public health policies.
• Provision of military advice on establishing centralised patient flow management structures in various countries.
The COVID-19 pandemic has confronted the medical community with a new virus. For this reason, testing capabilities were not available at the beginning of the epidemic/pandemic and had to be developed, which took some time. Military institutes have in some cases been the first institutions to test COVID-19 with reverse transcription polymerase chain reaction (RT-PCR). It took time for this testing capability to be integrated into medical treatment facilities, especially for missions abroad.
There are thus far no signs that the involvement of medical services of armed forces in their home countries has had a negative effect on medical support for ongoing missions and for standby high-readiness forces. Isolation and quarantine before a mission as well as the earliest possible repatriation of personnel who are suspected of having or confirmed to be infected with the COVID-19 virus are the most common measures for preventing the virus from spreading to mission contingents. Some nations have extended their rotation cycles for mission personnel. Several nations are using military (medical) personnel such as dental assistants and even regular soldiers to assist healthcare providers. For pandemics and other medical crises, it would be conceivable to have trained non-medical personnel in a secondary role outside their normal scope of practice.
The civil society has not properly recognised the significant cuts in military medical services over the past two decades - as a result of the global economic crisis and the peace dividends after the end of the Cold War. This has led in part to false expectations of capacities and the sustainability of military medical services, which no longer have extensive medical stockpiles or stockpiled field hospitals and have reduced numbers of personnel and limited or no capacity to produce pharmaceuticals. Personnel figures and capabilities of the military medical services have been oriented towards and optimised for non-Article 5 missions. Additionally, civil protection agencies in most of the countries have reduced their equipment, capabilities and capacities in recent decades. Therefore, most nations have experienced supply shortages. National and multinational coordination has attempted to mitigate this.
Depending on the epidemiological situation in each country, the COVID-19 pandemic has stretched some military medical services to their limits. Known and reported shortfalls in the sustainability of military medical services and in medical personnel, equipment, and stockpiles for such a crisis have become apparent again. "COVID-19 represents an unprecedented challenge to our nations. It has a profound impact on our people and our economies. The challenges posed by COVID-19 know no borders. And we are stronger and safer when we work with our partners" (J. Stoltenberg, Secretary General of NATO).
"Given the way the EU is set up, it was not surprising that national decisions prevailed at the very beginning of the crisis. Health has been a national responsibility and the capacity for rapid, executive action is much greater at the national level than the Europe level. The COVID-19 emergency cannot be solved within one country, or by going it alone" (J. Borrell, High Representative of the Union for Foreign Affairs and Security Policy).
As underlined by the Secretary General and the High Representative, only by pulling together and cooperating across borders can we beat this virus and contain its consequences. This pandemic now demands more multinational solutions.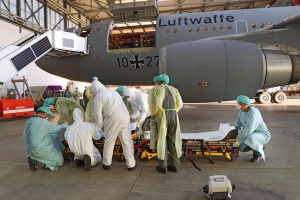 As a young organisation, the Multinational Medical Coordination Centre / European Medical Command (MMCC/EMC) will offer more prioritised support for coordinated international medical response and cooperation. The crisis has shown that our nations have been resilient to a certain extent but can be even more resilient if united. MMCC/EMC will provide situational awareness and a common operational medical picture. For a future pandemic response, we will require contingency planning and innovative stockpiling solutions, which MMCC/EMC will support with stockpiling concepts and lists and will define possible surge capabilities. MMCC/EMC will use best practices identified during the COVID-19 pandemic for scenario development in pandemic wargaming including hybrid threats that can severely threaten health care services. With such wargaming, MMCC/EMC will test, practice, and disseminate national, EU and NATO procedures for responding to and dealing with epidemics and pandemics.
One of the negative experiences with Ebola and now with the COVID-19 pandemic has been the lack of multinational coordinated medical intelligence and information. MMCC/EMC will support medical intelligence, information collection and analysis in future when the first indicators of an outbreak appear.
At the 2016 Summit in Warsaw, Allied leaders agreed on seven baseline requirements for national resilience against which member states can measure their level of preparedness. The only direct medical-related baseline requirement – the ability to deal with mass casualties – does not cover the entire spectrum of future medical needs. Especially the current COVID-19 pandemic and other healthcare-centred crises have identified the urgent need for an additional or adapted resilience baseline requirement. This requirement for bio defence would range from traditional public health-oriented goals such as having systems of surveillance, detection, and diagnostic testing capabilities to rapid response to infectious disease threats.
The nexus between health and security in an increasingly interconnected and interdependent world makes medical preparedness more important. Biohazard events, especially naturally occurring ones, call for a comprehensive response across organisations – and the speed of this response is of paramount importance. Admiral J. Foggo, Commander of the Allied Joint Force Command in Naples, "is opining now about a seventh domain, and that seventh domain is just simply germs". From the perspective of the medical community, this is an excellent idea. This so-called "7th domain of warfare" should be seen in the context of biothreats, including communicable diseases, as well as more generally in connection with the health domain. Additionally, political leaders must be asked to increase investments in their military medical services so that they can secure the appropriate financial resources in the short term.
As Colonel M. Rogg postulates, "learning with and from the crisis means giving more strategic consideration to 'global health and security' in the future. This topic must become the centre of our attention — it must be the focus of our foreign and security policy and, thus, also of the armed forces."
Evolving our concepts and organisations to meet future threats in this "7th domain of warfare" must be a priority and should be realised as soon as possible.
Date: 07/23/2020
Source: European Military Medical Services 2020