Article: Rico Maderthoner Commander j.g. (OF-3) DEU Navy
M3-EPS: A Surge Capacity Concept for Pandemics and Crises
Summary

The Multinational Medical Coordination Centre / European Medical Command (MMCC/EMC) in Koblenz has responded to the challenges of the global COVID-19 pandemic by developing a comprehensive modular concept for dealing with pandemics and crises. This concept comprises a total of seven modules, some of which can function independently, others only in groups. It was prepared at the request of NATO's Euro-Atlantic Disaster Response Coordination Centre (EADRCC) and was further developed
and refined during the German EU Council Presidency as a
European Medical Cooperation 2.0 project. The objective was to improve the response to epidemics and pandemics.
The COVID-19 pandemic has shown that stockpiles of medical material and supplies can increase the responsiveness and resilience of civilian and military health care systems. This concept is called "Military Modular Multipurpose Epidemic/Pandemic Stockpiling" (M3-EPS). It has been used to ensure the rapid material support of military medical facilities on operations, most recently
for EU Battle Group II/2020. At the same time, the various modular and rapidly deployable standard packages have been further harmonised with MMCC/EMC nations. Keywords: COVID-19, M3-EPS, MMCC/EMC, pandemic
Introduction
In late 2019, severe acute respiratory syndrome coronavirus 2 was first identified and has since led to the ongoing global COVID-19 pandemic. This pandemic has highlighted the lack of rapidly deployable reinforcement elements and systems as well as the benefits of stockpiles of medical equipment. A differentiation must be made between non-expendable medical supplies (i.e. medical devices1) and individually issued expendable medical supplies. The need for both expendable and non-expendable medical supplies could not be sufficiently satisfied in all areas as manufacturing nowadays is based on just-in-time practices without contingency stockpiling.
Production losses and market contractions as well as the concentration of production facilities in countries outside of Europe have in recent years frequently led to supply shortages across Europe for various drugs (including antibiotics, cytostatic agents, and vaccines). What is more, the pressure to reduce costs has in recent years led to a considerable reduction in civilian and military stockpiles of medical materials, including non-expendable medical supplies, in favour of just-in-time production.
The COVID-19 pandemic has led to an increased awareness among policymakers and the general public of pandemic and epidemic threat scenarios and their consequences.
In response to the rapid spread of COVID-19, the World Health Organization (WHO) and the Robert Koch Institute (RKI) made recommendations for improving preparations for further possible waves of COVID-19. In addition, the European Commission announced the creation of the rescEU strategic stockpile of medical equipment. (2)
The mission of the Multinational Medical Coordination Centre / European Medical Command is to support the medical services of NATO and the EU by coordinating medical capability development. One of the lessons learned in the management of major incidents, the Ebola crisis, and the current pandemic is that public health is becoming increasingly important for external and internal security.
As part of its programme of work, the MMCC/EMC was tasked in the spring of 2020 with improving cooperation between medical services and with enhancing their responsiveness so that they are better prepared for possible further COVID-19 waves, which may occur in combination with a seasonal flu epidemic.
In April 2020, the MMCC/EMC was asked by the Euro-Atlantic Disaster Response Coordination Centre (EADRCC) of NATO Headquarters in Brussels to quickly develop a concept for military medical stockpiling. This is the basis for the NATO Pandemic Response Trust Fund. Many nations have contributed financial resources and material to the trust fund on the basis of this concept. The NATO Support and Procurement Agency (NSPA) is responsible for managing the purchase and storage of trust fund items. The NATO Euro-Atlantic Disaster Response Coordination Centre helps coordinate requests for assistance from countries. In October and November 2020, the NATO member states Albania, Montenegro and North Macedonia received ventilators and medical supplies with a total value of €1.5 million.
The purpose of the M3-EPS concept developed by the MMCC/EMC is to maintain limited stockpiles to ensure surge capacity in the event of a critical development such as the COVID-19 pandemic.
The objective is to learn from the current COVID-19 pandemic so that medical services are more effectively and efficiently prepared for future epidemics and pandemics and are able to respond quickly. Rapidly deployable and modular standard packages with expendable and non-expendable medical materials are to be identified and defined for stockpiling. At the same time, the stockpiling efforts of the medical services must be supported.
Three Phases of Development
The concept was developed in three phases:
• Phase 1: The response capability of medical forces of the multinational EU Battlegroup 2020-2 (EU-BG-2020-2) will be improved for deployment with a modular initial COVID-19 capability (focusing on self-protection) to manage the COVID-19 pandemic or a local COVID-19 outbreak.
• Phase 2: The various modular, rapidly deployable standard packages will be harmonised with the nations participating in the MMCC/EMC and – wherever possible – will be aligned with comparable stockpiling preparations of the military and civilian bodies of NATO and the EU.
• Phase 3: A multinational concept will be developed which can be used not only for deployments to manage COVID-19 but also for other infectious diseases (those caused by other pathogens).
The modular standard packages can be used to support military medical facilities in international missions, to help hospitals in Germany and the EU, and to provide assistance, including administrative support, in theatres of operation. The concept includes a calculator that is used to compute costs, storage space, and personnel requirements for each module. The calculator uses defined parameters to generate a list of generic names for essential expendable and non-expendable medical material. This list helps users determine and procure what is actually needed.
Modules
One aspect of how we can better meet the challenges of future pandemics and epidemics is the stockpiling of medicinal products, medical devices and medical equipment for specific purposes.
As M3-EPS has been developed as a surge-capacity concept for crises, it thus prioritises material from volatile supply chains. Commercially available articles whose supply is guaranteed are not given special consideration.
Appropriate modules have thus been created which can assist in the fight against pandemics. One of the lessons learned in the first wave of the COVID-19 pandemic is that such modules represent critical resources.
The M3-EPS comprises a total of seven modules, some of which can function independently, others only in groups. (See Fig. 1). The modules can be employed to supplement medical treatment facilities and/or can build on existing medical infrastructure. Three modules (A, C and D) require a functioning supply infrastructure and cannot be operated independently. With its expendable medical material, module G only requires suitable infrastructure. Module E can be employed independently.
In accordance with its objective, each module contains expendable and non-expendable medical material required specifically for a COVID-19 epidemic/pandemic.
The modules can also be used for epidemics and pandemics caused by other droplet infections.
The modules do not ensure the supply of, for example, electricity, water, compressed air, oxygen, and other goods and media that are required for continuous operation. Infrastructure for the disposal of material is also not included in the modules.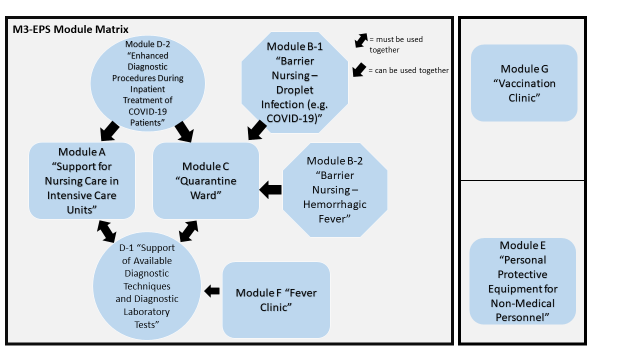 | | |
| --- | --- |
| Modulmatrix M3-EPS | M3-EPS module matrix |
| = müssen miteinander verwendet werden | = must be used together |
| = können miteinander verwendet werden | = can be used together |
| Modul A "Unterstützung Intensivpflege auf Intensivstationen" | Module A – Support for Nursing in Intensive Care Units |
| Modul B-1 "Barrier-Nursing durch Tröpfcheninfektion (wie COVID-19)" | Module B-1 – Isolation Nursing for Droplet Infection (e.g. COVID-19) |
| Modul B-2 "Barrier-Nursing bei hämorrhagischem Fieber" | Module B-2 – Isolation Nursing for Haemorrhagic Fever |
| Modul C "Pflegestation COVID-19 / Quarantäne" | Module C – Quarantine Nursing Unit |
| Modul D-1 "Unterstützung bestehender Diagnostik und Labor" | D-1 – Support for Existing (Laboratory) Diagnostic Units |
| Modul D-2 "Erweiterte Diagnostik bei Stationäre Behandlung COVID-19" | Module D-2 – Additional Diagnostics in COVID-19 Inpatient Treatment |
| Modul E "PSA für Nicht-Sanitätspersonal" | Module E – PPE for Non-Medical Personnel |
| Modul F "Fieberambulanz" | Module F – Fever/Testing Clinic |
| Modul G "Impfambulanz" | Module G – Vaccination Clinic |
Module A – Support for Nursing in Intensive Care Units
Module A must be supported by the capabilities of modules D-1 and D-2. It can be used to upgrade parts of a nursing unit to an intensive care unit or to expand or enhance an existing intensive care unit. This module features complex active medical devices as well as necessary medicinal products including anaesthetics and analgesics for treating intensive care patients. This principle of expanding the intensive care capacities of a hospital has been successfully practiced in recent months by the German and French medical services.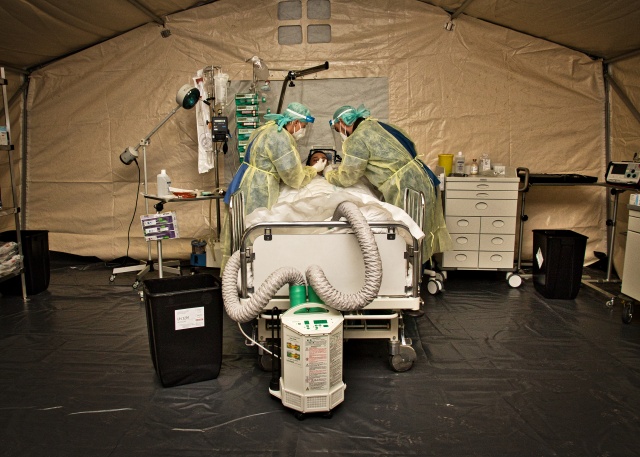 Module B – Isolation Nursing
B-1 – Isolation Nursing for Droplet Infection
Module B-1 allows staff to provide medical care for non-intensive care patients, including those with COVID-19. The module includes not only hospital hygiene supplies and personal protective equipment (PPE) but also containers for safe waste disposal (further disposal methods must be ensured through the infrastructure supplied) as well as a sluice room through which to access the area in which infectious patients are being cared for. Module B-1 does not include dedicated personnel as it is a set of additional isolation nursing equipment for existing nursing units.
B-2 – Isolation Nursing for Haemorrhagic Fever
Module B-2 allows staff to provide medical care for non-intensive care patients at a significantly higher level of protection for the medical personnel.
Module C – Quarantine Nursing Unit
Module C is intended for patients with mild to moderate conditions as well as those who require hospitalisation. It includes essential equipment for a makeshift emergency nursing unit to be incorporated into existing infrastructure. The module relies on logistic support and supply from a suitable nearby medical care facility. In the event of an infectious scenario such as the COVID-19 pandemic, it can only be operated in combination with module B-1. In case of haemorrhagic fever, module B-1 must be replaced with module B-2.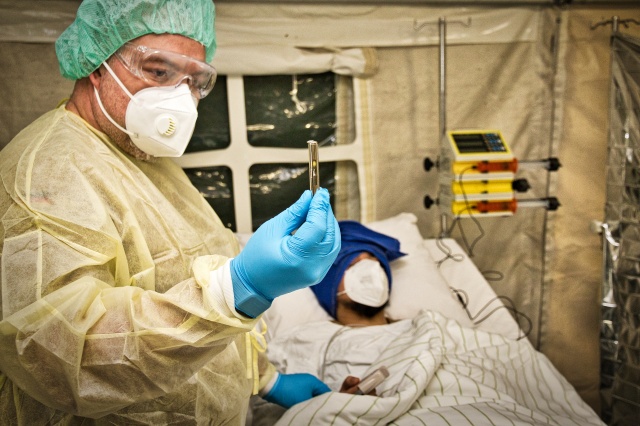 Module D-1 – COVID-19 Diagnostics
Support for Existing (Laboratory) Diagnostic Units
Module D-1 includes equipment for analysing samples for the diagnosis of, for example, COVID-19. Integrating this material into laboratory units such as a microbiological field laboratory or a biochemistry field laboratory in a Role 2/2E medical treatment facility (MTF) increases the efficiency of laboratory work and the resulting sample throughput under the appropriate conditions (laminar flow hood).
Telemedicine facilitates the specialist supervision and advice of field laboratories. This setup makes expertise available wherever it is needed without the expert having to be physically present. It is equivalent to the mobile elements of telemicrobiology and has become an indispensable tool for laboratories on deployments abroad. In the context of the COVID-19 pandemic, for example, new testing methods and systems for diagnosing COVID-19 were implemented quickly with telemedical support. Since subsequent waves of COVID-19 can occur simultaneously with seasonal flu infections, laboratory testing should cover flu viruses (and other respiratory pathogens) in addition to COVID-19.
Module D-2 – Additional Diagnostics in COVID-19 Inpatient Treatment
Module D-2 includes additional diagnostic equipment such as 12- lead ECG and ultrasound units for diagnostic imaging. Because module D-2 is considered a classic equipment pool, it does not include dedicated specialist personnel.
Module E – PPE for Non-Medical Personnel
Module E includes supplies of PPE and disinfectants to be issued to mission-relevant non-medical personnel. The module can be used on its own. Since not all members of the mission have the same requirements, there are two categories of users: non-medical personnel with increased requirements for greater amounts of "PPE for non-medical personnel" and non-medical personnel with reduced requirements for smaller amounts of "PPE for non-medical personnel". Hundreds of pallets of material must be stockpiled in order to maintain the mission while upholding pandemic-related protection measures. Appropriate disposal of contaminated individually issued expendable supplies has also been factored into the M3-EPS concept.
Module F – Fever/Testing Clinic
Module F covers the requirements of an outpatient testing station and depends on available infrastructure and incorporation into a diagnostic facility that includes the module D-1 capability. As an alternative, however, this unit can also be equipped with a mobile laboratory device.
Module G – Vaccination Clinic
As soon as enough vaccines are available, a large number of people will quickly have to be vaccinated by qualified personnel. This will require large amounts of expendable materials and single-use equipment.
Module G meets this demand by including the necessary supplies for a vaccination clinic. It depends on available infrastructure. One team can consist of 16 people: two physicians specialised in general medicine, ten qualified medical assistants or nurses or independent medics as well as four assistants with basic medical skills, such as general and speciality nursing assistants.
Basis for calculating personnel requirements
The potential number of personnel required for the individual modules has been calculated. The assumption for this calculation was that modules A, C and D-1 will be operated in three eighthour shifts per day. Shifts in module B-2 will only be six hours long to account for the particular challenges of working there. Shifts in modules F and G will be twelve hours long with two shifts per day. In crisis scenarios, shifts can be extended to two shifts of twelve hours per day or reduced to six hours to account for personal protective measures.
Calculator
The calculator is an important part of the M3-EPS concept and can quickly and effectively calculate the required amounts of material and personnel.
MMCC/EMC has developed a calculator based on Microsoft Excel to calculate the required numbers in terms of material, equipment and personnel. It is designed to be simple to use on a variety of IT platforms.
The calculator features an interface for entering operational variables which then outputs the required amounts of material and numbers of personnel. Products can only be added/amended in cooperation with the MMCC/EMC in order to prevent potential damage to some of the complex calculation formulae.
Because of the diversity of deployments, the results of the calculator can only provide an overview of needs and not an absolute definition of requirements. Final calculations of material and personnel requirements can be made based on the specifics of the mission in question.
The calculated amounts of material required must be reviewed and modified based on manufacturer specifications and medical guidelines. The figures provided by the calculator are mere reference points (particularly personnel numbers) and can be used as a basis for mission-specific planning and calculations in consultation with the MMCC/EMC.
Procurement
Initial operating capability for the German-led EU-BG-2020-2 was established based on available stockpiles of the Bundeswehr Medical Service. A range of options must be reviewed for materiel build-up in later phases. These options include externally procured services as well as third-party services through agencies (EDA/OCCAR/NSPA).
The choice of process will be affected by a number of factors, chief among them the availability of budgetary funds and the timely availability of the material and adequate storage space. Procuring base materials for the military production of pharmaceutical products could help to manage bottlenecks if certified and licensed production facilities for pharmaceutical products are available.
Quick and uniform procurement processes without predatory competition between EU states are required in order to save time. This will also facilitate frictionless mutual support as well as coordinated transfers to third parties.
Stockpiling / Storage / Transport
Another challenging aspect is that both military and civilian medical facilities and organisations have over the last three years reduced their stockpiles and that relevant infrastructure has been lost.
The correct storage and transport, particularly air transport, of material – some of which is highly sensitive – are not part of this concept. They have been thoroughly established in other applicable regulations concerning logistics management and transport of expendable and non-expendable medical supplies. The planning required for transport from the storage location to the airport of dispatch and within theatre is reflected in other established documents.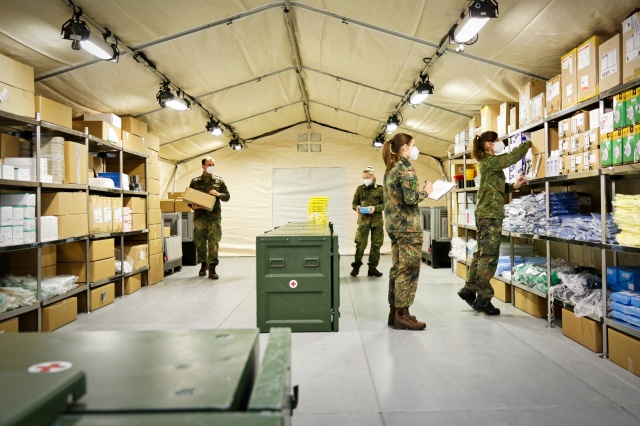 Storage Period and Subsequent Use
Since the range of products in storage often includes non-military items, the majority of expendable medical supplies can be returned to the medical services (stock rotation) or the civilian product lifecycle wherever possible. They can also be used in the context of disaster relief or transferred to humanitarian aid causes. The timeframes for storage and subsequent use must be determined at the beginning of the project on the basis of potentially limited periods of usability. The expendable medical supplies in question mostly have a standard period of usability of a maximum of 18 to 24 months.
Active medical devices are somewhat more challenging as they are subject to mandatory scheduled maintenance standards that can be very material-intensive. The stockpiles of the different modules are also subject to regular inspections, both in terms of numbers and condition. Transfer of these products outside the territory covered by EU directives on medical devices requires that all relevant regulations are thoroughly reviewed. To ensure the safety of patients as well as users and third parties as much as possible, personnel must be appropriately instructed on the use of these often highly complex medical devices. Products that cannot be made available to the public, such as antidotes against chemical warfare agents, should be validated by military pharmacies in order to extend storage and usability periods, if possible.
Conclusion and Outlook
The ongoing pandemic has highlighted not just the lack of and need for emergency elements / systems that can be deployed easily and quickly but also the benefits of stockpiling medical supplies. The goal of the M3-EPS concept is to increase the medical resilience of the European nations and NATO member states. The project also serves to actively highlight the increasingly close connections and interdependences with the civilian health care system. This increasingly contributes to the positive perception of the solidarity between nations when it comes to this issue. The military medical services should not take on tasks of civilian agencies responsible for medical civil protection, however. Harmonising the stockpiling and resilience-building efforts of the civilian and military health care systems, however, is a positive and productive effort to put both systems in a position to better support each other in a crisis. As part of civil-military cooperation, the MMCC/EMC aims to make an important contribution to such efforts.
The common goal is to develop and maintain easily deployable medical surge capacities through innovative stockpiling in order to be better prepared for future epidemics and pandemics. In recent years, priority access to and stockpiling of medical supplies has been drastically reduced in order to cut costs. In the course of further concept development, options and opportunities for multinational, standardised pre-positioning can be analysed. Binational and multinational warehousing solutions may also be reviewed. Stockpiling as part of preparing for a pandemic as per the M3-EPS concept also requires considerably greater resources. The concept has already been shared with NATO and the EU as well as their member states, and modules have been planned based on those established by the MMCC/EMC. The M3-EPS project and its implementation can supplement these multinational modules. Any potential duplications are uncritical since all modules can be used independently and, if necessary, can become all the more effective when combined.
Initial procurements for NATO and the EU have already been implemented based on this concept.
---
1 'Medical device' means any instrument, apparatus, appliance, software, material or other article, whether used alone or in combination, including the software intended by its manufacturer to be used specifically for diagnostic and/or therapeutic purposes and necessary for its proper application, intended by the manufacturer to be used for human beings for the purpose of:
a) diagnosis, prevention, monitoring, treatment or alleviation of disease,
b) diagnosis, monitoring, treatment, alleviation of or compensation for an injury or handicap,
c) investigation, replacement or modification of the anatomy or of a physiological process,
d) control of conception, and which does not achieve its principal intended action in or on the human body by pharmacological, immunological or metabolic means, but which may be assisted in its function by such means.
Date: 11/23/2021
Source: EMMS 2021