Advertorial: ZOLL Medical Corporation
OUR MISSION SUPPORTS YOUR MISSION
For more than 25 years, ZOLL® has been a trusted partner in delivering acute critical care technologies to the military. We understand the challenges that your missions bring. That's why, as a leading global medical device company, we are dedicated to supporting military medical providers and protecting our soldiers. We don't take the term "partnership" lightly – we work with you every day to earn your trust.
Designing Products Specifically for Military Medical Services
Difficult terrain and extreme climatic conditions such as rain, heat, and cold are only a few of the challenges you routinely deal with in the field. You can't choose your area of operation, so your equipment must be suitable and field-tested for all situations.
Helping to Improve Your Clinical Outcomes and Operational Efficiencies
Our superior resuscitation and critical care technologies primarily help to improve clinical outcomes for wounded soldiers. Because we understand that treatment and care during deployment and operational missions cannot compare to that in the civilian prehospital setting, we focus on ensuring that our products and solutions help improve your operational efficiency.
Understanding the Logistical Needs for Your Operational Readiness
As a leading global medical device company, ZOLL not only delivers equipment and consumables quickly and reliably, but we also work with you to develop and implement solutions that support your operational readiness – whenever and wherever it is required.
For more information about how ZOLL can support your specific requirements and mission, please visit www.zoll.com/en/markets/military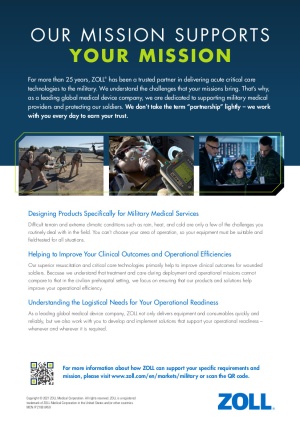 Click here for a high quality PDF-file:
OUR MISSION SUPPORTS YOUR MISSION

Date: 07/08/2022
Source: ZOLL Medical Corporation