Overview: Journal
International Review of the Armed Forces Medical Services
The International Committee of Military Medicine (ICMM) is created in 1921.
The ICMM is an intergovernmental organisation active in the field of military medicine under the motto "knowledge beyond borders" The seat of the Secretariat General of the ICMM is located in Belgium.
The main goal of the ICMM is to bring together the medical personnel of its member states' armed forces and share progress regarding the skills and expertise that make practising medicine in a medical environment special.
There quickly became a need to publish a scientific review, which led in 1928 to the advent of "The Bulletin International – Journal of the International Congress of Military Medicine and Pharmacy" .
At the end of the Second World War, the publication was renamed "the International Bulletin of the Army, Navy and Air Force Medical Services".
In 1985, the International Review of the Armed Forces Medical Services / Revue Internationale des Services de Santé des Forces Armées was published for the first time.
Click here for reading the International Review of the Armed Forces Medical Services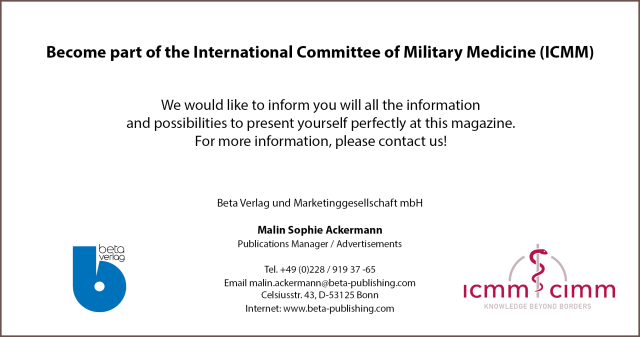 Date: 11/10/2022
Source: www.cimm-icmm.org