Almanac
Sri Lanka, Democratic Socialist Republic of
Capital: ColomboArea: 65.610 km2Population: 21.803.000Official Language: Sinhala, TamilArmed Forces Personnel: 158.000Medical Officers: 363Military Hospitals / Institutes: 20/n/aMissions: multiple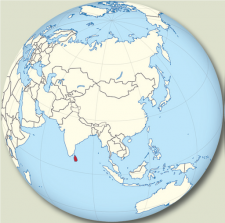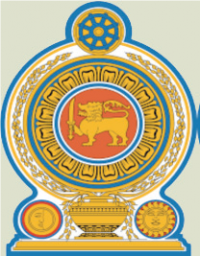 Surgeon General (acting)
PAC Fernando USP
Brigadier General MC

Director General of Armed Forces Health Services
Army Headquarters
Baladaksha Mw
Colombo 3
SRI LANKA
History of Medicine and Military Medicine
According to the principal historical document Mahavamsa, written in the 6th century, A.C. King pandukabhaya (4th century B.C) had hospitals (sivikasotthi Sala) built in various parts of the country. The oldest archaeological evidence we have so far of a hospital is in the ruins of Mihintale.
Heinz E Müller-Dietz (Historia Hospitalium 1975) describes Mihintale Hospital as being perhaps the oldest in the world.
The layout of the building and discovery of a medical through prove this. The plan of the Mihintale hospital complex is such that thirty-one rooms can be identified on a high platform.
There are a number of distinctive features in this hospital complex including consulting room, rooms for hot water baths, outer court, inner veranda courtyard, Shrine room and room for a medicinal bath.
Sri Lanka has had a chequered history of military campaigns extending over several centuries from ancient to modern times. The first military engagement in Sri Lanka's history is marked with the advent of Vijaya, a prince of North India who landed with his followers on the beaches of northwestern Sri Lanka around 543 B.C. Later the local population had to contend with waves of invasions from South India, which were followed by wars with the Portuguese, the Dutch and the British.
King Dutugemunu (200 B.C.) is reported to have raised an army of eleven thousand inhabitants in his battle against King Elara, a Chola. King Dutugemunu's organizational skills, bravery and chivalry are famous and his battles have gone down in history as outstanding offensive operations against a foreign enemy. There are also instances where the tide was reversed and local Sinhala armies invaded neighbouring countries. Internecine conflicts among the various kings and princes added a further dimension to the military scene. The European invaders maintained a military presence in Sri
Lanka both in times of peace and war. In the present century, the two great wars, while not affecting the country directly except during the two air raids in 1942, had a tremendous impact on Sri Lanka.
Medical support for these military hostilities was a sine qua non, for not only had the injuries to be treated, but epidemic diseases peculiar to massed concentrations of manpower in a tropical climate had to be controlled. In this respect, the plight of the invading armies was sometimes worse than that of the local forces. The European invaders facing the enemy in an unfriendly climate sometimes found that disease, which took a heavy toll posed a bigger threat than the enemy.
Structure
The contemporary structure of the Sri Lankan military health care services is that there are separate health services for the Army, Navy and Air Force. Consequently, there is no formally appointed Surgeon General. However, the tri-services and the respective health services are integrated to a certain extent by the Office of the Chief of Defence Staff (OCDS) and the General Sir John Kotalawala Defence University (KDU) and the KDU Hospital. Since the early 1980s, the Sri Lankan forces were engaged in protracted Civil War with insurgents, from which they emerged victorious in May 2009.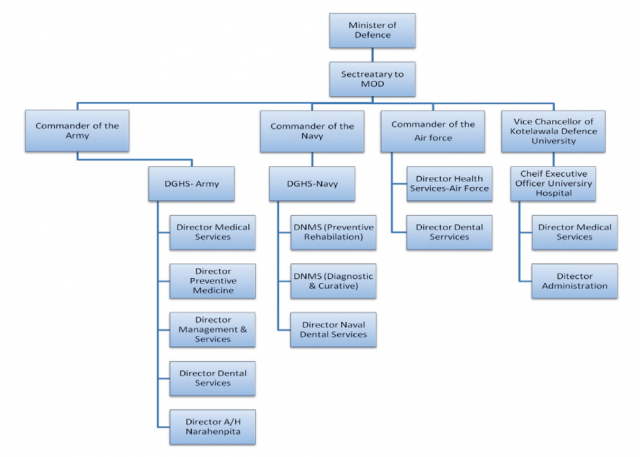 Sri Lanka Army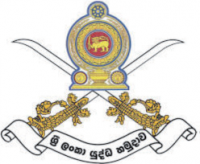 Army Headquarters
Baladaksha Mw
Colombo 3, Sri Lanka

The Sri Lanka Army is the oldest and largest of the Sri Lanka Armed Forces. Established as the Ceylon Army in 1949, it was renamed when Sri Lanka became a republic in 1972.
Currently, the SLA has approximately 180,000 regular personnel, 30,000 reserve personnel and 18,000 National Guardsmen and comprises 13 operational divisions, one air-mobile brigade, one commando brigade, one special forces brigade, one independent armoured brigade, three mechanized infantry brigades and over 40 infantry brigades.
Army Health Services
PAC Fernando USP
Brigadier General MC
Colonel Commandant of Sri Lanka Army Medical Corps
The beginning of the Corps dates back to 1881 when stretcher bearer (Medical) company was raised as a part of the Ceylon Light Infantry (Volunteers). This became an independent battalion in 1911 and was called Ceylon Medical Corps (Volunteer). After Ceylon gained independence; the Ceylon Army was formed in 1949. In 1950 1st Battalion of Ceylon Army Medical Corps was created as a regular force in Ceylon Army. With this, volunteers became the second battalion.
The Corps was renamed as Sri Lanka Army Medical Corps in 1972 when Sri Lanka became a republic. 3rd Battalion of Sri Lanka Army Medical Corps was formed in 1999 in Anuradhapura. In 2001 Army Nurses Training School was established at Anuradhapura. The 4th Battalion of Sri Lanka Army Medical Corps was formed in November 2007 and the 5th Battalion of Sri Lanka Army Medical Corps was formed in April 2010 at Panagoda.
The SLA's main area of focus is Combat and Trauma medicine which has been mastered during the 30-year conflict. At present Sri Lanka Army Medical Corps have four regular units and one volunteer unit. The main hospital of the SLA shown below is the 1000 bed Army Hospital located in Central Colombo at Narahempita.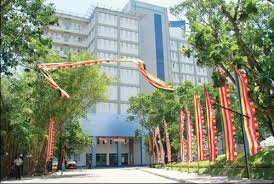 Sri Lanka Navy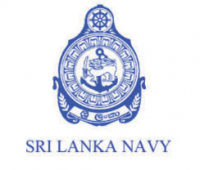 Navy Headquarters
PO Box 593
Colombo, Sri Lanka
The Sri Lankan Navy is the navy of the Sri Lanka Armed Forces and is classed as the most vital defence force of Sri Lanka due to the country's island geography. It is responsible for the maritime defence of the Sri Lankan nation and its interests. Sri Lanka, situated in the middle of major sea lanes passing through the Indian Ocean, was always a magnet for seafarers and has a long history of naval campaigns.
The current Sri Lankan Navy with a projected strength of 55,000 men was established on 9 December 1950 when the Navy Act was passed for the formation of the Royal Ceylon Navy. The roots of the modern Sri Lankan Navy date back to 1937 when the Ceylon Naval Volunteer Force was established, which was renamed and absorbed into the Royal Navy as the Ceylon Royal Naval Volunteer Reserve during World War II. The current name Sri Lanka Navy was constituted in 1972 when Sri Lanka became a republic and the introduction of the new constitution.
In recent years it has played a key role in the Sri Lankan Civil War, conducting surveillance and patrol, amphibious and supply operations. During the war, the navy moved from a small force focused on coastal patrols to a large combat force concentrating on asymmetric naval warfare capable of amphibious and land operations in support of counter-insurgency operation that progressed into engagements of a new form of littoral zone warfare. It carried out expeditionary deployments in the Indian Ocean in order to intercept rogue arm shipments on the high seas. The navy has its own elite special forces unit, the Special Boat Squadron.
Navy Health Services

Sena Rupa JAYAWARDANA
Rear Admiral MC
Director-General Navy Health Services
Naval Headquarters
P O Box 593 Colombo, Sri Lanka
The physical and mental health of Naval personnel is imperative for an efficient Navy. With modern facilities available and professional staff, the majority of Naval patients are being managed in the Navy Hospitals, Sick Quarters and Sick Bays. Opportunities are available for Medical staff members numbering 1300 personnel to specialize in their profession. Majority of Medical branch sailors have gained specialized paramedical training in many disciplines both in Sri Lanka and abroad.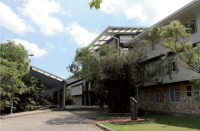 The SLN's main area of focus is Diving medicine, also called undersea and hyperbaric medicine (UHB), which includes the diagnosis, treatment and prevention of conditions caused by personnel entering the undersea environment. It includes the effects on the body of pressure on gases, the diagnosis and treatment of conditions caused by marine hazards and how relationships of a diver's fitness to dive affect a diver's safety. The SLN's main hyperbaric chamber is located in the East in Trincomalee and is used as a treatment for two of the most significant diving-related illnesses, decompression sickness and arterial gas embolism. The main hospital of the SLN shown below is the 300 bed Navy General Hospital located in North Colombo at Welisara.
Sri Lanka Air Force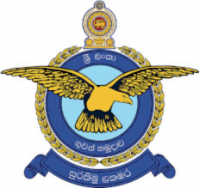 Sri Lanka Air Force Headquarters
Colombo 02
Sri Lanka

The Sri Lanka Air Force (SLAF) is the air arm and the youngest of the Sri Lanka Armed Forces. It was founded in 1951 as the Royal Ceylon Air Force (RCyAF) with the assistance of the Royal Air Force (RAF). The SLAF played a major role throughout the Sri Lankan Civil War. The SLAF operates more than 160 aircraft and has a projected trained strength of 35,000 men, who are from both regular and reserve service. The Sri Lanka Air Force has expanded to specialize mainly in providing air support to ground forces, troop landing, and carrying out airstrikes on rebel-held areas in the Northern and Eastern theatres, but is also capable of high- and low-level air defence.
Air Force Health Services
Dr Lalith Rukman Jayaweera, USP
Air Vice-Marshal
Director-General Air Force Health Services
Sri Lanka Air Force Headquarters
Colombo 02, Sri Lanka
The Air Force Health Services provide the Medical and Dental Health support, which is necessary to maintain the high degree of combat readiness and effectiveness in the Sri Lanka Air Force. The Health Services comprise approximately 600 personnel, providing a spectrum of medical, nursing, medical technical and medical support capabilities. The majority of personnel are employed in the support and provision of primary and secondary health care services.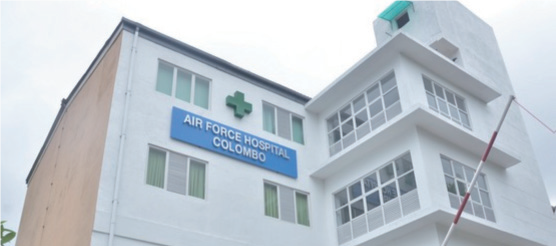 The SLAF's main area of focus is Aerospace Medicine providing medical support to operational missions and serve as staff advisor to flying squadron commander. Aerospace Medicine Specialist examines personnel requiring special medical care standards to determine fitness for flying and special duties or to recommend continuance, removal or return to flying status and aviation service. The main hospital of the SLAF shown below is the 100 bed Air Force Hospital located in Central Colombo at Guwanpura.
Military Hospitals
Faculty of Medicine: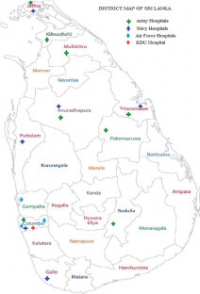 The distribution of the tri-service hospitals General Sir John Kotalawela Defence University
General Sir John Kotelawala Defence University (KDU) was initially established as the "General Sir John Kotelawala Defence Academy" in 1981 and subsequently, it was elevated to University status in 1988, thereby empowering it to award Bachelors' and Postgraduate degrees in Defence Studies. KDU is a member of the Association of Commonwealth Universities (United Kingdom) and maintains necessary standards for educating and grooming Officer Cadets to meet the challenges of modern defence management. KDU is open for students who wish to continue their higher studies in the fields of Medicine, Engineering, Law, Management, Social Sciences and IT.
Officers with exceptional performance in reputed universities/institutions can pursue postgraduate studies in accordance with the requirements of the Service to which they belong. Civil professionals are also offered a place at postgraduate studies to excel in and study a post-graduate degree in their related field of expertise.
Tri-Services Hospital:
General Sir John Kotalawela Defence University Hospital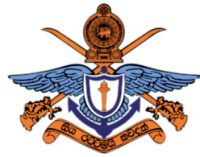 General Sir John Kotalawela Defence
University
Kandawala Road,
Rathmalana, Sri Lanka
The long-awaited 704-bed University Hospital of the General Sir John Kotelawala Defence University is gradually taking shape and is scheduled to commence operation early this year. This state of the art, tertiary care facility is not only intended to be the teaching hospital of the Faculty of Medicine, KDU but also a centre of excellence for the whole country, delivering cutting edge healthcare services in an environment of discipline and trust. The hospital will be modelled on a unique concept of Public-Private mixed healthcare delivery in Sri Lanka where it will provide all the services expected of a tertiary care hospital to the tri-forces and public of the country while also having a private wing that aims to offer private healthcare standards in par with any hospital in the South Asian region and beyond. The hospital will deliver services in all the major specialities including General Medicine, Surgery, Paediatrics, Obstetrics, Psychiatry, Cardiology and Cardiac Surgery, Neurology, Dermatology, Urology, Plastic Surgery, ENT Surgery, Ophthalmology, and OMF surgery. The hospital will also have Department of offering a full range of cancer services, a fully equipped department of Radiology, a modern Fertility Centre. Accordingly, this comprehensive health care facility will have seven main functions, namely: Accidents and Emergency (A&E) Services; Out-Patient Services with general and specialized services including daycare surgery; In-Patient Services; Diagnostic and Therapeutic Services; Administrative Services; Support Services; Undergraduate (Medicine, Nursing & Paramedical) and Postgraduate Training. The KDUH shown below is located in the south of Colombo at Werahera.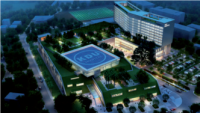 Other Special Aspects

Sri Lanka College of Military Medicine (SLCOMM)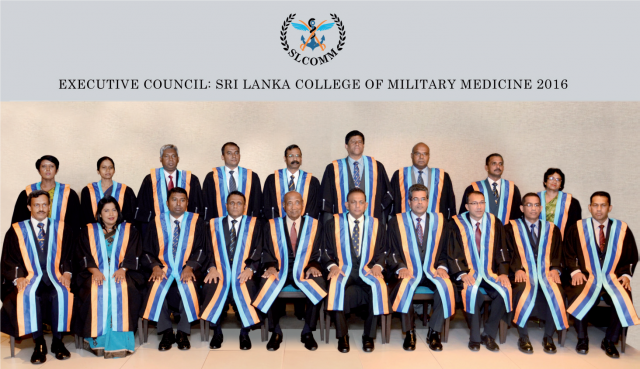 The SLCOMM is a professional body consisting of medical and dental doctors of the Sri Lanka Army, Sri Lanka Navy and Sri Lanka Air Force, established in 2016. It is one of the largest medical professional bodies in the country, with a membership of approximately 400 doctors.
The main objectives of the college are to provide support in continuous professional development, training and networking among its members, research, advocacy, policy formulation and resource development.