Almanac
Turkey, Republic of
Capital: AnkaraArea: 783.562 km2Population: 83.154.997Official Language: TurkishArmed Forces Personnel: 735.000Military Hospitals / Institutes: 37/3Missions: multiple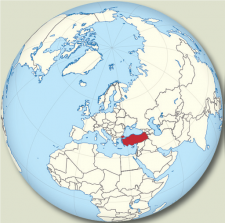 Surgeon General
Durmus AYDEMIR
Brigadier General

Commander of Medical Services of the
Turkish Armed Forces Medical Command
Ankara
TURKEY
Basic Task of the Military Medical Service
• To conduct pre-service health examination for candidates
• To promote health among servicemen and their families
• To protect health of servicemen and their families
• To provide healthcare for servicemen and their families
• To give medical support during military operations, disasters
• To conduct scientific research and publishing activities to improve the quality of medical services
• To give consultation and advice to military headquarters on medical issues
• To have medical organizations in order to conduct these tasks above
• Serving with qualified, well educated personnel in all field of medicine and health management
• Equipped with high technology medical devices and systems
• Constructing buildings with proper architecture for medical care
Structure
THE TURKISH ARMED FORCES MEDICAL COMMAND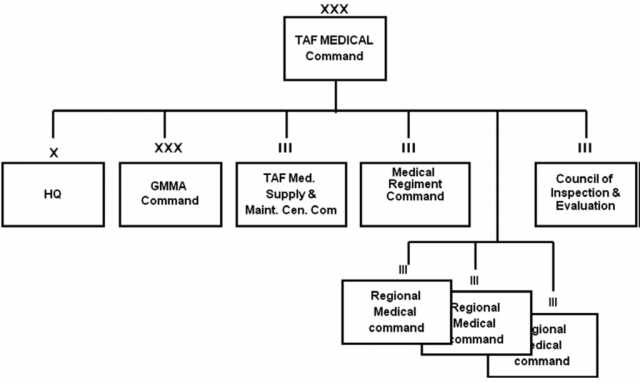 Military Hospitals
After downsizing, there are 36 military hospitals serving as secondary health care centres to all servicemen and their families in the different cities of Turkey. All of these hospitals have surgical, imaging and laboratory capabilities having with different number of patient beds.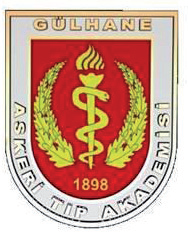 The Gulhane Military Medical Academy (GMMA) is the supreme medical consultancy organ of TAF. It has scientific autonomy and performs scientific research. The mission of GMMA is to train the medical personnel and to provide tertiary healthcare services for Turkish Armed Forces. GMMA, was founded at Topkapi Palace in Istanbul in 1898 and after several decades, deployed to Ankara, and finally relocated to its current campus in1971. GMMA has been serv ing to the community for more than one century.

Structure of
GULHANE MILITARY MEDICAL ACADEMY COMMAND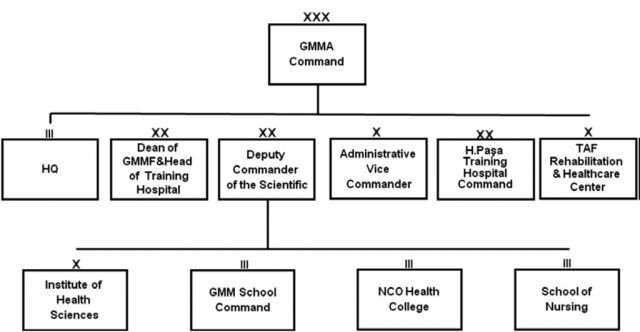 In GMMA organization, there are hospitals, special care centres and educational institutions and these are located in the cities Ankara, Istanbul and Eskisehir as seen on the map.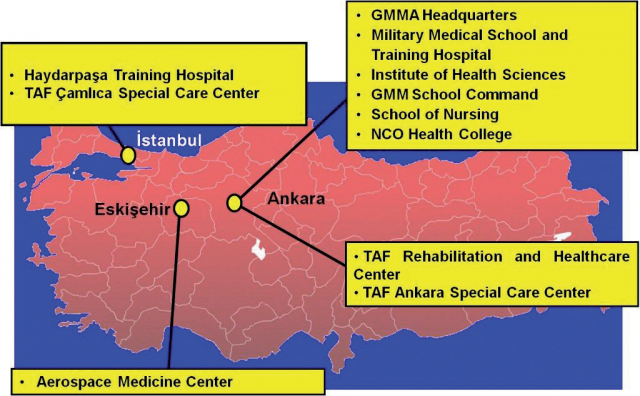 The major submits are located in Ankara, Haydarpaşa Training Hospital and Camlica Special Care Centre are located in Istanbul and Aerospace Medical Centre is in Eskisehir and they are all active in training and healthcare services. More than six thousand (6.289) personnel including five hundred educational staff are currently working at the academy.
In GMMA, there are three levels of education and training as undergraduate, graduate and postgraduate. Four different institutions provide education in different levels:
• Military Medical School for physicians,
• School of Nursing for nurses,
• NCO Health College for Medical NCO,
• Medical Sciences Institute for Master of Science Doctorate of science.
More than thirteen hundred (1.360) students study at three different schools and approximately five hundred residents, master and doctoral degree students are trained at the Academy. Numerous courses have been performed in order to improve the skills of medical doctors and other personnel such as laparoscopic surgery, emergency medicine etc. Currently, one hundred fifty (154) foreign military personnel from 14 countries are still on education. More than six hundred foreign personnel have graduated up to the present. GMMA has more than three thousand (3.356) bed capacity. In the training hospitals, more than one million patients get
medical services per year. The daily average number of visits is 5.000. The annual average inpatient visits are more than forty thousand (42.000). Thirty thousand (30.000) surgical operations are performed per year. In Ankara Training Hospital, 24 operation rooms and 100 advanced intensive care units are available. In the Cardiology and Cardiovascular Surgery Centre, a variety of surgical procedures are performed.
Liver Transplant Unit has a great success in terms of liver transplantation. Renal Transplant Unit carries out an average of 20 renal transplants per year. One of the most prominent divisions in GMMA is the Orthopaedics and Traumatology Department. All types of up-todate surgical operations, specifically trauma surgery are routinely performed at the department.
In the Department of Combat Surgery:
• Experimental and Clinical studies in the fields of combat wounds,
• Problems in field surgical procedures,
• Treatment and follow-up of the personnel injured during the act of counter terrorism. Robotic-surgery has been used by several surgical departments.
The role of the Military Psychology and Combat Psychiatry Department is to protect mental health of Turkish Army Forces personnel in peace and war time and to provide the best level of current diagnostic and treatment services based on the scientific basis. Bone Marrow Transplantation Centre accomplishes an average of 50–60 transplants per year.
Advanced interventional radiologic procedures are performed in the department of radiology. Nuclear Medicine Department uses the latest technologies for the purpose of diagnosis and monitoring of treatment of a variety of diseases. Radiation Oncology Department is also a well-equipped department. GMMA Burn Centre is the most prominent national centre. In addition to burn therapy, free organ and tissue transfers are successfully performed. Hyperbaric Oxygen Treatment Centre successfully treats problematic wounds including bone infections, sudden hearing and visual losses and carbon monoxide poisoning. There are three facilities of Hyperbaric Oxygen Treatment within Gulhane Military Medical Academy. Two of them work under Diving and Marine Medicine in Istanbul and Ankara, last one serves under Aviation Medicine Centre in Eskisehir.
Public Health Laboratory in GMMA is one of the most ca - pable laboratories on environmental analyses. GMMA Public Health Laboratory is especially experienced in water analyses, and analyse mainly the water sources from military bases. But also a lot of analyses have been done from the sources other than military. Under GMMA Public Health Laboratory, there is a molecular research laboratory which is named as Centre for Education and Research on Environment – Gene Interaction. Several research projects are being conducted in this centre with the participation of medical faculty students.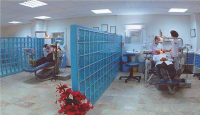 "Dental Sciences Centre" is composed of seven departments and app. Seventy five thousand (75.000) patients are treated per year."
A variety of researches have been carrying out at the Research & Development Centre supported by domestic and national funding. Medical Design and Manufacturing Centre is very talented at designing and manufacturing individual orthesis, prosthesis, implants and medical models as needed. Plastic and metal modelling machines, topographic surface scanner and 5 axis CNC machine are available at the centre. Biomedical engineering Centre is one of the most prominent centres combining medical services with engineering field in the world.
Institutes
Aviation Medicine Centre (Eskisehir)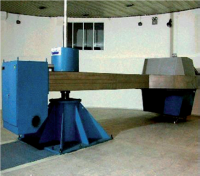 Human Centrifuge (G-lab)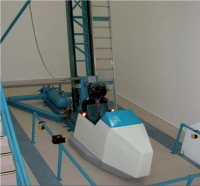 Ejection Seat Trainer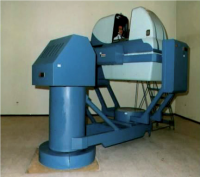 Spatial Disorientation Trainer (Gyrolab)

Diving and Marine Medicine (Ankara, Istanbul)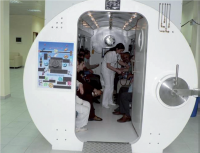 Hyperbaric treatment chamber

Field Deployments
Past Missions:
Albania (Role 1)
Bosnia Herzegovina (Role 1)
Current Missions:
Afghanistan (Role 2)
Kosovo (Role 1)
Lebanon (Role 1)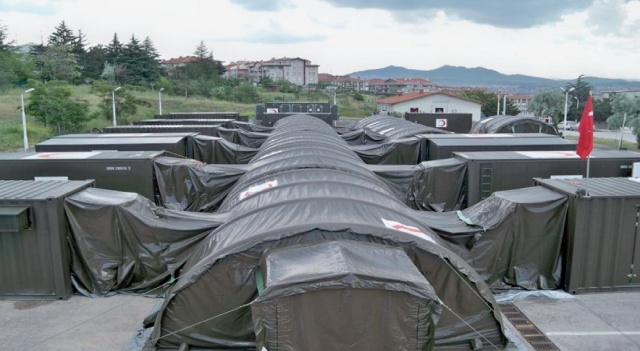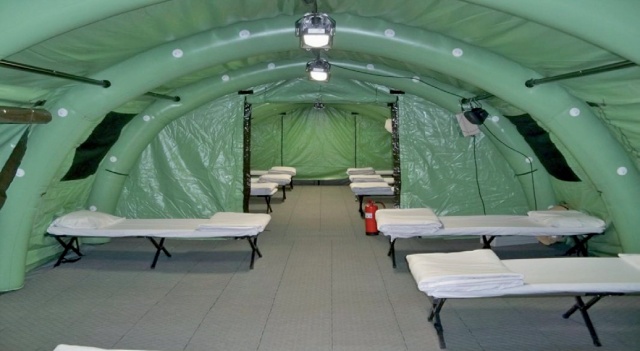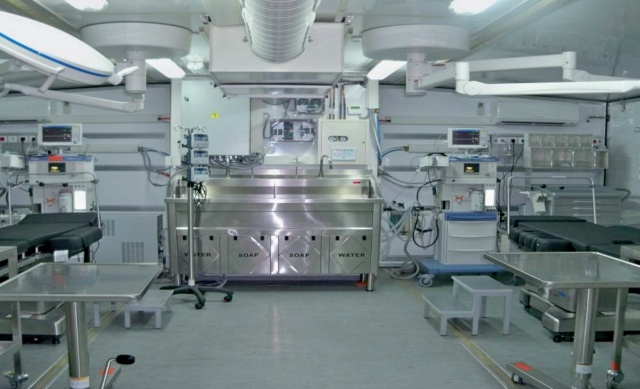 Civil-Military Cooperation
The Turkish Armed Forces Rehabilitation and Care Centre is a good sample of civilian military cooperation and has a variety of medical facilities including two hundred hospital bed capacities serving not only for military but also for civilian cases. The mission is to provide early and continuous rehabilitation and reintegration of the injured and disabled people to the community. There are five different inpatient rehabilitation units as shown on the slide (acute care, traumatic brain injury, spinal cord injury, amputee rehabilitation and rheumatologic rehabilitation). The Rehabilitation Hospital also includes a modern operating room and an intensive care unit.
In the rehabilitation centre, there are six exercise rooms namely (neurological, orthopaedic, hand rehabilitation, occupational, paediatric and outpatient).
• Independence Area.
• Robotic rehabilitations.
• Aerobic and Anaerobic Performance Test Laboratory.
• Respiratory Function Test and Isokinetic Test laboratories.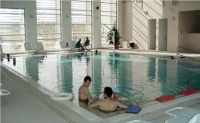 Paediatric rehabilitation unit apart from adult ones. In this part of the centre spinal cord and brain injured kids as well as orthopaedic handicapped children are treated. There are four pools for hydrotherapy.
Several other laboratories are:
• Motion analysis,
• Gluteal pressure mapping,
• Performance lab. (Aerobic, anaerobic, respiratory function),
• Isokinetic test laboratory is used to evaluate the effectiveness of rehabilitation procedures such as exercise and orthesis and prosthesis training.
Hyperbaric chamber is also available at the centre. The centre has a modern and sophisticated assistive technology laboratory in which all kinds of orthesis and prosthesis can be manufactured. The centre also has a variety of rehabilitation programs for patients having both visual and physical impairments (such as computer studies, library for blinded, chess, goal ball, training for independent living activities and Braille alphabet). Sports activities are very important part of the rehabilitation programs. The centre has a variety of sportive teams and activities such as:
• Marksman ship,
• Fencing,
• Wheelchair tennis,
• Athletics,
• Weight lifting,
• Archery,
• Amputee football,
• Wheelchair basketball,
• Goal ball,
• Riding with disabilities,
• Disabilities swimming (planed),
• Wheelchair rugby (planed).
Several courses have been conducting by the trainers as needed such as computer, painting, wood painting, music, handicraft, ceramic, knitting, photography and marbling. There is also a Veteran's house which has a variety of facilities including hobby gardens, picnic areas, restaurants and zoo.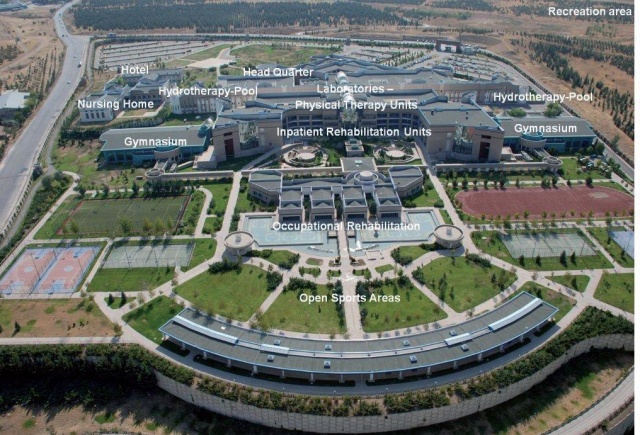 For veterans a variety of activities like shopping, movies and theatre shows, concerts, sport competitions, museum and sightseeing trips are routinely organized.
Other Special Aspects
Gulhane Medical Journal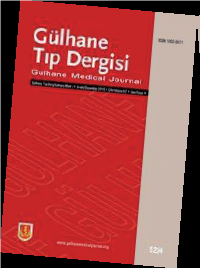 History of the Gulhane Medical Journal goes back beyond the second half of the nineteenth century. "Ceride-i Tıbbiye-yi Askeriye" is the first journal published by the Turkish military medical community between 1871 and 1931. This journal was published as "Askeri Tıp Mecmuası", "Askeri Sıhhiye Mecmuası", "Askeri Sıhhiye Dergisi" and "GATA Bülteni" between 1921 to 1931, 1931 to 1949, 1949 to 1956 and 1956 to 1998, respectively. The journal is currently being published as "Gülhane Tıp Dergisi" ("Gulhane Medical Journal") since the September 1998 issue.
Gulhane Medical Journal has always kept in step with the innovations, and has become a peer-reviewed journal before many journals in Turkey. Being published regularly four times a year for more than half century, the journal has carried its respectful role among the distinguished national journals. Currently it accepts manuscripts from all around the world via online. It can be accessed at: www.gulhanemedicaljournal.com