Almanac
Argentine Republic
Capital: Buenos AiresArea: 2.780.400 km2Population: 40.518.500Official Language: SpanishArmed Forces Personnel: 70.000Medical Officers: n/aMilitary Hospitals / Institutes: 10/n/aMissions: n/a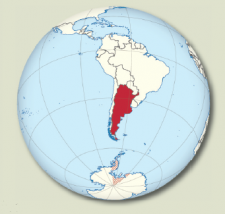 Surgeon General
Fernando Luis POSE
Colonel

Dirección General de Salud
15 de Noviembre de 1889 altura 1932
Buenos Aires, C1261AAB
ARGENTINA
Basic Task of the Military Medical Service
Military health provides support for the Argentine Army to fulfil its mission, under the current regulations, by means of the following functions:
Health promotion and protection.
Preventive medicine, hygiene and environmental sanitation.
Medical examinations of the Force's human resources.
Evacuation and hospitalisation, including primary medical care, diagnosis, treatment and rehabilitation.
Physical and psychological rehabilitation of disabled personnel and war veterans.
Legal medicine, which encompasses activities aimed at legally classifying morbid processes which affect or may have affected personnel.
Professional instruction and training, at undergraduate and post-graduate levels, including military and civilian personnel dedicated to teaching.
Research and development, including activities intended to achieve new techniques and procedures for the creation of medicines.
Supply and maintenance of Class II and IV Health Effects.
To understand that the Force's epidemiological monitoring system is an essential task within Military Health's epidemiological activity, collaborating with national, provincial and regional health organisations for the creation of shared civilian health programmes, in addition to planning activities aimed at integrating the Force within the National Epidemiological Monitoring System.
Collaborating and providing health support in response to natural disasters and other social emergencies affecting the community.
Providing support to the community through its participation in campaigns targeted at controlling and eradicating endemic diseases and epidemics with social repercussions.
Contributing to the conservation of the environment and maintenance of the eco-system by means of environmental sanitation.
Contributing to the maintenance of the National Antarctic Activity.
Military Hospitals
Hospital Militar Central
Hospital Militar Campo de Mayo
Hospital Militar Regional Córdoba
Hospital Militar Regional Mendoza
Hospital Militar Regional Paraná
Hospital Militar Regional Comodoro Rivadavia
Hospital Militar Salta
Hospital Militar Bahia Blanca
Hospital Militar Curuzú Cuatía
Hospital Militar Río Gallegos
Articles
Browse by category
SDFDS is the Section Defence Forces Dental Services from the FDI. Every year prior to the FDI annual congress we organize an annual meeting. This meeting contains of a cultural day and a scientific program of 2 days, in which international military dentists share their experiences, challenges and latest developments.
The next meeting will be from 29 AUG-1SEPT in Shanghai, China
Events